The average rate of cart abandonment among shoppers is 69.8%, and of the reasons given, 6 out of 10 are related to payments, according to Baymard Institute. Some buyers abandon their shopping carts because of a long, complicated checkout process; some don't trust the site enough to leave their credit card information; some say there are not enough payment methods.
Many sellers focus on providing a seamless shopping experience through an easy-to-use interface and swift customer support. However, once the buyer has decided to purchase, there comes the next all-important step — payments.
For WooCommerce sellers, selecting a payment gateway or the method of receiving payments is essential for running your online store. Below, you will learn about WooCommerce payment gateways, how they work, and what factors to consider before choosing a payment gateway for your WooCommerce store.
What are WooCommerce payment gateways?
WooCommerce payment gateways are WordPress plugins that add payment functionalities to your online WooCommerce store. Think of payment gateways like the checkout stand in a physical store. They let your customers pay for the products you sell on your ecommerce store simply by entering payment information (credit card or debit card details, banking details, etc.).
Some payment gateways redirect the buyer to a different site for the payment process, while some let your buyers pay directly on your WooCommerce store. Every seller looking to use a payment gateway must open a merchant account with the payment gateway provider.

How do WooCommerce payment gateways work?
After setting the payment gateway up, it swings into action the moment a buyer proceeds to checkout or completes their purchase. For a WooCommerce payment gateway to function correctly, there are four parties involved:
The WooCommerce store: The online store with the products, also known as the merchant
The customer: The person who initiates the transaction
The issuer: The customer's bank that issued the card or digital wallet that is being used to make the purchase
The merchant's bank: The bank account connected to the WooCommerce payment gateway that will receive payments from the customer
When the customer proceeds to the checkout, the payment gateway provides an interface to fill in their credit card/bank details or log into their online payment app.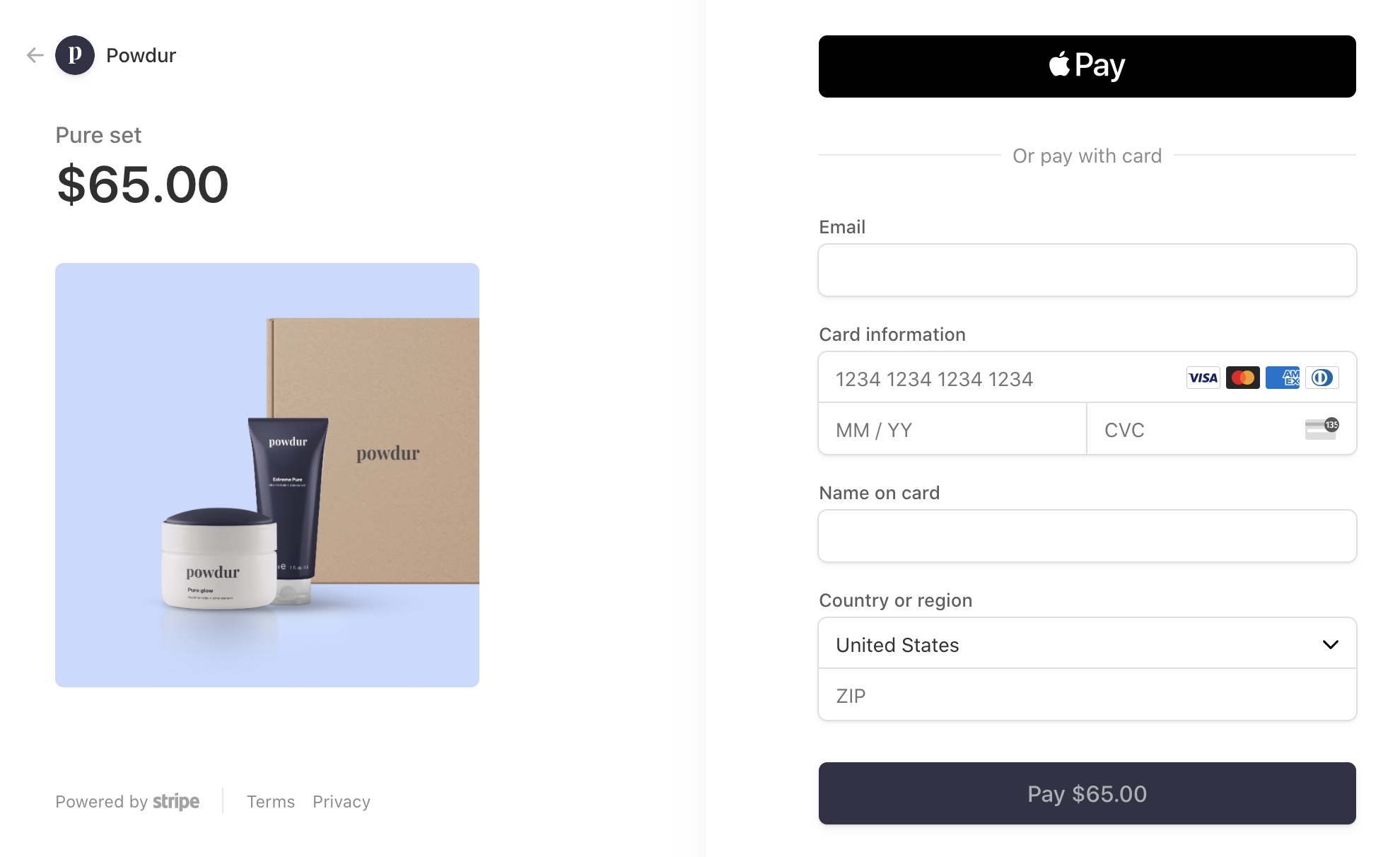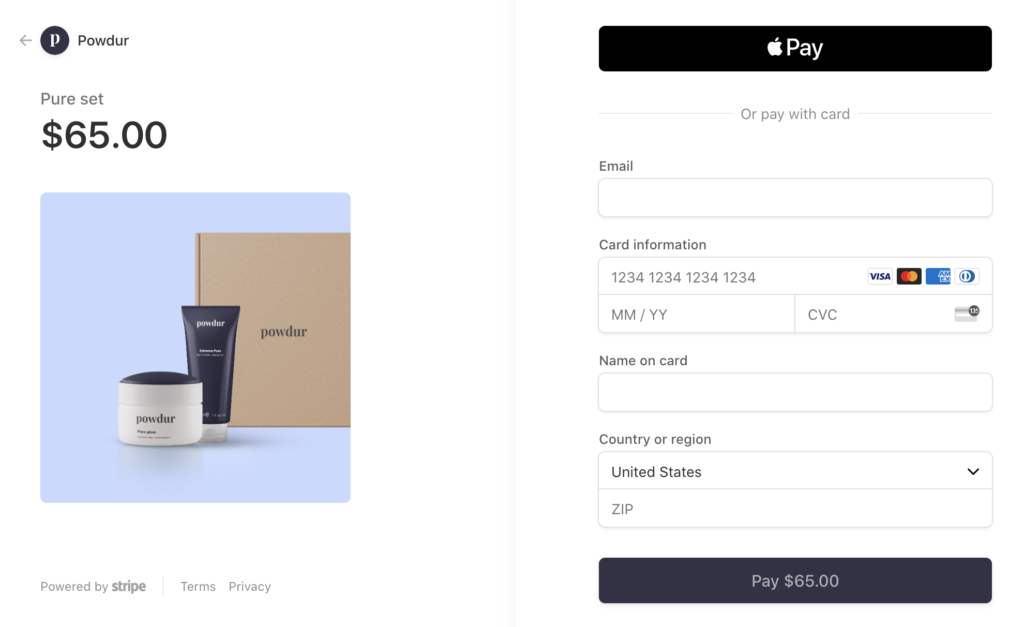 After they fill in their details, the payment gateway scans the details to validate them. It does this by encrypting the customer's details and sending them to the issuer. The issuer sends a message back to the gateway if they can find those details in their database. If the customer is fake or tries to make a fraudulent purchase, a good payment gateway will reject and flag it, preventing you from losing money.
After verifying the buyer's details, the payment gateway sends the purchase request to the issuer. The issuer approves the request and moves the money to the merchant's bank. If there are insufficient funds to complete the transaction, the issuer reports back to the gateway, and the customer gets an error message.
Things you should consider when choosing a payment gateway for your online store
You must choose the right payment gateway for your WooCommerce site to ensure that you're not losing all your profits via transaction fees and your customer's checkout process is secure, easy, and hassle-free. Before choosing a payment gateway, here are some crucial factors to consider:
Security and fraud protection
Security is of the utmost importance for online transactions as it involves dealing with the sensitive financial information of both the merchant and the customers. Thus, it would be best to go for payment gateways that ensure strict security measures to protect your data.
It is easy for online payment frauds, monetary discrepancy incidents, and other types of online payment frauds to target ecommerce stores. So, the safety of your financial information and your customers' is paramount. As a result, the payment gateway service provider must-have features that detect and block fraudulent attempts.
Some payment gateways also have teams for settling payment disputes between a seller and a buyer. For example, if a buyer claims they got charged and the seller did not receive the payment, a dispute team can reach out to both banks to figure out what really happened and solve it accordingly.
Transaction fees and hidden additional charges
Before selecting a payment gateway, consider how much the payment gateway service provider will charge to manage your store's payment process. For example, some payment gateways charge a flat rate for successful payments, some charge for all successful and failed transactions, and some take a percentage of the amount processed.
Depending on your business model, select a transaction fee procedure that is most beneficial to you. For example, with a gateway charging 2% of every transaction, the higher the price of your products, the more you have to pay.
Hidden charges are also real. It's frustrating to integrate a payment gateway that claims "0 transaction fees," only to find out later that the no-fee policy only applies to payments below $5, and anything above that is charged a particular percentage. Reach out to the gateway service provider's sales team and get a demo if possible.
Ask questions and confirm everything there is to know about a payment gateway's charges before integrating it with your WooCommerce store. Don't fall for costs on paper because sometimes the price you see comes with requirements and conditions.
When making inquiries about a payment gateway's charges, try to think of payment scenarios, like "what happens if my customer gets charged twice, is there a fee for returning one of the payments?" It would be best to ask about setup fees, monthly charges, recurring payments, transaction fees for successful and failed transactions, refund fees, chargeback fees, etc.

Availability in customers' region and currency
Many payment gateways only support certain countries and currencies, leaving you with no option if you wish to trade in a country that is not supported by your payment gateway. Therefore, your choice of payment gateway should take the geographical location and currency of your customers into consideration.
Some payment gateways are limited to specific continents, while some have managed to spread their reach to multiple countries on several continents. For example, if your customers are in India, you should only consider payment gateways that accept Indian rupees, so customers don't have the hassle of trying to calculate and convert foreign currencies.
Since most people like to purchase in their native currency, you need to select a service that works for the residing country of your customers and accepts the relevant currencies. Even if most of your customers are local, finding a payment gateway that can handle different currencies will let you eventually expand into foreign markets.
Subscription and recurring payments
If your business requires automatic subscription billing and recurring payments, you should lean toward payment gateways that support WooCommerce Subscriptions. WooCommerce Subscriptions is a premium extension available to WooCommerce store owners that lets them accept recurring payments automatically or manually. This extension has a list of compatible payment gateways, so you might want to start from there.
Thirty percent of shoppers will abandon or cancel their payments if they have to re-enter their credit card information, and 25% will do the same if they have to re-enter their shipping information. Therefore, if you offer recurring services or a subscription-based product and your customers have to go back to the order page every time to recheck out, you can possibly lose a lot of business.
A payment gateway that supports WooCommerce Subscriptions can also be helpful in the long term if you will eventually offer subscriptions in the future.
Range of payment options
There are a wide variety of payment options: direct bank transfers, credit cards, Apple Pay, Amazon Pay, PayPal, and Google Pay, to name a few. Unfortunately, 20% of digital shoppers will abandon their carts if your store doesn't offer their preferred payment option. Select a payment gateway that makes it easy for your customers to choose a payment method of their choice and seamlessly complete their order on your website.
Some payment gateways offer only card payments, while some offer card payments alongside other mobile payment options. Offering different payment options increases the possibility of customers checking out and completing payments. Choose a payment gateway that doesn't mess up your website's experience with a slow payment process.
PCI compliance
Check that the payment gateway of your choice is PCI compliant and follows all PCI guidelines, a security standard put in place to protect customers.
Payment Card Industry (PCI) compliance is the technical structure that ensures that businesses accepting financial information from buyers protect this information in a secure online environment. The PCI Security Standards Council recommends that the customer's account number, alongside the cardholder name, expiration date, and service code, should be protected during and after the transaction.
Not being PCI compliant means that the customer's card information is at risk of being exposed to hackers and hijacked by scammers for fraudulent purposes. Furthermore, if a customer gets hacked after purchasing from your store, it is an attack on your brand's credibility.
4 WooCommerce payment gateways to consider
WooCommerce offers a wide range of available payment gateways for you to choose from. We have selected a few that are worth considering. These payment gateways are easy to integrate with your WooCommerce store and are well accepted in multiple regions across the world. In addition, they are secure for your customers and don't come with back-breaking fees or hidden charges.
WooCommerce Payments
WooCommerce provides its own payment solution as WooCommerce Payments, with no setup fee or monthly charges. However, it is currently available in only 10 countries. It offers a great checkout experience and a deeply integrated payment gateway for your WooCommerce store. However, WooCommerce Payments is not PCI compliant by default, unlike other third-party payment gateways.
The customer pays directly on your store instead of being redirected to a third-party checkout page — this creates a seamless experience that reduces cart abandonment. Furthermore, shoppers can view prices and pay in their preferred currency, eliminating the need to check conversion rates or calculate costs manually. Finally, the payment gateway saves customer information, making it easier for them to check out for repeat purchases.

WooCommerce Payments offers a pay-as-you-go fee structure set at 2.9% + $0.30 per transaction for U.S.-issued cards and an additional 1% fee for cards issued outside the United States. Of course, it is compatible with WooCommerce Subscriptions as they are all cut from the same cloth, and it also accepts over 135 currencies.
Stripe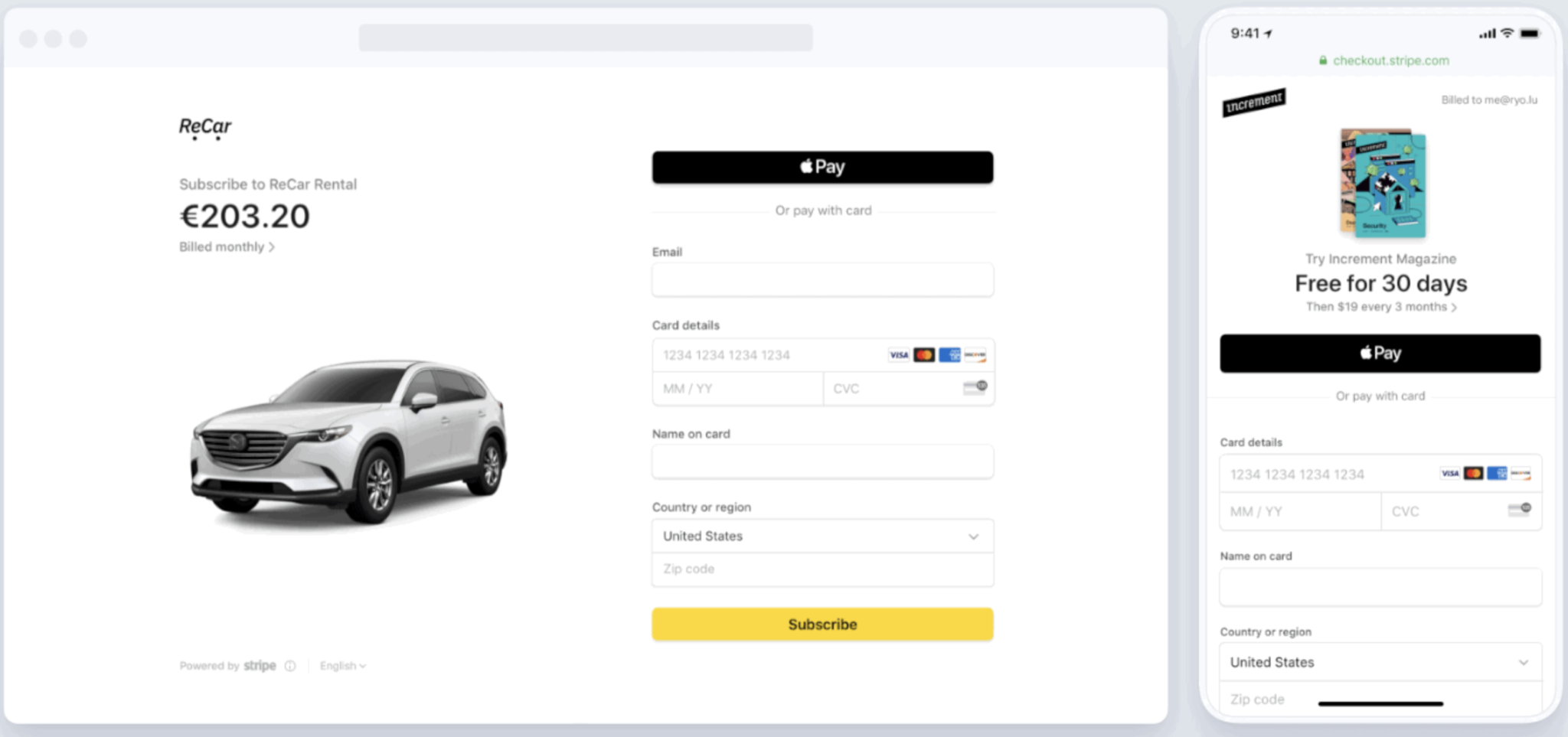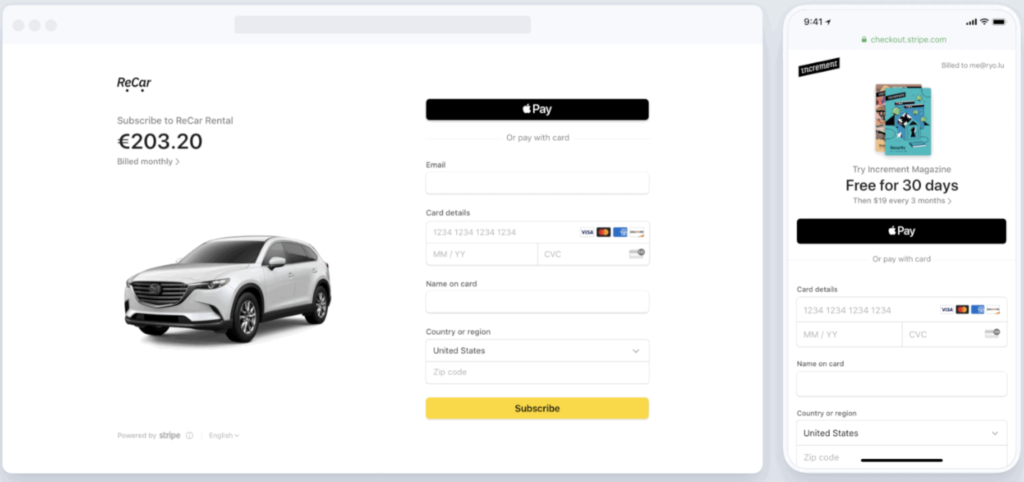 Stripe is an integrated payment gateway and will not redirect customers to an external page during checkout. As a result, your mobile and web shoppers can easily make payments, leading to higher completion rates. In addition, Stripe is PCI compliant, so it protects your buyers' financial information.
It's compatible with WooCommerce Subscriptions, making it a good fit for sellers with recurring payments. It comes with a wide range of over 135 payment options and currencies. It accepts all the major debit and credit cards and local payment options from customers in over 40 countries.
Stripe also prevents fraud. The payment gateway service provider partners with Radar, a machine learning system that detects and blocks fraud on payments. It's already integrated into Stripe and doesn't need additional configuration. As fraud patterns change, Radar adjusts and learns the new fraud techniques to prevent it.
Stripe's transaction fee structure might be a bit hard to wrap your mind around at first, but they are very transparent about their charges and have an efficient support team if you need further clarification. Stripe charges 2.9% of every successful card and mobile wallet payment with an additional fee of 30 cents. They also charge an extra 1% if currency conversion is required.
Square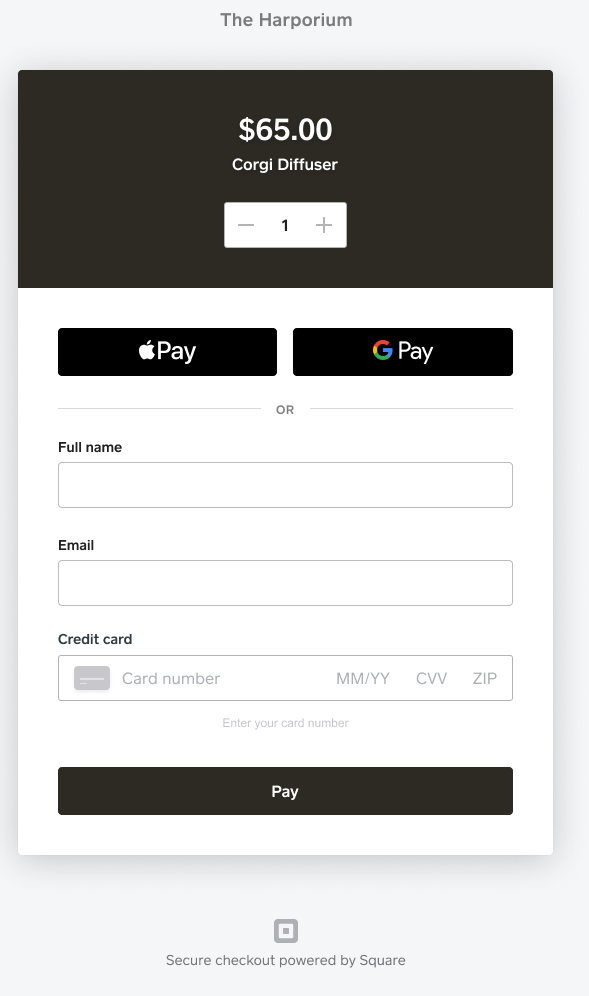 Square is yet another great WooCommerce payment gateway, especially for stores with physical locations. Square is available in only six countries, including the U.S., UK, and Canada. Their transaction fee varies for each country, but it offers a fixed transaction rate. In addition, the WooCommerce Square Extension supports recurring payments when used alongside the WooCommerce Subscriptions extension.
Your account is protected 24 hours a day by Square's fraud prevention team. They go beyond monitoring activity on your account and take a whole look at Square's ecosystem to detect fraud and stay up-to-date on the latest fraud and security developments. Square is also PCI compliant and accepts card and mobile payment options.
PayPal Payments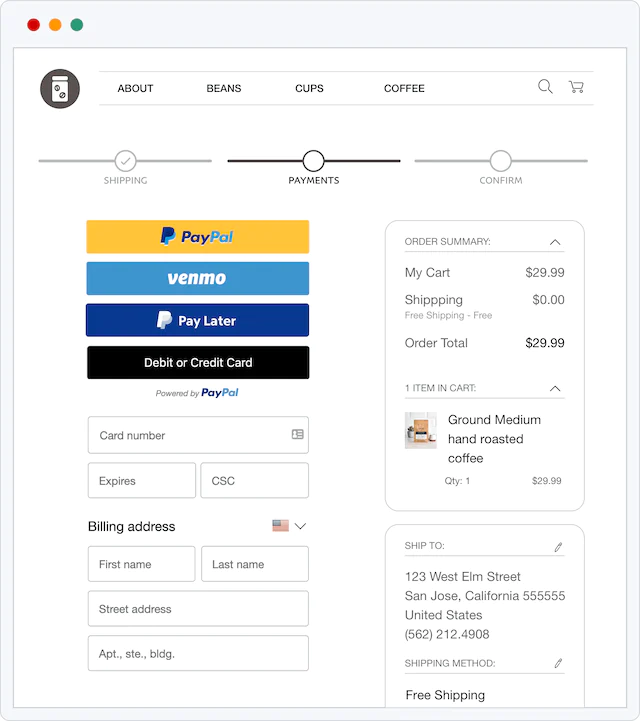 PayPal Payments is an all-in-one payment extension developed by WooCommerce. It accepts local payments, PayPal mobile payments, and all major credit/debit cards securely. PayPal Payments is PCI compliant and has an in-built 24/7 fraud detection and monitoring system.
PayPal Payments does not redirect your customers to an external page to complete checkout. It is available in over 200 markets and accepts over 100 currencies. In addition, it can automatically detect a customer's location and offers more country-specific payment options during checkout.
You need a PayPal business account to set up PayPal Payments on your WooCommerce store as a merchant. PayPal Business has a very detailed fee policy that applies to the payment gateway.
There's no one-size-fits-all payment gateway, and that's a good thing.
You might not find a payment gateway that ticks all your boxes or your customers' boxes, and that's okay. Thankfully, WooCommerce lets you have multiple payment gateways set up on your site depending on your needs or the needs of your customers. For example, you can choose to have a different payment gateway for your customers in Europe and another one set up for your American buyers.
Hosting your ecommerce store on Sellbrite lets you seamlessly integrate with WooCommerce and all WooCommerce payment gateways.
However, it is essential to note that too many payment gateways and methods can overwhelm customers with too many choices and make your site administration more complex. Choose according to your business needs and customers' requirements.