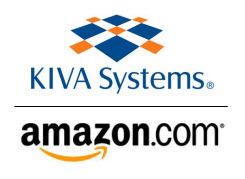 Amazon announced Monday that it had acquired robotics company Kiva Systems, a leading innovator of material handling technology.  Long known to employ automation in its own fulfillment centers, it is unclear how exactly Amazon will add Kiva technology to its operation, but the potential implications of this deal could be pretty interesting.
Kiva technology is used by many leading retailers, including Sax Fifth Avenue, Toys R' Us, Staples, GAP, and Estee Lauder, to facilitate the distribution of products to their physical network of stores.  They have also made a push in recent years to be the technology of choice for ecommerce outfits (B2C fulfillment), working with such clients as Gilt Groupe, Drugstore.com, and Diapers.com, as well as partnering with ecommerce fulfillment solution Quiet Logistics, who has its own impressive portfolio of clients.

What does this sale mean for existing clients of Kiva Systems?  Well, for now it seems likely that little will change.  Kiva will continue to operate out of it's headquarters in Massachusetts, even though it sold all outstanding shares to Amazon in the acquisition.  However, there is no telling what plans Amazon might have for the strategic direction the company should go.  Might they direct Kiva to focus exclusively on outfitting their own growing fulfillment operation?  Will they withdraw support from competing fulfillment services that Kiva previously worked with?  Could Amazon fold up the shop entirely in the near future to stifle some of its retail competitors???!!!???
Alright, perhaps that's getting a little conspiratorial, and we aren't really the aluminum-foil-hat-wearing type.  But from what we know about the deal, we can get a sense of the seriousness of Amazon's intentions:
This was a cash deal.  A LOT of cash – $775 million to be precise.  It was Amazon's largest acquisition since 2009 when it purchased Zappos.com for over a billion clams.  Traditional wisdom suggests that you can get a better price on your purchase by paying cash (instead of stock), but we know that Amazon isn't swimming in an ocean of gold bullion (like others) deep enough to justify that kind of expenditure without it being strategically important.  We also know that Amazon's operating margins are projected to be very thin this year, which has put pressure on them to increase profits and protect dividends to shareholders.  A cash deal will protect shareholders from giving up any increases in share value to the newly acquired company.
What a cash deal also means for an acquisition like this is that the buyer assumes all of the risk of the future value of the purchase, since they've already paid out what they felt the value of the purchase actually was.  In a stock deal, there would have been an incentive for the seller (Kiva) to continue to operate efficiently and effectively and grow their business in order to realize greater gains down the road on the shares they receive.
In our view, Amazon is placing a pretty nice wager on Kiva continuing to produce technology to scale them into their growing logistical infrastructure.  It's no secret that Amazon's labor costs have risen faster than their revenues, so this is a smart way to help buck that trend, as well as scare some of its competitors.  Hopefully sellers using FBA will see this as a huge step in the right direction for the program.