If you use BigCommerce to manage your online store, chances are you've spent some time exploring the Apps marketplace. With hundreds of apps spread across fifteen diverse categories, there's no shortage of BigCommerce apps to help you run your business more efficiently.
Depending on your current business needs — for example, accounting & tax management to shipping & fulfillment — you can easily spend hours searching through this massive marketplace to find the right apps to integrate into your store.
To save you hours of endless scrolling, we've found 20 apps that will help you manage your marketing, customer service, analytics, and store maintenance. As your store grows, it's critical for you to master these areas so that:
Customers have a positive experience, from browsing to checkout
Customers are encouraged to keep coming back and tell other people about your products
Let's take a look.
BigCommerce Apps for Marketing
As a seller, your marketing needs are diverse and unique. BigCommerce marketing apps offer a wide range of services to help you grow your business and meet your needs. For example, available apps help you manage email marketing, advertising, loyalty programs, and social media engagement.
1. Shogun Page Builder
With e-commerce, you have the option to sell your products on online marketplaces and on your website. With an online marketplace, the platform takes care of a lot for you. You don't have to build a site or code anything — just choose a subscription plan and start selling products.
On the other hand, unless you're a developer or have access to one, building an engaging website that flows well and does what you want it to has its challenges. It'll either cost you a fortune to have it built for you or take hours of your time trying to figure it out.
Shogun Page Builder is a website development tool designed for e-commerce. It helps you build landing and product pages with its easy-to-use visual editor. By simply dragging and dropping the elements you want into the builder, you can create a website that looks stunning and keeps users engaged.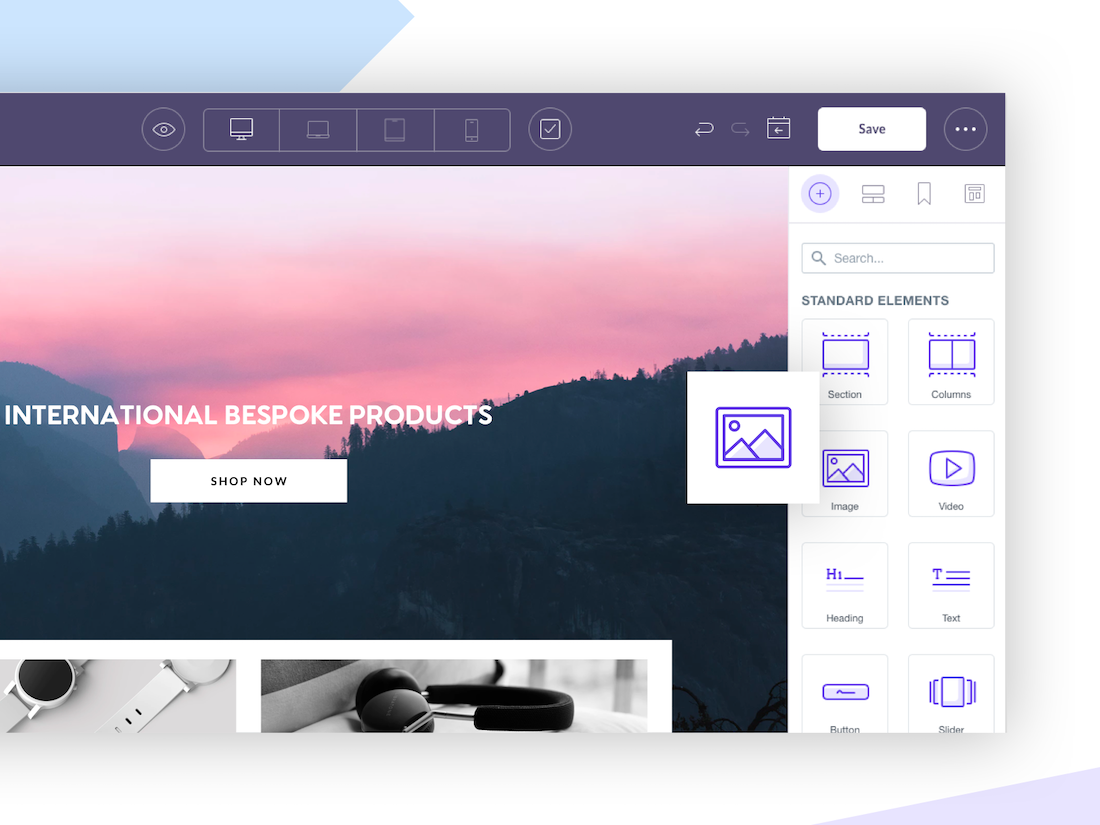 The A/B testing feature for landing pages helps you understand how customers use your site. For example, when you create two versions of the same landing page, you're able to track which links customers click on. The resulting data helps you figure out what parts of your site to optimize to increase conversions.

Price: $79/month
2. Facebook Easy Ads
One of the best ways to reach your target audience is with Facebook ads. With 2.41 billion monthly active users, there's no shortage of potential leads on this social channel. However, if you're new to Facebook ads, it takes time to master the different elements — like setting a budget or identifying your ideal target audience — that are required to create ads. Without a solid understanding of these settings and their implications, you'll spend a lot of money on ads and won't see much traffic or leads in return.
The Facebook Easy Ads app does a lot of the heavy lifting for you when it comes to ad creation. Prior experience with Facebook ads isn't required, Facebook Easy Ads walks you through the process in a few steps.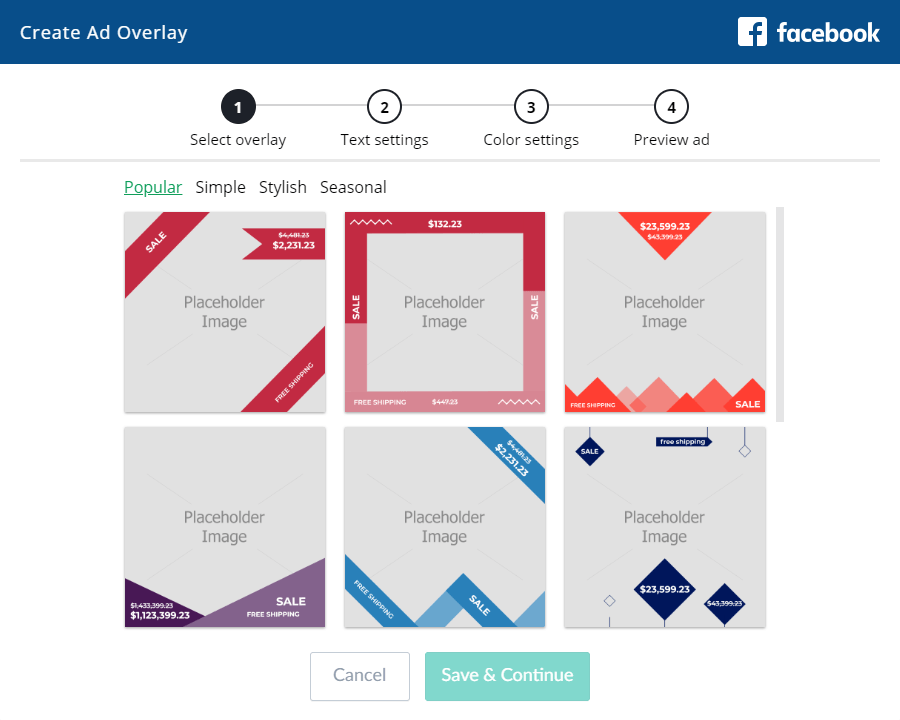 [Source]
With this app, you can run ads on Facebook and also on Google to extend your reach. With Facebook Easy Ads, you can run two different types of ad campaigns from one place. With the retargeting feature, you can quickly create Facebook ads to re-engage your audience. The simplicity of the process also means you can be confident that your ads are seen by the right people and attracting traffic to your store. The remarketing feature lets you create search ads and shopping ads for Google without having to log into your AdWords account.
Price: Free
3. MailChimp
Email is a powerful way to connect with customers where they spend a lot of time. Forty-four percent of people in the U.S. and Canada check their email one to three times a day. Email marketing offers a lot of opportunities to grow your business, but manually emailing leads and customers takes a lot of time. Think of how much time it would take to send new customers a confirmation email every time they bought something. Or how long it would take to email new leads when they share their email address.
With the Mailchimp BigCommerce app, you can automate your email marketing. For example, when customers leave your site without buying the items in their cart, you can use Mailchimp to automatically send an abandoned cart email. You can also send an email campaign that includes multiple emails to re-engage lapsed customers or send current customer recommendations or special offers.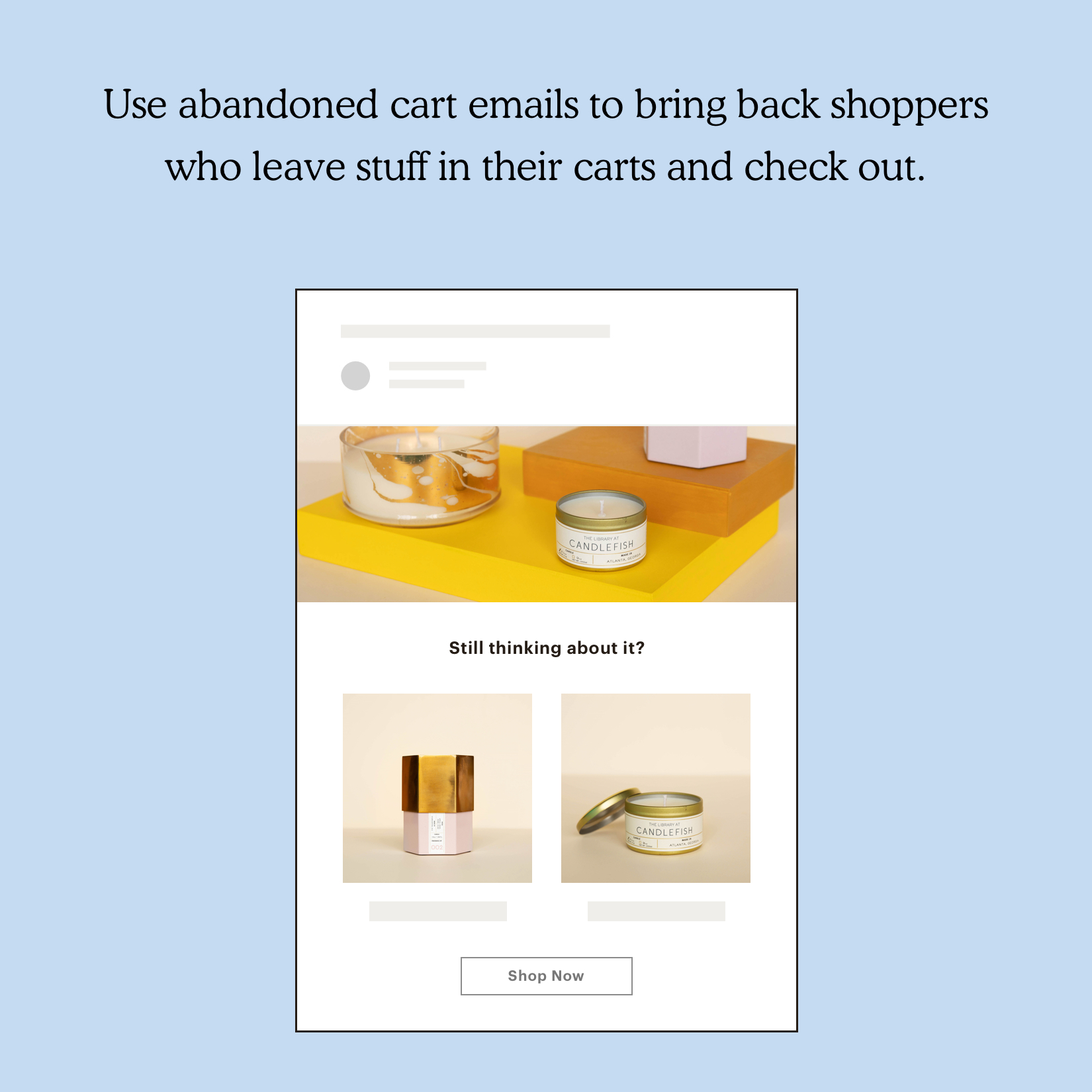 There's even a reporting feature that shows you how well subscribers are engaged with your emails. For example, the data will show you what percentage of email subscribers open emails and click on links. You can also view revenue reports to see if your emails are impacting sales. Overall, the Mailchimp app simplifies email marketing so you can build stronger relationships.
Price: Free
4. Google Shopping by Sales & Orders
As an online retailer, you have access to use Google's Merchant Center to upload product information for users to see during their online search. It's a valuable tool to use to promote your store but keeping your product information up to date takes time.
The Google Shopping by Sales & Orders app automatically creates a Product Data Feed for you in your Google Merchant Center account. Every time you make an update to a product in BigCommerce, the update also appears on your listings in Google.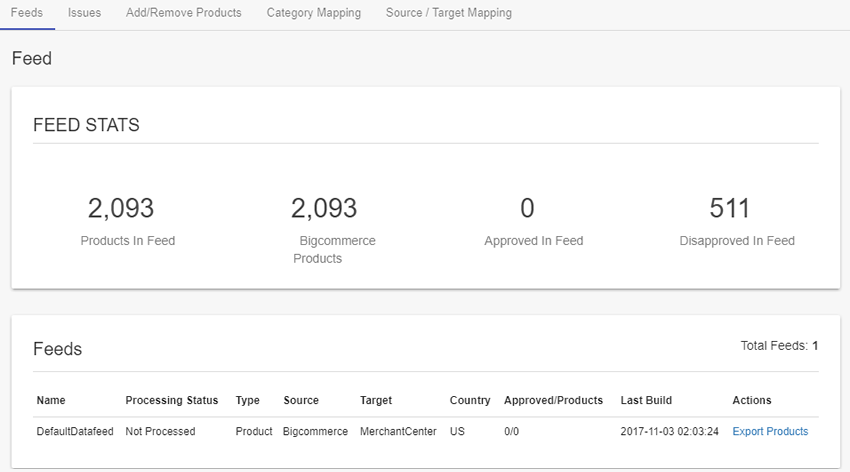 Also, based on changes you make to your product offerings, this app makes it easier to see which products are missing from your feed and which ones need to be removed. To improve your efficiency, this BigCommerce app also offers features like:
Error reporting. This feature tells you whether any information is missing from your listings.
Google categories. This feature helps you stay organized by mapping your products to relevant categories.
Reporting. This feature allows you to see and track how each of your products is selling.
Price: Free
5. Klaviyo
In order to grow your online store, it isn't enough to list your products and run a few ads to boost traffic. You have to constantly learn from your audience so that you offer the kinds of products and services they need and expect. Focusing on the customer experience and your relationship with them is required if you want to grow.
Klaviyo is a marketing and email automation tool for e-commerce. It's designed to help you learn more about your customers based on sales reports and email engagement.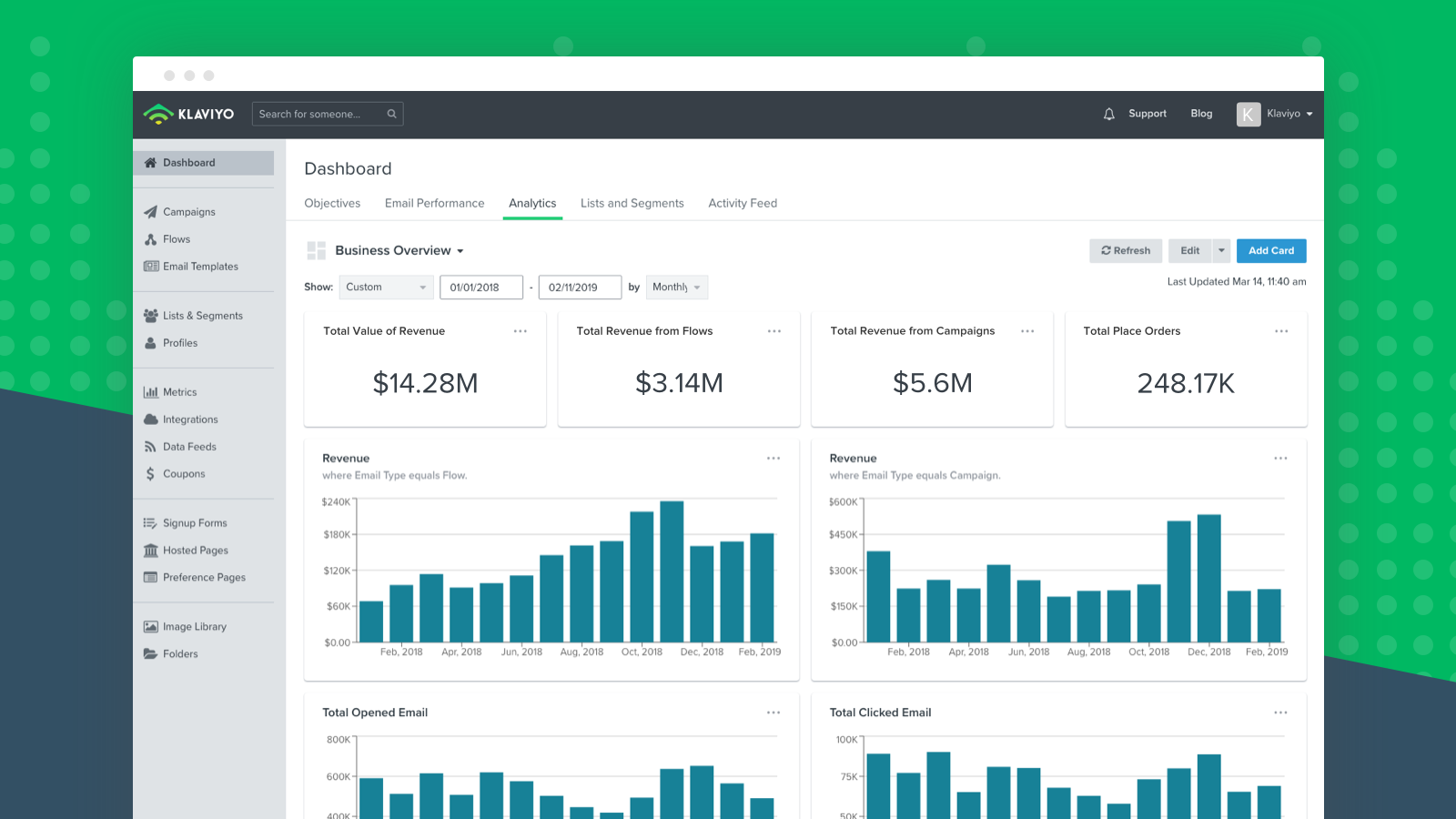 With Klaviyo, you can see customer purchase history, the types of products they add to their cart, and shopping behavior. This information lets you create new experiences that get shoppers to browse longer. For example, your data might show that adding a Product Preferences section to your product pages will encourage shoppers to stay on your site longer and eventually buy something.
Price: Free up to 250 contacts
6. Justuno
To attract new customers and grow your business, you probably run multiple marketing campaigns throughout the year. But with so many campaign types with different targets and objectives, you end up tracking them across different platforms. For example, you track email and social media campaigns separately, which results in disjointed campaign analysis.
Justuno is a marketing and analytics tool that tracks conversions. It's designed to simplify campaign insights, so regardless of the types of campaigns you run, the data tells a coherent story. For example, if cart abandonment is an issue on your site, you can run campaigns that include time-sensitive special offers, coupon codes, and more to track conversions for all of these campaigns.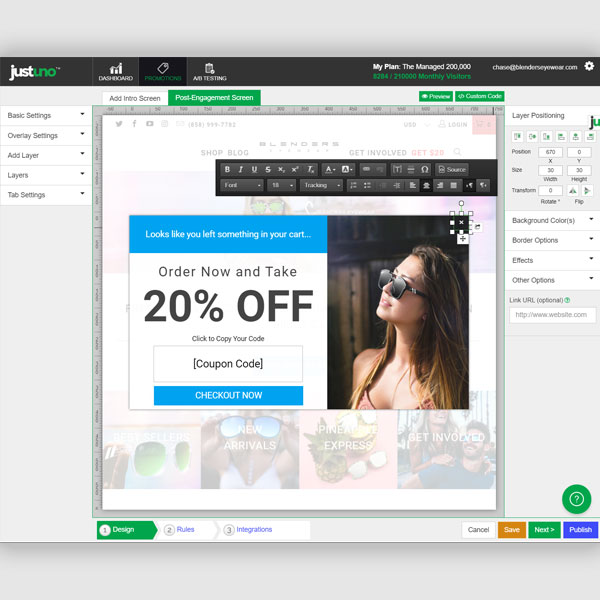 [Source]
Justuno also offers access to features like:
Online store promotions
Email lead forms
Cart abandonment offers
Customer targeting and segmenting
With the insights you get from these features, you're able to create new, targeted campaigns that allow you to keep learning about your customers.
Price: $29/month

BigCommerce Apps for Customer Service
Customer experience is an indicator of how successful your store will be. Taking the time to offer services that reinforce the customer relationship you're nurturing will ensure that your customer service supports shoppers through the sales funnel. BigCommerce apps help you set up live chats on your website and on social media, manage customer data, and increase conversions.
7. LiveChat
Despite the conveniences shopping online offers customers, there are a few drawbacks. For one, unlike shopping in a brick-and-mortar store where they can get their questions answered quickly, customers have to rely on emails to customer support to get the information they need. Depending on the type of help customers need, having to wait for information can be the difference between buying something and leaving your website and not coming back.
To keep customers shopping online longer, use LiveChat to answer customer questions in real time. LiveChat is a widget that appears on your website; when customers have a question, they click it, and have the option to chat with you or send a message if you or your customer support team are offline.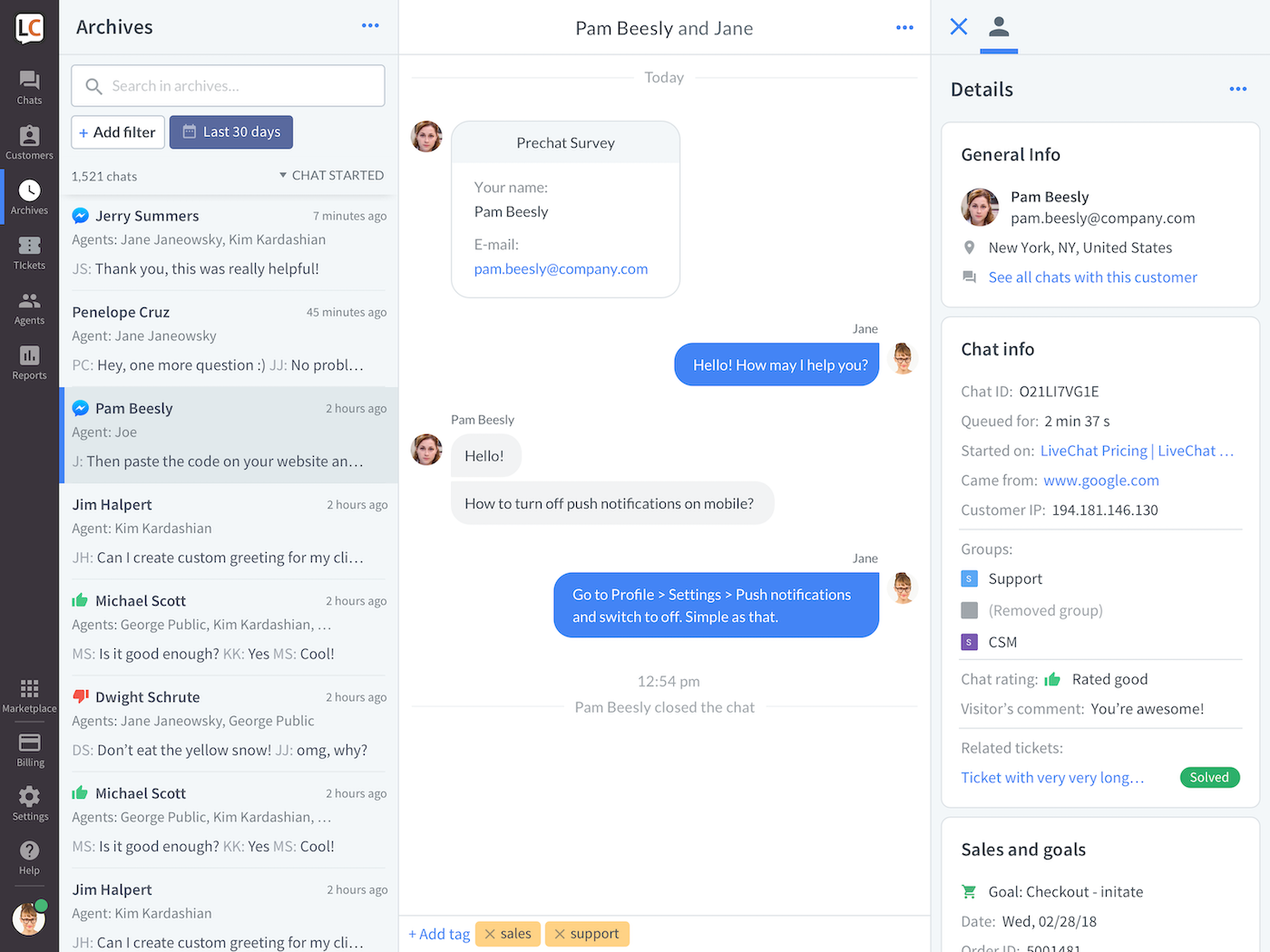 LiveChat even has a built-in sales feature that lets you share product recommendations within the chat window. There's also a call to action (CTA) button included to simplify the shopping experience for customers.
Price: $16/month
8. Re:Amaze
As your store grows, having a help desk and customer messaging platform makes it easy to track feedback and questions from customer calls. This approach also gives you an option to talk directly with customers. However, if the platform doesn't integrate with BigCommerce, you'll find yourself using different platforms to communicate with customers and manage your store. Jumping between platforms takes time away from the customer, since it slows down response times.
A better approach is to use a platform that integrates with BigCommerce, so all of the information you need is in one place. Fortunately, there's Re:amaze. You and your customer support team don't have to deal with technical issues if one platform is running slower than another one or one isn't updating correctly.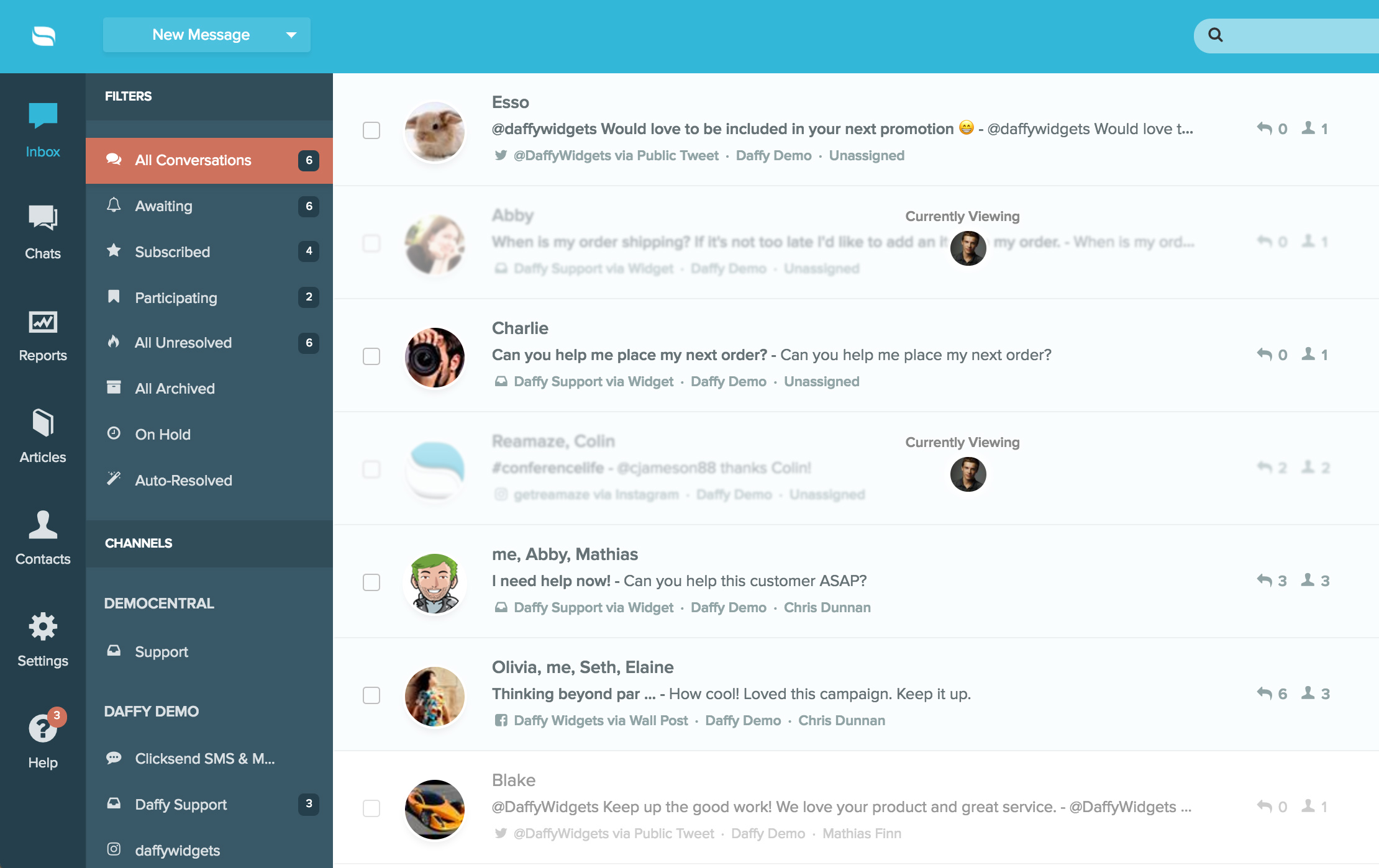 Re:amaze also lets you integrate customer email addresses, your social media accounts, and SMS campaigns to offer valuable and relevant support to customers.
Price: Starts at $20/month
9. Readycloud CRM
Shipping can be one of the most challenging aspects of e-commerce. You have to consider packaging, shipping rates, communicating delivery times to avoid missed deliveries, and more. If you sell your products on a marketplace like Amazon, then you have the option to outsource shipping with Fulfilled by Amazon (FBA).
If you aren't selling on an online marketplace yet, but need help managing this part of your business, consider ReadyCloud CRM. It's designed to manage shipping and returns for e-commerce sellers. For example, it offers discounts on Priority Mail to save you money.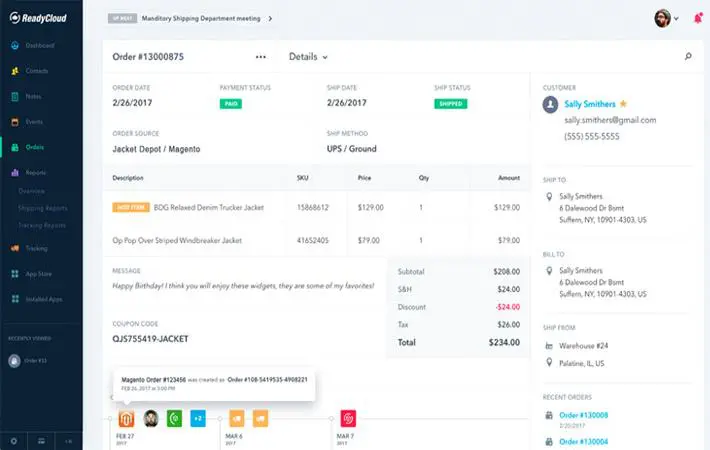 [Source]
The ReadyReturns feature lets you create UPS and USPS return labels. You don't pay for these labels unless customers use them. To enrich the customer experience, you can print these labels in advance and add them to your shipments to create a simple return process for customers.
There's even a CRM Suite feature that works with online marketplaces like Amazon and eBay, and email marketing tools like Mailchimp and Constant Contact to help you manage your store. All of these features combined with the customer support feature help you support customers more effectively.
Price: $24/month
10. Quick Facebook Chat
When it comes to e-commerce, customers spend a lot of time on social media reading reviews, looking at products, and learning more about retailers they're interested in. If customers have a question, they can ask on social media, but this interaction is separate from your website. For customers who browse your website and submit questions, they have to wait for an answer via email. You end up having to log into different systems — Facebook and your website — to respond.
Quick Facebook Chat integrates with BigCommerce so that, while customers browse your website, they can send questions and comments to Facebook Messenger from a live chat widget. You only have one platform to check for messages.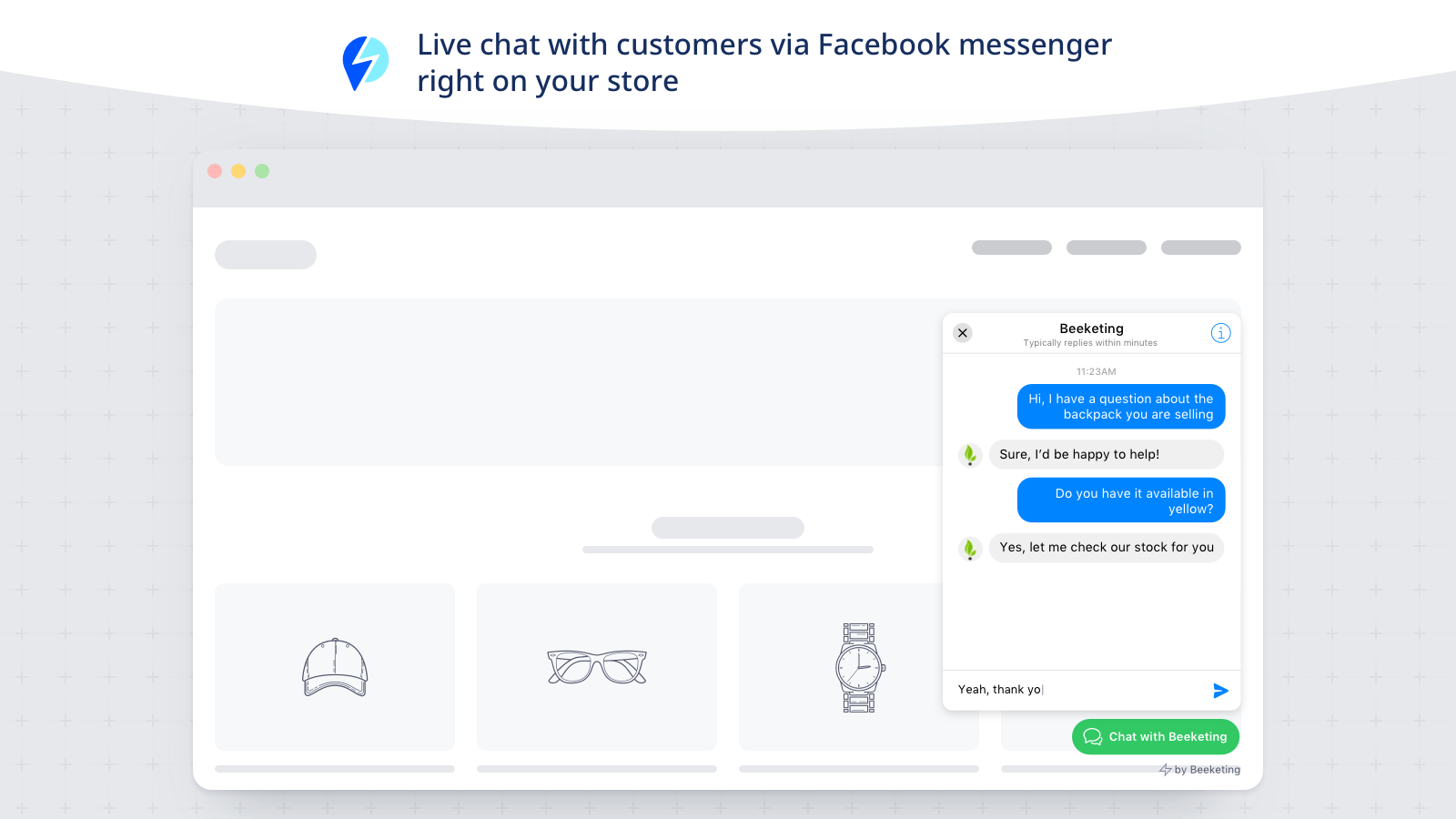 Customers can even Like your Facebook store page from the live chat widget, which is another way to grow your followers and extend your reach. Customers don't have to leave your website to engage with you on a platform they spend a lot of time on.
Price: Free
11. Form Builder
Another way to grow your online business is to collect data directly from your customers. The more you know about them and their preferences, the better you are at offering products they're eager to buy. Learn more about your customers with the help of surveys and forms. The main issue with this is using more than one platform to collect different types of information. For example, there are survey creation tools available, but they don't offer access to feedback forms — you need a different tool for that.
Form Builder by POWr offers you access to multiple forms in one place. With this single BigCommerce app, you can create forms for feedback, new contacts, orders and returns, and build custom surveys. You have the flexibility to create forms with custom fields, images, fonts, and colors to make each form unique and engaging.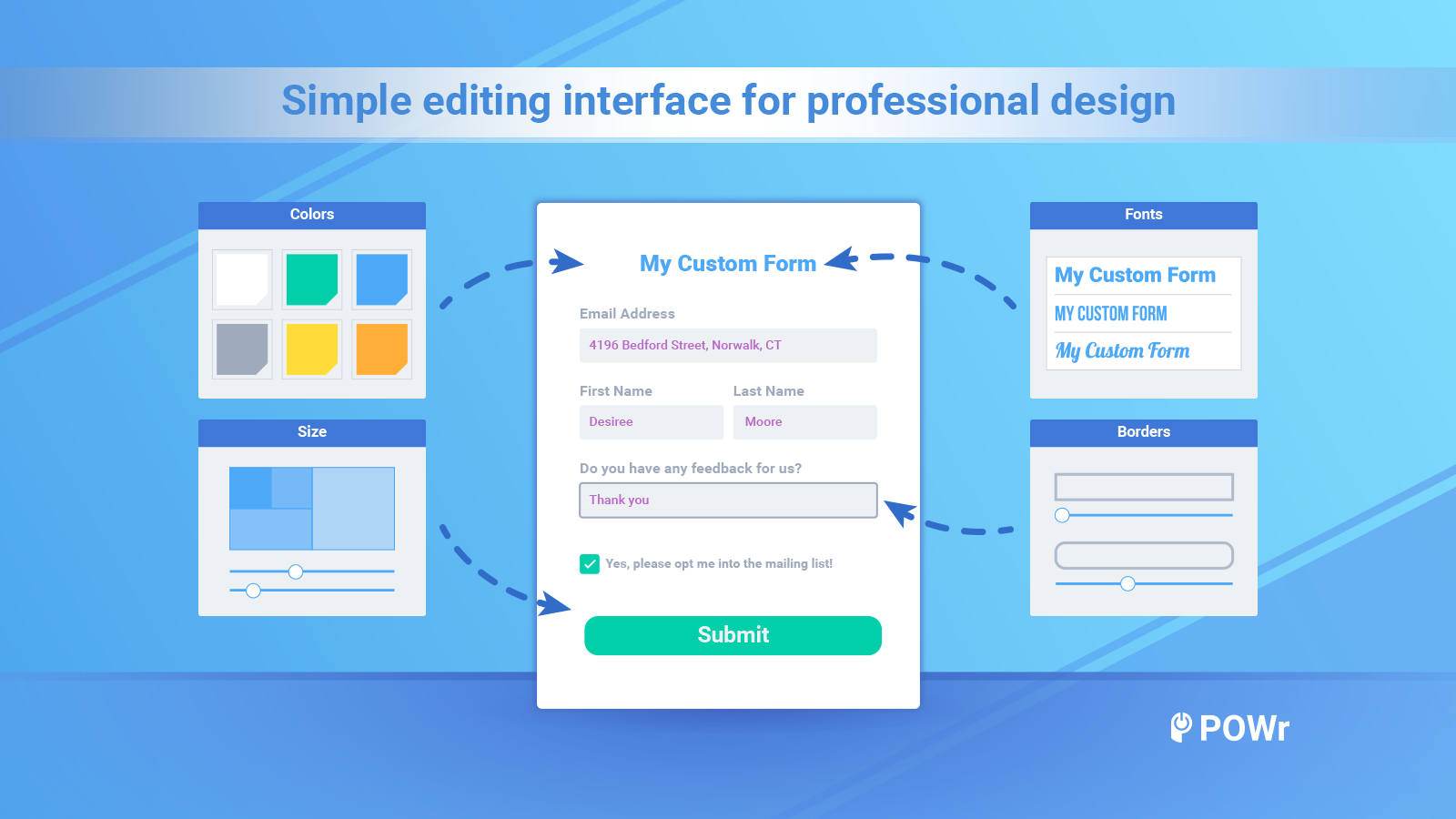 Plus, regardless of the devices recipients use, forms are responsive and appear the way you intended. This is important for receiving more completed forms. The easier the forms are to access and use, the better the chances are of customers following through and completing them.
Price: Free
Existing customers spend 67% more than new customers. Part of this is because they're loyal to brands and because of referral and loyalty programs. In fact, 83% of customers are willing to share referrals. But despite the value these programs offer, how do you get started if you've never run a rewards and referral program before?
Smile.io is a rewards program builder. It uses simple design features to walk you through program setup. You can create programs that track points, reward referrals, or offer an exclusive membership program. Depending on the programs you create, you can offer rewards based on purchase frequency, number of referrals, number of social shares and more.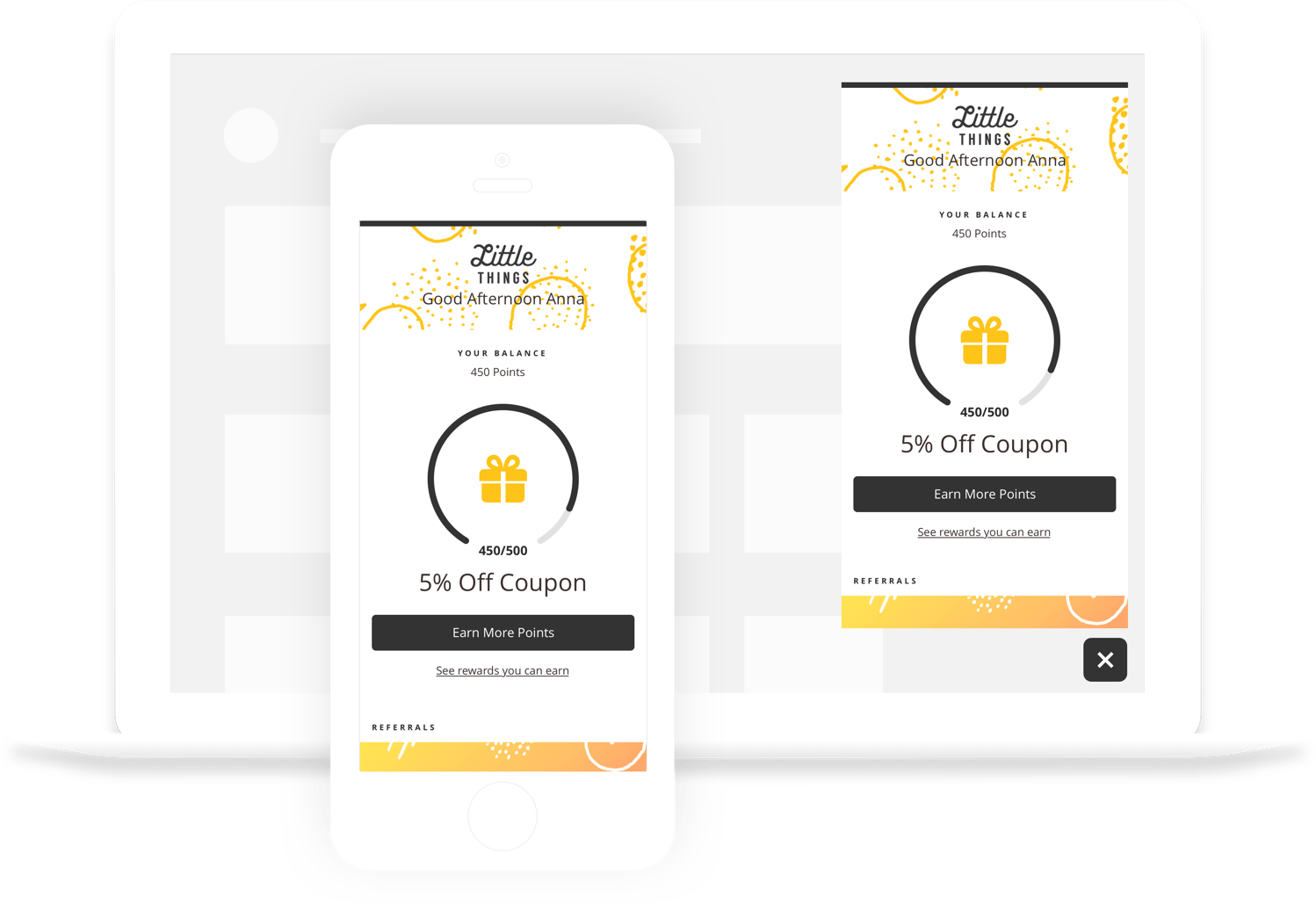 [Source]
To build brand awareness with your rewards programs, Smile.io also lets you add in your own logo, images, and messaging. This way, when customers share your programs with their network, this creates awareness and helps make your brand more familiar to a wider audience.
Price: Free
BigCommerce Apps for Analytics
Analytics offer insights that allow you to be proactive and take advantage of opportunities to improve your business. BigCommerce apps help by offering insights into website traffic, customer shopping habits, and your profitability.
13. Google Analytics
Analytics are important to business growth because you're able to see which product pages your audience spends the most time looking at, where your audience is located, their interests, and more. To use this information to grow and become a more effective seller, you need deep insights from a tool that's easy to use and doesn't require an analyst to interpret the data.
The BigCommerce Google Analytics app gives you the deep insights you need to make business decisions. With Google Analytics, you have more insight into where your customers are coming from across the web, what types of ads they click on, and what kinds of campaigns get them to take action.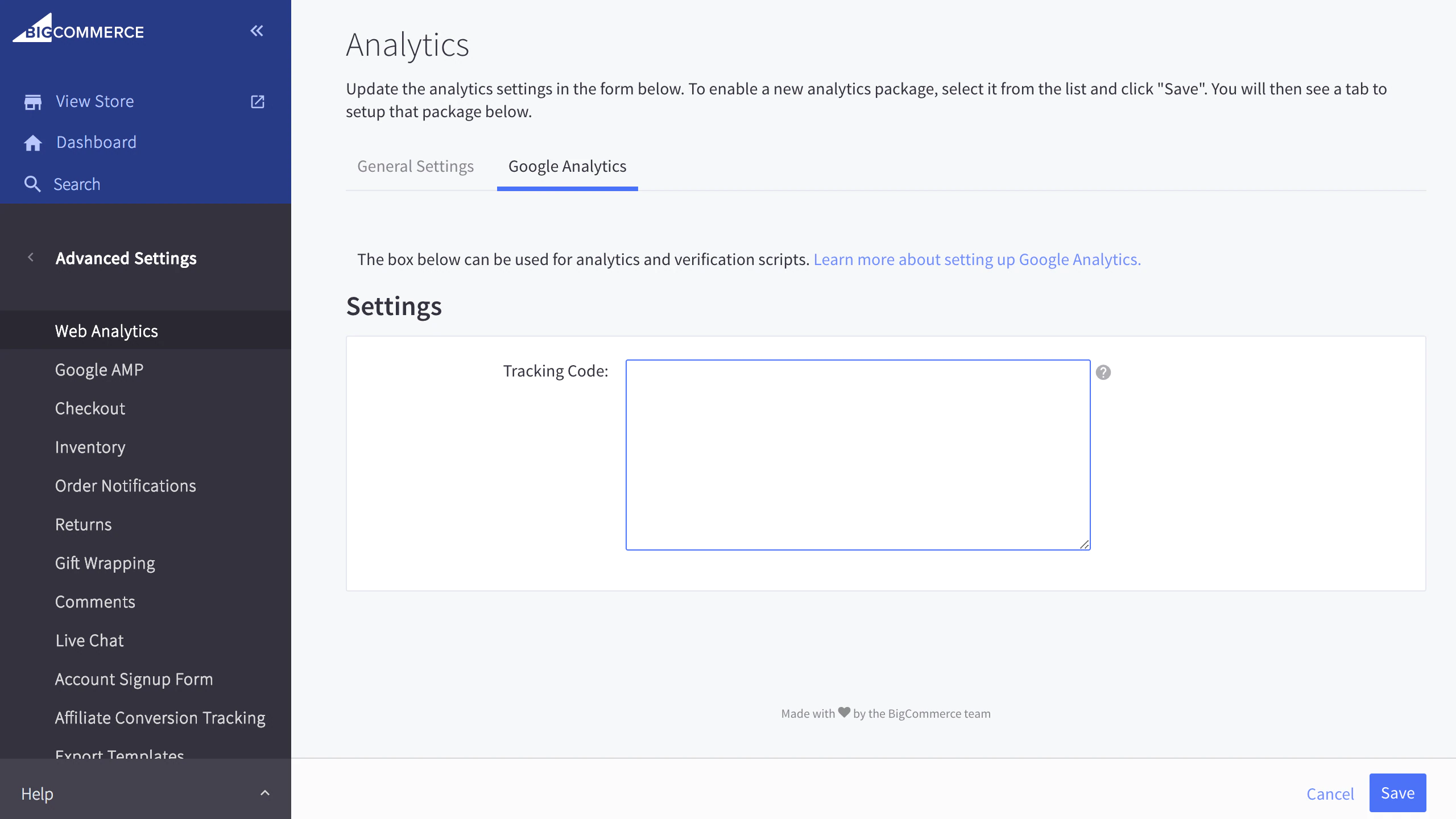 Some of the features you have access to include:
Customized reporting
Advertising ROI
E-commerce tracking
Cross-channel and multimedia tracking
Google integration
Price: Free
14. Lucky Orange
You've taken the time to create a visually appealing website and your products are in line with what your audience says they need. Despite this, conversions are low because shoppers are browsing but not buying. Unless you know what's causing shoppers to stop short of making a purchase, you're not going to see much revenue growth.
Lucky Orange is a site tracker that uses heatmaps and user recordings to give you insights into your site's usability. With its help, you'll be able to optimize your store so that shoppers browse for longer.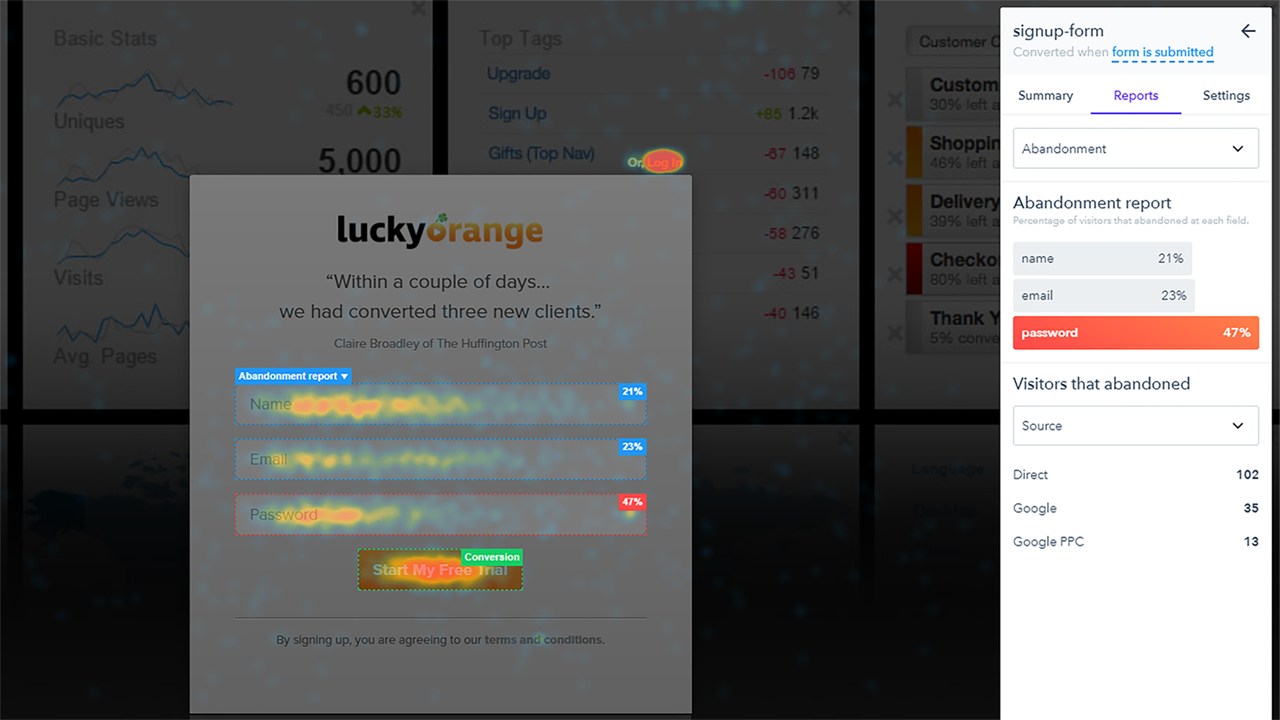 Lucky Orange lets you watch how shoppers use your site so you can pinpoint why they didn't convert. With insights like this, you can make adjustments to your site so that it's more intuitive, easier to browse, or more organized.
There's even a live chat feature that lets you reach out to shoppers before they leave your site. You can answer questions they have and view what they see at the same time to show them what they're looking for.
Price: $10/month
15. Ordermetrics
To judge whether your store is growing, you have to track your profits. This means regularly reviewing your cost of goods sold, shipping costs, advertising spend, and more. If you're new to e-commerce, tracking metrics can feel intimidating. How do you know what to look for or whether what you're seeing tells a good or bad story?
OrderMetrics is an analytics tool designed specifically for e-commerce sellers. It offers deep insights into profits and marketing spend.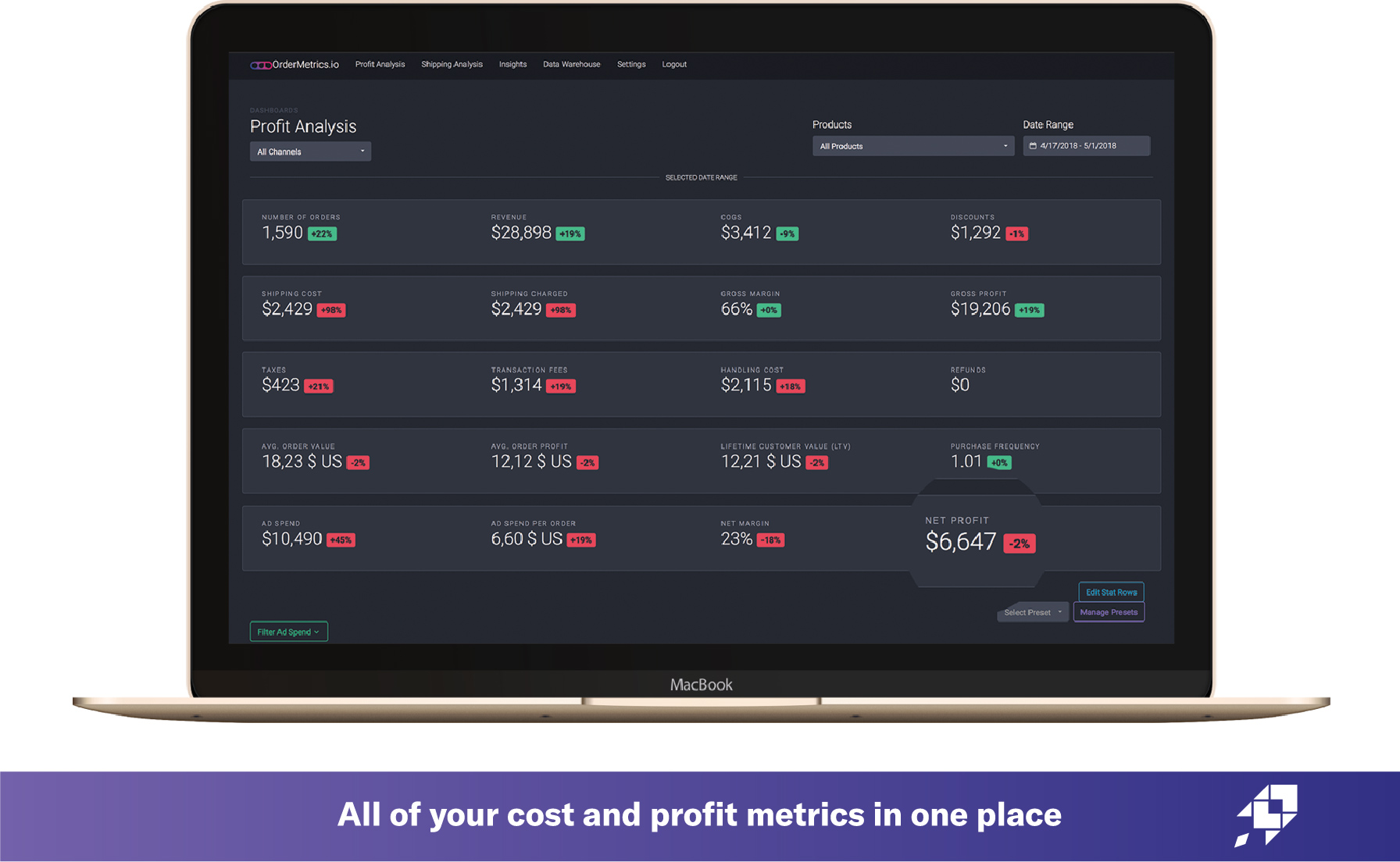 OrderMetrics also shows:
The profitability of each of your products
Which products aren't priced right
Which discounts are ineffective
Which shipping options are the best option for your products
Price: Stars at $59/month
BigCommerce Apps that Function as Site Tools
BigCommerce offers apps that help simplify store management. From backing up your website, to managing your inventory, to organizing the content on your site, these apps have features that make managing your store a seamless experience for you.
16. Rewind Backups
When you're managing multiple products, settings, and requirements, it's possible to accidentally delete content. For example, you might delete a product description that took you some time to phrase correctly. Or you might realize that the shipping settings you entered didn't save properly. When you delete something, that data is lost forever and can't be recovered. This can be a huge time drain if you have to update everything again. What you need is a way to recover information so that your site can be restored to what it was before the deletion.
Rewind Backups backs up all of the important elements of your store. For example, in case your site goes down and data's lost, all of your product details, images, inventory, settings, themes, orders, customer statuses, and more, are all saved. With automatic backups, your data is stored safely and accessible to your customers — their shopping experience isn't interrupted so they're able to stay on your site longer and keep browsing.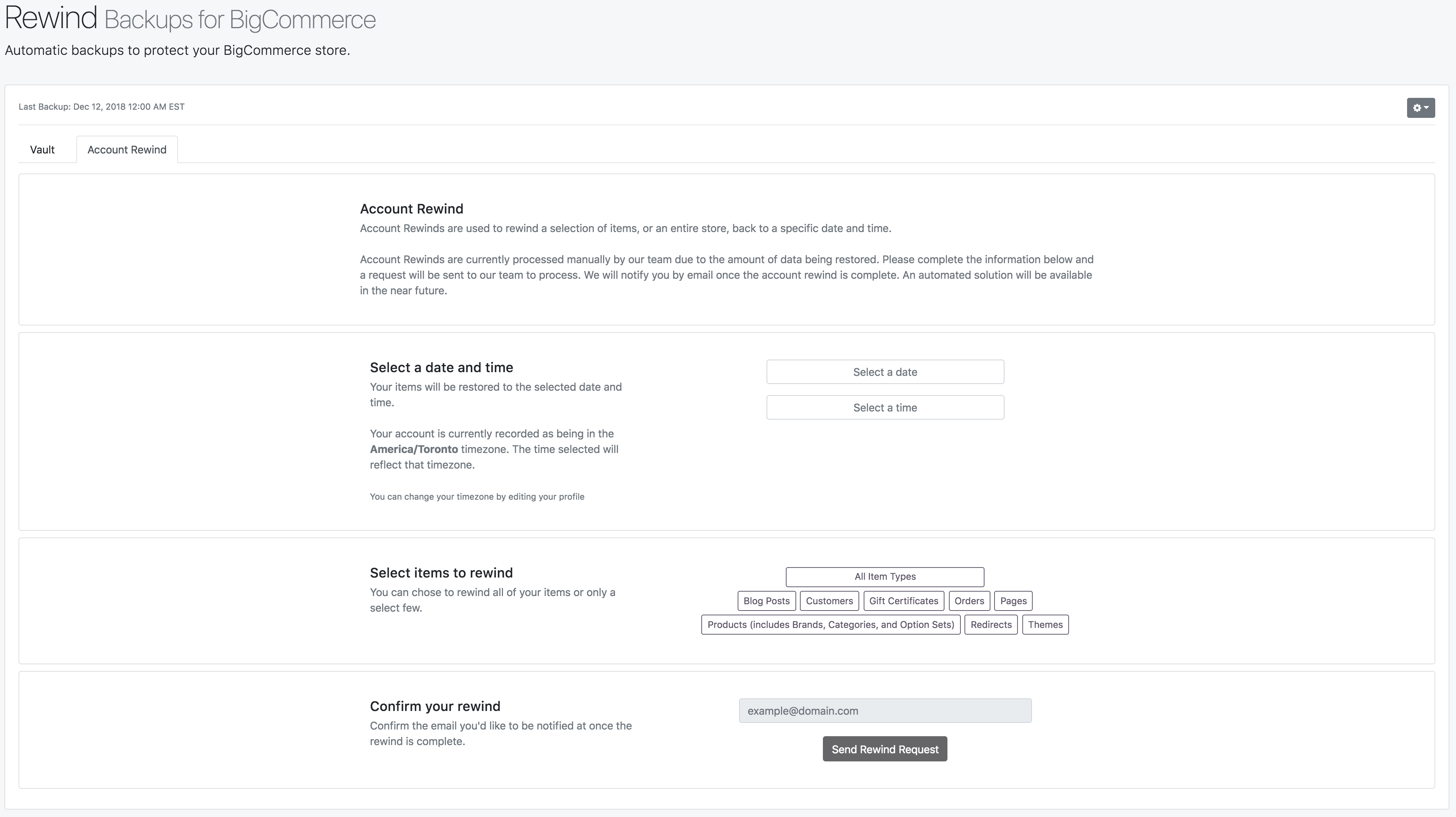 Price: Free plans available, paid plans start at $9/month
17. BrightPearl
E-commerce is the combination of many moving pieces coming together to send customers the products they want. From processing orders to managing inventory, there's a lot to manage — especially if your business is growing.
Brightpearl specializes in retail operations so it connects all of these moving pieces. It helps you manage your inventory, sales, fulfillment, and more to make sure you're running efficiently.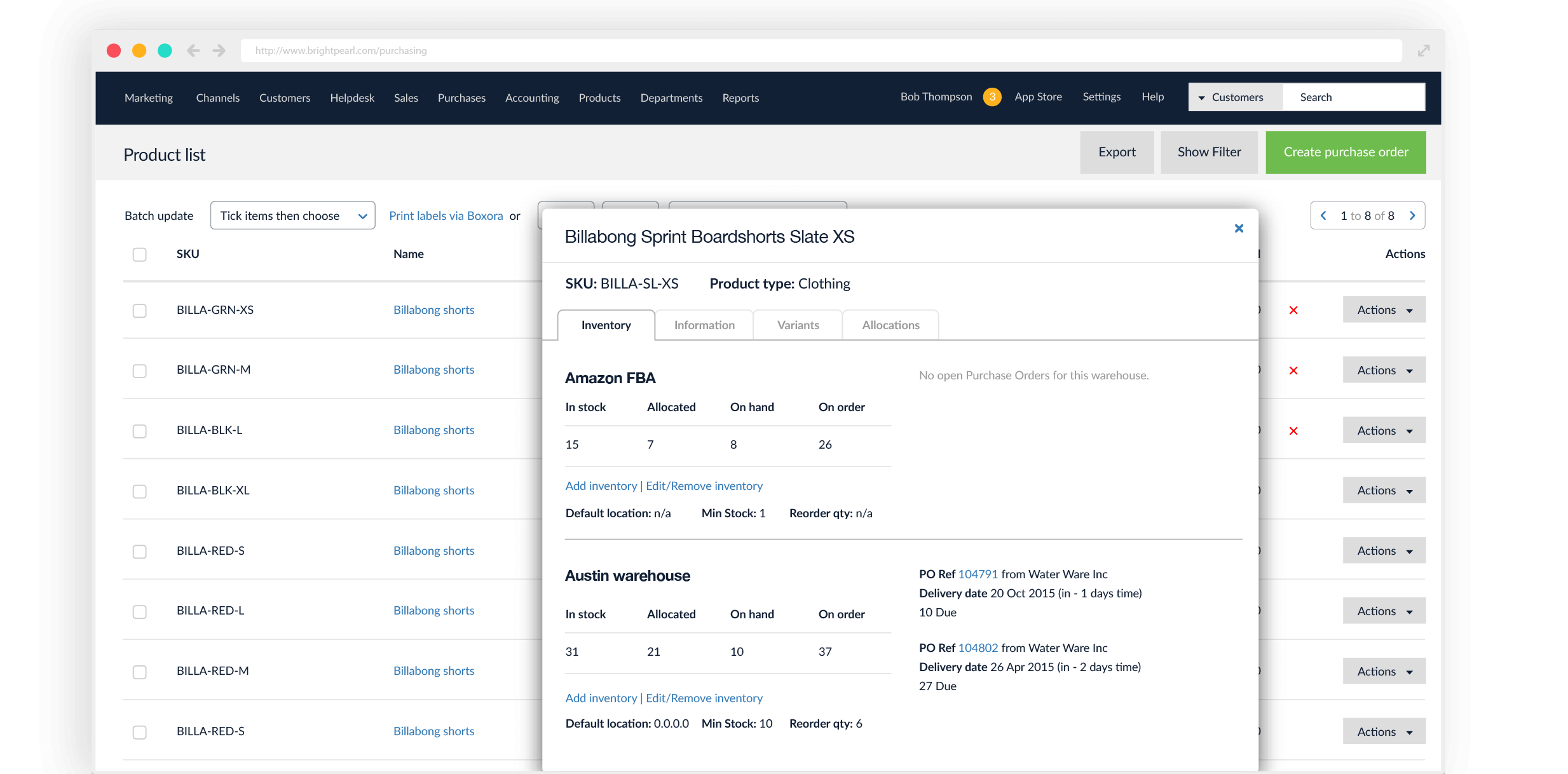 If you manage more than one store using BigCommerce, Brightpearl's multi-channel management lets you connect all of your stores and manage them using one platform. For example, Brightpearl can help manage reporting for all of your stores in one place and it can help track sales and fulfillment of these stores. Multi-channel management simplifies how you manage your stores.
Price: Custom
18. Privy
As your business grows, you need to find new and interactive ways to keep shoppers engaged. Engaged shoppers improve your chances of converting them so that they buy something.
Privy is a BigCommerce app that boosts engagement with the help of popups, abandoned cart emails, and special offers. These features help you communicate more effectively with shoppers who've shown an interest in your products. For example, in addition to general popups that include a special offer or invite to join your email list, Privy lets you gamify the interaction by giving you the option to use 'spin to win' popups and coupon codes for custom programs.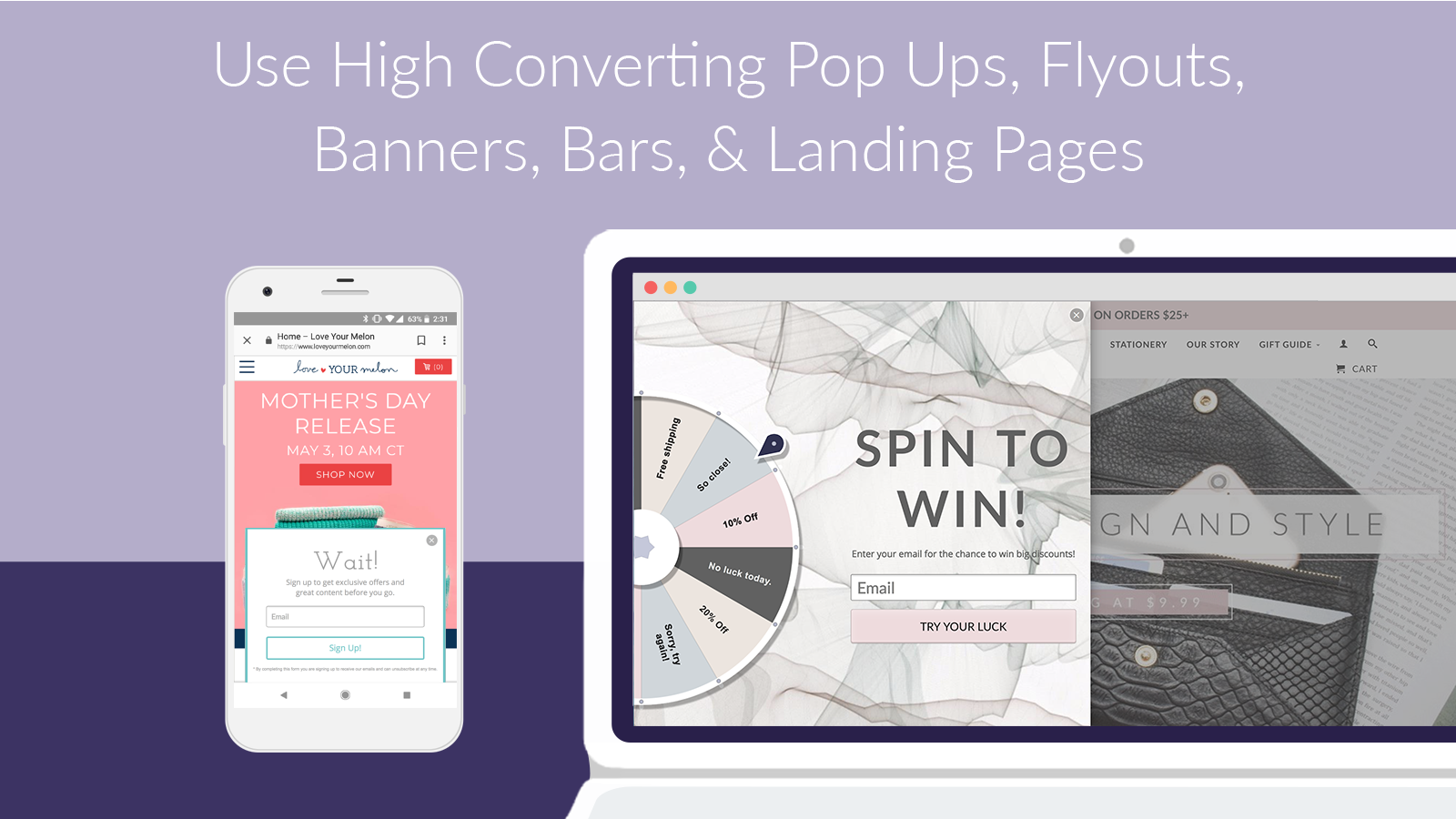 Other features Privy offers include:
Welcome messages to new customers
Abandoned cart messages
Email marketing
Promotions
Product feature highlights
Price: Free
19. Weglot Translate
As you grow your reach, chances are, you'll sell products to customers in countries other than your own. This is great exposure, but if your target audience in these countries can't understand the content on your website, you won't make many sales.
To avoid the mistake of not catering to local languages, you have the option to translate your website so that anyone, no matter where they're located, can understand and shop your products. Weglot translates the content on your website, so that wherever customers are located, your site automatically translates to the correct language.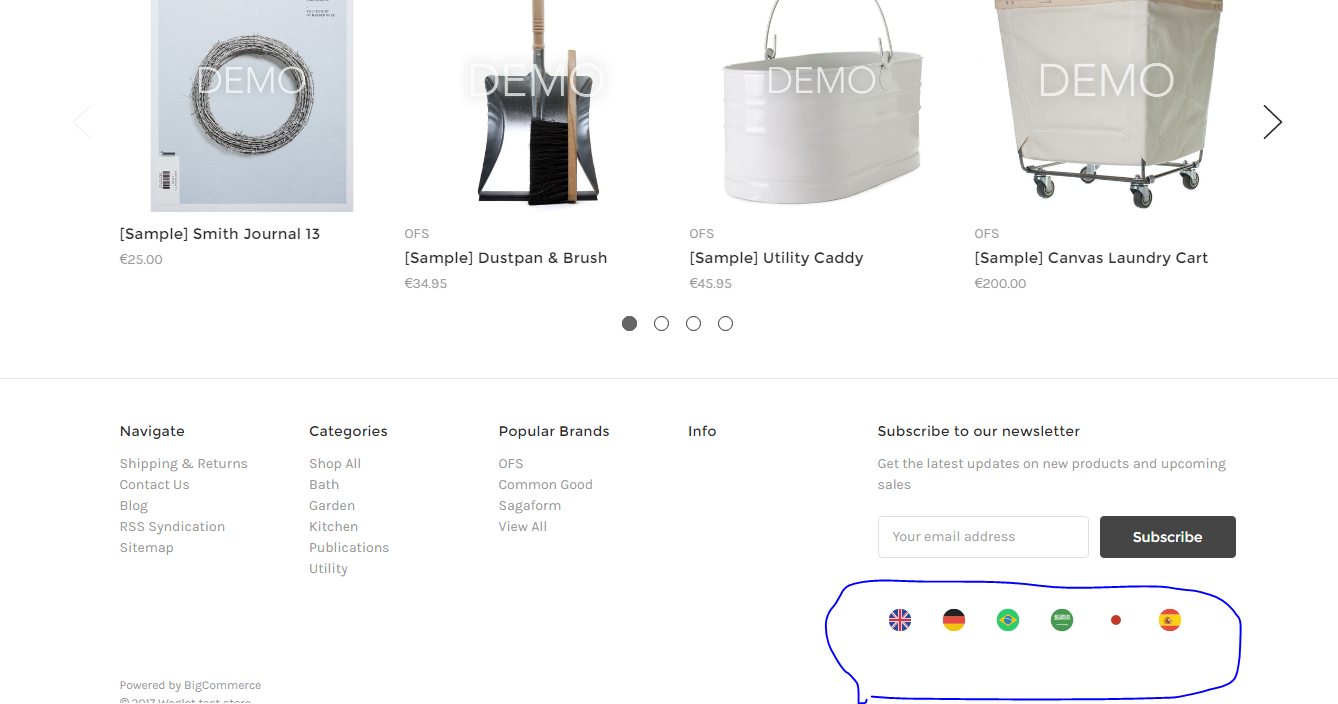 With Weglot, you don't have to know any code to configure your website. Integrating it with BigCommerce takes a few clicks, which ultimately saves you time and money since you don't have to hire and train a developer to do this for you.
Price: Prices start at $21/month
20. Gift Registry
Customers aren't only on your site to buy products for themselves, they're also there to buy gifts for other people. Whether they're shopping for birthday presents, holiday presents, or something else, make the customer experience memorable by making it easy for shoppers to find what they're looking for.
The Gift Registry lets shoppers flag the products they're interested in and then invite friends and family to view the items as well. Your customers can even split payment across multiple people for gifts they want to send jointly.
Plus, since 54% of total sales are expected to be from mobile by 2021, Gift Registry can be used on web and mobile. Gift Registry also helps you with design and implementation so that you don't have to worry about how your branding will look.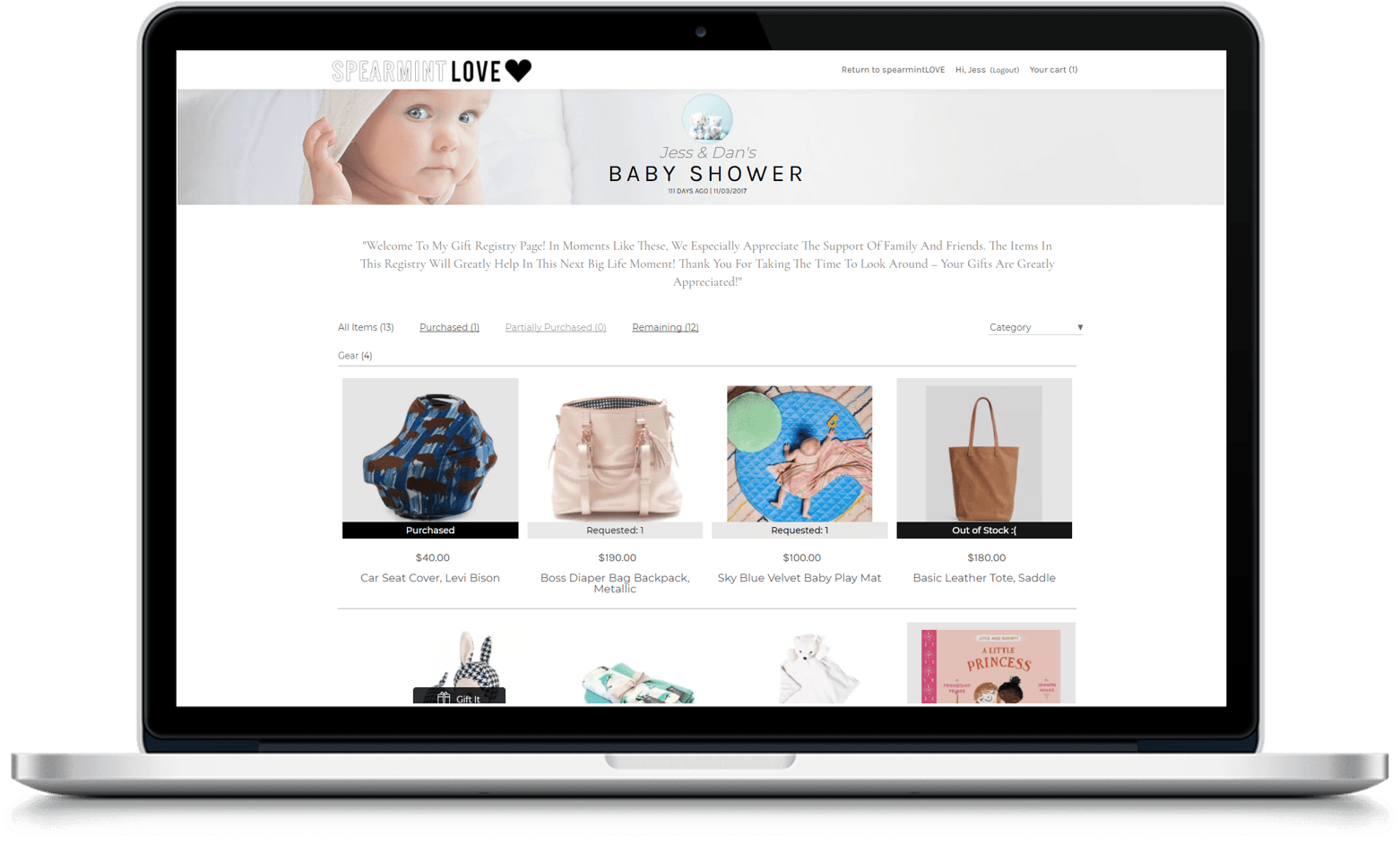 Another benefit to the Gift Registry app is that it helps increase your brand exposure. Shoppers who want to buy a joint gift enables a new group of people to get to know you better and ideally browse your store for future purchases.
BigCommerce Apps help you focus your efforts
Being strategic when you run your online store helps you grow your business. For example, if you want to know more about your customers and the products they buy, they can focus on using analytics apps that integrate with your store. Based on your business goals, BigCommerce apps are available to help you focus on what features matter.
From the apps we've shared above, try them out to find the ones that meet their needs. Plus, use these apps to get ideas of new product opportunities and special promotions to share with your customers. You might have thought a referral program would be too difficult to create and run, but the right BigCommerce app will simplify it for you.