As a retailer, it is important to meet customers on their preferred shopping channels and to form strategies around boosting your sales on those channels. In 2019, and in the years to come, that means becoming available to ecommerce shoppers and specifically to shoppers on Amazon.
Since 2016, ecommerce has accounted for around 50% of all growth in retail and is projected to continue this growth through 2023 at least. Perhaps what's most important for a retailer to note is that of all the ecommerce sales each year, nearly half of those sales take place on Amazon. In 2018, 49.1% of all ecommerce sales took place on Amazon, which is more than the next nine largest e-commerce channels combined.
This means that a key focus for retailers moving forward should be figuring out how to increase sales on Amazon. The following guide provides nine simple tips for you to do just that and to put together a profit-boosting Amazon sales strategy.
1. Be a Resource
If you want to increase your sales on Amazon, you need to differentiate your brand from competitors, boost product awareness, and attract your target customers. One way to do this is to leverage yourself and your brand as a resource.
Online consumers spend a lot of time researching before making a purchasing decision. If your brand provides consumers with the information they are looking for, you will build their trust in your brand and ultimately become a more successful Amazon retailer. Here are five steps on how to turn your website into that trusted resource:
Step 1: Think about the value you can provide to others. Think about the knowledge you have about your product and industry that customers would benefit from knowing. Next, create content that educates your customers in those areas.
Step 2: Create a place to publish and share that value. Set up a blog on your website and start sharing your knowledge with weekly blog posts. The focus of these blog posts should be around providing answers to questions your customers frequently have about your industry or product.
Step 3: Start sending traffic to the content you create. To increase the number of people who see the blog posts you create, try running Facebook ads, targeting useful keywords, and sharing your content with any other social media channels your users frequently use.
Step 4: Capture email addresses and start nurturing leads through email marketing campaigns. Create tools and incentives for people to provide their email addresses before or after reading your blog posts. This way you can generate more leads and start an email marketing campaign to move those leads further down your sales funnel.
Step 5: Include a compelling call to action in each blog post or email. Guide readers directly to your product listings and brand page on Amazon by crafting compelling messages around why they should find you on Amazon and how.

2. Get Help from Influencers
When consumers research a product, they often look for reviews from trusted sources such as social media influencers, industry leaders, and even celebrities who use the product. In one study of a large group of consumers, 49% of respondents said they take recommendations and advice from influencers when deciding what products to buy. That being said, another great way to increase your sales on Amazon is to connect with and leverage the help of well-known influencers in your industry.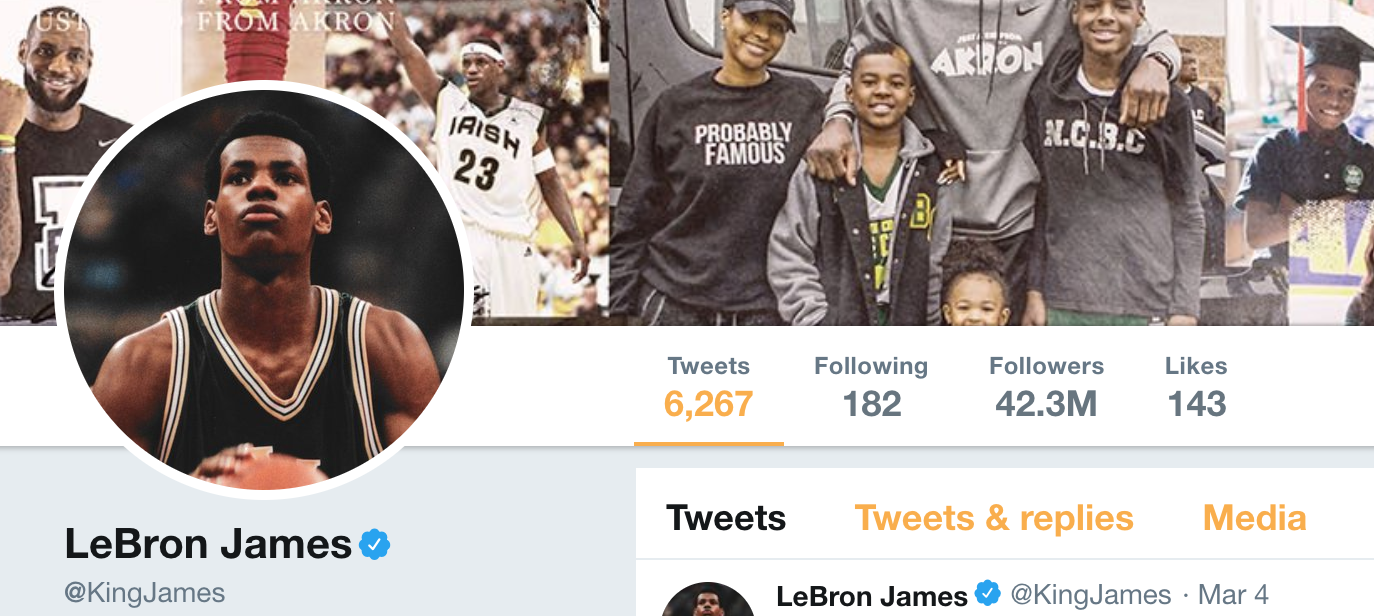 With over 42 million followers, LeBron James is a huge influencer in the athletic apparel industry. Nike leverages LeBron's fame and influence to reach a larger audience than they could on their own. However, not all influencers are as famous and inaccessible as LeBron James. Any business owner can connect with relevant influencers using one of these three approaches:
Approach #1: You can work with influencers through the Amazon Associates or Amazon Influencer Programs.
Approach #2: You can handpick influencers and reach out to them manually via email and offer to pay them for creating and sharing sponsored content about your products. For advice on selecting the right influencer for your brand and collaborating with them, check out this guide.
3. Try a Sponsored Products Campaign
As with many other channels, you can find more success on Amazon if you're willing to pay to play. Creating Sponsored Products ads on Amazon can help make your brand more visible than your competitors. Here's how it works:
You choose the products you want to advertise, how much you're willing to spend per click on each ad, and any keywords that you'd like to connect to your product.
Amazon will create ads that appear in high-visibility spots like the first page of a shopper's search results or at the bottom of a product details page.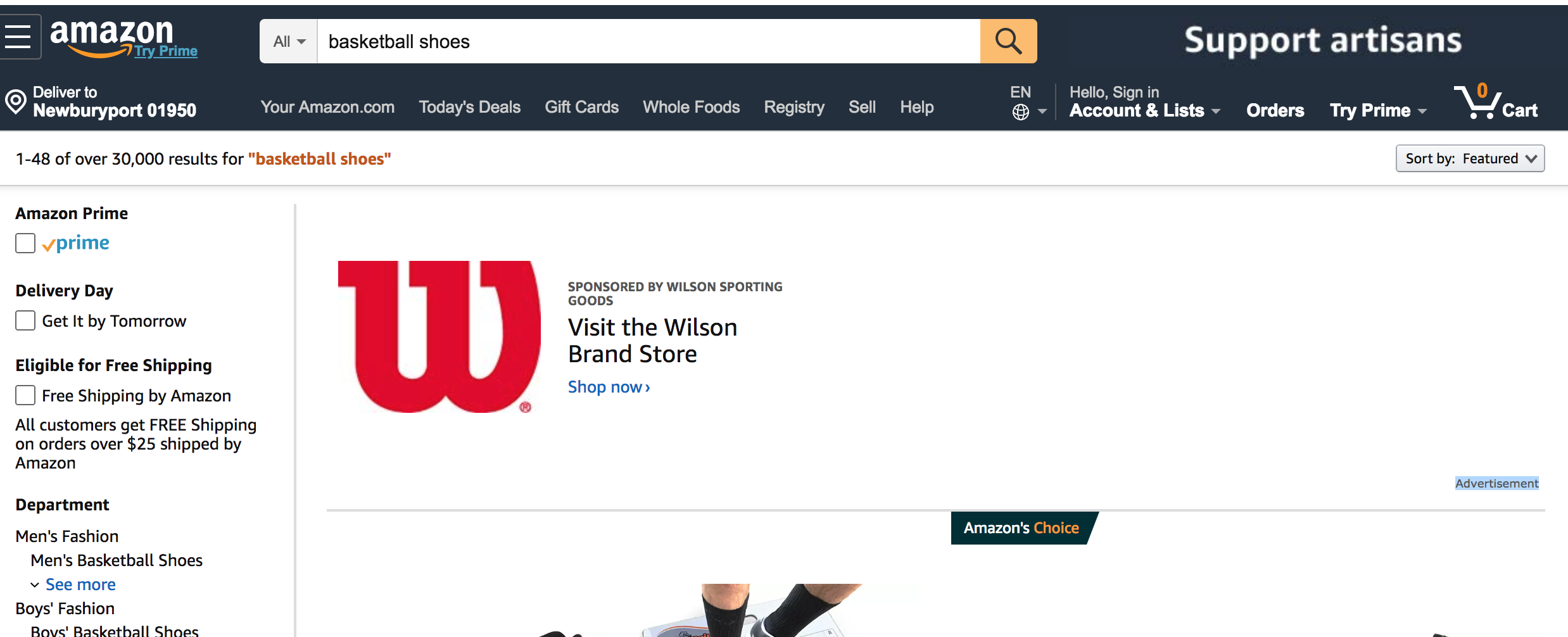 Wilson Sporting Goods, for example, paid for an advertisement to appear at the top of a search results page for anyone who searches for 'basketball shoes.'
For more information on how to get started, check out this guide from CPC Strategy. The guide contains information about the different types of Sponsored Products campaigns you can run through Amazon as well as tips on how to ensure you get your money's worth from them.
4. Drive More Reviews
Getting a lot of good reviews from your customers and making those reviews visible to potential buyers is a great way to build trust in your brand and by extension increase sales on Amazon. In order to accomplish this, you need a strategy for getting more customers to leave authentic and helpful reviews on your product listing pages.
If you try to influence the tone of the review too much, the reviews will come off as disingenuous. You are better off trying to get a high volume of reviews so that potential customers get a full and accurate picture of your offerings.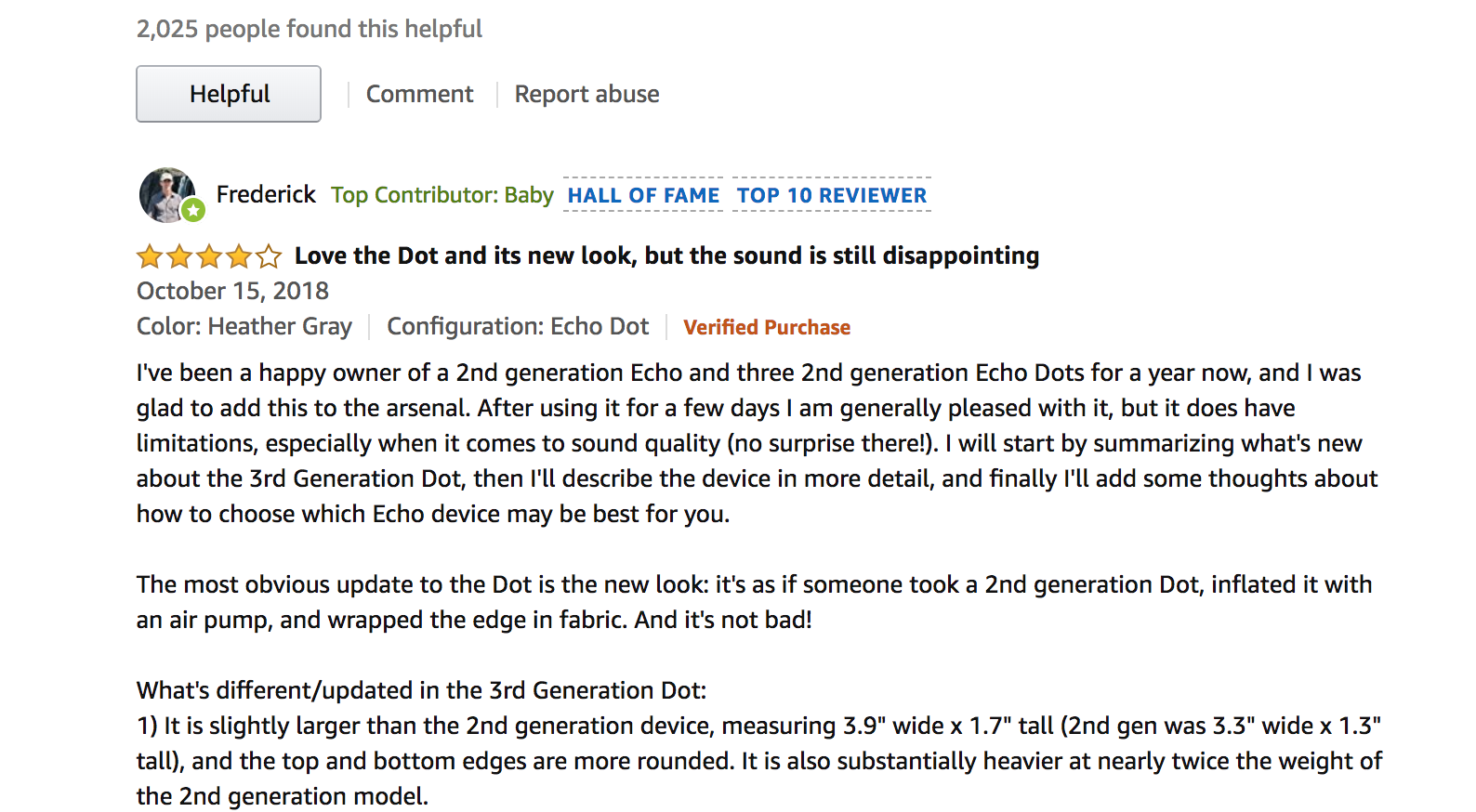 This review about the Amazon Echo Dot, for example, is not a full endorsement of the product, but it provides the customer with a thorough and honest review, so buyers know exactly what they are getting and can trust their purchasing decisions more. Here a few ideas on how to get customers to leave reviews:
Idea #1: Follow up with customers via email. After you have received notification that your product was delivered to its intended recipient, follow up over email and ask if they'd be willing to write a review about your product on the Amazon listing page. Make sure to let the customer know how important their review will be to your business.
Idea #2: Include a note in the package you send your products in. You can also include a handwritten note in your package that thanks customers for their business and asks them to write a review about your product on the Amazon listing page. It's a small gesture, but you'll find that people respond quite positively to handwritten notes.
Idea #3: Remind people on social media. Every so often, invite your social media followers to review your products on Amazon. Don't offer any incentives, just explain why reviews matter and why you're asking for help. Transparency is what will make this tactic successful, so just be honest and open with people.

5. Optimize for Search
Getting your products to show up closer to the top of a shopper's search results can be a significant leg up on your competition. Figuring out how to optimize your product listings for Amazon's search engine then is essential for increasing your sales on Amazon.
When it comes to Amazon search optimization, there is a lot to learn. The following blog posts are great places to start learning about optimizing your Amazon listings:
Once you've spent some time learning about Amazon search optimization, start updating some of your product listings with relevant keywords and SEO features. Make note of performance before you make any changes — you want to be able to track your progress and success along the way.
6. Create an Unmatched Buying Experience
As is the case with other selling channels, on Amazon, creating a great buying experience for your customers is a way to stand out amongst competitors. While there is no single equation for creating a winning buying experience, there are a number of things that you can do to help build your reputation and make people more likely to buy from you than from a competitor. Here are a few ideas:
Be transparent: Customers should never have to guess about the quality of your products, how they were made or manufactured, what your shipping and return policies are, etc. Help your customers feel like they know and can trust you as a brand.
Share your story: Help people understand who you are and why your business exists. Share stories about your products, your partners, the manufacturing process, your employees, etc., to build trust and excitement with your target audience.
Personalized communication: Engaging with your customers on social media, sending personalized email follow-ups, and even including handwritten thank you letters in the packages you send can go a long way toward differentiating yourself from competitors and building positive relationships with customers.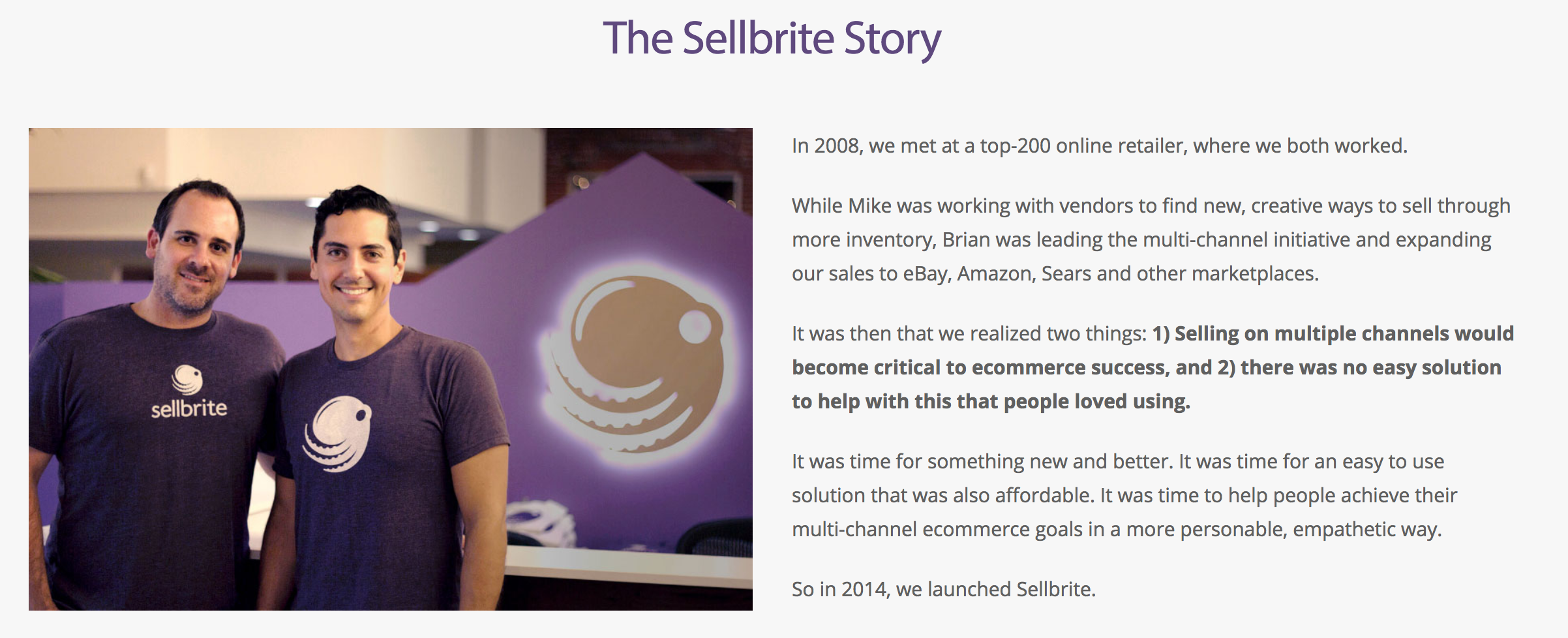 Sharing a story about your founders and/or company values helps buyers build a more personal connection with the brand they are buying from. Instead of competing with businesses on price alone, make an effort to build a personal connection with your customer at the buying stage, so your company values and culture can become a competitive advantage.
7. Write Winning Product Descriptions
If people are visiting your listing pages but not following through with a purchase, it could be because your copywriting and language are not compelling enough to get people to take action. Making small changes to your product descriptions can have a huge impact on the amount of shoppers you convert to customers and subsequently increase your sales on Amazon.
If you're not sure how to approach product descriptions, spend some time going through these helpful resources:
A word of caution: try not to change too much at once. Start small by testing different words in your headings and body, but don't completely rewrite your product descriptions. Doing so could actually have the opposite effect on your sales.
8. Leverage Video
In addition to reaching customers through multiple channels, it is also important to reach them through multiple mediums. Supplementing your written content with video content, for example, is a great way to increase sales on Amazon. When you use video effectively, it helps your brand stand out, builds a more personal relationship with customers, and also leads to increased sales. One study on ecommerce sellers found that using product videos increased sales for online stores by 144%.
The following types of videos are particularly useful for helping ecommerce companies optimize their listings:
1. Product Promotion Videos: Highlight a specific product and its features.
2. Production Videos: Show how your products are made.
3. Customer Story Videos: Film a customer testimonial or case study.
4. Brand Storytelling Videos: Interview the company founder or employees.
5. Educational Videos: Show customers how to use a product or how to fix a problem a lot of them have.
6. Live Videos: Let customers interact with an event in real time instead of watching retroactively.

[Source]
Giving shoppers the option to read about a product or learn about it through video makes your content less likely to be skimmed over or ignored.
For tips on how to get started with video as well as real examples of how other ecommerce brands have used video, check out this post from our blog.
9. Find the Products That Sell Best, Then Double Down
Finally, the best way to boost sales on Amazon is to figure out which of your products are selling best and double down on them. If you're struggling to gain traction, try reducing the number of items you're selling and create a more targeted marketing strategy that you can use for just a few of your products. If you start seeing the kind of numbers you're looking for after executing on your strategy, you can slowly introduce more items again and develop new strategies based on what you've learned along the way.
Over to You
What tactics are you using to drive more sales on Amazon this month? Tell me below in the comments.