Whether or not you like to read what people think of your products or services, consumers do. Nearly all American consumers, anyway — even when they're shopping online. In 2018, a study by Power Reviews reported that 26% "consult reviews for every purchase they make online. That number jumps to 30% for consumers age 18–44."

EBay's approach to reviews is unique in that it's reciprocal. If you buy something from an EBay seller, you can leave a review of the product and the experience with the seller. Likewise, if you sell a product to someone on EBay, you can leave public feedback about your experience with them.

The eBay Feedback system was created in this way to foster a sense of community between buyers and sellers. Sellers benefit from eBay's Feedback because it allows them to create an environment that can be the deciding point for potential customers. Here, we share how to manage your eBay Feedback score to improve your business.
What is eBay Feedback, and why does it matter?
EBay Feedback is a feature of the eBay platform that allows members of the eBay platform to leave reviews of people they've bought items from or sold items to.
Why is eBay Feedback important?
The Feedback system is important because it acts as a show of good faith for customers who have not experienced your store before. The system is unique in this sense because it allows buyers and sellers to let each other know what their interactions were like. EBay assigns each seller a Feedback score based on these reviews.

How is the eBay Feedback score assigned?
Whenever you sell something or make a purchase on eBay, you are allowed to leave a Feedback score. This score is assigned through a rating system. Eventually, you develop a Feedback Profile, or reputation, based on these comments and ratings left by other members.

Feedback used to be central to the buyer/seller experience, but eBay has condensed it to a percentage score that will give more detailed reviews when you click on it. This score is located at the top of the seller's Profile.


The ratings left by buyers are used to determine Feedback scores and are categorized as positive, neutral, and negative ratings. According to eBay, sellers receive:
+1 point for a positive rating
No points for a neutral rating
-1 point for a negative rating
You can read more about how eBay assigns Feedback scores here.

One important thing to note is that while both buyers and sellers can leave feedback for each other, the system works differently for each party. Buyers can leave sellers negative, neutral, or positive feedback. Sellers can leave buyers positive feedback or choose not to leave feedback.
How can you maintain a high eBay Feedback score?
Managing your eBay Feedback score comes down to the experience your customers have with your service. There are several steps to take before the customer can give a rating. In general, the better your customers' experience with you, the better your Feedback rating. Our research into eBay best practices shows that having a high seller rating can positively impact your sales. You should also consider the following because they can have a positive impact on your Feedback score.
Establish clear product expectations
The more products you sell on eBay, the more feedback you'll receive from customers. As a growing seller, it is inevitable that some customers will be dissatisfied with some aspect of your service, and product specifications make up a huge part of that.

In order to manage expectations, you have to provide as many details as possible to potential customers. With every product you put on eBay, you should be including the following:
Several quality images
A full description, including any damage
Packaging and shipping costs
How customers can return items
Payment information
We also have great articles on eBay selling and improving product satisfaction that can act as a guide for when you're managing your online eBay store.
Maintain clear lines of communication with customers
On eBay, poor communication doesn't just translate to a loss of sales and customer satisfaction. It could also lead to limits, restrictions, and even suspension, as shown by their fairly strict seller performance standards.

In order to improve communication with customers, here are a few tips you should be mindful of:
Act on customer feedback, and use it to improve your business.
Reduce reply time as much as possible, and aim to reply within the same day a message is sent. Even for customers in different time zones, make sure to clarify the reasons you might reply later.
Invest in CRM tools that allow you to send automated messages to customers, even when you're not available.
Maintain professionalism and stay calm in the face of unpleasant customers. This can be the difference between a positive rating and a negative rating.
Improve your handling time
The best practice for product handling time is to keep it to a maximum of one day. Handling time is the period of time between when a buyer pays for your product and when a carrier has scanned the packaged product.

However, you should be realistic and set this to a reasonable time that you can meet for every customer in order to manage expectations and avoid negative feedback. In order to keep your handling time as short as possible, here are some tips to consider.
Be organized. Have all your shipping supplies ready to handle a delivery at all times.
Use eBay labels. This allows you to save time in post-office lines, save money with discounted postage rates, and be able to automatically track your packages.
Find the fastest way to get your packages delivered. You can use eBay Guaranteed Delivery to encourage customer trust in your service. The aim is to get customer orders out within your stated handling time.

Use eBay's fast shipping programs
EBay operates two fast shipping programs, eBay Fast 'N Free and eBay Guaranteed Delivery.

Fast 'N Free is a fast shipping tag that is automatically added to items that can be delivered within four days for free. Through this system, eBay is able to protect both buyers and sellers if an item arrives late. This also helps sellers deliver on time, with little consequence for any delays.


Guaranteed Delivery ensures that buyers receive their orders by a specific date, allowing customers to shop with confidence. It also helps boost seller visibility.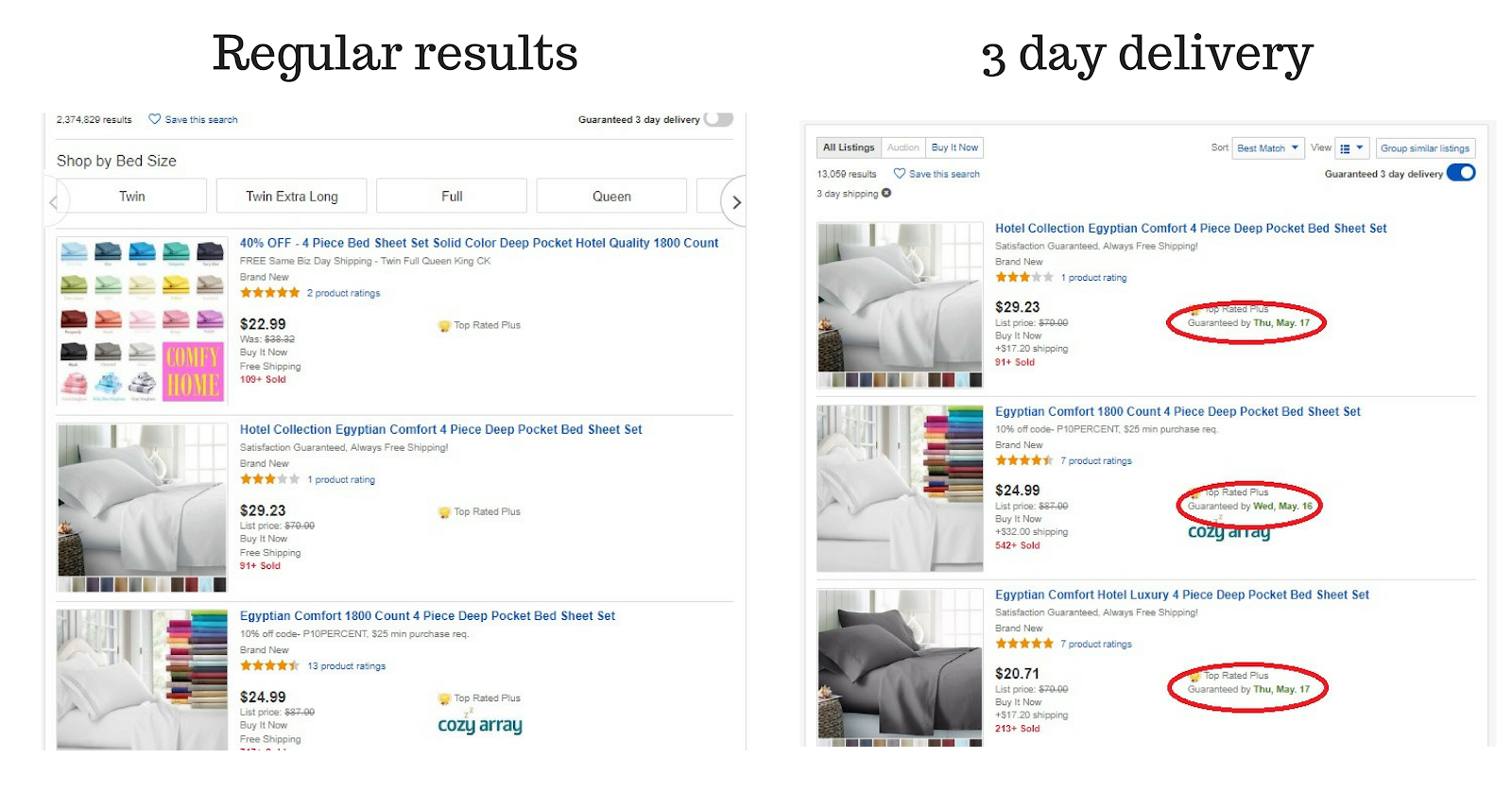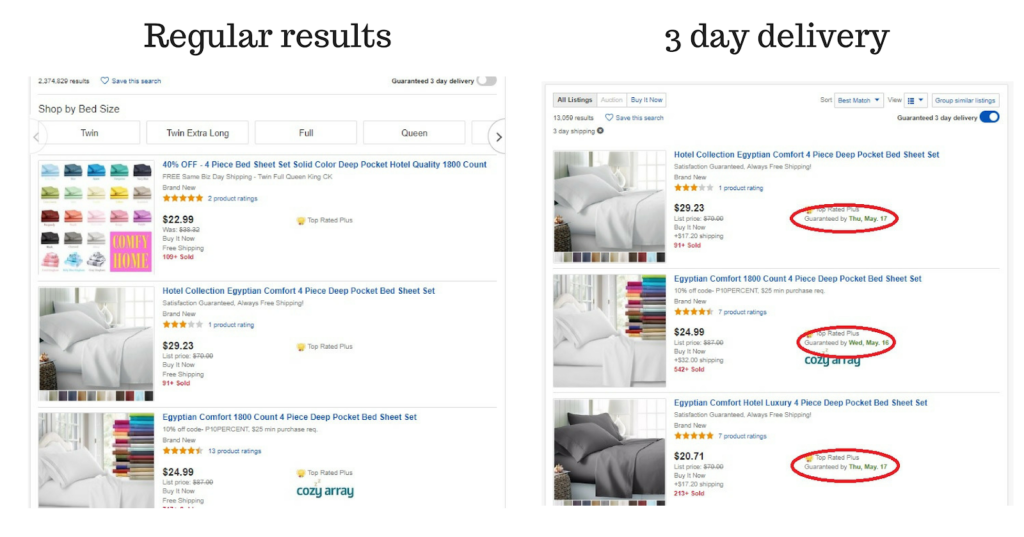 Leave positive feedback for buyers
EBay allows you to leave feedback for buyers. While you can't leave negative feedback, use this feature to your benefit by leaving positive feedback for buyers.

As a seller, your focus should be on the customers with whom you've had a positive experience. If there was an issue in the process of making the sale and delivering a product, you can leave positive feedback about how the customer handled the situation—whether they were patient, understanding, or generally pleasant. This can also affect and improve the rating they planned on leaving you if they see that you had a good experience while communicating with them.
Resolve problems with unsatisfied buyers
If you receive negative feedback from a buyer, don't be dismayed, you still have a chance to fix it. EBay allows you to reach out to customers who leave negative feedback so you can resolve whatever issues they had with your service. However, if you and the buyer can't reach an agreement, you can still tell your side of the story by replying to the feedback.

If you are able to resolve the situation, you can ask them to change their feedback with a revision request. You can also request that Feedback be removed if the buyer hasn't followed the platform's Feedback policies.
Leverage eBay Feedback to sell more in the marketplace
Customers who are happy with your service can directly affect your profit margins, as research from Bain & Company shows. Their study found that a 5% increase in customer retention correlates with at least a 25% increase in profit.

Proactively managing your Feedback score allows you to show potential and existing buyers how attentive you are to providing high-quality customer service. EBay also gives more visibility to sellers who have positive feedback, thus improving your eBay Feedback score and positioning you to sell more in the marketplace.
If you want to learn more about offering great customer service, check out The Little Guide to Customer Service for Ecommerce: How to Win in Every Channel.