Before your product listings can sell on eBay, people need to be able to find them. That's where eBay SEO can help.

SEO, which stands for search engine optimization, is the practice of making your listings more appealing to the algorithms that determine which pages show up in search results. Google is the most famous search engine, but eBay also has its own search engine named Cassini.

Search engines like Google and Cassini exist to help match people with the things they are searching for. They want to show the listings that will most likely satisfy the user. In Cassini's case, the search engine looks at factors like relevance, value, trust, and convenience when deciding which listings to rank higher on eBay. If your eBay listings are optimized with rich information, they can show up higher on Google as well.

In essence, eBay SEO means optimizing your listings and your seller presence to create a better experience for buyers. And the good news is you don't need any special software or technical expertise to do it. We'll show you exactly how to optimize your eBay listings, complete with a checklist of action items and an example you can follow.
1. Optimize your eBay listings
Your eBay listings can be optimized for SEO by paying attention to two major dimensions: keywords and conversions. Keywords will require some research first, and conversions will bring the added benefit of helping with sales. Let's dig in.

Optimize your listings for keywords
What are keywords? They're simply the words that searchers use to find what they want. You want to use the most relevant keywords in your text to signal to the eBay search algorithm what your listing is about.

Searchers on eBay have a number of ways they can search using keywords. They can type freeform keywords in the search bar and hit search, and Cassini will scour all of eBay to find the products they want. They can also specify the categories they want to search.

The search bar gives an option to conduct an advanced search, which lets buyers specify even more parameters.

Many buyers use eBay's extensive filters to specify keywords like size, color, and condition to drill down and find just what they want. In this example, a search for "womens green sweater" returns over 125,000 results. Narrowing the search with specifics like size, sleeve length, pattern, style, material, and delivery options helps them get closer to the exact item they want to buy.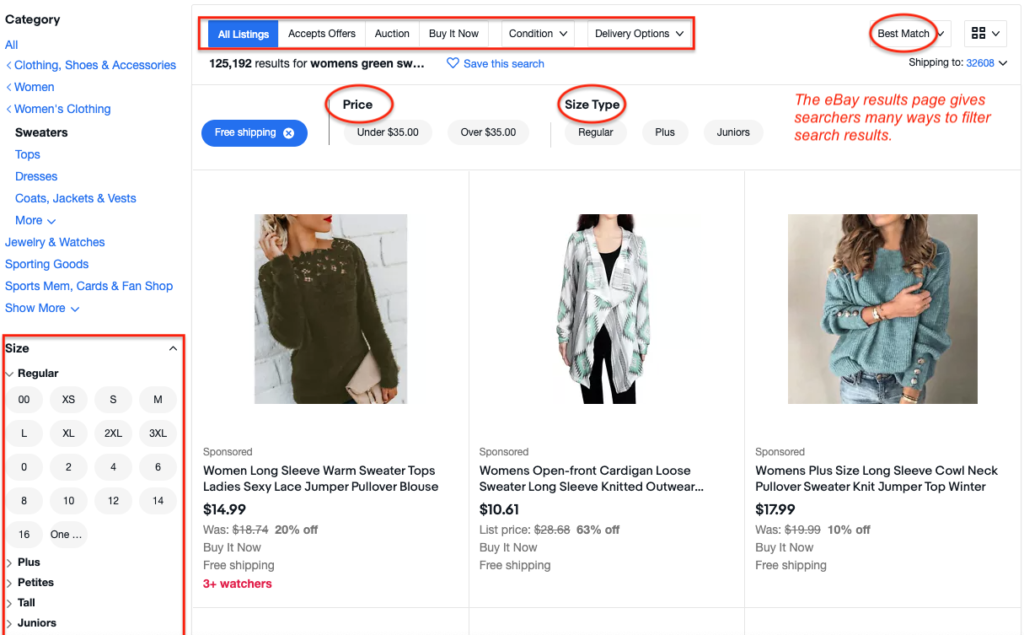 For your listings to show up in searches, they must use the keywords that searchers are looking for. This is why you'll want to fill out every field you can — the more complete your listings, the better.

eBay gives you plenty of opportunities to add information to your listings. You can optimize this info by using keywords.
We'll show you how to do this as we create a listing on eBay for an item of clothing.

First, to come up with basic keywords, think about what you're selling. In our case, we'll be selling a women's green sweater.

Now that we have a basic keyword phrase to work with, we want to make it more specific. That way, when it shows up in an eBay search, it will be more likely to match what the searcher is looking for. Next, we'll think of unique identifiers. Our sweater is emerald green with three-quarter sleeves from the brand J.Crew in size medium and made of merino wool.

To find more specific keyword ideas, we can use keyword tools that SEO pros use to optimize for Google searches, like Google Keyword Planner (free) and Ahrefs (paid). Or you can tap into eBay-specific tools, like Keyword Tool. This tool gives you some ideas for keywords but does not list search volumes in the free version. eBay's own tool, Terapeak, is a powerful tool for keyword research and much more, but it's only free if you subscribe to an eBay Store. (If you're not a subscriber, you can still access Terapeak for under $20/month.)

There's a basic hack to come up with keyword ideas you can use when you're just starting with eBay SEO. eBay keyword research tools typically rely on the same data that eBay uses to power the autocomplete feature you see in its search bar. Anyone can take advantage of this data completely free by searching on the keywords you brainstormed and then seeing what eBay suggests.

In our example, you can see that popular keywords relating to "womens green sweaters" are size XL, small, olive, christmas, and large.


You can also try searching on Google in the same way to see what related terms are popular in general internet searches. This may give you more ideas if the ones showing on eBay don't really fit. As a bonus, you can add a free Chrome plugin like Ubersuggest to see search volume to help you choose the most popular keywords.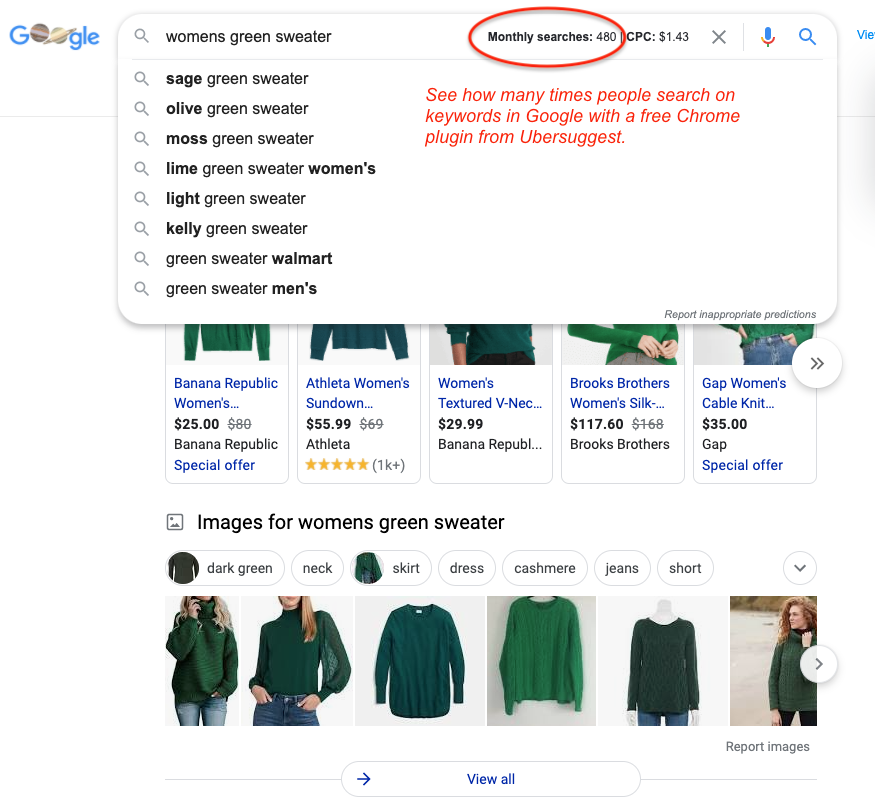 In our example, we tried a couple of different color descriptors: emerald green and kelly green. Ubersuggest showed that more people search on emerald green sweaters (1,900 searches per month) versus kelly green (1,600 searches). We want to pick the color that best describes the item, too, and in this case, emerald green works. We also saw that another listing specified "jewel tone green," which could be an attractive way to describe the color but doesn't show any search volume. We'll hang onto this term for our description.

Before you begin adding keywords to optimize your listing, search on Google and eBay for those same keywords to see the listings you'll be competing with. This way, you can get some ideas to improve your listing.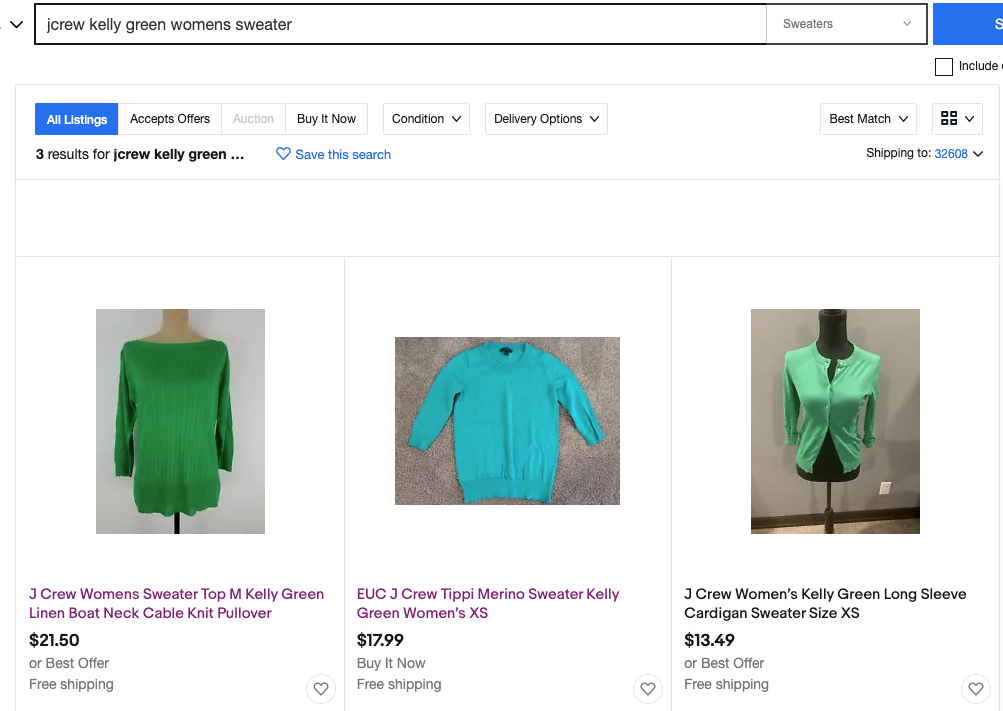 Here we can see the exact same style of sweater (Tippi) but in a different size. This is useful as it gives us a sense of keywords, as well as image quality, pricing, and delivery methods, which you'll see are also important.

For our example, we'll use the following keywords based on our research:
Womens
Emerald green
Sweater
J Crew
Tippi
Merino
Size M
Pullover
3/4 sleeve
You'll want to use keywords naturally in your listing.

You can add keywords the same way you would normally add text to your listing. The following places are where you want to make sure to use them.

The product title is one of the most important elements of eBay SEO because search engines look to it first to figure out what the product is. Take advantage of the whole 80-character limit. This space is gold, so put in the effort to make your item both findable by search engines and attractive to people by using keywords.
Use the most important keywords in your title.
Make the title readable to attract clicks.
eBay wants you to create a great listing, so it suggests keywords as you input your listing title. You can click to add them. When we started typing our keywords, eBay suggested a couple we could use.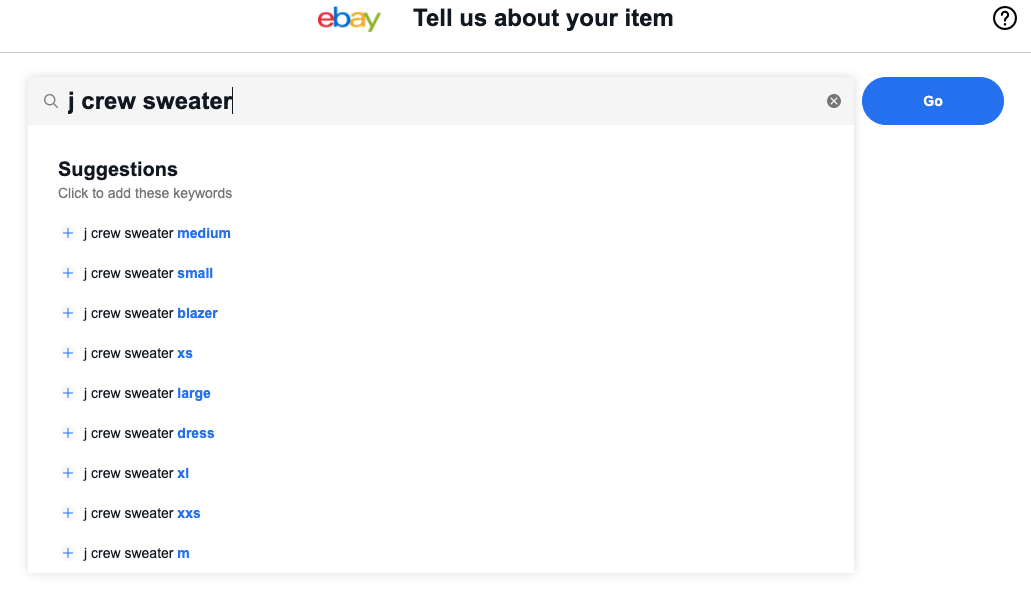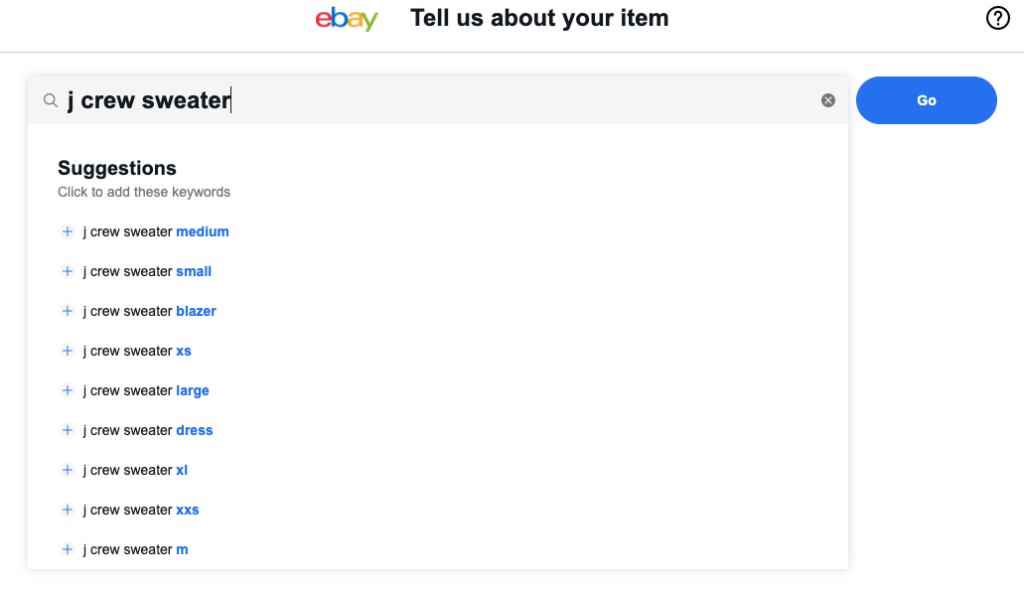 eBay recommends that you don't worry about creating a complete sentence for your listing title. It's more important to convey as much detail as you can about your listing, so people can find it. Avoid trying to manipulate search results by including other popular brands — eBay calls this keyword spamming and prohibits it. Remember, we're aiming for a great customer experience, and being accurate and truthful is important.

In the title for our sweater listing, we went with a mixture of keywords that we know many people are looking for (emerald green sweater) and terms that will be attractive to those who find it (100% merino, great condition).

The next screens will prompt you to fill out structured data, which is where you optimize your item specifics. These are things like color, material, style, etc. These are the search parameters that buyers use to filter results, and they function like keywords.
Fill out as many item specifics as you can.
Choose the most relevant descriptors for your listing.
In our example, eBay prompted us to add data for brand, color, size type, size, style, department, type, sleeve length, and features. Skimping on any of these could cause a missed opportunity because these cover many of the possible keywords someone may use in a search.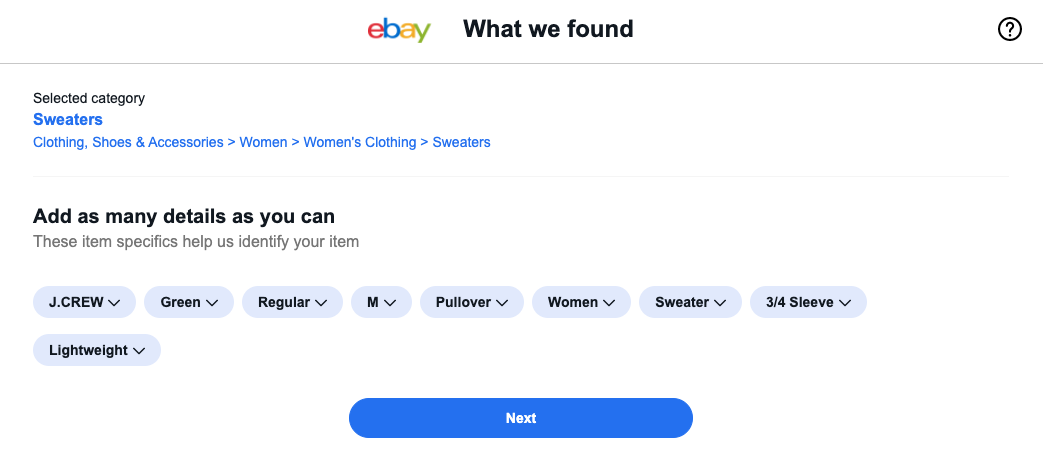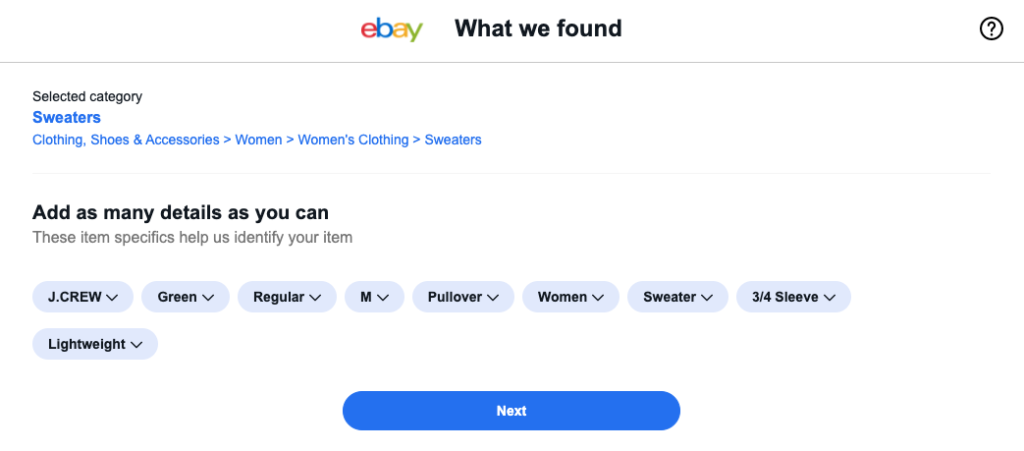 We want to be as accurate as possible to make sure our items display in searches where they fit and to avoid disappointing someone who clicks through to view our listing. (Satisfying the buyer when they click through a search result is important in SEO, as you'll see later.)

The description field is where you have the greatest opportunity to sell your listing with rich information. You can also use keywords here to help it show up in searches. While this field is marked as optional, eBay gives you 200 words to optimize and encourages you to include unique descriptors and write naturally.
Include everything a buyer would want to know in the description: dimensions, origin, components included, details about flaws, etc.
Use keywords naturally. Your most important keywords should compose the first 5% to 7% of the description, according to eBay.
Add formatting like bolding to show emphasis and make your listing easy to read.
Use htags in the HTML editor to help organize your information if it can benefit from a hierarchy of headings. (See more tips for using HTML to format your listing description.)
Add links if it will be truly helpful to the user. Use anchor text that describes the destination page — "view my other listings" instead of "click here," for example.
Our example listing description is shaping up with plenty of information.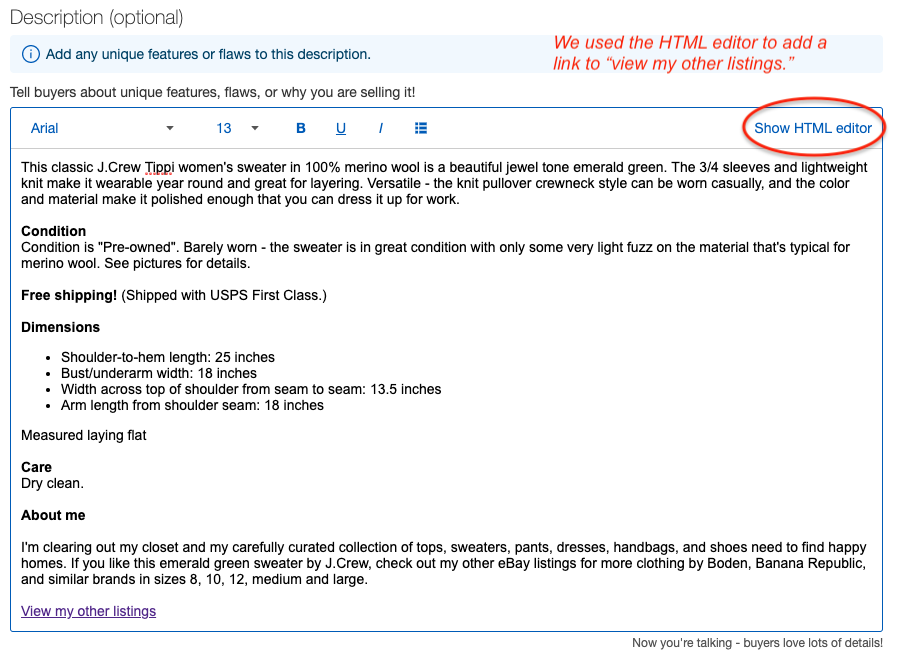 In our description, we used the keywords that we discovered, plus additional information about the condition, dimensions, and care of the item. We also added information about the seller to help the buyer get a sense of the environment the product is coming from. You can create a description template to help with repetitive information like this across all of your listings.

Using alt text for your listing images can also help with SEO for eBay listings.

Image alt text is a more advanced way to use keywords. Image alt text is a short (125 characters or less) snippet of text that tells search engines what's in an image. Alt text is also important for accessibility because the text will display if the image is unable to display, which is helpful for searchers who are unable to view them.

While search engines today are sophisticated enough to understand and index many images, alt text can give your images a boost in search results.
Create an accurate and helpful description for the image using a relevant keyword.
Use eBay seller software to easily add alt text to the standard eBay images.
You can also add images with alt text in the description area using the HTML editor. This may be useful when you have more images than the 12 standard images allotted by eBay.
The quality of your images is important because it makes people want to click through to view your listing. Getting people to click and take action on your listing is important in eBay SEO, as you'll see next.

Optimize your listings for conversions
Do people click, watch, or buy your product after visiting it? When they do, it's called a conversion.

Conversion optimization is an entire discipline on its own, but it also impacts SEO results. The easier you make it to buy your products, the more likely your listings will appear higher in the search results on eBay. eBay gives greater visibility to a listing when people take action on it because this indicates that an item is popular. The conversion rate of your listing (the percent of people who take action after seeing it) indicates how well the listing satisfies the searcher. As a bonus, optimizing for conversions will help you sell more on eBay!

Your title, images, and description play a major role in conversions, as do settings for delivery options and pricing.
Be as clear and accurate as possible in your title and featured image. This will prevent people from "bouncing" or clicking away without engaging with your listing.
Add clear benefits in the listing. You could list the cost of the item when bought new, for example.
Make sure your pricing is competitive (and offer discounts).
Offer free shipping.
Offer a generous return policy.
Use attractive, high-quality images to encourage searchers to click your listing over someone else's.
Add elements to your featured image to show urgency or create trust. (See how to add elements like a discount, limited time sale, or descriptors using a free editor.)
We added a box with additional information to our main featured image, which makes it stand out against the other listings for green sweaters above. This increases the likelihood that searchers will click our listing — and then hopefully watch it, too.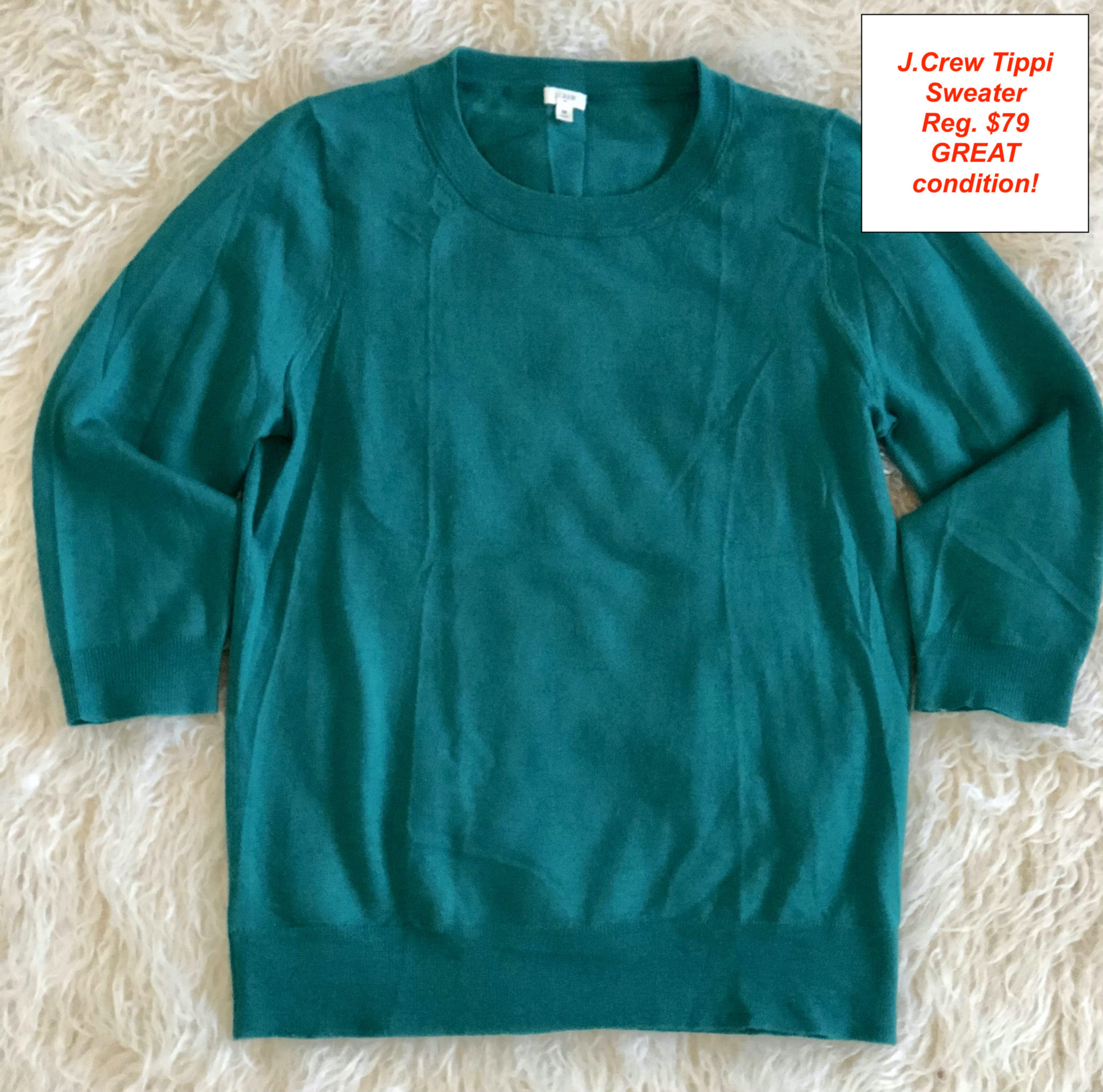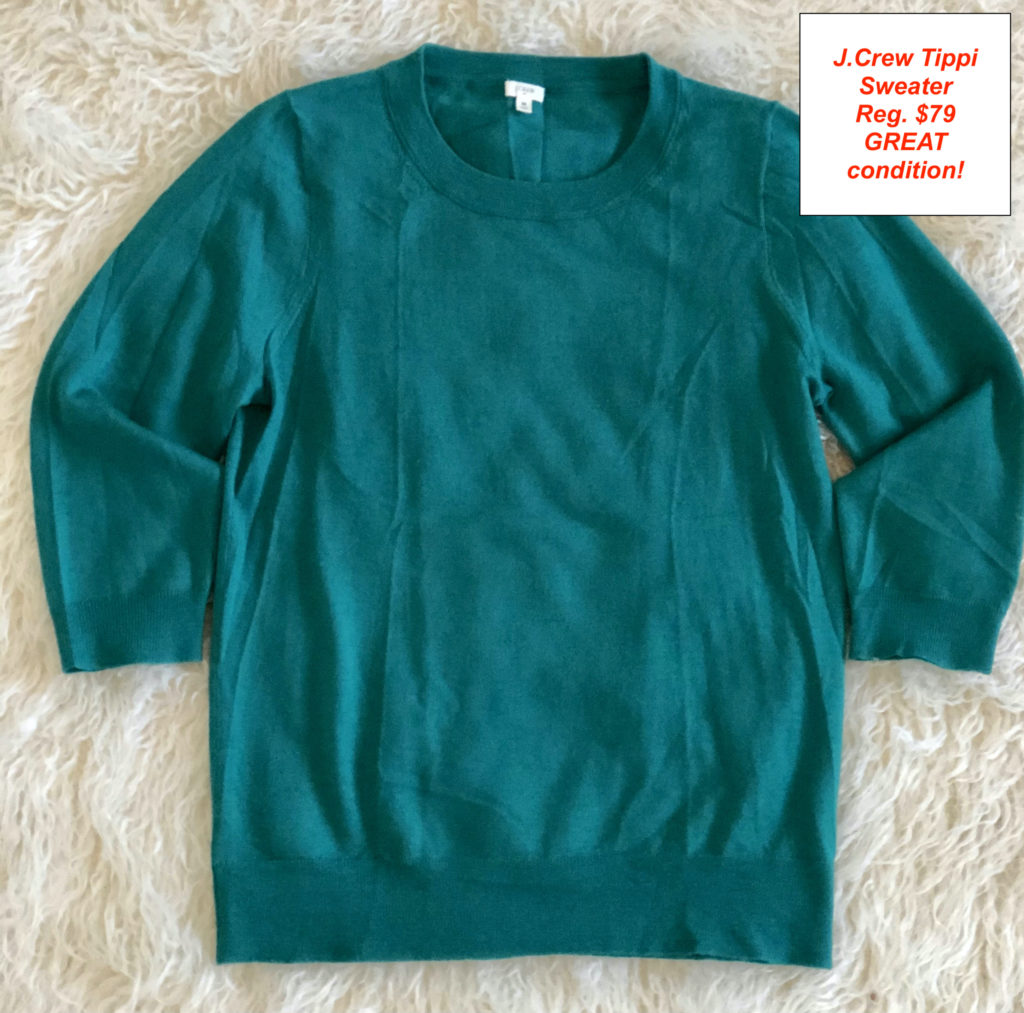 While much of your eBay SEO will apply to your individual listings, you also need to pay attention to your presence as a seller.
2. Optimize your seller presence
Your presence as a seller on eBay can contribute to SEO in a couple of ways. An optimized profile or storefront helps you build trust, and excellent customer service will create a pleasant experience for buyers. But what do trust and customer service have to do with SEO on eBay? Everything, actually.

The ultimate goal of the eBay search engine is to return results that are most likely to end with a smooth purchase and a happy buyer. That's why eBay takes your reputation and choices as a seller into consideration when determining how high to rank your listings. This encompasses factors like responsiveness, trustworthiness, and all the other elements that can make it a pleasure for a buyer to deal with you.

In short, you need to present a high-quality, reliable brand and delight your customers with great service.
Your bio or eBay store
Your seller profile gives you the opportunity to showcase a number of elements that help you build trust.

If you're using a personal account, then your bio is where you can accomplish this. You have 250 characters to show who you are and build rapport with someone considering buying from you.
Use a profile image that shows clearly who you are.
Tell your story, relating it to the listings you sell on eBay.
Our example personal bio explains who the seller is, what she's selling on eBay, and why. This transparency will help a buyer feel comfortable dealing with her.
Will an eBay Store give you better SEO opportunities than a personal account? Robert Stephenson of Flea Market Flipper says yes. He now sees his listings show in Google since setting up an eBay Store. Others say you don't need a Store. However, if an eBay Store fits into your business model, you will have other tools to help optimize your listings for sales, such as cross-selling items. And as we saw above, sales help fuel your eBay SEO.

If you have an eBay Store, then you can take a few steps to optimize it. Where you can add text, use keywords that show relevance to the products you sell, and look for opportunities to build trust with high-quality images.
Choose a store name that uses keywords that fit with the products you sell. (The store name will determine the URL for your store, too.)
Write an eBay Store introduction that uses keywords to describe what you sell. (You get 1,000 characters.)
Use a high-quality cover image that represents your brand.
Your bio or store sets up your brand, and now your customer service needs to demonstrate you're committed to treating your buyers well.
Your customer service
Much of the work in eBay SEO comes down to providing a great buying experience. Our research into eBay best practices shows that having a high seller rating and doing the things below can have a positive impact on eBay SEO and lead to higher visibility for your listings.
Respond quickly to buyer questions.
Leave positive feedback for buyers.
Seek positive feedback from buyers. (Build detailed seller ratings and deal with any claims against you.)
Keep your handling time to a maximum of one day.
Our example seller has received positive feedback that will help to improve SEO for future listings.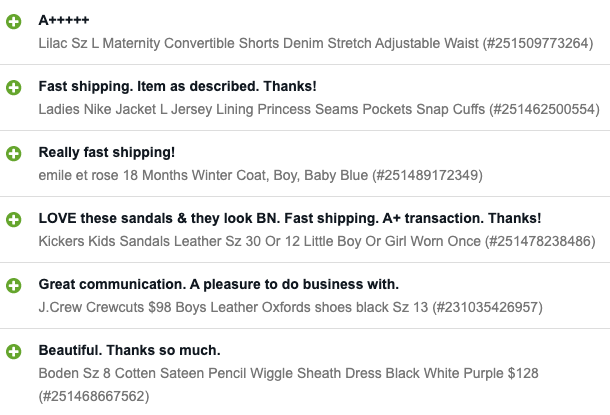 Building your positive feedback is not easy. Perhaps this is why the greatest visibility goes to those sellers who are committed to providing exemplary service. Remember that eBay wants those listings that are most likely to result in a successful and pleasant transaction for the buyer to show higher in the search results, and this underscores the importance of the factors that make buying from you easy.
eBay SEO is a necessary part of selling
With stiff competition on the platform, SEO is becoming essential. Thankfully, SEO does more than just get views for your listings. When you optimize with the SEO tactics above, it also contributes to a positive sales cycle.

Initially, your eBay SEO efforts will help you get more views. But because you're also working to improve conversions, people will be more likely to take action, too. Then, as this engagement with your listings increases, eBay will rank them higher and so on and so on, in a continuous cycle of growth.

Now that you've got eBay SEO covered, want an easier way to list and optimize products on eBay — or on other marketplaces? Sellbrite lets you list, ship, and manage inventory from one convenient spot. Learn how Sellbrite can work for you today.