With more than 2 million total active sellers as of 2019, Etsy has never been more crowded.
No matter what niche you're in, you're likely to be competing with dozens of other active sellers offering similar products. Sellers need to stand out in order to make Etsy a viable business option.

(Source)
But even with fierce competition for shoppers' attention, you can boost your listings and appeal to more customers without changing your inventory or overhauling your entire seller strategy. To stand out, you have to do everything well, and these 10 tips will cover common mistakes that can push your listings from good to great — and push your sales from good to great, too.

1. Up your photo game.
Without professional-quality photos, your products will not entice people to click in any crowded marketplace like Etsy. Taking top-notch photos mean that you will likely have to purchase, borrow, or rent professional-grade camera equipment to get the best results.
Lighting is also key to a great photo — no matter how high quality your camera. Consult a guide on how to light and shoot product photos. There are a ton of photography guides available in print and an abundance of information free online that can help you step up your product photos.
After you've taken your photos, don't be afraid to touch them up. Even if you can't afford fancy photo software, there are great free alternatives online or as apps. While you never want to misrepresent your items, making sure your colors are true to life or cropping photos for a better view of the product makes a big difference.
WalkintheBark does a great job of presenting professional-level photos of their stylish dog collars. They prove that high quality, a clean background, and good lighting are the basics for making your product pop.
Contrast this with the first product photo from katiesk9kollars. While the pictures are similar — pattered collars against a plain background — katiesk9kollars' is lower quality, doesn't show the product well, and is cropped at a bad place. It looks like something that the seller didn't put much time into, and it doesn't display the product in an attractive manner. When it comes to browsing, more people are likely to be pulled in by WalkintheBark's pictures.
2. Optimize your titles for SEO.
At its core, Etsy is a search engine. Your titles are one main way it decides how to index products, so getting your title right will help your items appear earlier in a search — that is, make sure your titles follow search engine optimization (SEO) best practices. Here are the keys to making your product titles optimized:
Be descriptive. Include fabric or other material names, size, or other distinguishing features of your product that will come up when someone is trying to find what you're selling.
Use multiple terms for the same item. For example, if you sell key chains, you might title your embossed leather key chain "Personalized key fob leather key ring leather embossed key holder."
Keep in mind that the title of your item is not the only thing that draws people in. The title's primary goal should be to get your products to show up in a search. Great photos, product descriptions, and other elements are what will get people to purchase.
Take a look at how seller Sunnyprint describes this wedding invitation:
It is definitely redundant, but it works because it helps get their invitations on the first page of search. Shoppers will be able to find the stationary no matter whether they type in "wedding invite" or "printable wedding invitation."
3. Do competitor research — and avoid their mistakes.
Take the time to browse Etsy as if you were a customer. Search in the niches that you want to dominate, and check out your competitors. Ask:
What do I love about the items I'm most attracted to or the top sellers in my niche?

What is this seller doing well in their photos and descriptions that I'm not doing?
What do commenters say about the seller's shop/service/items?

What drives me away from purchasing from a seller I don't like?

What is this seller doing in their photos and descriptions that puts me off, and am I doing any of those things?
What do commenters say about the seller's shop/service/items?
Don't outright steal what other sellers are doing, but be aware of what is working in your space, and adjust your own materials accordingly; nobody has a monopoly on being up to date with what's working in their niche. Every six months or so, do an audit of what your competitors are doing; trends and popularity can change fast on platforms like Etsy.

4. Show off your items.
Yes, it's important to take professional-looking photos, but putting everything on a bland background isn't the only way to go, and it certainly isn't the best way to stand out.
If you have anything that is worn — shoes, bags, jewelry, belts, or other accessories, show them styled. If your item is for a specific purpose, show it in action, not just in a "studio" setting. For example, show a portable campfire or tent outdoors and in use, or show a photo of someone walking their dog with the leash you're selling.
The key with product photos is to not just show exactly what your products look like but also appeal to the imagination of the shopper: Can they see themselves with your items? Are they sucked in by the lifestyle you're selling? They should be!
An easy way to step things up is by using appropriate props, as RootsWingsHandmade does. They play off their doormat by including wine and wineglasses to make their product stand out among a sea of rug photos in search.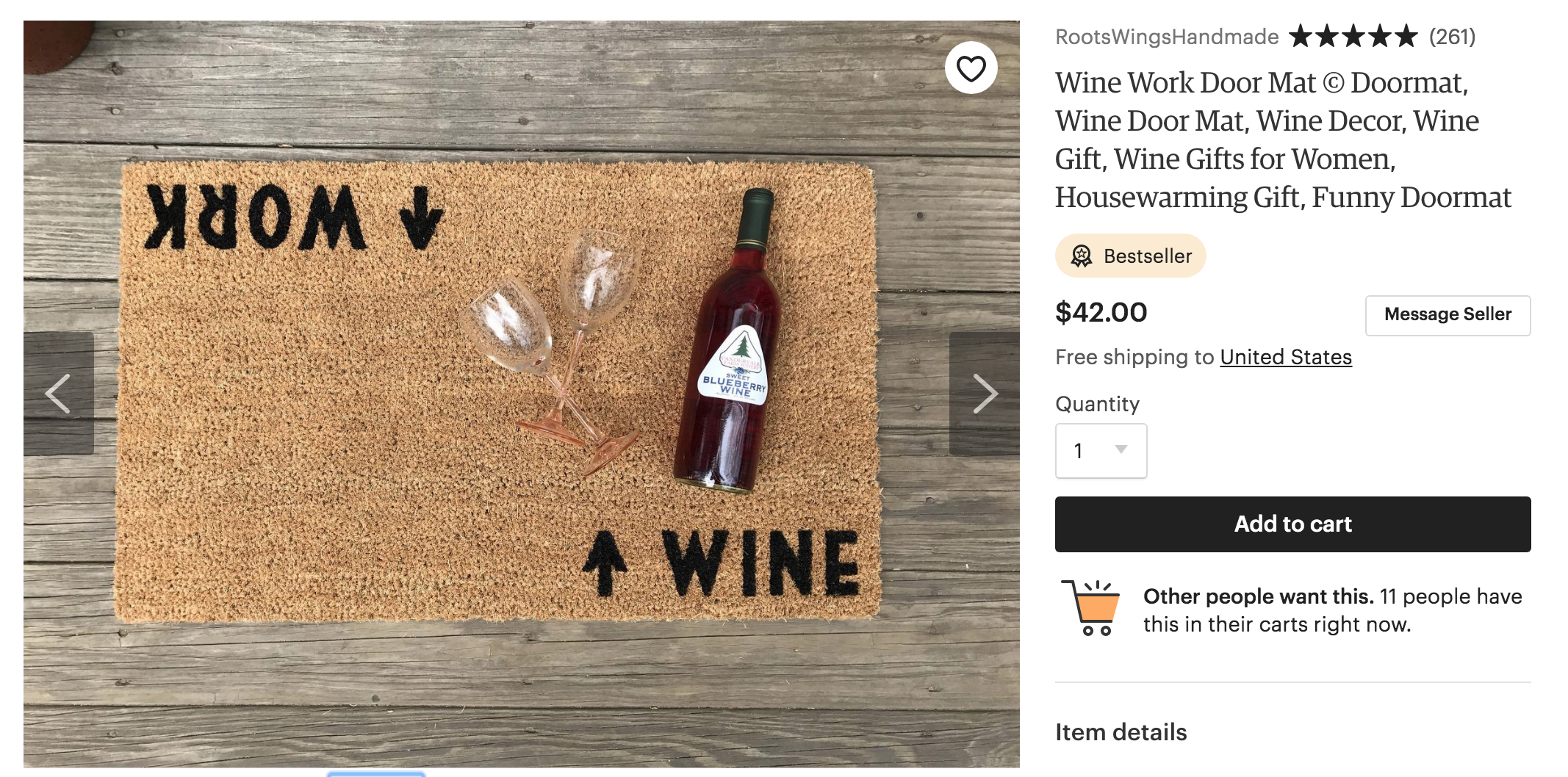 (Source)
5. Make your descriptions informative.
Your item descriptions are a big sales pitch to shoppers. People reading your descriptions have found your products, have clicked on them, and are looking for information they need to decide whether or not to purchase. You're halfway to a sale, and what you say about your product can make the sale or break it.
At this stage in their journey, shoppers want the details, so tell them everything they need to know to inform their purchase. Dimensions, shipping times, sizing information, material information, and any other facts about your product will ensure that customers know exactly what they're getting when they order from your web store.
Along with the facts and figures, make your items sound as good as possible: Is your pottery hand-thrown? Rugs dip-dyed in small batches? Designs one of a kind? Whatever it is that's special about your offerings should be front and center. To drive home the value you give to customers, consider including a customer quote about how great your products are as social proof.
FreshPottery has mastered their descriptions of ceramic items. Take a look at how informative and enticing they are: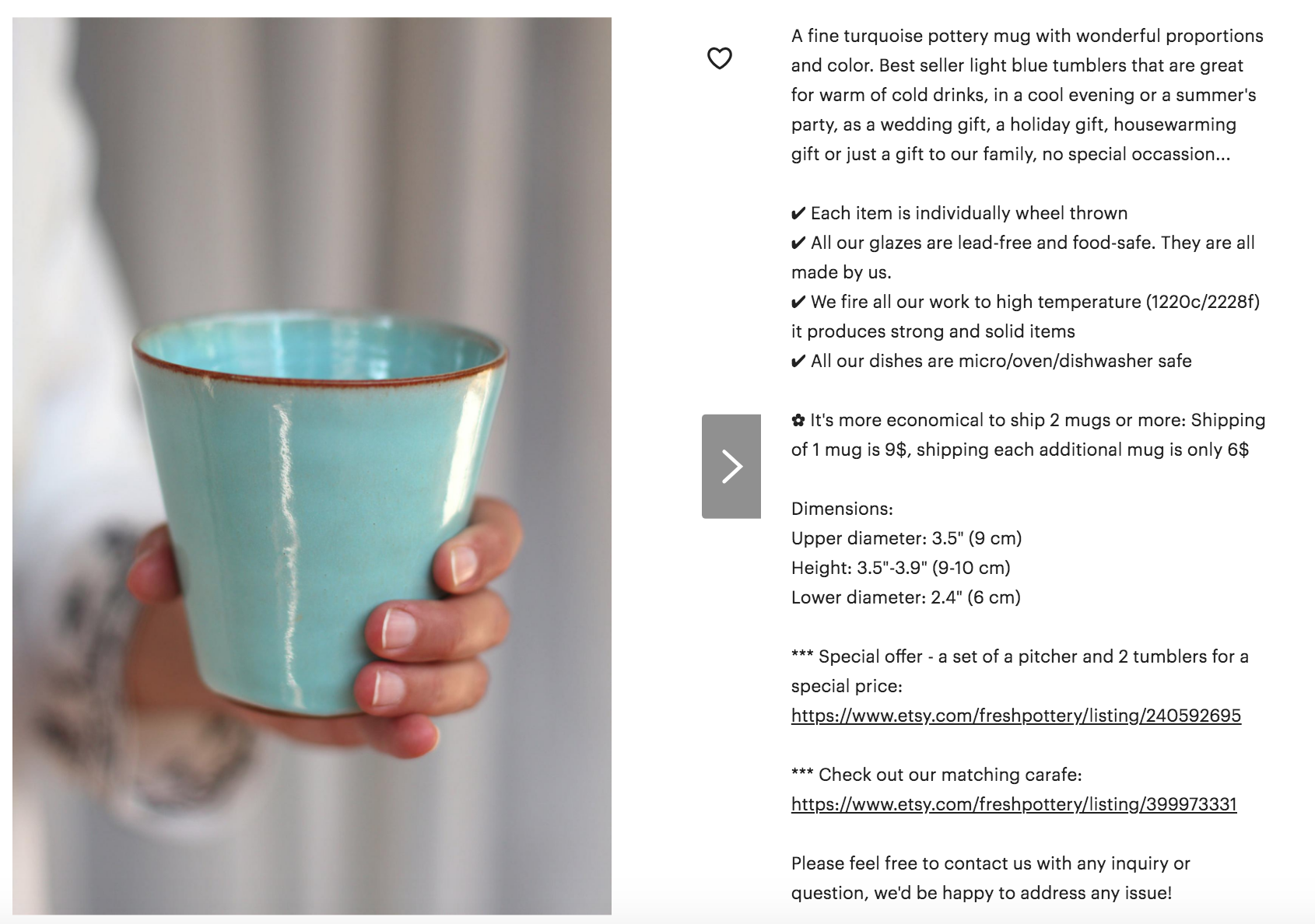 Notice that FreshPottery highlights the pros of their mugs — individually thrown, food-safe, solid, dishwasher safe — and a complete list of dimensions. But they also give a lush atmospheric opening, talking about using their cups for "a cool evening or a summer's party, as a wedding gift . . . or just as a gift to family." You can almost picture yourself using one, and that could be the difference between a sale and no sale.
6. Choose a descriptive username for your shop.
In a space as crowded as Etsy, even small things can make a difference. Your username should be both memorable and descriptive. Why? Imagine you were shopping for prints on Etsy. Who would you trust more, a seller whose user name is "EastCoastPrintCo" or a seller whose name is "teawise"? Having a username that highlights your professionalism signals to users that you are a serious seller who can fulfill their order.
This is also a space for you to sell your product offerings and craftsmanship. If a customer is buying backpacks and sees your username is "CanvasWorksVirginia," they might be enticed to click on your shop and browse canvas totes and other items. Not so if you were going by the moniker "CreateVA."
Take blisslinen, whose shop is full of beautiful linen clothing. Anyone looking for a linen dress, sweater, shirt, or jumpsuit would know immediately by browsing that the seller specializes in items made from the fiber. And if they liked one item by the brand, they might even be tempted to see what else the shop has stocked, because they know they'll find more linen.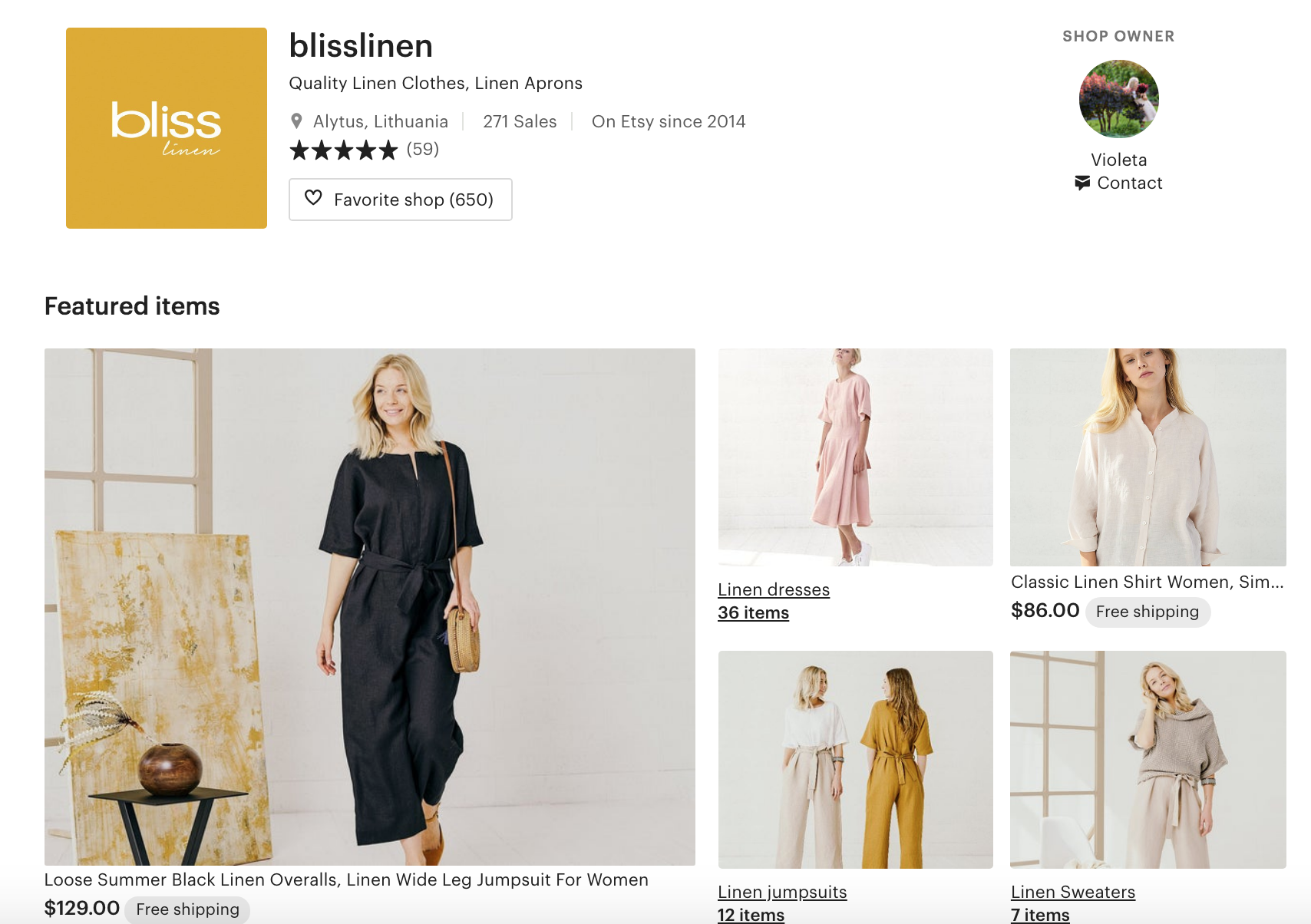 If you can, try to make your username and shop name something catchy so customers can easily remember it. When customers remember your name, they're more likely to return to check out your shop or recommend your items off the cuff. And pulling in more business from existing customers is a great way to increase sales.
7. Tell a story in your profile.
If a shopper heads from your product page to your shop page, what do they see? It should be a highly curated space that tells a story about who you are and why your business is better than your competitors, and one of the best places to do that is in your profile.
Shoppers who read your profile are looking for more information about you and want to see whether your business is trustworthy. In other words, your profile is a piece of marketing. Be intentional about how you describe yourself, your business's history, and your mission statement. Take a look at the description for Avolie Glass: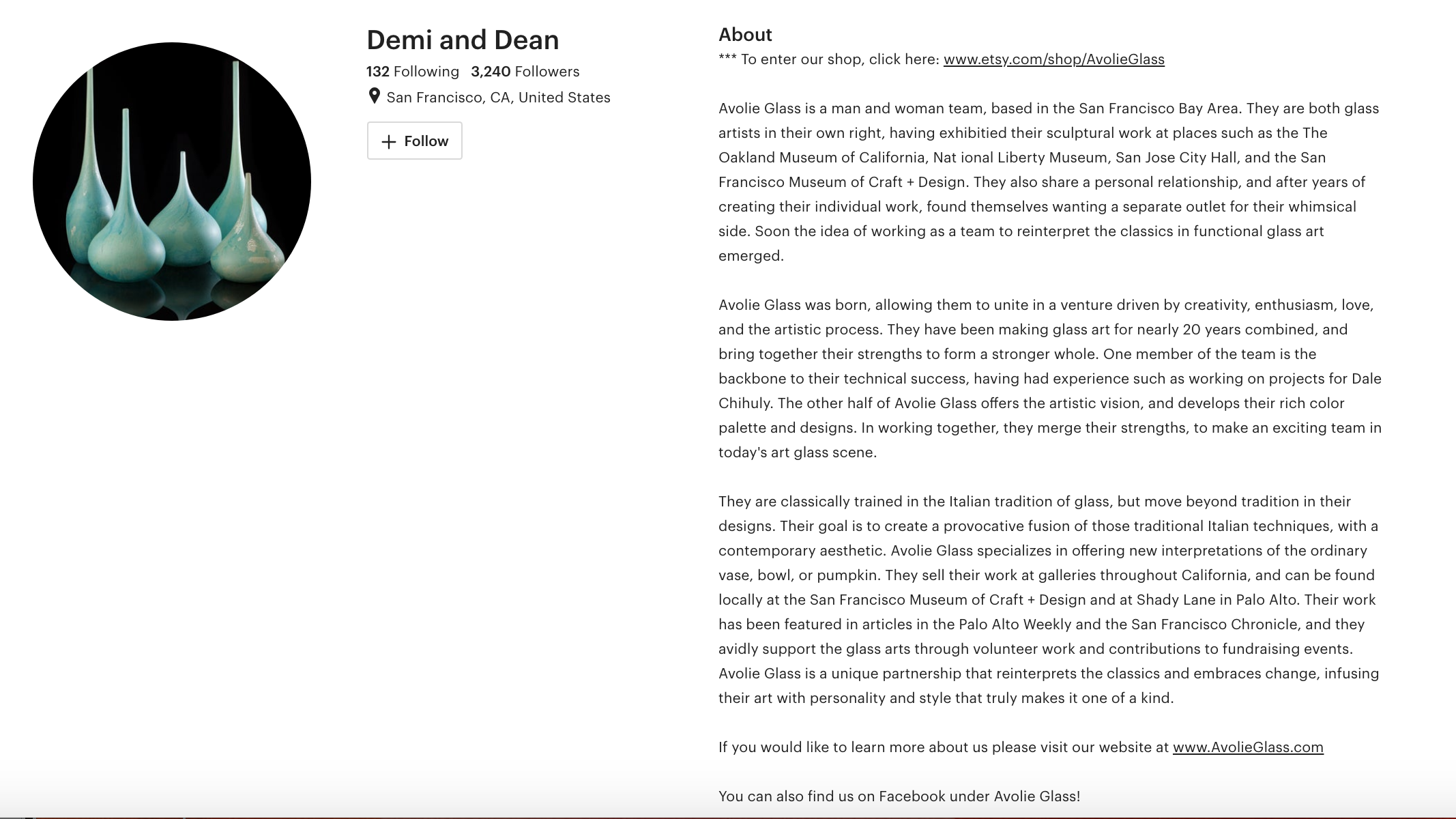 It details the artists' accomplishments and creativity. Anyone who goes to their shop and is on the fence about purchasing will be assured of the quality and craftsmanship of their pieces. If you're not a professional glassblower who has exhibited at a museum, it doesn't matter — what's key here is that their passion and expertise come across.
8. Brag about what makes you better.
Ecommerce marketplaces like Etsy are crowded, so you need to pinpoint what makes you better than other sellers and tell people. Are you focused on incredible customer service, intricate customization, or rush orders? Do you use organic materials, source locally, or have an eco-friendly production? Whatever it is that you pride your business on, make it front and center.
Don't be afraid to add these to your descriptions, even if they're not directly related to the item itself. Shoppers are using the information on your product pages to make a judgment not just about the item in question but about you as a seller. Don't make them go on a hunt to figure out what your business does best — most people will not bother to look.
WhitesIndustrial isn't afraid to make bold claims: Their flowerpot will last a lifetime. That's crystal clear in their short and sweet product description: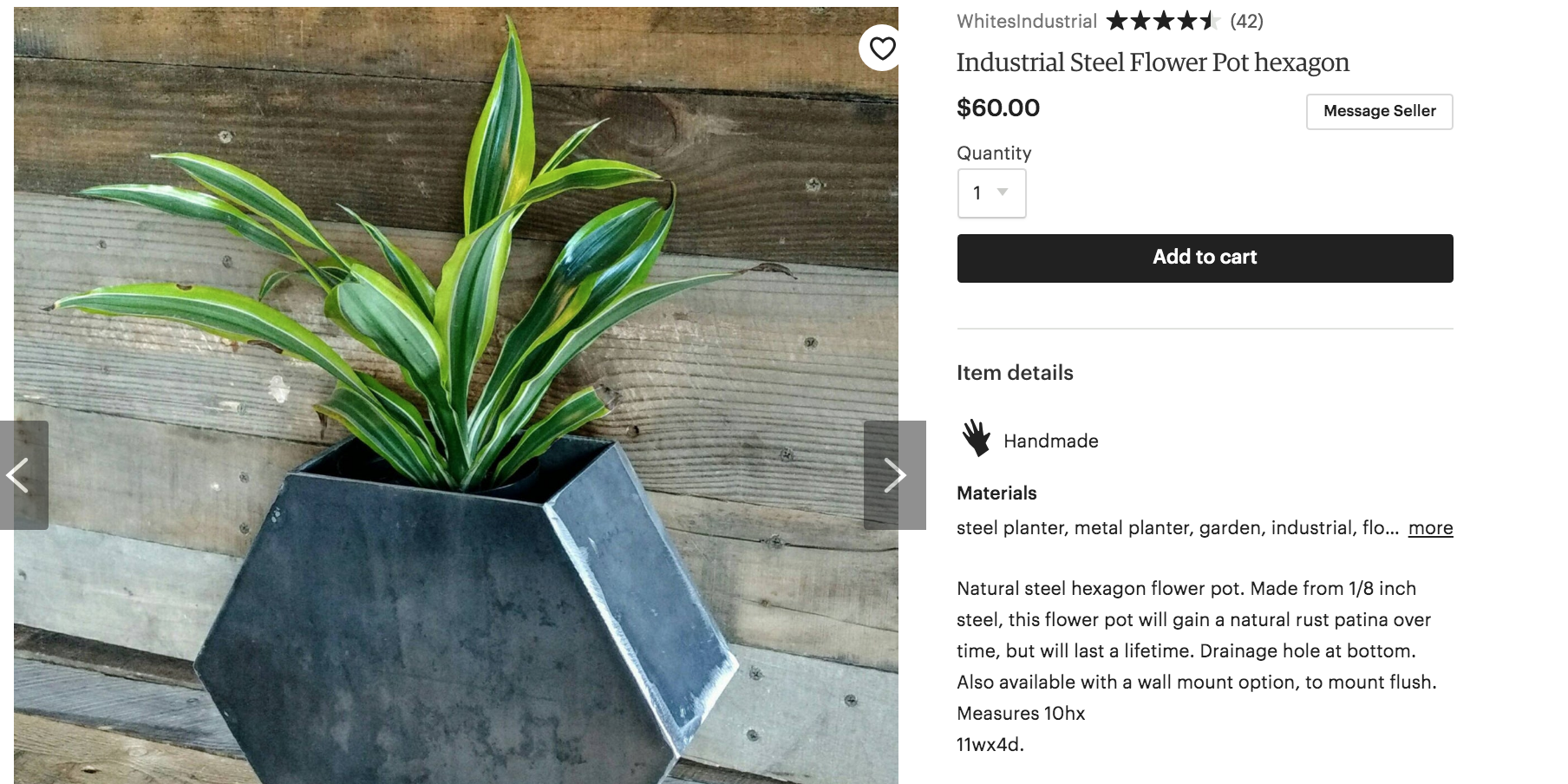 If you're browsing planters and this steel number catches your eye, that's enough to make you consider going with their design. It also helps to justify the $60.00 price tag.
9. Increase your inventory regularly.
A shrewd move for any Etsy business is to constantly expand your inventory. This will help you in three key areas:
The more items you sell, the better chance people have of finding your shop. Adding products regularly gives Etsy more of your wares to show shoppers.
As you continue to be creative and think about your offerings, you may find a new niche that takes off for you. If you keep the same 10 products up and never go outside your comfort zone, you might not find the next big thing. Especially if you find sales have stagnated, expanding your offerings will push you and increase sales.
People will want to return to your shop to see what you've added. Gaining new customers isn't the only way to make money: Selling to existing customers can raise your profits as well. When your shop is a dynamic place, with new products or a version of products coming in, customers who love your work will be incentivized to keep tabs on what you're doing. And the more they visit your site, the more likely they are to spend.
While adding new products can be more work than simply continuing to stock what you have, if you're serious about creating a profitable business on Etsy, it is crucial.
10. Promote your items.
When you work out your ad spend, don't underestimate the power of promoting your items on platforms like Etsy. Getting your products high up on the first or second page of search results can boost your shop's sales and profile. Etsy ads are fairly unobtrusive and appear as a normal listing alongside regular items: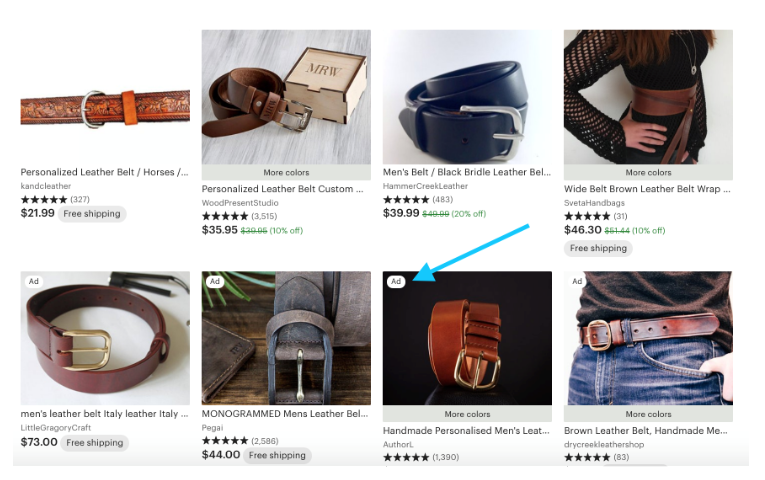 Consider setting aside a small amount of profit from your sales to promote a few items each month or during your peak season. Regularly putting money back into Etsy as a platform this way makes your Etsy ads a self-sustaining loop separate from your larger ad spend.
If you choose to invest in promoted items on Etsy, keep track of how many new orders come in off of your ads to see what is catching people's eyes and is a good use of your ad spend. You may find that some items promote better than others and that some times of the month or year boost sales more for your particular business.
Be proactive about your Etsy business
Making money on Etsy is possible, but it isn't going to happen automatically. You can't upload some product photos and then sit back and wait for the dough to roll in. There are too many sellers on the platform to expect that your potential customers will find their way to you. You must be proactive about how you set yourself up.
Do everything you can to prioritize your listings in Etsy's search, like optimizing your titles and promoting your products at the right times. Gain customers' trust with your high-quality photos and descriptions that show off everything your business is best at. And don't be afraid to show off your individuality and get creative to help customers remember you and to keep them coming back.