How would you like to make your products available to millions of buyers—without paying any fees? The latest update to Google Shopping Actions lets you do exactly that.

Earlier this year, Google started rolling out an update to Shopping Actions that removes all transaction fees for purchases made through the Buy on Google feature.

Buy on Google offers shoppers a quick, secure checkout experience on the Google Shopping platform. It's a simple but powerful feature that turns Google Shopping into a direct sales channel instead of just a search tool.

(To see this feature in the wild, run any product search on Google Shopping, then filter by "Buy on Google." It will display products available for this expedited checkout.)



Until recently, purchases made through Buy on Google carried an average commission fee of 12% per sale. This created a barrier for many small businesses.

That barrier is now gone. This update is still being rolled out, so use cases are scarce. But what we know for sure is that the new and improved Google Shopping Actions provides an excellent opportunity for SMBs. Here's how you can make the most of it.
Why SMBs should use Google Shopping Actions
Google Shopping Actions is now a free sales channel that takes minimal time and effort to set up. It's hard to think of a reason why a seller would pass it up. In addition to no fees, Google Shopping Actions offers:
Google Shopping Actions isn't just a free tool. It's a low-lift platform to reach billions of buyers. Ready to sign up? We thought so.

How to start using Shopping Actions in 4 simple steps
Buy with Google is not available to all retailers yet, but the search engine anticipates a full rollout to U.S. retailers by the end of the year. International sellers should have access by late 2020 and early 2021.

If you're already using Shopping Actions, you should receive an invitation to migrate your account. You can also initiate the migration process yourself.

New to selling on Google Shopping? You're automatically eligible for the zero-commission Shopping Actions when you enroll. Here's how to get started:
1. Sign up for a Merchant Center account
Creating a seller account on Google is simple. Log in with your Google account on this page and provide your business' basic information: name, country, and time zone. Then you'll be asked to select your checkout preferences and tools.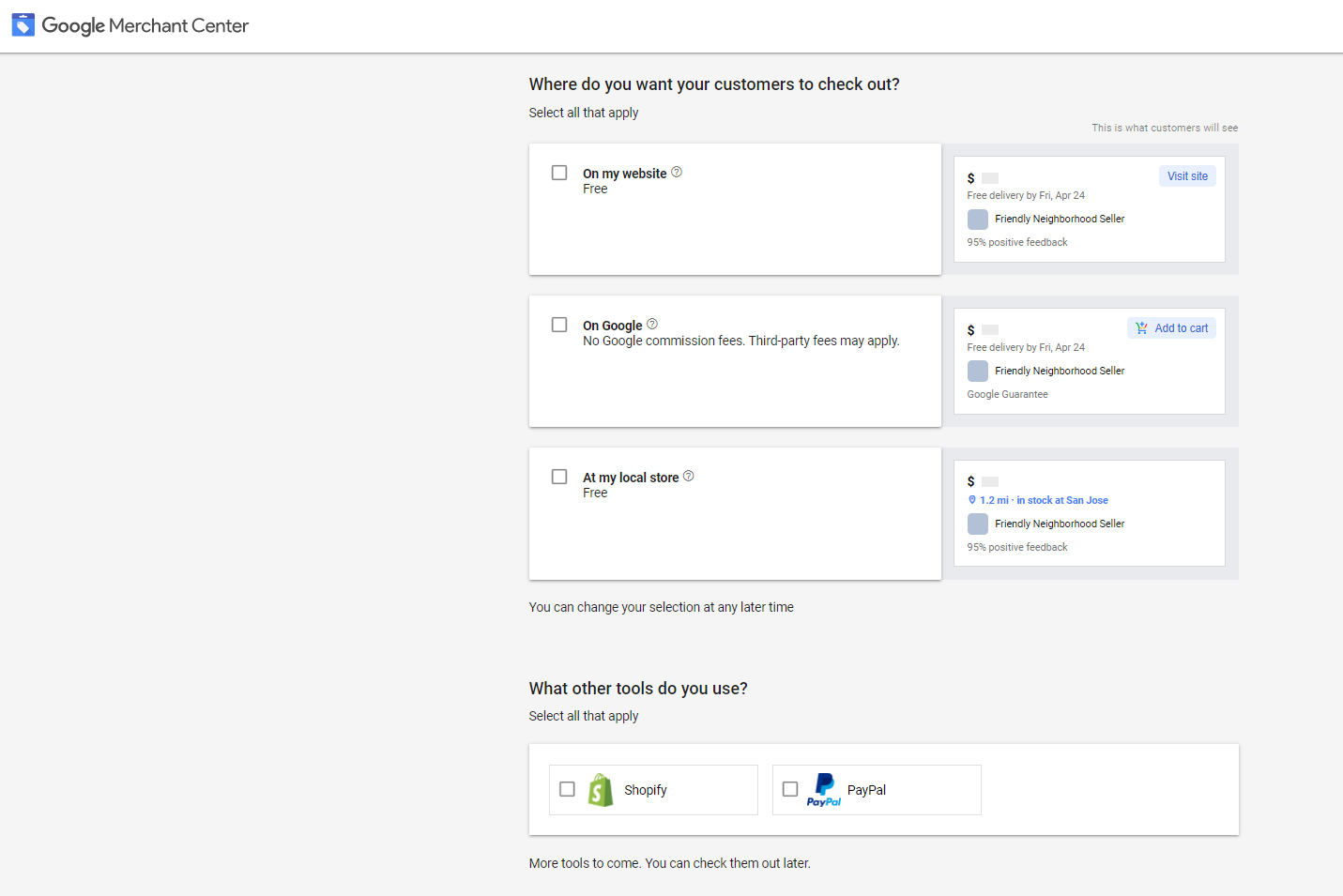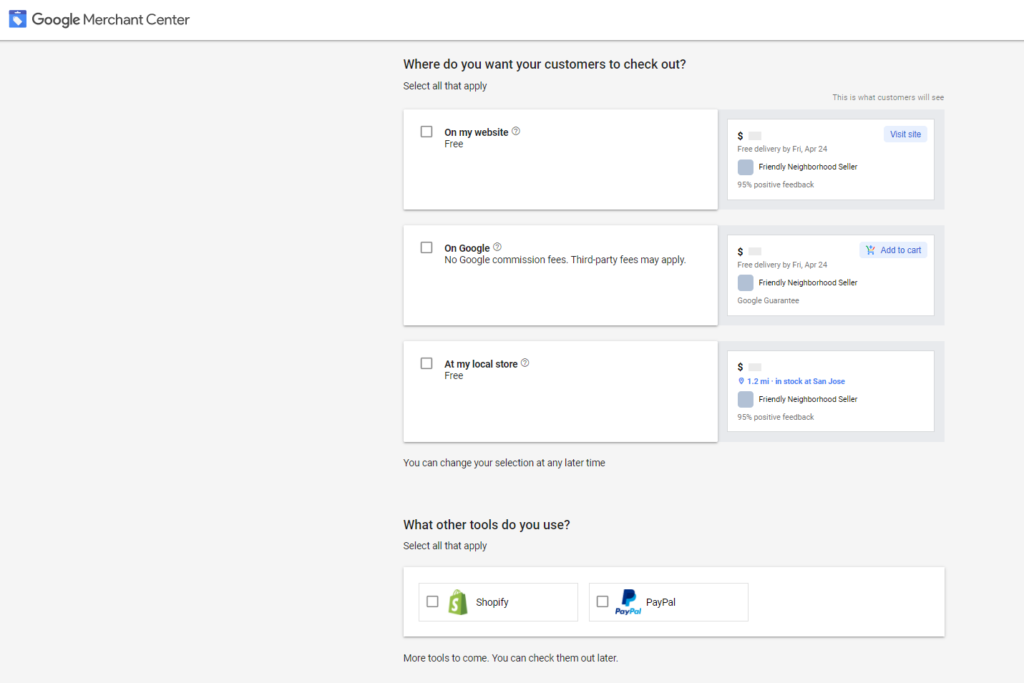 Once you've agreed to Google's terms and conditions, you're in!

Next, you'll need to verify and claim your website. If you're using other Google products with your website (such as Google Analytics or Search Console), this part will be easy. If not, you'll need to add a tag to the code of your website, so Google can verify that it belongs to you.

When this is complete, you'll be ready to start listing products!
2. Opt into Surfaces Across Google
Once you've created your Merchant Center account, you need to tell Google to display your products across its properties. "Surfaces across Google" ensures your products appear in relevant searches across Google properties. This program includes your product listings in search results for Google Shopping, Search, Lens, and Images, increasing your exposure to shoppers.



To enroll in Surfaces, click on the Growth tab in Merchant Center. From there, upload your product data, as well as sales tax and shipping information (either in your product feed or separately).

Once you complete this step, your product listings will be eligible to appear on searches across Google properties.
3. Add your products
Before you apply for Shopping Actions access, you'll want to add products to your Merchant Center. If you only have a few products, you can manually create listings. Most sellers upload a product feed to save time. With a product feed, you will create and update all your product information in a convenient spreadsheet or database. This is then uploaded (or synced) with Google.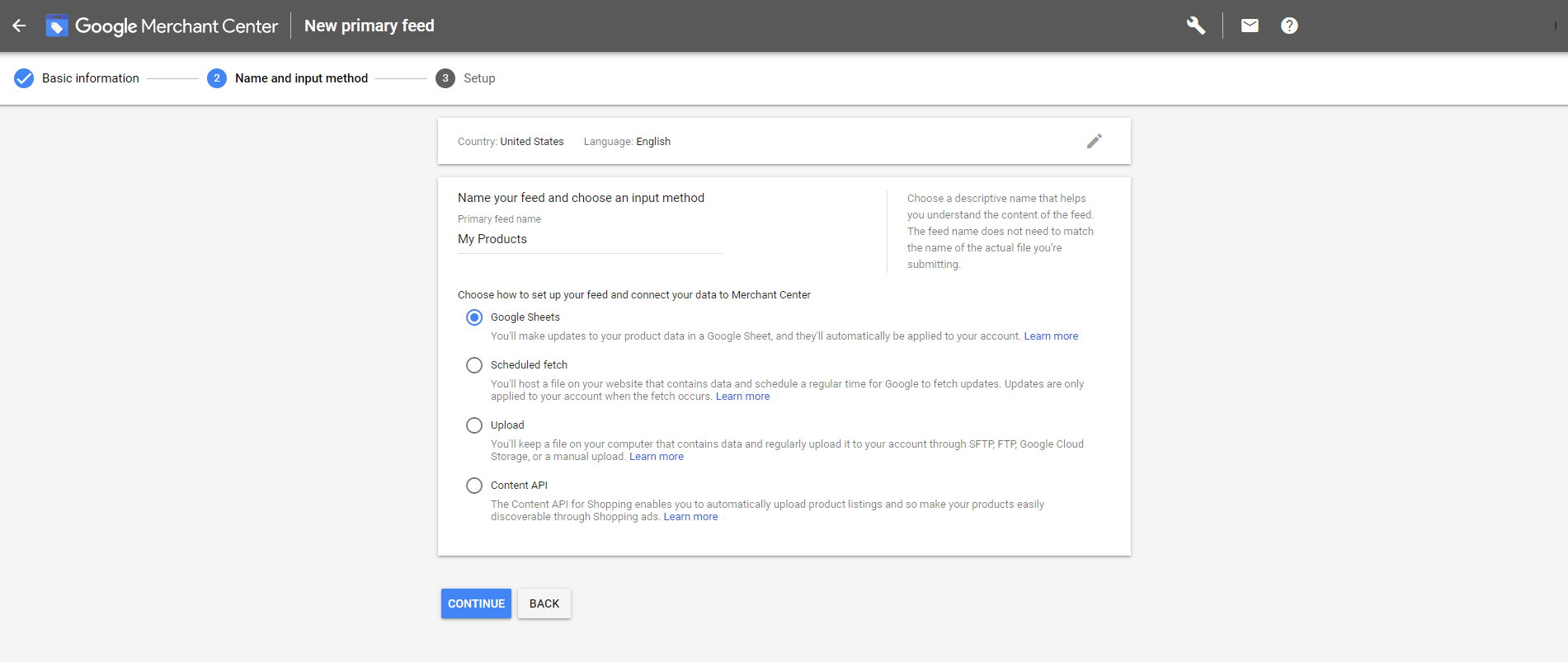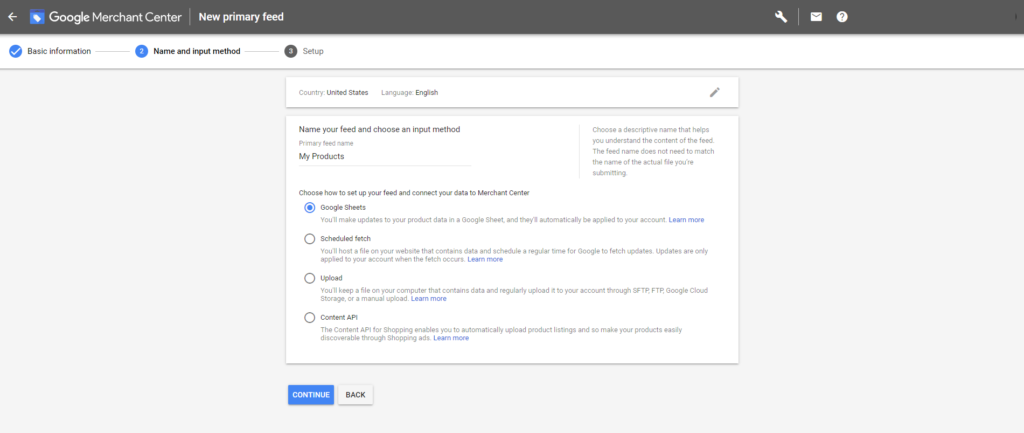 Google offers several different ways to upload and update your product feed:
Google Sheets is a spreadsheet with your product details. Just follow Google's instructions for creating a feed in Google Sheets, then keep it up to date. Your Google listings will automatically reflect changes in this spreadsheet.
Scheduled fetches prompt Google to grab your product feed from a specified database. If you have a product feed already, this may be your most convenient option.
Upload your feed should be used when you have an existing product feed elsewhere that you want to use with Google Shopping.
Content API is an advanced tool that allows you to sync your product feed from other ecommerce apps (such as Shopify's Google Channel).
The best one for you will depend on how your website and product catalog are currently configured.

4. Submit your Shopping Actions interest form
Now that you have your Merchant Center set up, it's time to apply for Shopping Actions. Before proceeding, you'll want to make sure your products are eligible for Shopping Actions. If they are, fill out a Shopping Actions interest form from the Merchant Center Growth tab.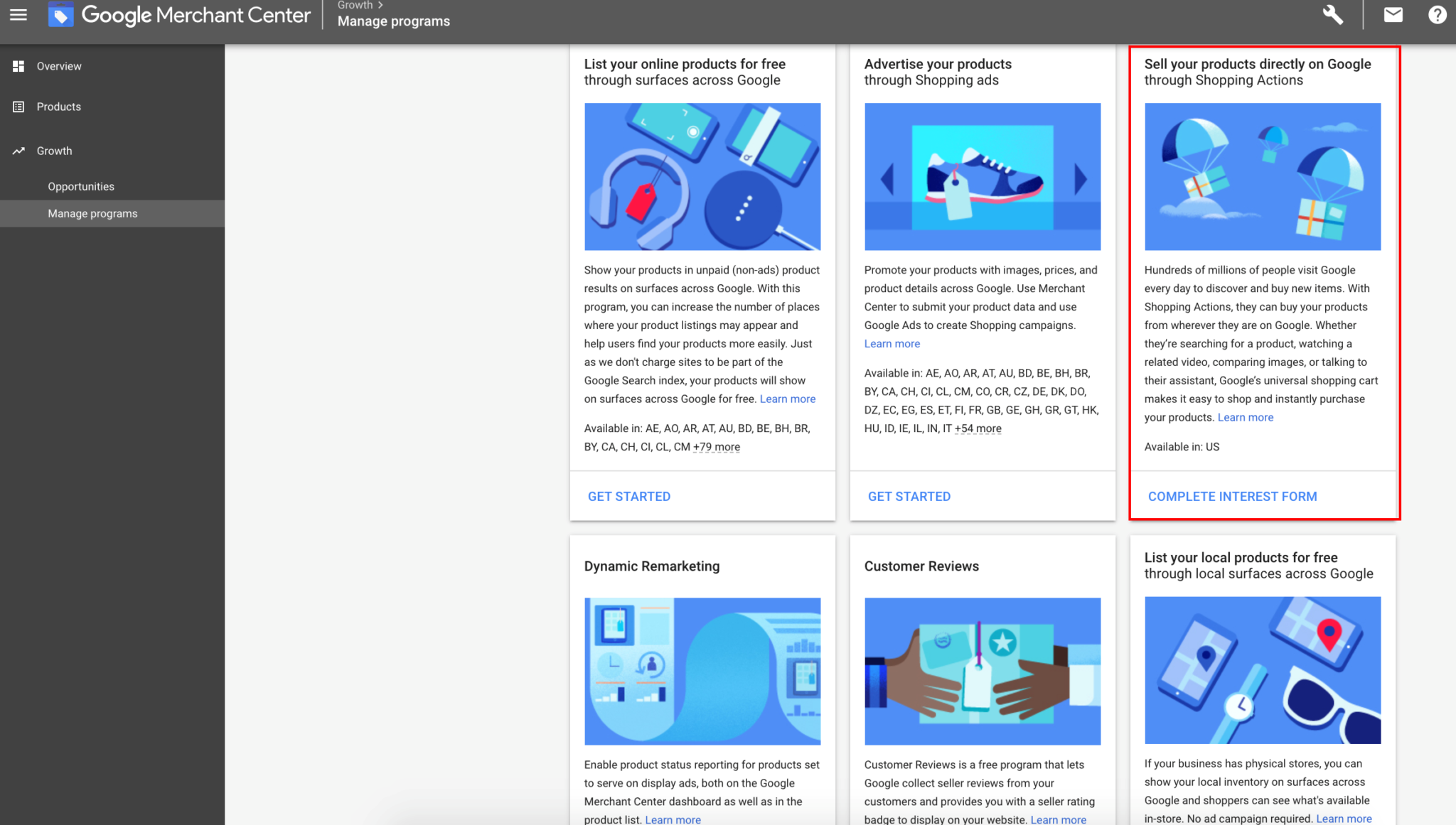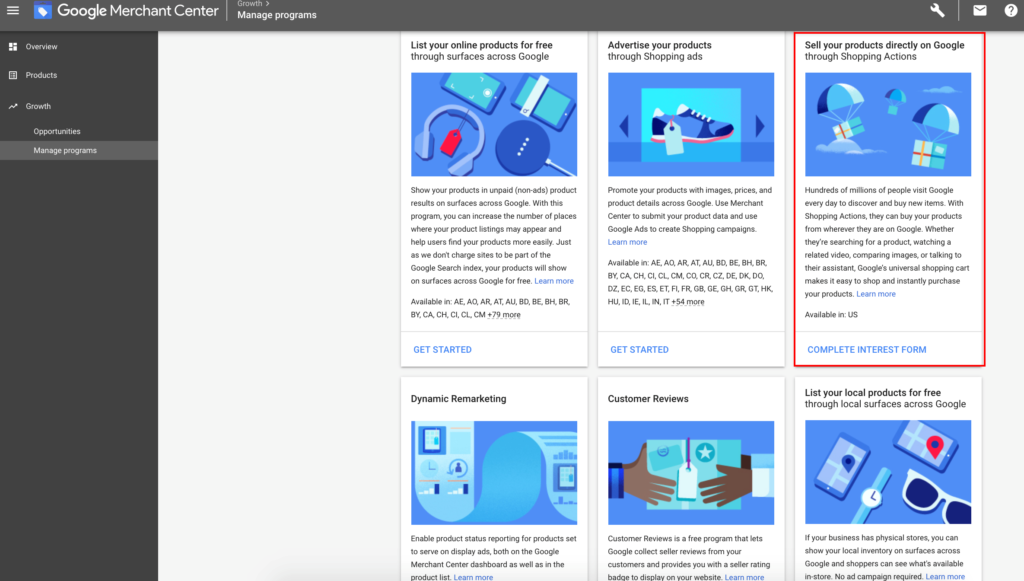 This form requires you to link to a PayPal business account and list your customer support method (for example, whether you use email or a tool like Zendesk to manage customer service).

Google will then review your application. Approval times may vary, but as long as you meet the Shopping Actions participation criteria mentioned earlier, you should be good. (Just make sure your products are already added to Merchant Center, so Google can review them for compliance.)

After approval, you'll need to provide additional business information and set up your Shopping Actions store. Once you have Shopping Actions set up, you're all set for zero-commission selling on Google Shopping! It really is that easy to get started. However, to really make the most of this platform, you should take the time to follow some best practices.
5 best practices for selling on Google Shopping Actions
The ease and affordability of Google Shopping Actions make it an easy add-on channel. But a few simple best practices can never hurt. This advice will help you meet Google's standards for sellers and integrate Google Shopping into your larger business operations.
Optimize your product data feed for search. Your product feed is the only information Google has to determine when to show your listings to shoppers. Use strategic keywords and rich product details to improve organic discoverability.
Display product reviews. On a platform as big as Google Shopping, sharing customer feedback is key to staying competitive. Sync your review tool with Google Seller Ratings, and enroll in Google Customer Reviews as well. This social proof will help you stand out from competitors as well as increase conversion rates.
Provide high-quality customer service. Google used to manage customer service for Shopping Actions sellers, but that's changed with this update. It's up to you now to ensure your customers have a good interaction with your store. This means accurate orders, timely shipping, and responsive customer service. (It's also a good idea to review the Google Guarantee, so you know what customers are expecting when they use Buy on Google.)
Have a plan for returns management. Google charges sellers $5.50 per label to process returns (on top of the return shipping costs). This is convenient but potentially costly. Instead of choosing this default option, shop around to see what in-house or third-party services are available. Create a plan that meets your business needs while still meeting Google's customer service standards.
Add promotions to Merchant Center. Sales, specials, or coupons are great ways to drum up business—especially on Google Shopping. An internal assessment by Google found that promotions drive a 9.4% increase in conversions. Boost brand awareness by creating promotions specifically for Shopping Actions and making sure your Google Shopping feed reflects your online store deals.
These best practices do require a small investment of time, but the potential payoff is well worth it.
Reach millions of buyers for free with Google Shopping Actions
Google's new and improved Shopping Actions really couldn't come at a better time. So many small sellers are experiencing financial strains from COVID-19 and struggle to know how to grow their business in a cost-effective way. This update to Google Shopping Actions offers that growth channel, without costing a dime.

So whether you use these free features or choose to invest in product listing ads for additional traffic, there's no reason not to take advantage of Google Shopping Actions.