Jet often draws comparisons to Amazon because of its large product catalog and low prices, but what sets it apart from the online retail giant is its real-time pricing algorithm. Jet favors lower prices over quick delivery, and pricing on Jet drops — both on shipping costs and the products themselves — based on which items customers add to their carts, where the items ship from, and what other retailers charge for the items.

This dynamic pricing model sets Jet apart from other e-commerce marketplaces and offers unique benefits to both buyers and sellers on the site.

As a seller, there are many ways you can take advantage of Jet's pricing algorithm to increase your profits, but first, you need to understand how pricing on Jet works and the role its algorithm plays.
How Pricing on Jet Works
Most e-commerce sites total the cost of the items in a customer's cart. However, Jet's real-time pricing algorithm considers two things: the products in a customer's cart and the shopper's location. Those factors determine which warehouse can fulfill the order at the lowest possible price. The cart is continually reassessed using these factors, making it appear to the Jet user that they're picking up additional discounts as they shop. This unique system allows Jet to offer prices at 5-15% less than its competitors.

Types of Prices on Jet
Jet's unique pricing model means there are three types of prices that Jet sellers need to understand.
Member Price: This is the price that Jet shoppers see when browsing products on Jet.
Retailer Price: This is the price that you, as the seller, set for an item, plus, the cost to ship it.
Settlement Price: This is the retailer price minus the commission Jet receives when an item is sold.
Member price is determined by several factors: the settlement price, the lowest price from Jet's competitors' websites, the retailer's Rules Engine adjustment, and data from Jet's pricing algorithm.
Types of Discounts on Jet
The algorithm enables Jet to suggest additional, related, or complementary items to customers that can be purchased for a reduced price. These items are indicated by a purple downward-facing arrow, which incentivizes shoppers to add more items to their carts. When a consumer adds one of these items to their cart, it lowers the price of the other products in their cart.

These items can be packaged and shipped with other purchased items, saving Jet money on shipping, and that savings is passed along to the consumer.

Consumers who spend more than $49 on their total order can also secure lower-priced items by opting out of free returns. The cost of a potential return is built into the price of an item, so by choosing to forego the free return, the item's price drops.


Shoppers can get an additional discount on their purchase at checkout if they opt into be added to mailing lists.
Pricing on Jet: Setting Your Own Prices
Because of its pricing algorithm, Jet's prices for items can vary widely for consumers. However, as a seller, you can specify the lowest and highest amounts Jet can sell your item for and how much you want to be paid for each item. These are known as the minimum advertised price (MAP), the price, and the minimum selling price (MSP), respectively.

When you accept Jet's terms as a third-party seller, you agree to give Jet control over the price displayed for your products. However, you can specify the price you want to sell each item for, and you can set your MAP and MSP so that Jet has a floor price and a ceiling price to abide by.

When setting up your price controls on Jet, these are your three options:
MAP 101: No price control

Jet can advertise and sell prices at any price it chooses.
MAP 102: Minimum Advertised Price

The price a product is advertised for on Jet for will always be greater or equal to the minimum advertised price. Savings on the product can be applied once the item is added to a shopper's cart.

MAP 103: Minimum Selling Price

The price a product is advertised for on Jet for will always be greater or equal to the minimum selling price. No additional savings will be applicable to the item before or after it's added to a shopper's cart.
It's important to note that no matter what price a customer purchases your product for, Jet will always pay you the amount you specified as the product price.
How Pricing on Jet is Displayed
Jet emphasizes the savings customers get at the cart or at the "basket level," so while browsing Jet.com, shoppers can see the competitive price of each product on the product page.

They can also view all possible product-related discounts that will be applied to their total, as illustrated below.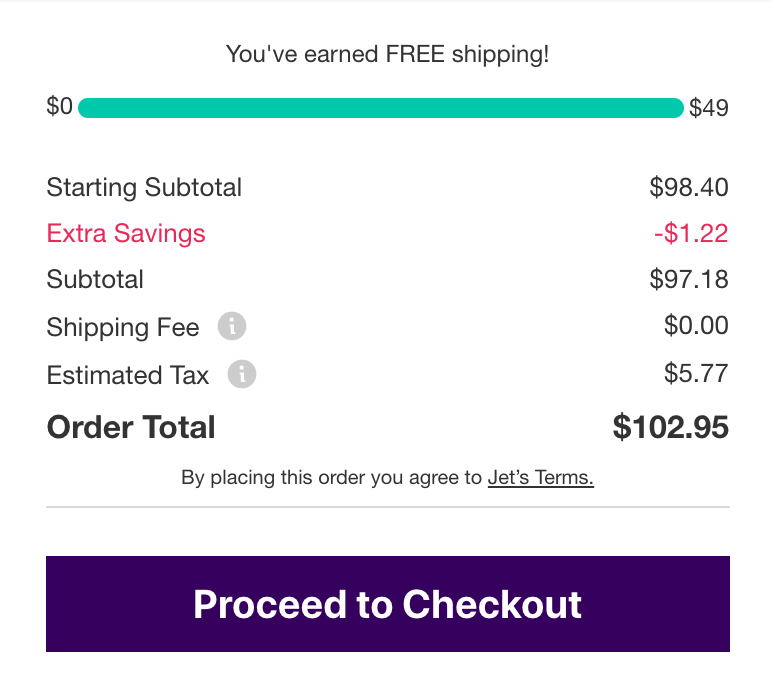 Once a customer has finished shopping, all the product-specific discounts + any opt-in discounts (opting in to the email list, for example) are displayed as subtractions from the sum of the items' prices. This is the customer's final total for their purchases.
How To Optimize Jet's Dynamic Pricing to Increase Profits
Jet's real-time pricing algorithm sets the online marketplace apart from others, and it can drastically alter retailers' selling strategies.

While Amazon has set prices (unless you opt to "subscribe and save" on specific products) and eBay allows users to bid on items, Jet's algorithm can change the price of individual items and groups of items depending on several factors. Here's how you can use this to your advantage when selling on Jet.

1. Know Your Customers
First, it's important to understand your customers — and what they're buying — so you know which products to sell on the marketplace and can price them accordingly.

Jet has about 400,000 active monthly users, the majority of which are price-sensitive, city-dwelling millennials that are fairly split among males and females.

Jet shoppers mostly purchase consumer packaged goods from the following categories, according to Slice Technologies: electronics and accessories (19.9%), home and kitchen (19.5%), health and beauty (13.7%), grocery and gourmet food (12.3%), and baby products (5.5%).
2. Price Competitively
When determining your minimum advertised price and minimum selling price to set your price controls, take a look at what similar products are being sold for on Jet, as well as on Jet's competitors' sites.

Your products must be priced competitively to attract Jet's budget-conscious shoppers who value a low price over fast delivery, so do your research and calculate your margins to determine the most competitive price you can sell at.
3. Incentivize Shoppers to Buy More
Jet shoppers often buy in bulk because they get greater savings when they purchase multiples of the same product or add additional items to their cart.

You can incentivize buyers to add your products to their cart by either creating a customized order size or by setting the minimum number of units that must be added to a cart for commission adjustment range to apply. You can do this in the Jet Partner Panel.
4. Set shipping Rules to Provide Additional Discounts
Jet reduces the prices of items in shoppers' carts based on each shopper's location and where the items ship from. You can take advantage of this as a seller by establishing shipping rules in the Jet Partner Portal.

In the panel, select "Rules Engine" and then "Shipping Distance." Here, you'll see that the United States is divided into eight zones and you can select the zones where you can easily ship your products and therefore offer a discount. You can also choose the zones where you don't want to ship or offer discounts.
5. Allow Consumers to Opt Out of Return Costs
Pass additional savings along to your customers by letting them waive return costs. You can set this up in the Jet Partner Portal as well.

In the Rules Engine, select "Waive Returns" and choose the product category for which you want to give consumers the option of waiving returns for. Use the calculator to determine the percentage of discount you'll allow for this product category.
6. Offer a Discount to Customers Who Share Their Email Address
Unlike some e-commerce marketplaces for third-party sellers, Jet allows you to collect your customers' email addresses for marketing purposes. However, to do so, you must offer an additional discount on the items in shoppers' carts at checkout.

Collecting customers' email addresses can be a big advantage for Jet sellers because it allows you to market directly to your buyers, establish a relationship with them, and grow your profits over time.
7. Use Sellbrite's Integration
Simplify your online retail business and sell across multiple marketplaces with Sellbrite. It's a comprehensive solution for creating Jet listings, as well as managing inventory, fulfillment, and reporting.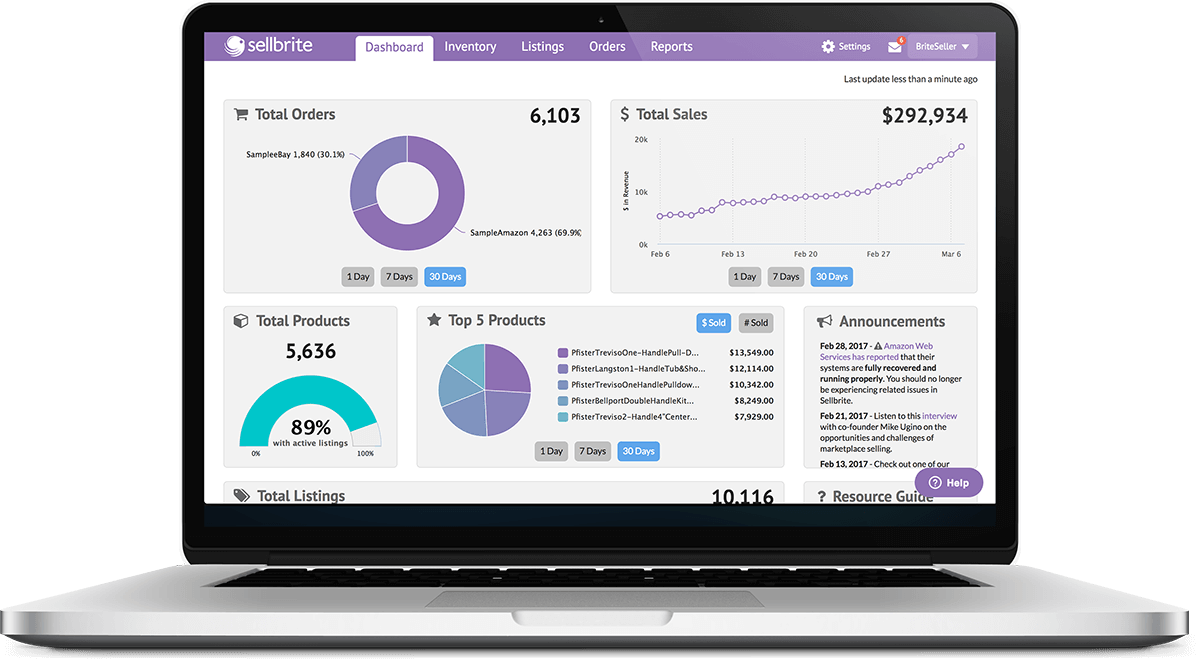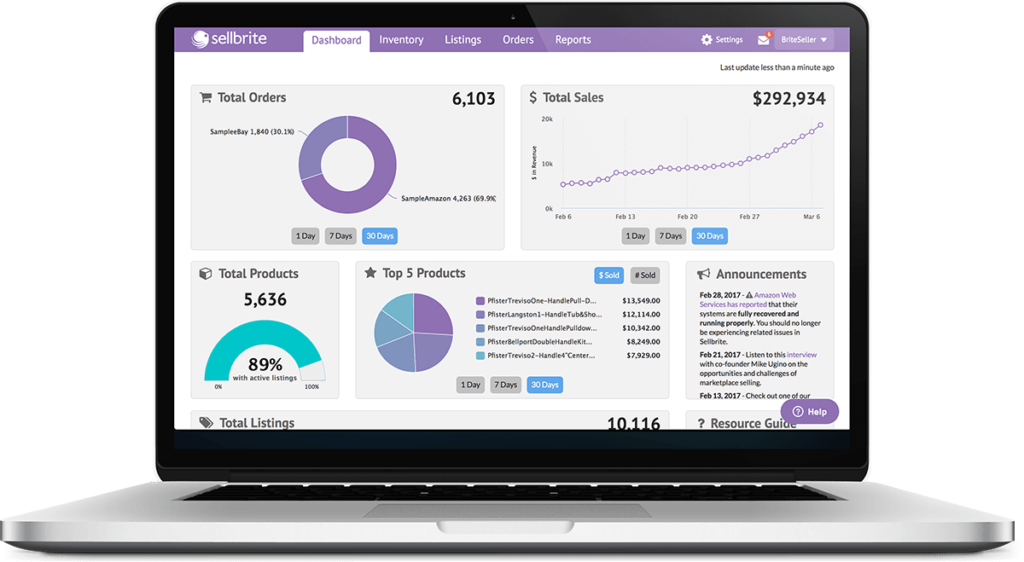 Focus on Hooking Repeat Buyers
The more consumers purchase on Jet, the more they save, which leads to larger orders and a great incentive for buyers to return and make future purchases from the site. In fact, Jet has a repeat buyer rate of 23%, which is higher than both Amazon (11%) and eBay (17%).

It's these impressive repeat buyer that can make Jet an ideal online marketplace for many sellers. So focus on offering competitive prices and an excellent customer experience that'll keep buyers coming back and purchasing from you again and again.