There are hundreds of online marketplaces for sellers to choose from. Amazon, eBay, and Jet are just three that come to mind. If you're like most online sellers who want to increase their exposure, then you probably list products on more than one marketplace.
But here's the thing: A lot of these marketplaces charge a monthly fee — plus other fees — to maintain your account. Unless you've mastered all the ways to optimize each marketplace you list on, chances are you're losing money. That means you're not getting a reasonable return on investment (ROI) if, for example, you aren't attracting lots of traffic, selling lots of products, listing products properly, delivering the right kind customer support, or analyzing your sales number correctly.
Let's look at one marketplace in particular: Jet. It's a newer marketplace compared to established marketplaces like Amazon and eBay, but it offers lots of unique features that make your monetary and time investments worth it. To help you feel comfortable selling on Jet, we've put together a list of 10 features you need to know about. Let's dive in!

What is Jet marketplace?
Jet is a small ecommerce startup that launched in 2015 and was purchased by Walmart in 2016. Like lots of other online marketplaces, you can sell anything from makeup to home furniture on Jet. Often, Jet gets compared to Amazon for two main reasons: low prices and a large product catalog.
To sell on Jet, you have to apply for a third-party seller account. Once your account is approved, take the next steps:
Confirm what type of seller you are: a retailer, brand, manufacturer, or distributor.
Input your personal and business contact information. Note, you need a tax ID number to complete the onboarding process.
Specify what types of products you sell.
Verify your fulfillment options.
Create your first listing.
In addition to the general marketplace, there's also a private-label marketplace called Uniquely J. Products are geared toward urban millennials — an underserved demographic — who live in smaller spaces, value eco-friendly products, and appreciate premium-quality products. Product packaging is also bold and unique and indirectly encourages Jet members to share their experiences on social media: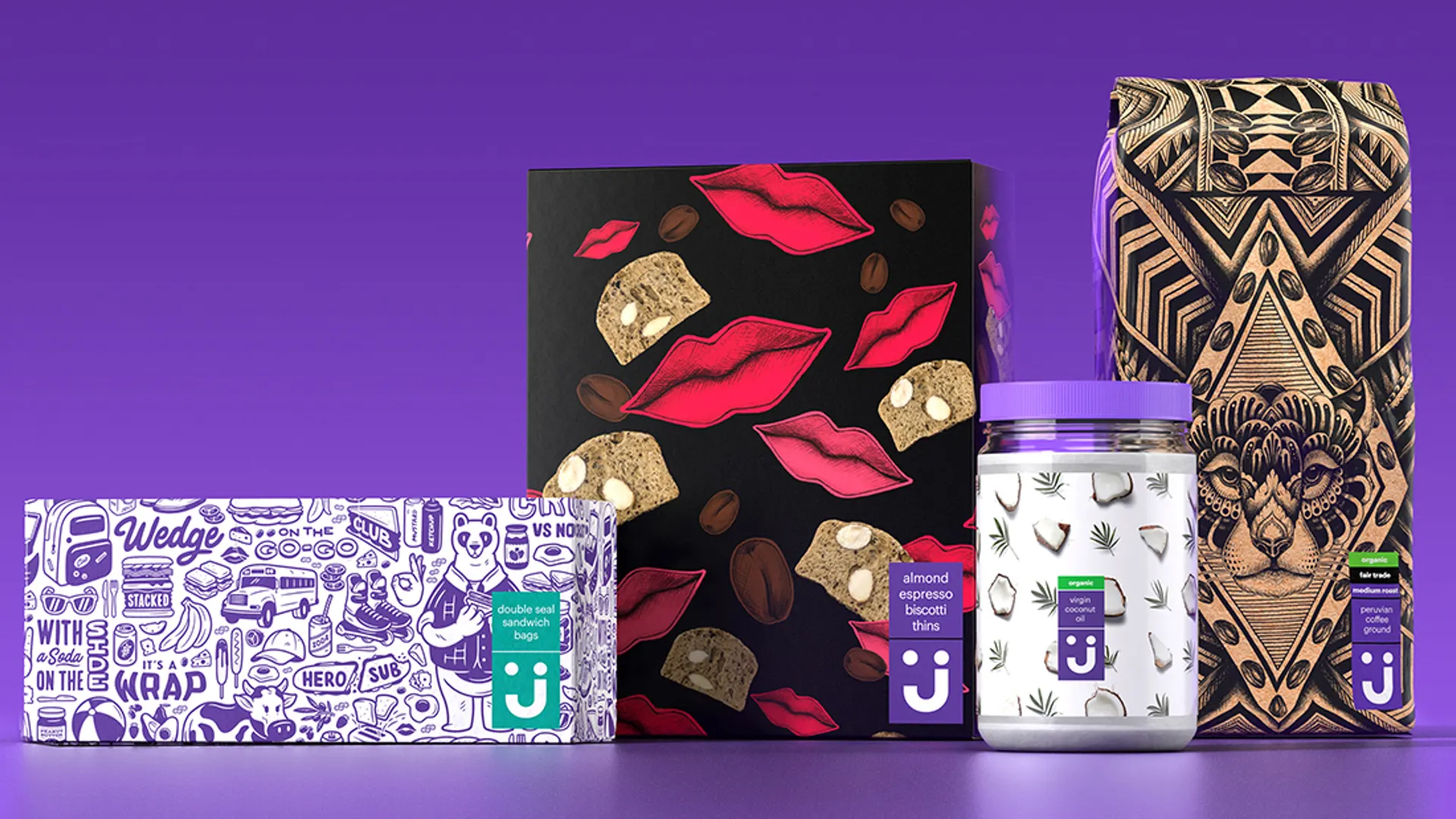 [Source]
Part of what shoppers look for when they buy online is evidence of your reputation as a seller. They want to know that you sell quality products and that deliveries arrive on time. Marketplaces like Amazon have a sellers ranking system that can flag sellers as "top-rated." Jet doesn't have a formal ranking system; instead, it uses returns and complaints to determine which sellers can keep selling in the marketplace and which ones can't. As a seller, you can keep track of your returns and complaints as a way to track how good a job you're doing at meeting customer needs.
Now let's look at 10 of their most important features.
1. A monthly fee isn't required to list and sell products.
When Jet first launched, sellers had to pay a monthly fee to list their products. The fees have since been removed, so it's free to list products once an account is approved.
If you're new to online marketplaces, monthly fees, listing fees, and sale fees add up and eat into your profits. Jet is different because it lets you save money compared to other marketplaces. You can even channel these savings back into other areas of your business. For example, you can increase your advertising or upgrade the types of products you offer.
2. Listings don't immediately appear in the marketplace.
The seller application takes just a few minutes to complete. What takes time is waiting to hear back about the products you list. If there are other sellers selling the same products as you are, Jet has to vet these products. As a result, it can take a few weeks for your listings to be approved.
On the other hand, if you sell unique products or you're the first seller to list a type of product, then approval takes less time.
Other reasons why your listings are slow to appear:
They include prohibited items, such as used products or medical products that haven't been cleared.
A product SKU is missing.
A unique identifier, like a UPC, code is missing.
The product title is too long or is formatted incorrectly.
Inventory amounts are missing.
Product descriptions are too long or include irrelevant information, like shipping details or special offers.
Images don't follow the guidelines.
To make sure your product listings aren't delayed, use Jet's style guide for direction.
3. Brands don't have dedicated landing pages.
On Amazon, when shoppers click on the name of the third-party seller in a listing, they're taken to the brand's custom landing page. From there, shoppers can see what other products the brand sells, link to social media, watch videos, read testimonials, and more.
In Jet, when shoppers click on the name of the third-party seller in a listing, they're taken to a page of filtered search results showing more products from the brand.
Here's an example of listings for similar products:
Amazon
Listing for a memory-foam mattress: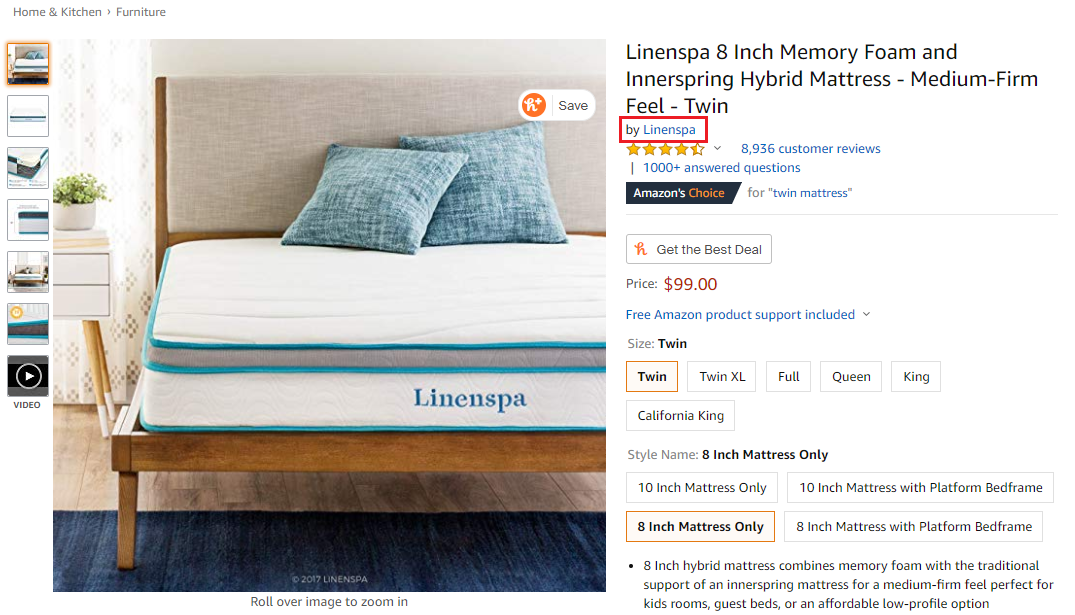 Landing page that offers shoppers more information about the brand: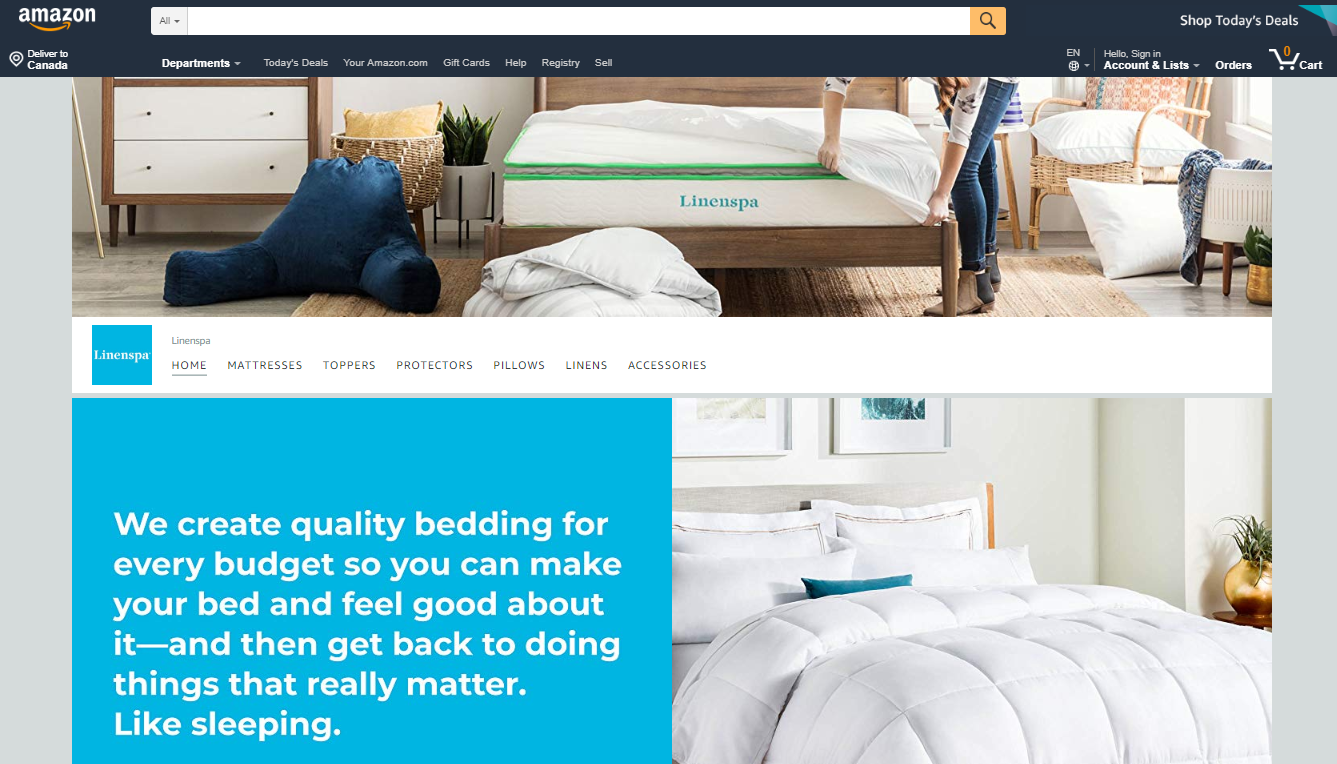 Jet
Listing for a memory-foam mattress: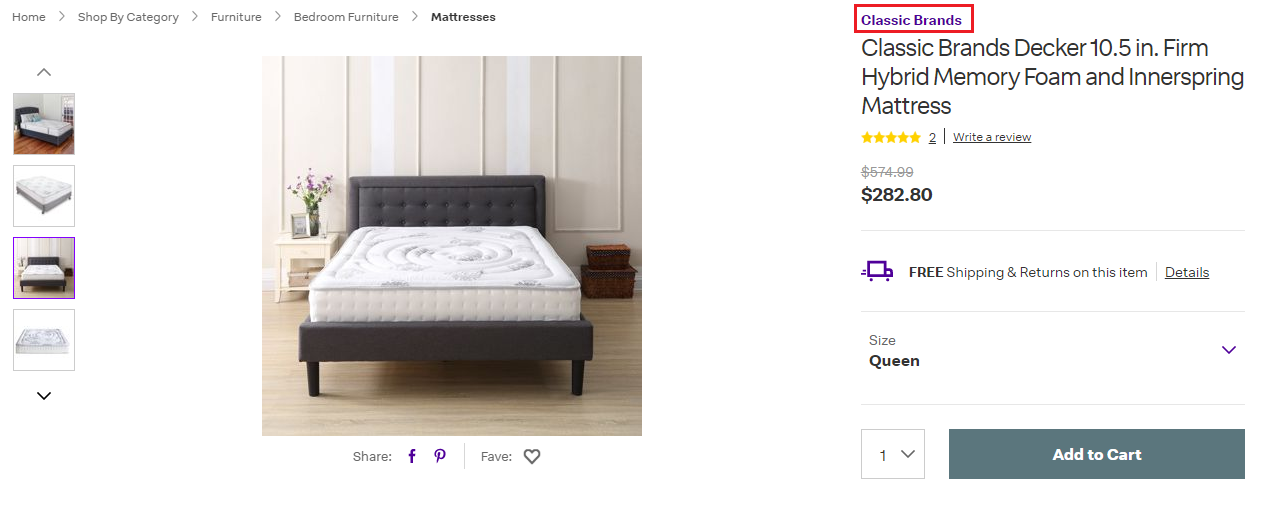 Search results page filtered by brand: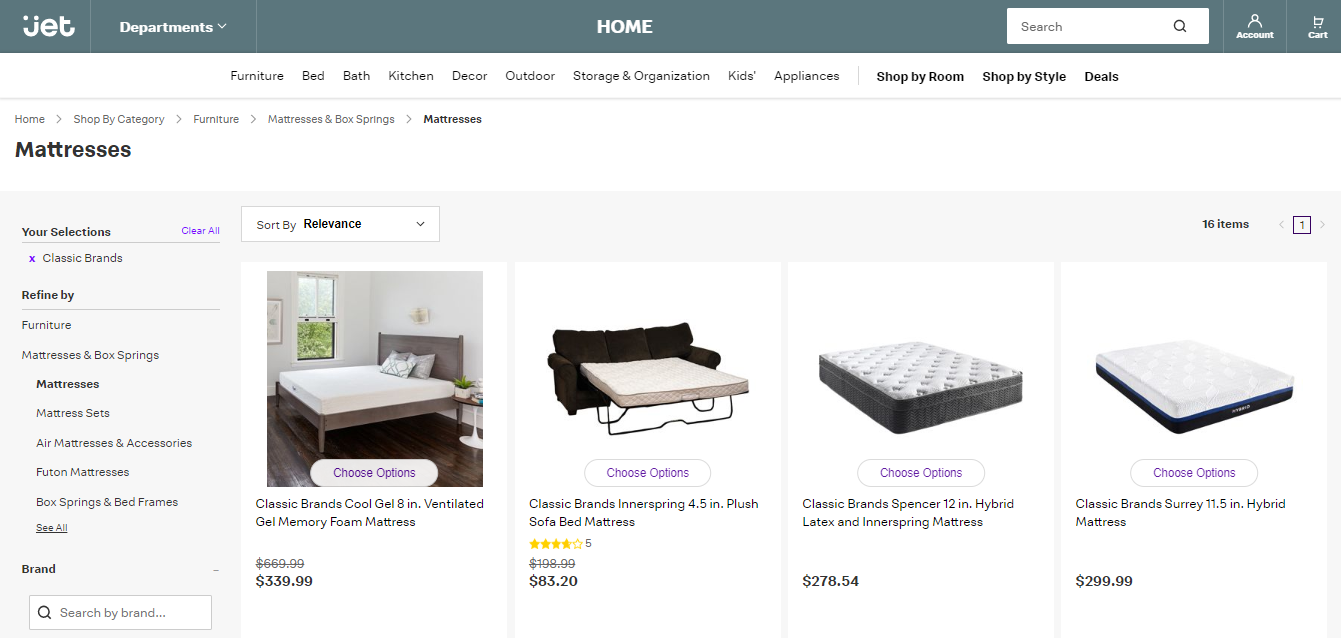 This difference isn't necessarily a bad thing. Customers browse online marketplaces because they're either ready to buy or they're researching their options. Whether they read details on a landing page or scroll through more product options on a search-results page, they're getting more information about the products they're interested in.

4. Listings can be uploaded via Sellbrite.
Chances are you have products listed on other online marketplaces besides Jet. Instead of taking time to upload products manually, use Sellbrite to upload bulk listings and manage them in one place. Sellbrite is one of the tools that Jet integrates with to simplify your ecommerce experience.
Once your seller account is approved, you have access to a dashboard where you upload information like your business name, tax information, address, fulfillment options, and banking details.
When you're ready to add products, Sellbrite lets you connect with Jet to import new listings in bulk, manage and edit listings, and create listing variations.
Once your products are uploaded to Jet, they're automatically linked to Jet's product catalog. Jet then uses standard design, content, and appearance for your listings to create uniformity across the marketplace. The listing details you include during the upload are used at Jet's discretion.
5. The pricing model ensures that shoppers pay low prices.
Jet products have a starting price that goes down if shoppers do one of three things:
Opt to pay for returns
Buy more than one item at once
Add items with digital tags to their cart
Jet also uses a pricing algorithm to figure out what prices customers pay. For example, the algorithm is programmed to look at factors like customer location and the items they've added to their cart. That way, Jet can ship products from the warehouses closest to customers — with enough inventory of each product — at a lower price.
The discounts customers qualify for depend on optimizing packing and shipping. Whenever possible, ship products together to lower the overall shipping cost to customers. For example, if a customer buys a notebook and a lamp, package them together so that the customer pays less for shipping.
In addition to this, your customers see total savings at the cart level: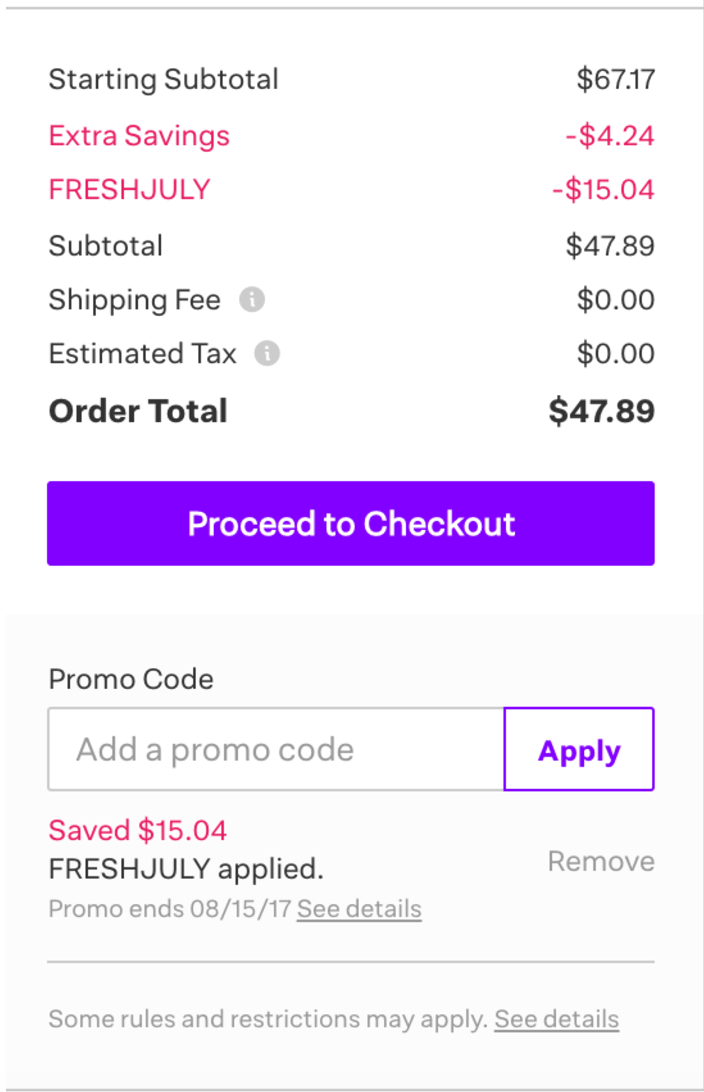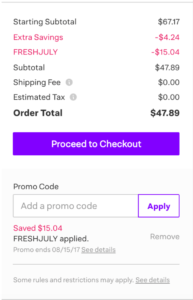 [Source]
As a seller, you can incorporate pricing policies that affect the product discounts Jet displays. You have three pricing options:
No pricing controls: Jet can show shoppers any pricing discount.
Minimum Advertising Price (MAP): The pricing discount Jet shows has to be greater than or equal to a set price.
Minimum Selling Price (MSP): The minimum price Jet can sell a product for without a discount applied
You can always adjust this based on how sales are performing to ensure you're meeting your revenue targets.
6. Jet offers an incentive program to encourage customer loyalty.
Jet offers a program similar to Ebates that lets shoppers receive rewards for their purchase. The program, called JetCash, is designed to get shoppers to come back and spend on Jet again. Unlike Ebates, which lets customers choose savings for different brands, Jet customers have to spend their rewards in the marketplace since JetCash doesn't have any monetary value.
This reward program is great for sellers like you because it encourages customers to keep coming back. If you sell products that have to be purchased regularly — like personal-care items — then JetCash helps turn shoppers into repeat customers. Not only are customers getting what they need but they're also saving money. Jet explains that one dollar spent in the marketplace is the same as one dollar of savings on future purchases.
7. There's flexible shipping to meet customer needs.
Shipping options show customers that you cater to their needs. With more online marketplaces offering two-day free shipping or even next-day delivery, Jet gives you the option to compete and attract customers based on an ecommerce feature that's important to them.
As a seller on Jet's marketplace you have multiple shipping options:
Two-day shipping: This option is available for orders received by 2 p.m. in the time zone the product is being shipped to.
Free two- to five- day shipping: This option is available for orders over $49. Jet doesn't let shoppers combine more than one order to get to the minimum.
Flat-fee shipping: This is available for orders under $49 and costs $5.99.
Shoppers can also choose free shipping for everyday items that are less likely to be returned — toiletries, for example. Plus, if you sell groceries and everyday essentials and are based in NYC, you can also offer same- or next-day delivery. A $9.99 flat-rate shipping fee applies.
As a third-party seller, you can ship to 48 states and the District of Columbia. Shipping to Alaska or Hawaii isn't available yet.
8. There are several fulfillment options available to sellers.
When you sell on Jet, you have the option to fulfill the order yourself or get the help of drop shippers. Jet doesn't have an FBA-like option yet.
If you decide to use a drop shipper to fulfill your orders, you need to specify how many locations you ship from, and you need to share the locations of these fulfillment hubs with Jet when you set up your account. To update this information, head over to the "Fulfillment Settings" view: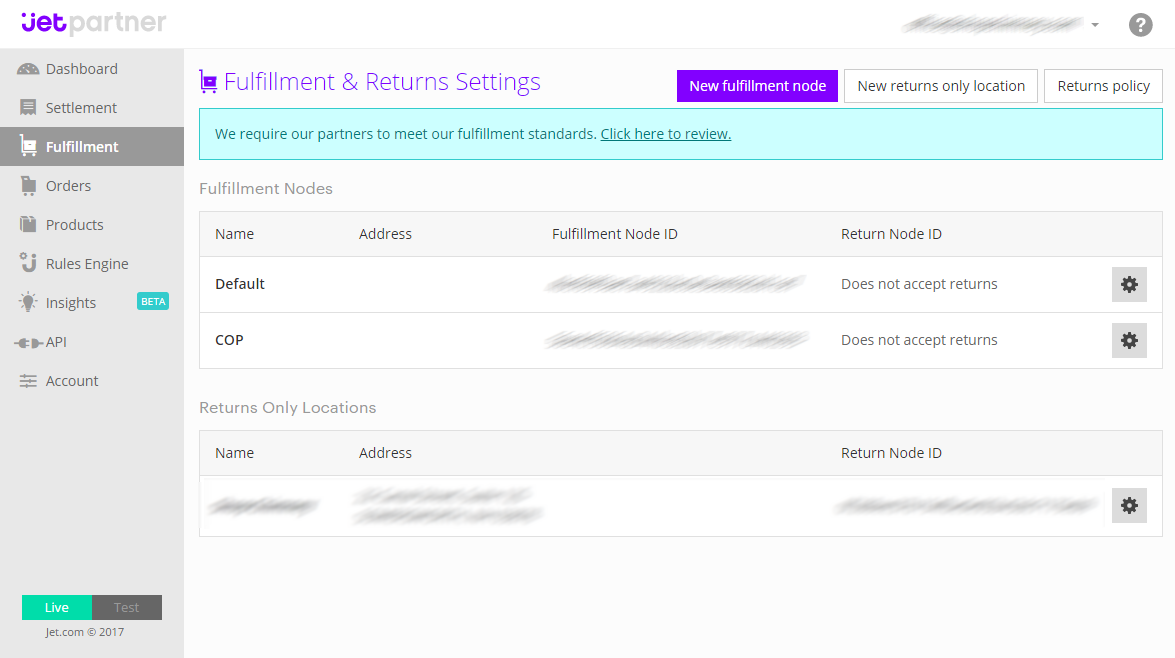 [Source]
Jet also lets you receive product returns at any of these fulfillment locations. You can choose to receive returns at all fulfillment locations or at just one.
If you fulfill orders on your own, Jet also helps you create packing slips to enhance the customer experience and to share relevant information. For example, it can include your contact information for Jet, any offers customers qualify for, and order details — except price. Sometimes the price people pay is different from the packing slip because the savings they get online are different from your standard prices. When customers see two different prices they might be confused.
9. Product returns are a marker for seller success.
When you sell on Jet, your success depends on shipping speed, product quality, and the number of complaints and returns you get. When it comes to returns, the fewer returns you get back, the better your chances of continuing to sell on Jet. Also, at checkout, customers have the option to pay for returns or waive the cost to save money.
Jet even helps manage returns for you. Once a customer submits a request to return a product, Jet creates a return shipping label for the product and lets you know. When you receive the product back, you have to let Jet know.
Customers get free returns within 30 days of purchase. If they opted out of free shipping — to save money at checkout — then these customers have to pay $5.99 for the return shipping label, plus 5% of the item's price.
10. There are multiple integrations to simplify store management.
Automation simplifies manual and repetitive tasks that would normally take time away from value-added tasks like improving services or packaging. Fortunately, selling on Jet means you can integrate with third-party apps that help manage tasks like advertising, shipping, inventory, and more.
Here are just some of the platforms Jet integrates with: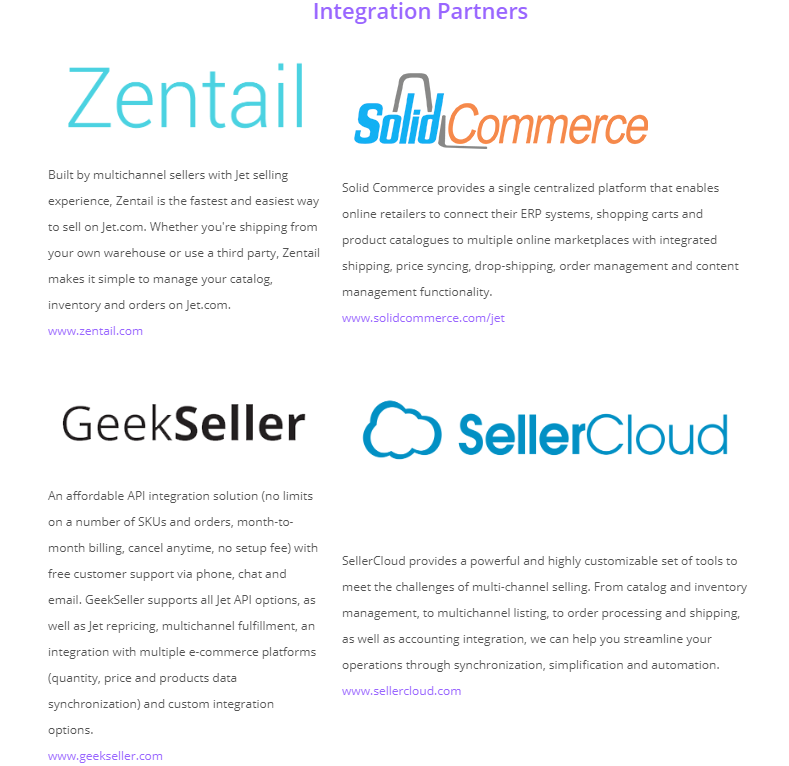 Selling on Jet is a unique experience
It's important for online marketplaces to differentiate themselves while catering to diverse audiences. Even though it's one of the newer online marketplaces, Jet has made a name for itself. From its range of product categories to its pricing algorithm to attract shoppers, it's worth it to sell on Jet.