Ecommerce brands like Birchbox and Harry's have found a way to create exceptional product experiences online that transfer over to the real world. Specifically, both use unique, custom-made product packaging design as a tangible representation of what they each stand for.
Both brands have managed to create the expectation of exceptional customer experience and quality—with their packaging.
But let's be honest, the product is what's important, not the box it comes in, right? After all, this attention to packaging isn't the norm for all ecommerce brands.
It might come as a shock, but the reality is that when product packaging is used the right way, it has the power to encourage repeat business and grow your customer base.
The good news is that, even though getting the design right sounds like a lot of pressure, it's more simple than you think. To start, you have to understand that package design should align your online message with real-world customer experience, should stand out from the competition, and set a standard early on.

Carry the online customer experience into the real world
From the moment someone finds you online, buys something, and receives their order, their impression of the experience dictates the likelihood of them becoming a repeat customer.
Your online presence is your audience's initial introduction to your brand. This is your chance to emphasize the value and benefits you offer, interact with potential customers, and set a standard they can expect to receive from you. When these factors are combined, they act as a trigger that encourages people to buy your products.
Keep in mind, the customer experience doesn't stop at the checkout screen, though. In fact, it continues through to when customers receive their first order in the mail. This is the official start to your customer/brand relationship.
The way your packaging looks reinforces the customer's decision to buy from you and delivers on the promised value you shared online. Think about how good it feels to receive a well-packed, custom-designed box after days or weeks of diligent online research. Customers feel validated in their purchase when this happens.
A brand like FabFitFun—a seasonal subscription box that delivers a mix of beauty, self-care, fitness and home products to customers every four months—has a website packed with helpful information and emphasizes the importance of being a part of their membership community.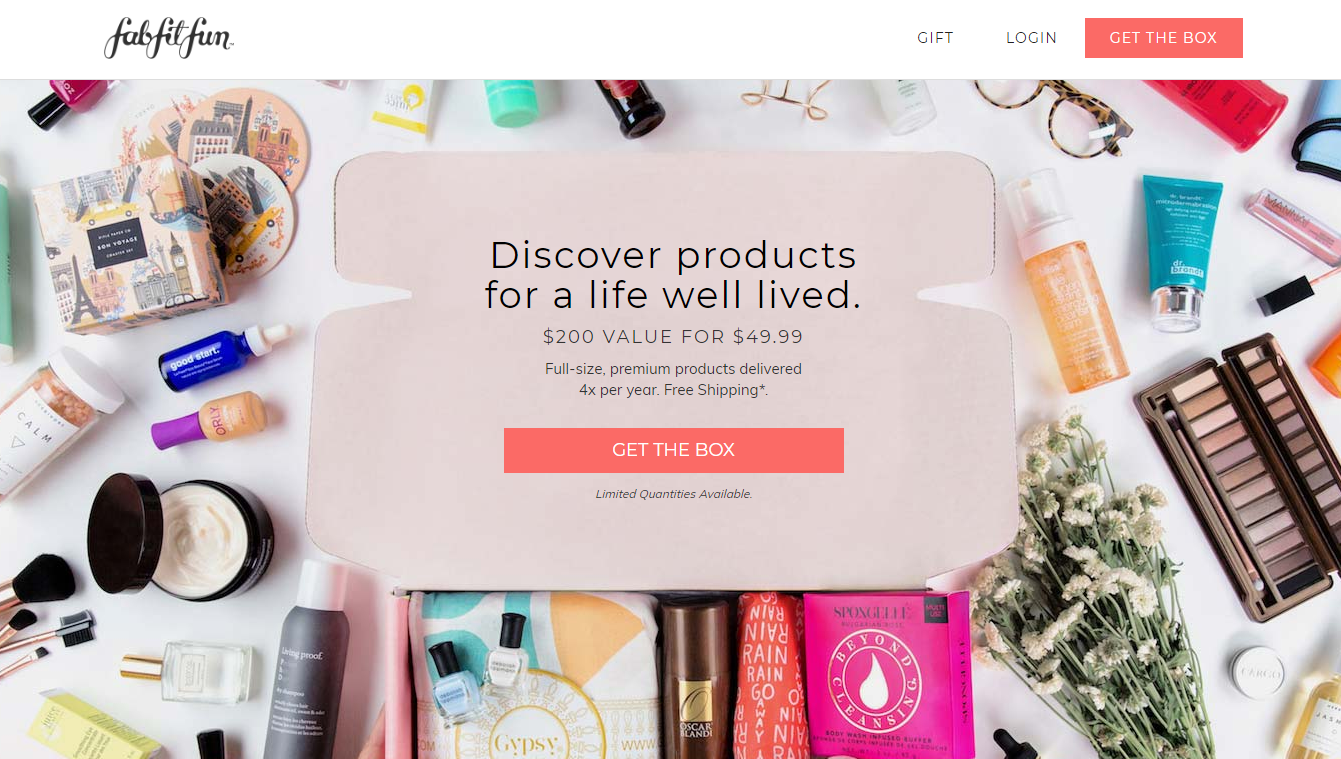 As with many subscription boxes, the unboxing experience—the excitement of opening the box for the first time to find what surprises lie within—is important to FabFitFun. Each seasonal box comes with a unique design that matches the website's theme—feminine, stylish, and lively.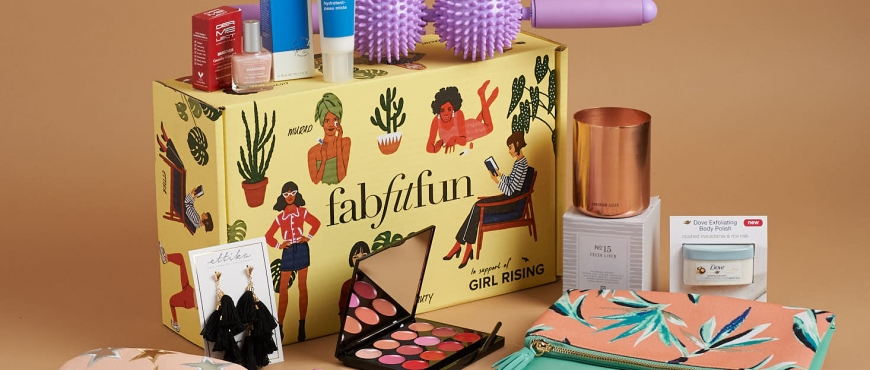 Each box includes a FabFitFun magazine that features articles geared towards topics like wellness, style, and entertainment. Similar to the online experience, the magazine is packed with helpful resources and emphasizes the importance of community.
The packaging also reinforces the customer's decision to subscribe by using fun, creative, and custom designs. There are hundreds of FabFitFun unboxing videos on YouTube of customers excited to talk about the unique packaging and the products inside.
Ecommerce businesses, subscription boxes especially, are rooted in their ability to build a sustainable recurring revenue stream. These businesses have to make sure customers keep coming back. To do this, the expectations that were set online have to carry over to the real-world experience.

Use product packaging design to stand out
In the bestselling marketing book Blue Ocean Strategy, authors W. Chan Kim and Renée Mauborgne explain that the goal of any business should be to find market space that limits competition, targets a new set of customers, and provides an opportunity to grow quickly.
The authors created a strategy canvas exercise that's designed to help businesses figure out where there's an opportunity to stand out. The way it works is you compare the factors that companies in your industry compete against and determine to what degree each competitor offers each factor.
The result of the exercise is a value curve showing the level at which competitors in your industry meet each factor in comparison to your business. Where your offer level is higher than the industry norm is where your blue ocean exists.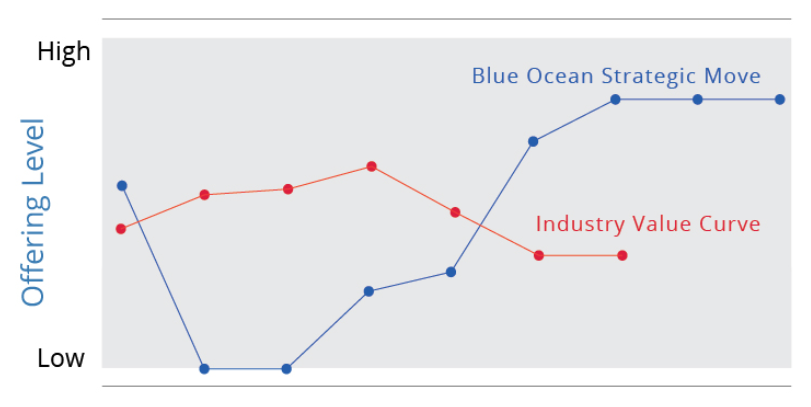 [Source]
Product packaging is one factor to compare against the competition. Create packaging that stands out and makes you recognizable to your audience. The more recognizable you are, the easier it becomes to be known for the value you offer. This, in turn, drives repeat business as customers come back to buy more.
ModCloth, an ecommerce retailer specializing in vintage clothing for women, sells fashions that are unique and range in size from 00-28. From active wear to formal dresses, ModCloth has a range of styles and products that fit their philosophy of exclusivity, individuality, and empowerment.
Their product packing design also follows this philosophy. The design of the box is simple, but each box includes phrases like "Fashion As Unique As You."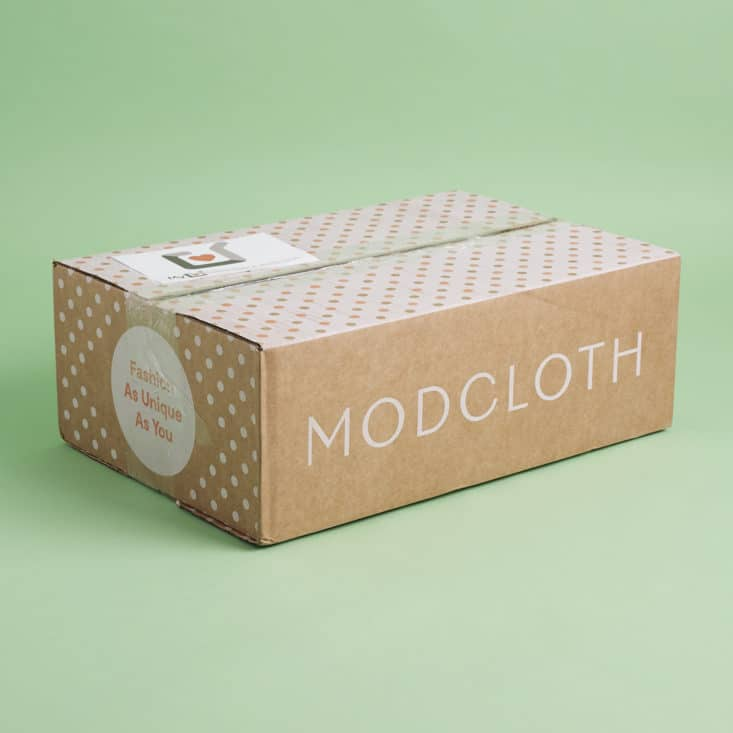 [Source]
This theme carries over into the inside of the box where terms like "fantastic" and "gorgeous" appear on the inside of the box flaps: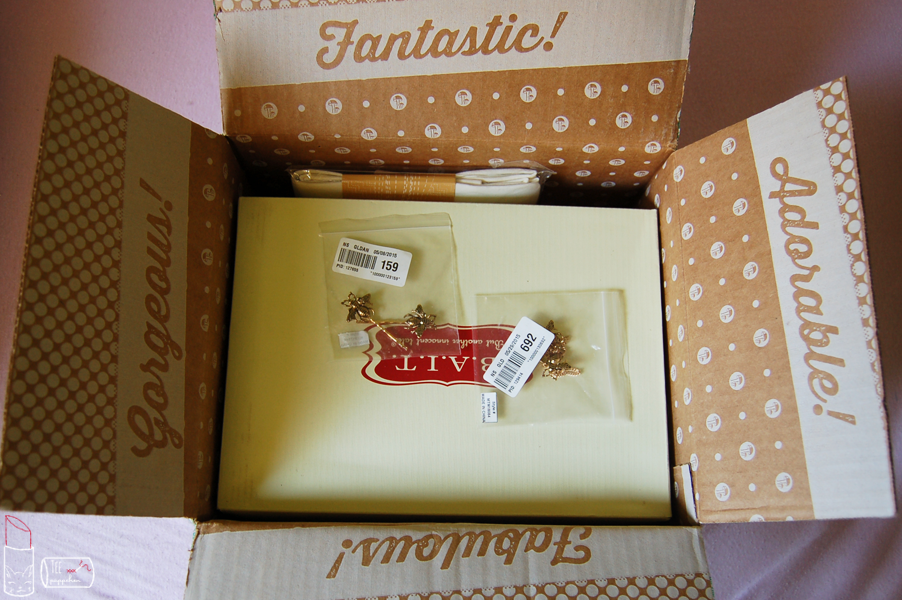 [Source]
By reinforcing the message they introduce online, ModCloth's packaging is more engaging and affirming than their competition. It's easy to ship products in any box, but by taking an extra step to include phrases on the outside and inside of the box, ModCloth is able to showcase itself as a brand that embodies uniqueness and truly cares about its customers.
Create opportunities for user-generated content
In this digital age we live in, it's normal for people to share almost every aspect of their lives on social media. Brands can leverage this need to share by encouraging customers to share user-generated content (UGC) related to their product experience—starting with the packaging. UGC is essentially free advertising that supports brand awareness and lead generation. It puts your products in front of people who may not have seen them otherwise.
When customers share their experience and images of packaging, this creates a sense of fear of missing out (FOMO), which has the potential to spur people to take action and get their hands on the product and unique packaging.
Creating your own UGC campaign on your social media channels "is an excellent strategy to strengthen your brand and build customer relationships."
In fact, studies show that 87% of customers trust reviews and recommendations from people they know. This, in turn, improves the chances of potential customers relying on UGC on social media to make their buying decisions.
For example, customers who use Harry's, a subscription-based razor blade company, often share content about how well the razors work for them. In this Facebook post, a customer also offers to share a review with their followers after using their new razor: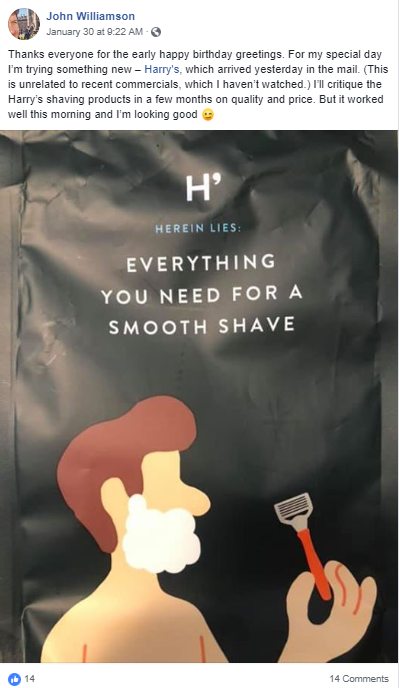 Some brands also proactively ask their followers to share feedback on their experience with the packaging. For example, Trident Gum asked followers for packaging feedback on social media: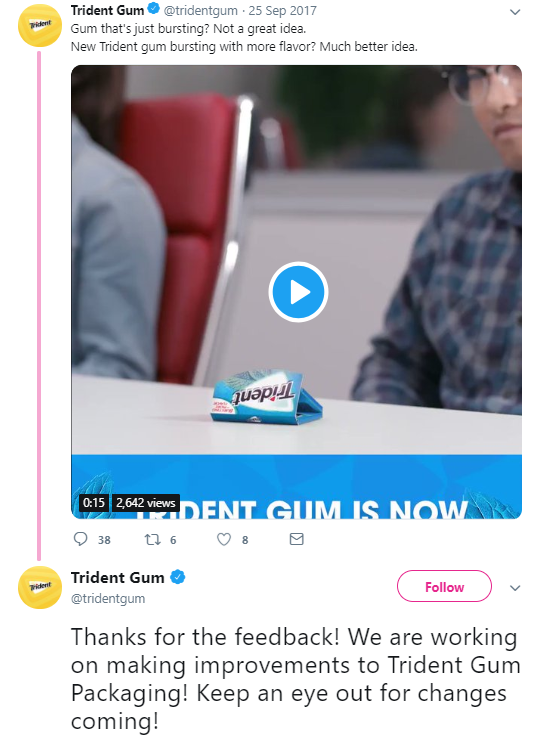 With this approach, users didn't just share their own images of packaging; they instead gave feedback on what they'd like to see in future packaging. This creates trust between Trident Gum and its customers, since feedback is welcomed and the results are shared with everyone.
Promote UGC campaigns on social media with a branded hashtag, poll, or any other campaign that encourages engagement and gets your products and your unique packaging in front of as many people as possible.
Your product packaging design is your secret weapon
You spend a lot of time creating and fine-tuning your product so it would be a wasted opportunity to not use your packaging to reinforce the messages you share online. Packaging is more than just a box to ship products in. It's your chance to set the tone of the standard you operate by and that your customers can expect to receive from you.
Taking the time to think creatively about your packaging has many advantages. For example, you create brand awareness and recognition, promote customer loyalty, and stand out from your competitors.
Test different variations of our packaging and ask customers for feedback to find the theme that resonates best with your ideal customers.