Nailing your product page is a crucial part of increasing your ecommerce conversion rate.
You can have the best products, the smoothest checkout process, the most effective Facebook ads, and more traffic than any of your competitors—but without optimizing your product pages to influence and drive conversions, visitors' shopping carts will stay empty.
To inspire people to buy your products, you have to think strategically when it comes to product-page design. You have to be intentional about everything—from the words you write and the images you use to the design you present and the shopping experience you create for site visitors.
To help you get started on improving your product pages and increasing your conversion rates, we've put together 12 proven strategies you should follow when designing your product pages.
Table of Contents
Use high-quality product images and videos
Add trust badges and statements
Leverage psychology
Include customer reviews of products
Remove the clutter
Improve site speed
Use FAQs to educate and overcome objections
Zero in on your value proposition
Make mobile conversions a priority
Write compelling product descriptions
Add social proof
Use the scarcity principle

1. Use high-quality product images and videos
One of the best ways to build trust and boost conversion rates on your product pages is by featuring large, crisp, interactive videos and images of your products — like the ones from Hoot.
It seems like such a simple concept, but many new online-store owners are unwilling to invest in quality images. After all, product photo shoots can snowball into time-consuming and expensive projects, especially if you're in a position where you need to hire an outside freelance photographer or you're dealing with a large number of products that you intend to sell on your website.
Despite the up-front investment, though, product videos and photos matter a great deal when it comes to convincing visitors to click that "BUY" button. Investing resources into high-quality product photos right away is an easy way to boost conversions and help your store stand above the competition.
Great product photography can help
build trust and overcome objections;
create the right first impression;
make it easier for potential customers to understand what to expect;
increase social sharing;
establish brand consistency; and
differentiate from competitors.
To build a successful ecommerce site, you can't afford to take better photos down the road. For help creating better product photos for your ecommerce store now, explore these resources: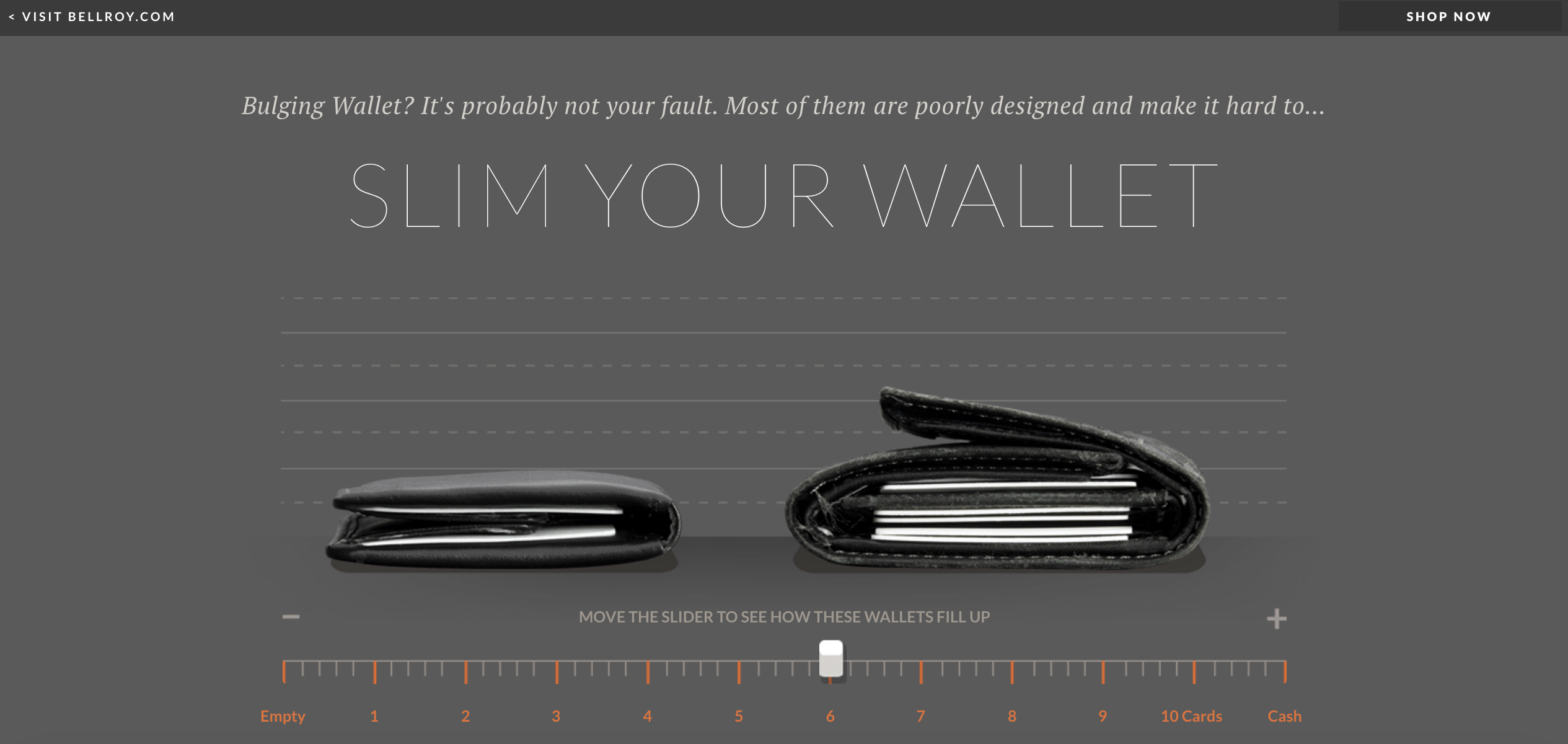 Source: Bellroy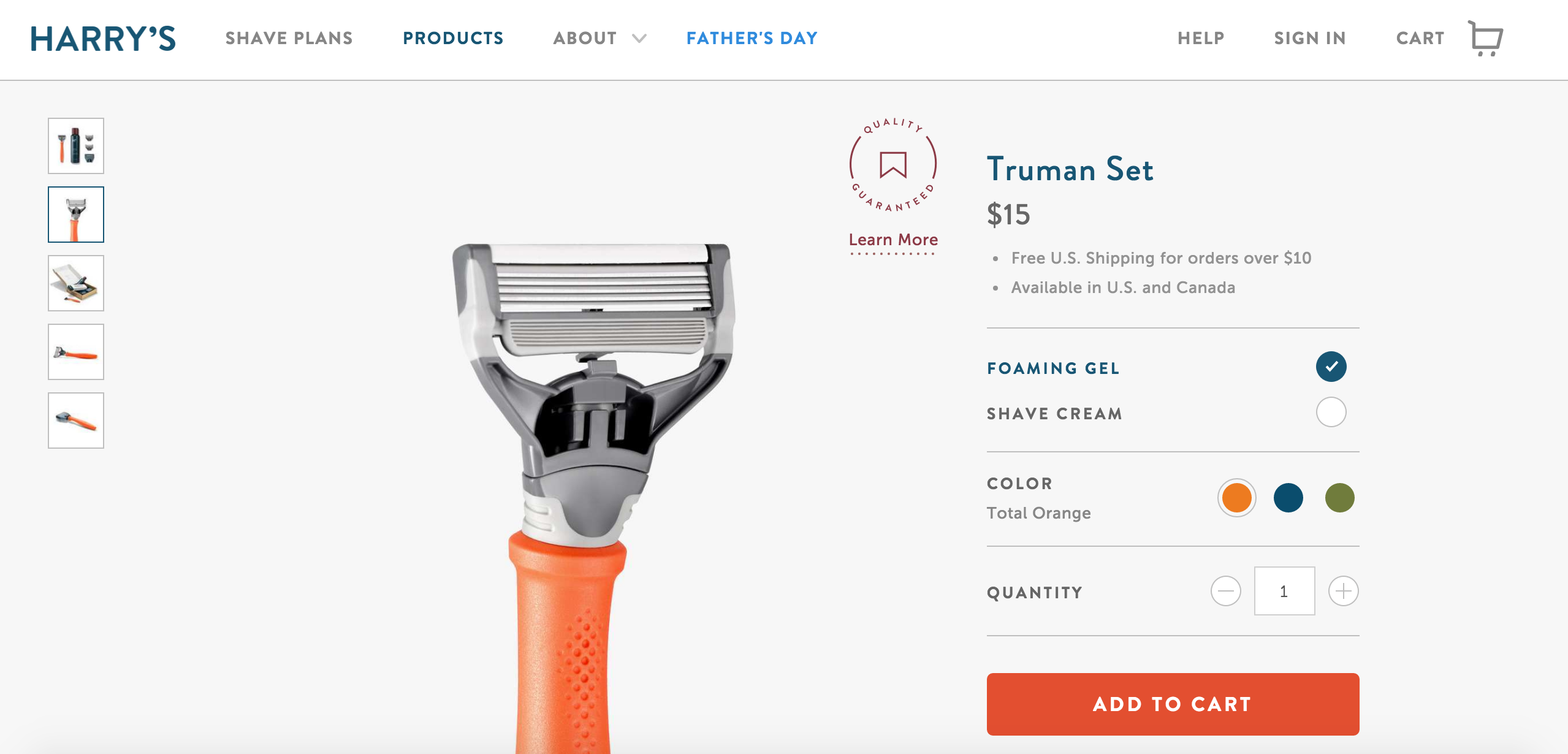 Source: Harry's
2. Add trust badges and statements
As Wi-Fi and smartphones have grown in popularity, we've learned to rely on the internet for everything: communication with friends and family, online shopping, collaboration at work, entertainment, personal banking—the list goes on and on.
While the internet presents many opportunities, it also creates new vulnerabilities. Every week, the media publishes new stories online about data breaches at major companies, cyber identify theft, or credit card fraud.
As these reports continue to grow, consumers (understandably so) have become more and more wary of giving out their personal information online.
If you want people to buy your products, you need to convince them that their information is safe in your hands. The best way to do that is by adding trust badges and statements to your product pages.
To see how effective trust badges can be in boosting conversions, read these blog posts:

Source: VWO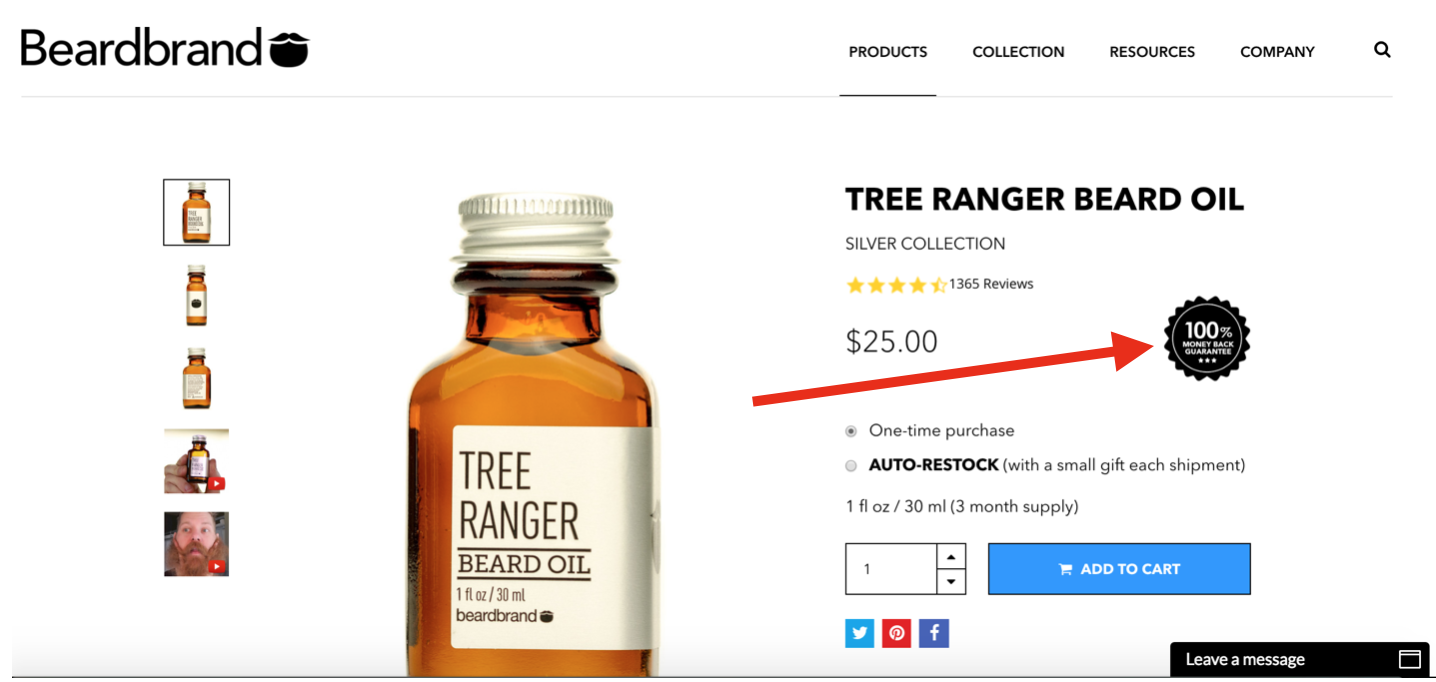 Source: Beardbrand
3. Leverage psychology
The most effective ecommerce business owners understand that product-page conversion optimization often comes down to one thing: psychology. To drive more consumers, you have to become familiar with the psychological principles and concepts that other companies are using to convince people to buy.
Some of the most common and popular psychology principles used in ecommerce include:
Reciprocity — feeling the need to give something in return for getting something for free
Urgency — feeling the need to buy before it's too late
Scarcity — feeling the need to buy before quantities are gone
Social Proof — feeling the need to buy because others around you are buying
Authority — feeling the need to buy because thought leaders or celebrities are buying.
If, as the owner of your ecommerce business, you've dedicated little time to reading up on psychology, purchasing behavior, and ecommerce, consider exploring these resources:

4. Include customer reviews of products
You can spend your entire advertising budget tooting your own horn on Google, on Facebook, and in other ads on websites around the web, but they'll never be as powerful as word-of-mouth recommendations and referrals from one friend to another.
Consider these statistics:
Featuring online reviews from real customers on your product pages helps build trust and gives potential buyers the emotional information they need from others to make purchasing decisions.
To improve your ecommerce conversion rate, focus less on optimizing your statements about your products, and instead leverage statements from your brand advocates, loyal followers, and most recent customers.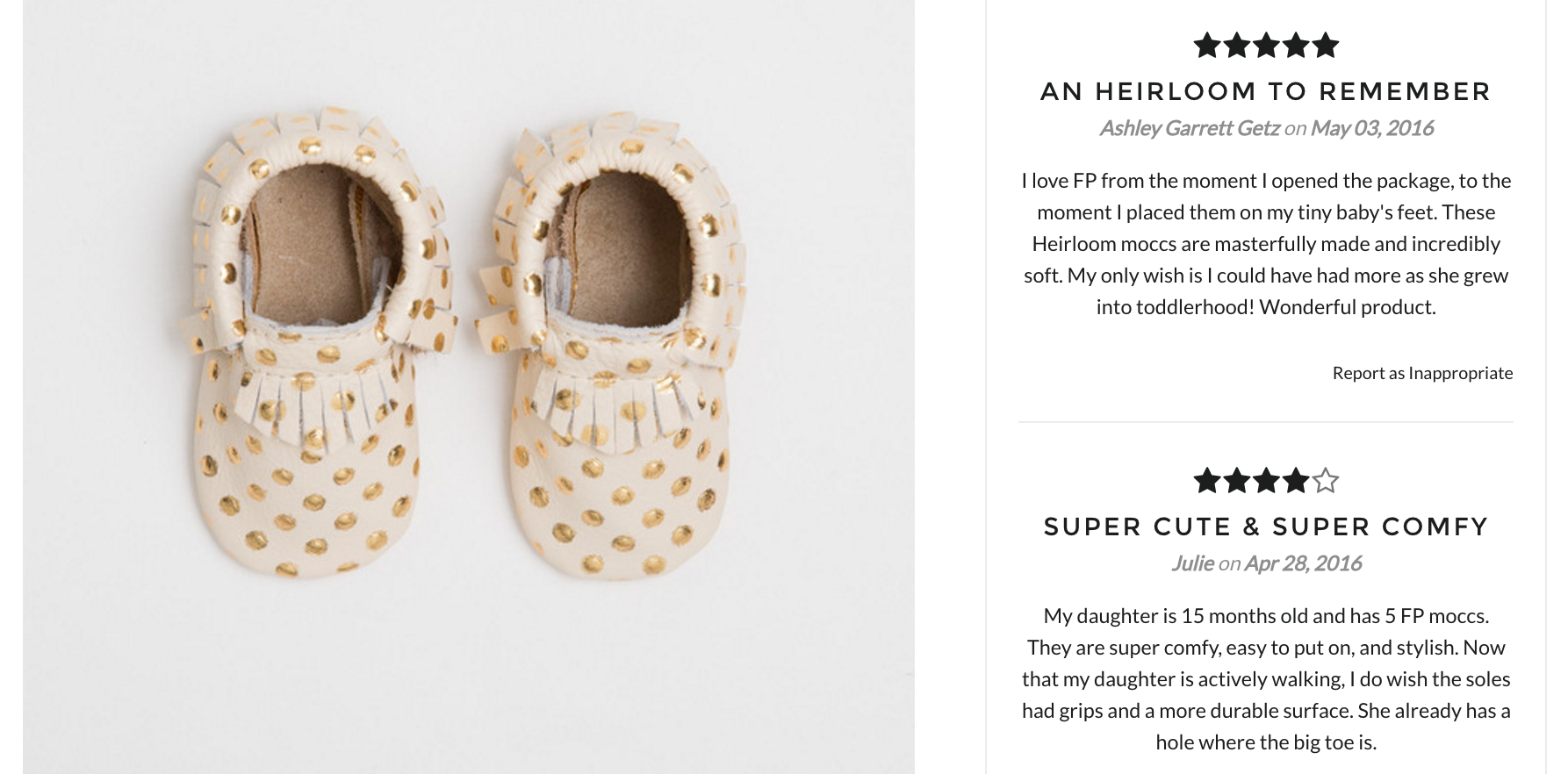 Source: Freshly Picked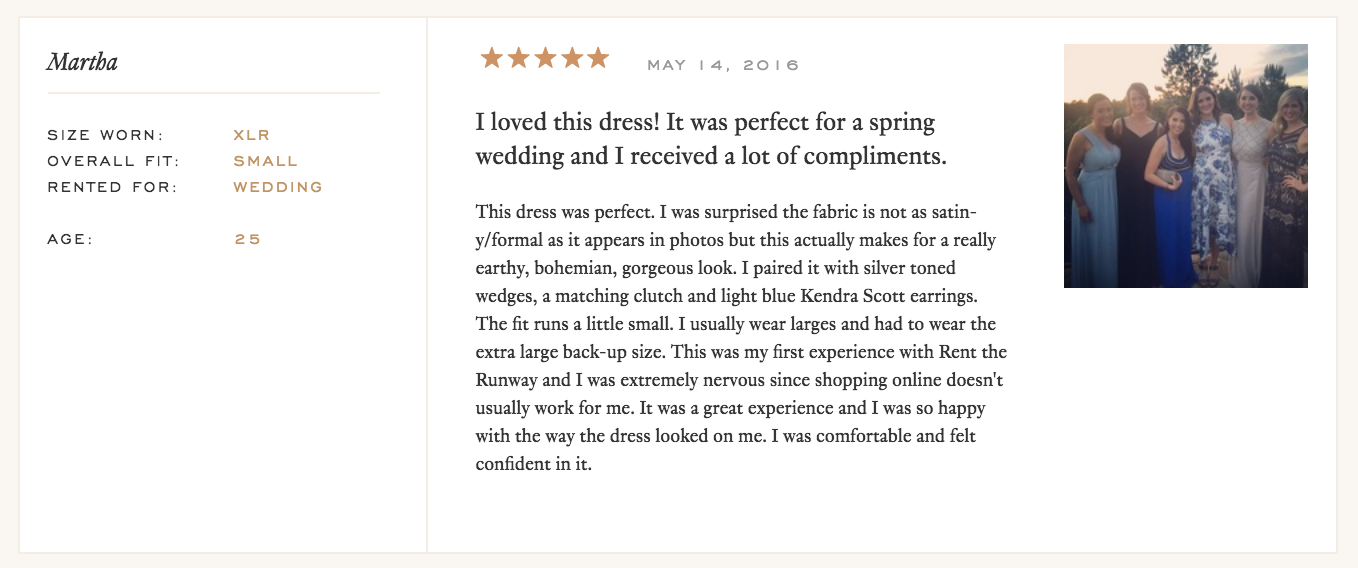 Source: Rent the Runway
5. Remove the clutter
Thanks to branding giants like Apple, Nike, Beats, and many others, consumers have come to appreciate and even expect minimalistic design when shopping online. Cleaning up the clutter and removing all of the unnecessary elements from your product-page design helps potential customers focus on the products and can help increase average conversion rates.
Include only the most relevant and essential information; feature large, crisp photos; utilize negative (white) space; be intentional with typography, copy, and CTA buttons; and, overall, keep things as simple as possible for your visitors.
This fantastic post from ConversionXL goes into much more detail on the science behind why simple websites are more effective.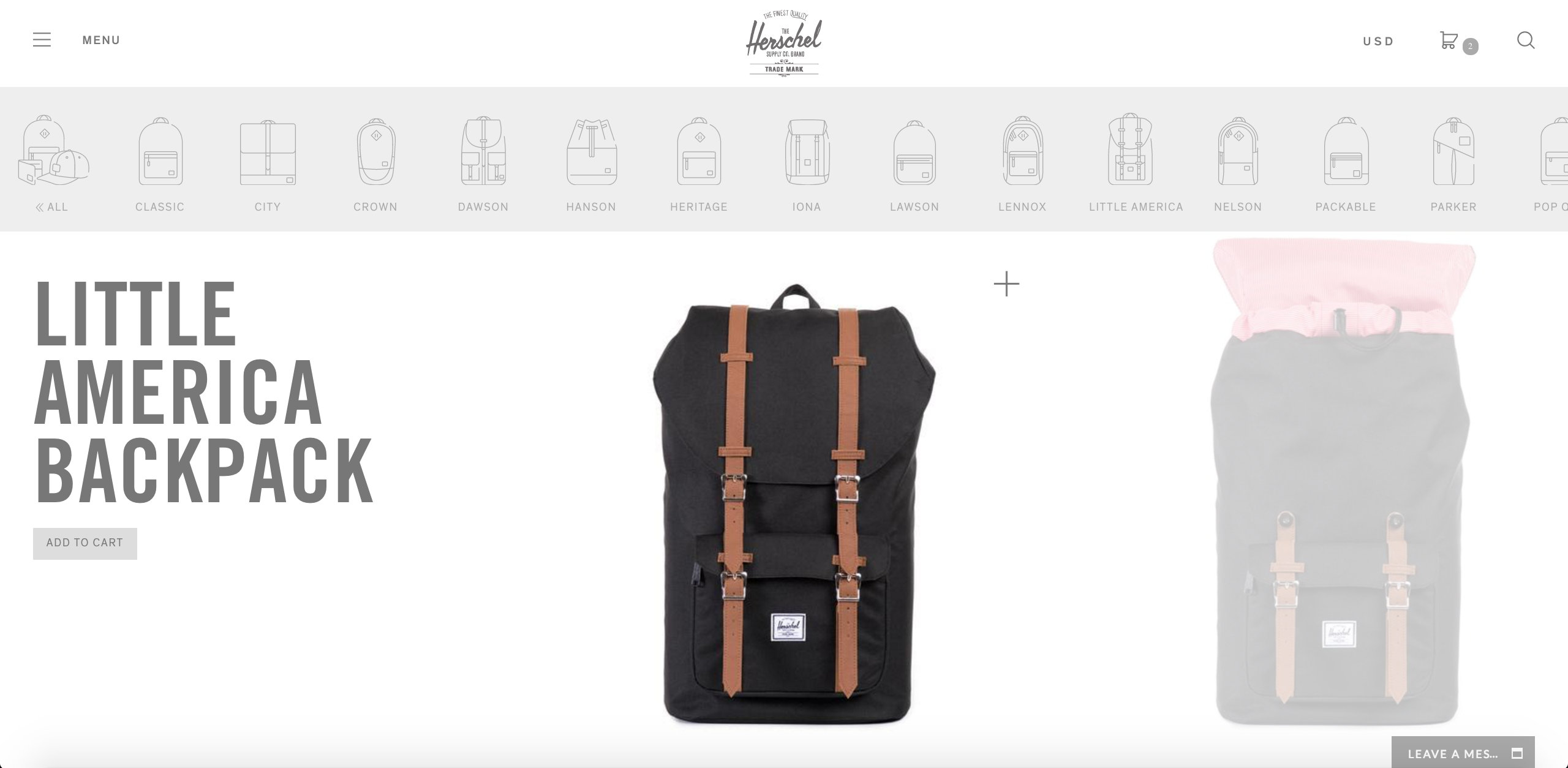 Source: Herschel Supply Co.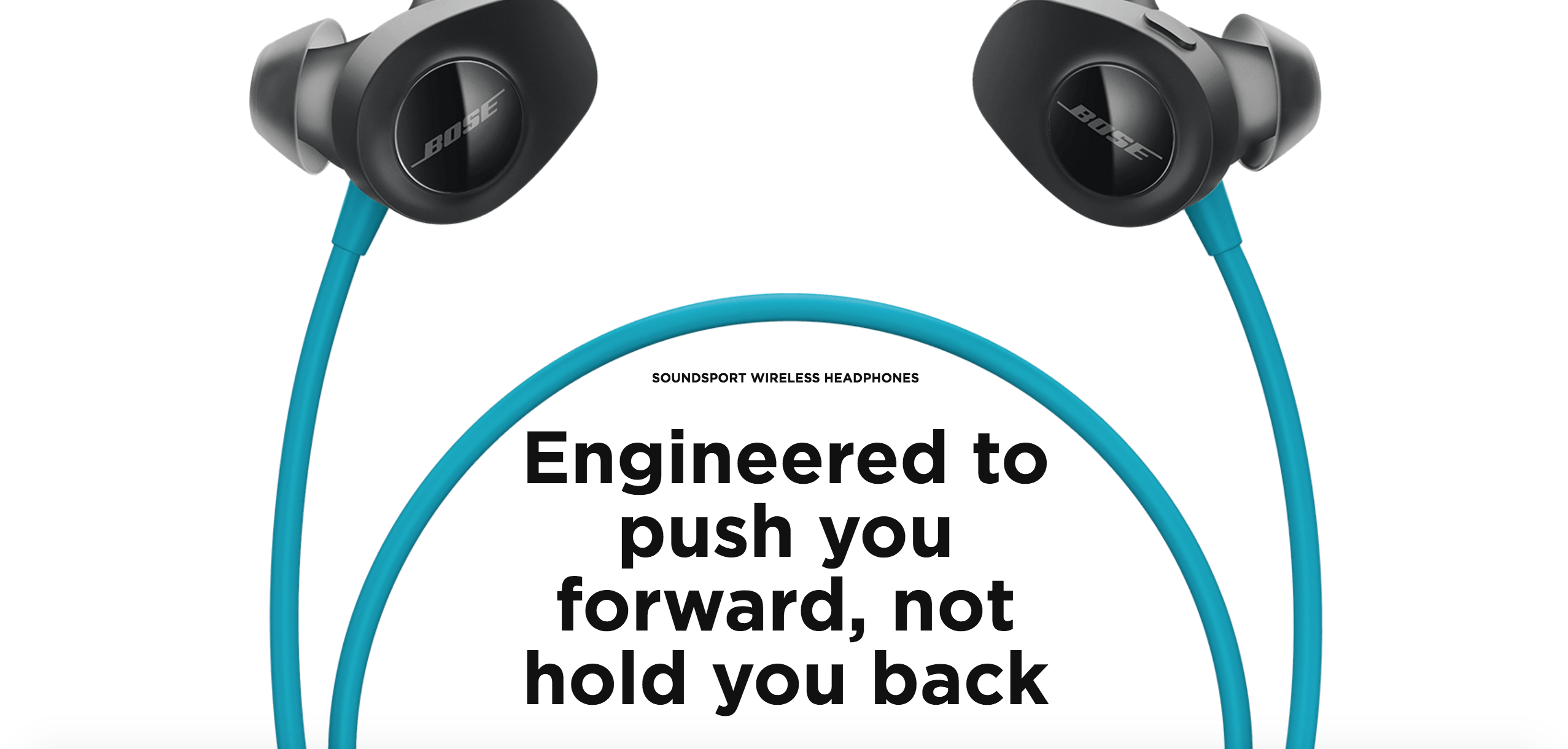 Source: Bose
6. Improve site speed
Just as consumers have learned to appreciate and expect minimalistic design, they've also come to expect fast load times when they visit websites. Research from Google in 2018 showed that 53% of mobile users will abandon a site that takes longer than three seconds to load. That's a problem, since this report from the same year found that most sites have a load time of between 8-11 seconds.
To make your ecommerce product pages and website as a whole load faster, follow these recommendations:
Ensure that you are operating the latest version of whatever CMS or website builder you use.
Reduce the number of HTTP requests that occur on your site.
Compress site files and images.
Fix broken links throughout your site.
Make sure you optimize your site for mobile.
Test site speed (use this tool), and then identify and remedy any extra causes of slow loading times.
7. Use FAQs to educate and overcome objections
People aren't visiting your website or product pages to read about how great you think your company or your products are. Instead, visitors are landing on your website because they need help and are wondering whether they can get what they are looking for from you.
To connect with consumers today, you can't sell them products. You have to solve their problems. It's your job to convince them that your products (not your competitors' products) are the solution they're looking for and are worth the investment.
Answering the questions you already know visitors are asking right on your product page is a great way to increase conversion rates. You should include FAQ information and other helpful information relevant to your products on your product pages, either below the fold or in drop down or lightbox menus.
Common questions include:
Why is your product different from your competitors?
What payment options do you offer?
Are shipping costs included or separate?
Do you accept returns or exchanges?
How long will it take to get my order?
Check out this example on the Rent the Runway website, where each product includes stylist notes and helpful sizing information:

Source: Rent the Runway
Taking the time to educate your visitors by answering their questions in advance will allow you to proactively address and dismiss objections, pushing prospective buyers one step closer to conversion.
8. Zero in on your value proposition
You can also boost ecommerce conversion rates by selling the benefit that people will get as a result of buying and using your products, rather than focusing on the features. Again, people are coming to your ecommerce store because they need help with something (feeling better, looking better, working more efficiently, being more productive, being happier, or having more fun).
Make sure customers can quickly grasp your value proposition from your product page. Ask yourself the following questions:
Who are my customers?
What do they want?
How can our products help them?
What benefit do they experience with our products?
How do our products change their lives?
What is the end result people are looking for?
What promise am I making to the people who buy my products?
For help creating great value propositions to use on your product pages, read this blog post from Peep Laja at ConversionXL: Useful Value Proposition Examples (and How to Create a Good One). In this post, Peep drives home the importance of thinking from the perspective of your customers:
"Your value proposition needs to be in the language of the customer. It should join the conversation that is already going on in the customer's mind. In order to do that you need to know the language your customers use to describe your offering and how they benefit from it."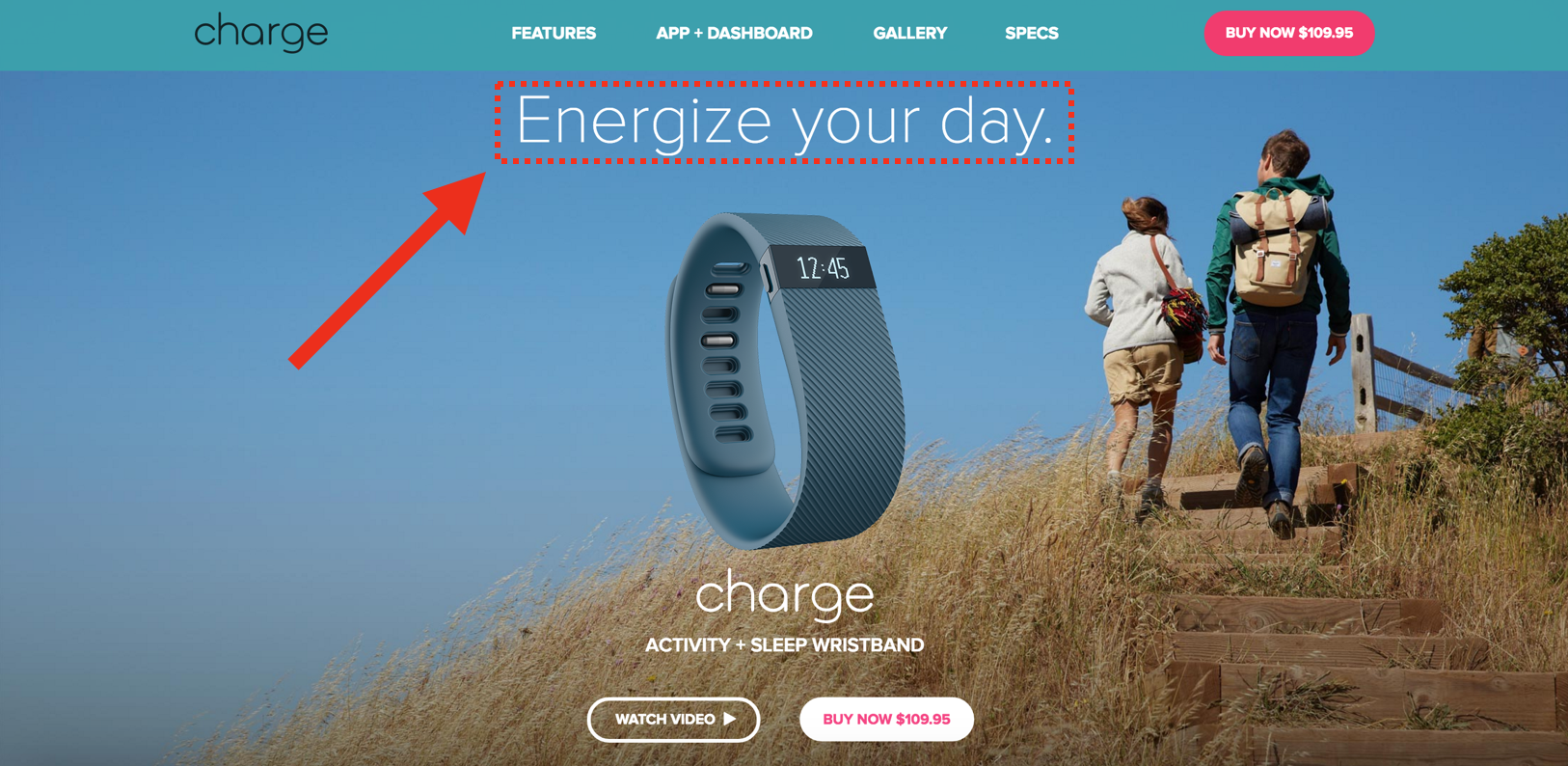 Source: Fitbit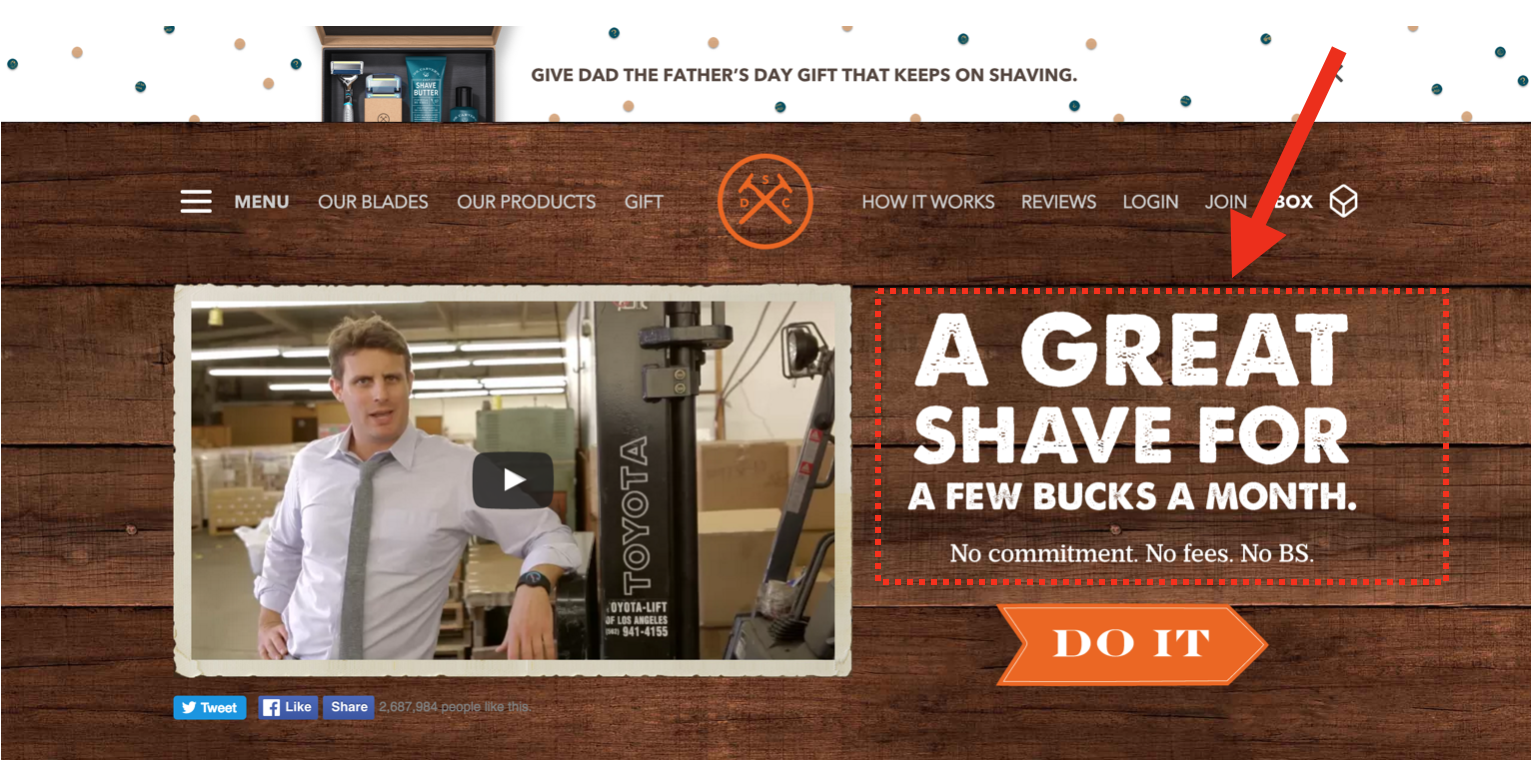 Source: Dollar Shave Club
9. Make mobile conversions a priority
According to research presented by Statista, "In 2018, U.S. mobile retail revenues are expected to amount to 178.27 billion U.S. dollars, up from 56.67 billion U.S. dollars in 2014." If you want to boost conversion rates, you HAVE to optimize your product pages for mobile. You can't ignore it.
Every day, more and more people are using their phones as their primary device for shopping online. Mobile consumers don't have the patience for product pages that take longer than a few seconds to load or that don't display properly on mobile devices. Making mobile conversions a priority for your ecommerce store means you won't miss out on this valuable group of potential customers.
To boost your mobile conversion rate, make sure your products can be not only viewed but also purchased on a mobile device. For help creating and optimizing your ecommerce store for mobile, read through this helpful blog post from Michael Mace of UserTesting.com.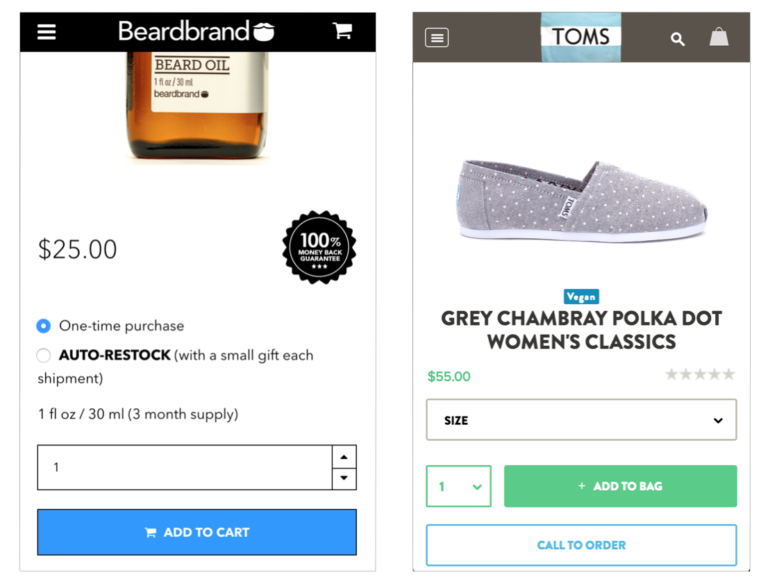 Image Source: Beardbrand and Toms
10. Write compelling product descriptions
The sales copy is your best friend on product pages—but it can also be your worst enemy. Writing compelling product descriptions, along with other on-page copy, like call-to-action buttons, can help drive more conversions.
The key to writing a compelling product description is to focus less on being descriptive, robotic, and keyword-happy, and more on writing original content that helps prospective customers imagine themselves using your products.
I love the example below from Casper. To me, they do a perfect job of helping people understand what the product is and how it can make their lives better.
For help writing compelling copy on your product pages, explore this blog post from ConversionXL.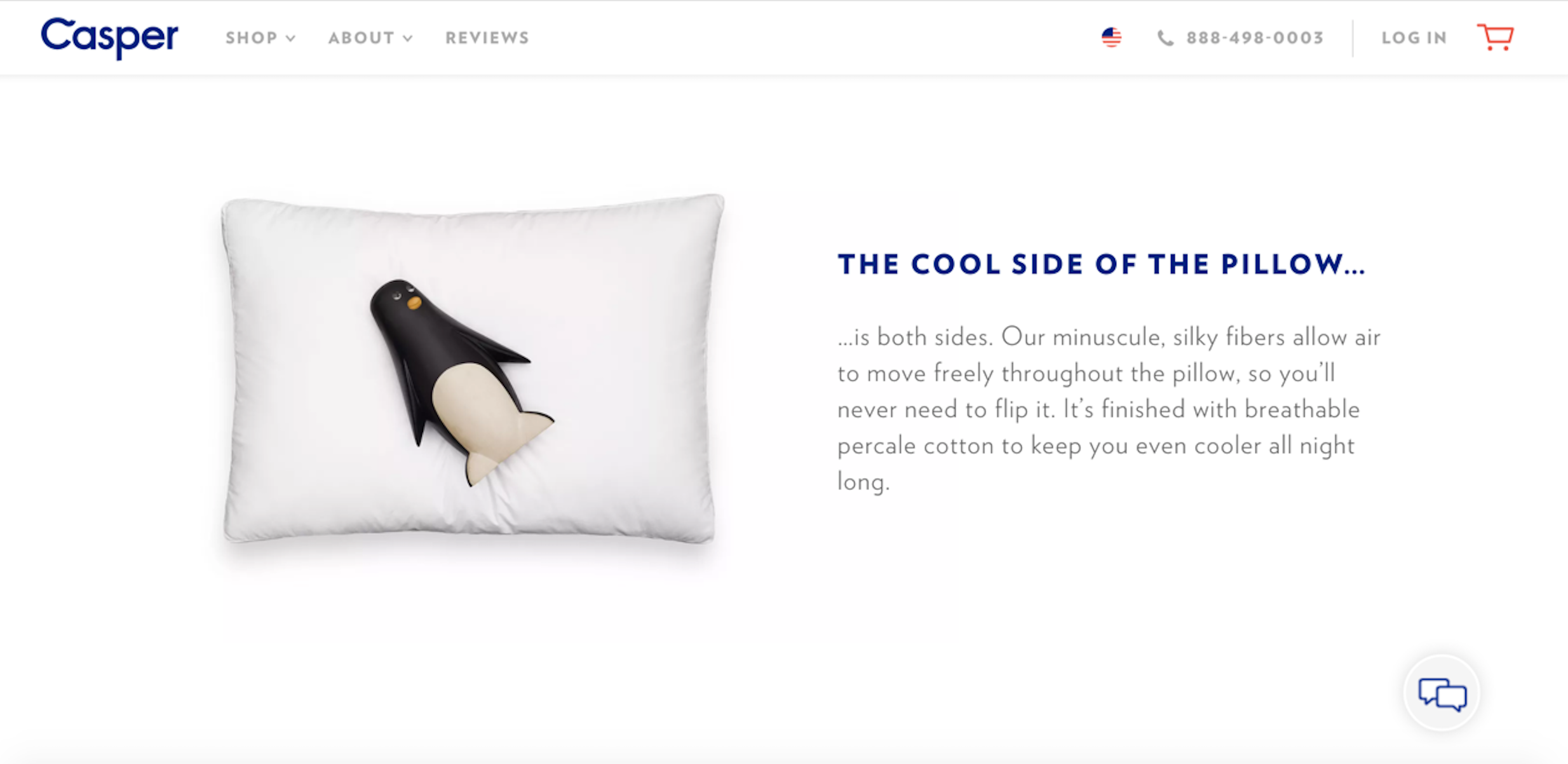 Source: Casper
11. Add social proof
Social proof is another way to build trust, strengthen your reputation, and boost conversions on your product pages. Product reviews (mentioned earlier) are one form of social proof, but I want to touch on other forms of social proof that you can incorporate into your product pages as well.
For example, you can also include one or more of the following:
Social media share bars (using a tool like Sumo Share)
Heart or like buttons
Instagram pictures from happy customers (user-generated content)
Logos from other companies who use your products
Case studies from past customers
The purpose of incorporating social proof into your product pages is to
establish credibility by leveraging online reviews from happy customers;
use material from others to strengthen your reputation and the reputation of your products;
make visitors feel like they are missing out on something if they don't buy; and
help visitors feel like they are part of an exclusive community once they do buy.
To learn more about the science and strategy behind social proof in ecommerce, read this blog post by Neil Patel.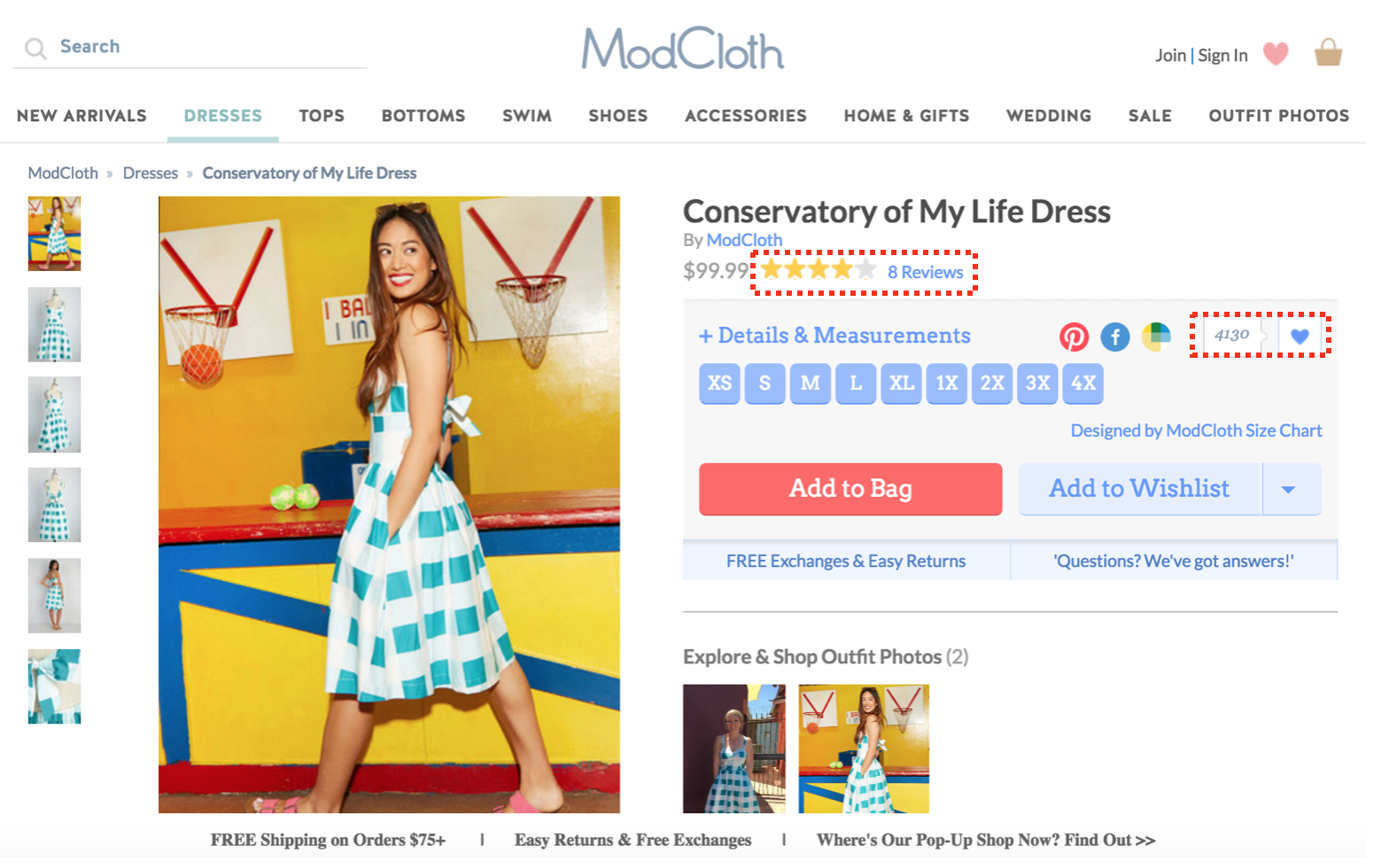 Source: ModCloth
12. Use the scarcity principle
The final conversion-rate optimization tactic for your product pages is the use of scarcity to create the sense that products might not be available for visitors to buy at a later time, that special deals might not be available at a later time, or that the price might change at a later time. The goal is to put a bit of pressure on visitors and urge them to make a purchasing decision faster, and before leaving your website, helping to reduce the number of users abandoning their carts.
For help learning how to incorporate scarcity onto your product pages, explore these resources: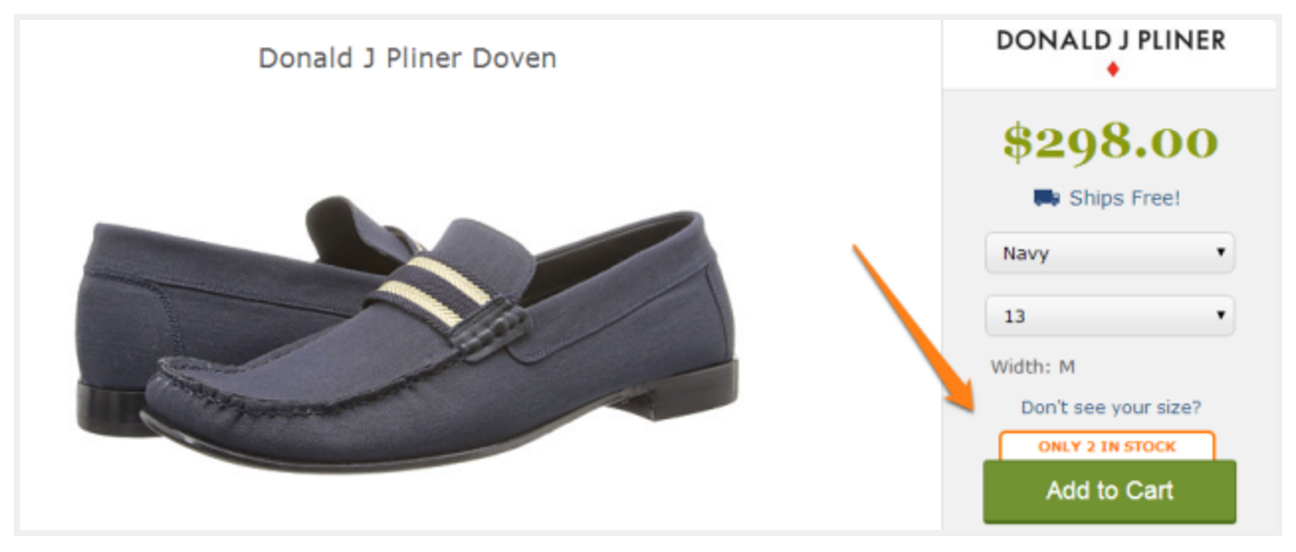 Source: VWO
Product pages can make or break your ecommerce conversions
Ask any conversion rate optimization expert how best to improve your ecommerce conversions, and they'll probably answer: It depends.
Jason Amunwa, former director of products at Telepathy, says it best in his blog post on product-page optimization:
"Each visitor that makes it to a product page represents the heavy lifting and money spent to get them there. The product page is not the time to squander that hard work. It's up to you to create a user experience that gives the visitor what they need to become a customer."
There's no right or wrong way to create a product page that converts. It takes trial and error—sometimes lots of error!—but with the 12 proven strategies we've outlined above, you should be well on your way to maximizing your product page conversions.
What other best practices should be on this list? Tell me in the comments below.