Starting an online business can be an easy way to test the entrepreneurial waters. But buying an established online business is an even easier way to get started with your online empire.

With Shopify Exchange, you can buy and sell Shopify stores through a secure portal with valid metrics and guaranteed payment. Let's take a look at what it takes to buy and sell Shopify stores.
What is Shopify Exchange?
Shopify Exchange is a marketplace where you can buy and/or sell online stores built using the Shopify platform. There are currently more than 10,000 stores for sale on Shopify Exchange.

These stores can be anything from a brand-new "starter kit" to a full-fledged business with an established base of loyal customers. Some stores are basic and offer a smaller number of products, while others are more built out, with full collections, supportive content, and more. Likewise, the prices range drastically—Shopify stores sell on Exchange for as little as $50 to upwards of $1 million.

Store listings on Exchange include:
Business Story: seller writes up a short description of the store, shares its history, gives a reason for selling, and explains what it takes to run the store
Performance: data around sales, revenue, sessions, profit, profit margin, and traffic
Expenses: recurring fees for things like the Shopify plan, domain name, etc.
Sale Includes: lists everything included in the sale, such as physical inventory, logo and branding assets, post-sale support, domain, product photos, social media, suppliers, email subscribers, and more
Seller's Advice: miscellaneous thoughts and tips from the seller—things to consider before you buy


To accompany store listings, Shopify also pulls data, including sessions, revenue, and sales. This comes directly from the Shopify back end and is uneditable by the seller. This is beneficial for the buyer because you know it's accurate.

Why do people buy and sell online stores?
There are many reasons for selling online stores. If you're in the market to purchase a store, it's a good idea to ask the seller why they want to get out of the business, especially if they haven't included a well-described explanation in the listing. Consider their answers when determining whether this is the right investment for you.
Why people buy online stores
Some people like to run things, not build things. We all have different strengths; some people like the operational side of keeping a business running.
They want to test the waters before fully committing. If you have grand ecommerce ambitions, buying an established and attractively priced website on Shopify can be a great way to try it out before investing in your full build.
They have limited technical know-how to set up the store. Shopify is one of the most user-friendly platforms out there, but it can still be too technical to start from scratch on your own. Buying a website that's already been built can save you a lot of hassle—and you can make slight tweaks or outsource to make any future changes when needed.
They think it's an easy way to start making money online. Much like those aspiring online entrepreneurs, some people launch an online store and think that sales will just start rolling in on their own. Not everyone starts their business knowing how much work will be required.
They want to complement an existing business. Maybe you have an existing brick-and-mortar or online business that could use a complementary ecommerce element—for example, a dog groomer selling pet accessories.
Why people sell online stores
Some people like to build things, not run things. This is not necessarily a red flag. In fact, there are tons of "serial entrepreneurs" out there. If available, research other businesses they've started and sold.
There has been a change in career direction. Some folks might want to go back to school, pursue a new career path, or take a break from working to raise a family.
Money is needed for an emergency, an unexpected expense, or an investment in other things. Unexpected circumstances might come up, such as a health bill, an investment opportunity, or a lawsuit. Sometimes, people need to cash out so they can put the capital toward another use.
They don't enjoy it, don't want to do it, or don't have the time to do it. Maybe someone had grand ideas of starting an online empire, but the idea turned out to be a lot easier than the reality. That doesn't mean the business idea isn't viable—they just might not have been the right person for the job.
There are serial website builders who do this for a living or as a side hustle. Because building Shopify websites can be templatized and repeatable with fairly minimal effort, some people do this on a consistent basis. Try to get postsale support from these purchases.
Considerations for buying and selling Shopify stores
Before you pull the trigger, it's a good idea to do some research to ensure that you're getting a fair deal. While spending $50 on a Shopify store might not put you into financial ruin, a store that costs thousands could.
If you're buying a Shopify store on Exchange, there are a few parameters that will help you vet options during your initial search.

What are your financial goals? Consider how much money you want to spend on the initial purchase and on an ongoing basis, as well as how much you want to earn from the business.

How much are you willing to invest in the site? This includes both money and time. Sometimes, you have to spend money to make money; do you have the budget for site improvement, inventory investments, advertising spend, or whatever else you might need to improve the business?
What's your why? Typically, the reason for buying a Shopify store comes down to more than just money. Is there a bigger goal or vision at play, and how will this store fit into that picture?

Sellers have different considerations, and thinking these through will help you write your listing description, market your online store for sale, and give buyers the information they need to make the right decision.
What will you gain? Reflect on why you're selling your Shopify store. Are you seeking more time with friends and family? More money to invest elsewhere? Or maybe you're hoping to gain more joy in life by removing the stress of running a store.

Is there an alternative? Maybe you have an issue that could be better addressed in a different way. If you want more work–life balance, maybe you could hire a team or outsource some of the work. If it's just not your passion anymore, and you're not finding enjoyment from it, that's usually a good sign that it's time to sell.

Where is the store now? Also think about the status of the store and whether it's established or brand-new. A store that requires more work to build up an audience should be priced lower than a store with an established customer base and email list to boot. It's not a bad idea to browse the Exchange marketplace and see what else is out there to make sure you're on the right track.
Nondisclosure agreements
A nondisclosure agreement (NDA) is a signed contract where all parties agree to keep information pertaining to the business deal completely confidential. It typically allows you to share the information with colleagues or partners for business purposes.

NDAs come into the picture when buying or selling websites on Shopify Exchange because store owners don't want information out there that shouldn't be public but might be important to a potential buyer. This could be sales, profits, or related data. No shop owner wants a savvy competitor armed with this information.
Being asked to sign an NDA isn't necessarily a red flag. Just be sure to read it completely and carefully before signing. If there's anything questionable, go ahead and ask about it. They might have a reasonable explanation or agree to strike the section entirely.

How to buy an online store on Shopify Exchange
If you're ready to get started with a new ecommerce business, you can visit the Shopify Exchange website to browse stores.
Find the right store
On Shopify Exchange, you can browse by industry, business type, business attribute, sales channel, or Shopify's curated listings. You can also sort your search by business health, revenue, price, and most recently listed.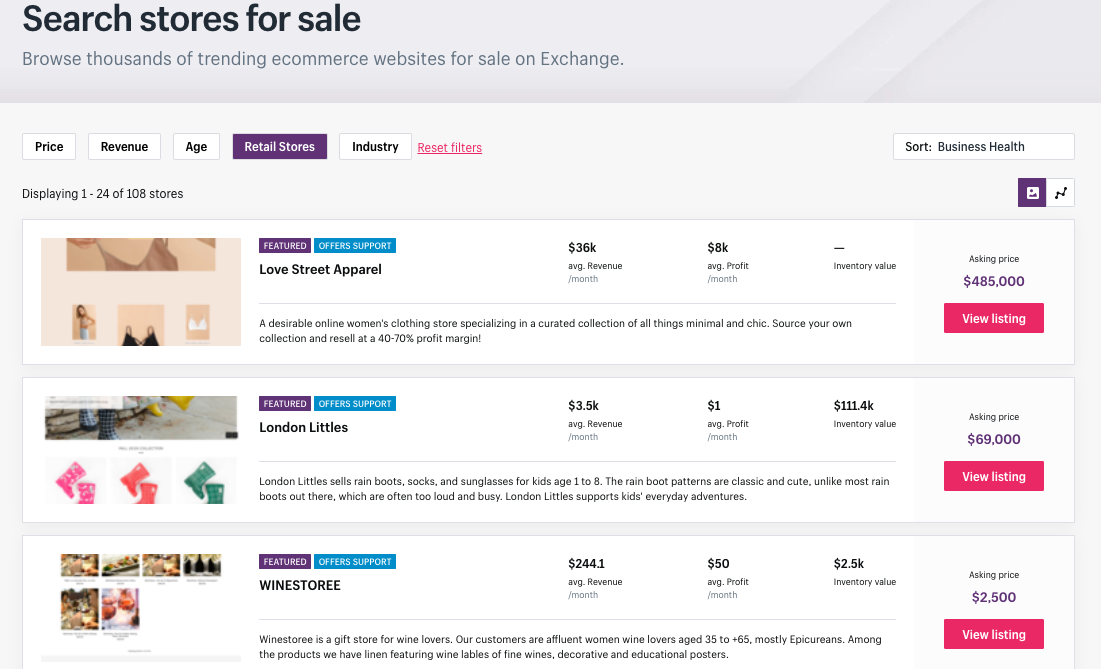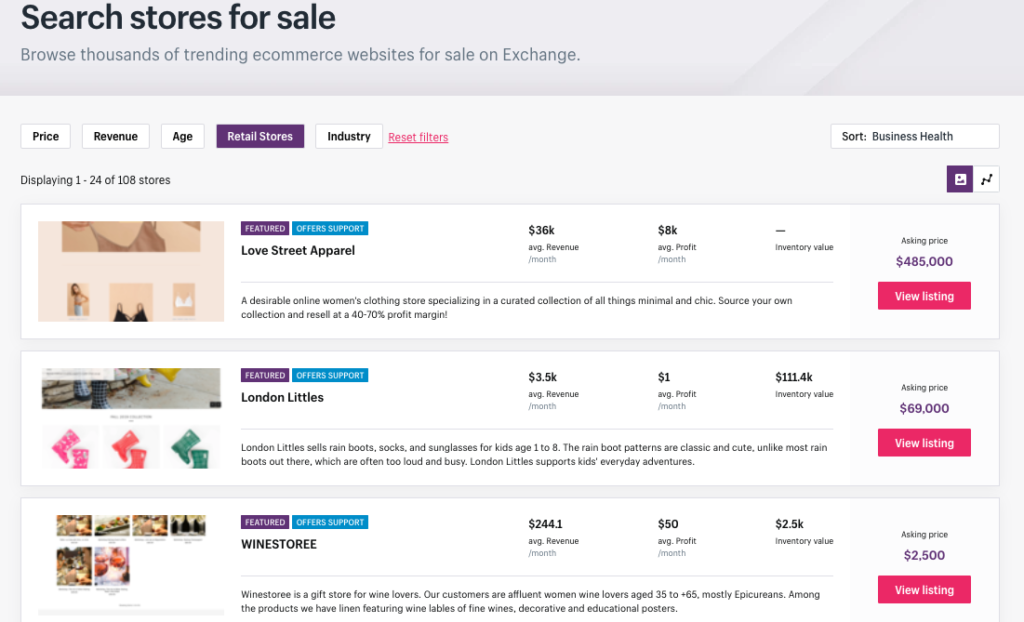 Typically, stores with better business health and revenue cost more.

You should analyze the entire purchase, but if a store has been listed for sale for a long time in comparison to others, you might want to second-guess that investment—or use it as an opportunity to haggle over price.
Contact the seller
You'll want to message the seller both for additional information and to be able to make an offer. Without a reply from the seller, you won't be able to make an offer to buy the site within Shopify Exchange.
In your initial message to the seller, ask for additional information. Consider some of the following questions in addition to the information in the listing:
What is the business model?
What is the ROI of your marketing and advertising spend?
How do you fulfill orders?
Can I confirm the tracking numbers?
Do your due diligence
While you wait for the seller's response—or even before you message them—it's a good idea to do some of your own research. Shopify store owners have a few tricks up their sleeves to get the numbers to work in their favor. For example, they might invest in a bunch of advertising one month so the sales numbers skyrocket, or they might process fraudulent orders themselves.

See what customers say about them on social media, review sites, forums, and other online communities. Do a quick Google search for the brand—you can exclude their website by plugging in "[keyword] -URL.com".

You can also use a tool like SEMrush or Moz to analyze site traffic and compare it with the data shared via Shopify Exchange. Be sure to ask about any discrepancies—those are potential red flags.
Make an offer
If you like the seller's answers, and the numbers add up for you, it's time to make an offer. You can negotiate here—the listing price isn't the be-all and end-all. However, your offer does have to be at least 80% of the listing price.

Make sure you can stick to your offer, because you'll have to pay in full at the time of sale. If you change your mind, you can rescind the offer.
Seller accepts your offer
If the seller agrees to your offer, they will accept it and create the escrow transaction. You'll get an email notification to let you know.
Accept the terms and make the payment
The email notification will include the full terms and conditions of the transaction, as well as directions on how to pay for the site via escrow.

You'll make your payment via the Escrow.com portal—it's a major warning sign if a seller asks you to use something different. Contact Shopify to let them know if a seller asks you to remit payment via a different method.
Seller transfers assets to you
When the payment has been approved, the seller will be notified. The seller will then transfer all assets to you, and you will mark the assets as "received" in escrow.
Inspect and approve your new Shopify store
Now it's time to inspect your new purchase. Shopify recommends an inspection period. This is where you make sure everything has been delivered as promised. Buyers verify profit margins, expenses, and traffic sources and other claims made by the seller and not directly provided by Shopify.

The seller will make a staff account with the necessary permissions for you to use during this period, which typically lasts 3 days but can be up to 30. Before the inspection period begins, make sure you have access to all of the store's domain names, social media accounts, advertising accounts, apps, and physical inventory. You should check for these assets as part of your inspection and make sure no numbers or deliverables have been misrepresented.

Important: Don't export data or change payment settings, shipping settings, or products.
If everything checks out, mark all assets as "accepted" in escrow. Email exchange-support@shopify.com if you find any discrepancies during your inspection period.
Shopify appoints you as official store owner
Once you've accepted the assets in escrow, Shopify will change your staff account to be the administrator within three business days. After this transfer is complete, they'll send you a notification.

This is also when the escrow department processes the final payment. You won't be able to get a refund or rescind your offer at this point. Remember that payment is due in full at this time.
And now the site is yours!
How to sell an online store on Shopify Exchange
If you're ready to offload your online store, you can list it for sale to potential buyers on the Shopify Exchange marketplace.
Determine whether you're eligible
Before you can list, you'll have to make sure you meet Shopify Exchange's eligibility requirements. It's also a good idea to review the Exchange Marketplace guidelines, as well as Shopify's Terms of Service and Partner Program agreement.

Shopify Exchange has the following eligibility requirements:
You must have a Shopify store running on a paid plan (excluding Shopify Plus), outside of the trial period.
If you use it, your account must be in good standing with Shopify Payments.
You must not have any active funding from Shopify Capital.
You don't have any unresolved issues with the Shopify Risk team, the Shopify Recovery team, or the Shopify Legal team.
Install the Exchange app
You're eligible, now what? You'll need to install the Exchange Marketplace app. Only the site owner can do this.
Create, submit, and publish your listing
Shopify will automatically pull some metrics into your listing, but it's up to you to build out the details and make it sound like a great investment to a potential buyer. You'll want to craft an honest but persuasive description for your Business Story, as well as fill out the Performance, Expenses, Sale Includes, and Seller's Advice section.

Highlight things that add value to the buyer, such as a large email list, a social media following, a customer loyalty program membership, etc. But it's important to ensure this information is accurate—anything misleading could lead to issues down the road.

When your listing is complete, submit it for review. You can publish once Shopify gives you approval.
Respond to buyer inquiries and offers
Interested buyers will send you messages about your store for sale, typically to request additional information and negotiate on what's included with the price before making an offer.

Answer in a timely manner. Responsiveness can make a good impression on buyers, especially if you're offering postsale support.

When a buyer makes an offer, you can choose whether to accept or reject it. If you don't like the original offer, you can also make a counteroffer.
Accept an offer
When you get an offer you like, you can accept it and then create the escrow transaction, all from within the Exchange app.

Escrow/Shopify will ping the buyer to accept the terms and conditions and make a payment to the escrow department.
Transfer assets to the buyer
Once the escrow department receives the funds from the buyer, you'll get a notification that it's time to transfer assets. Make a staff account for the buyer so they can conduct their inspection period, which lasts anywhere between 3 and 30 days.

After the buyer has completed the inspection period and approved everything, they'll mark the assets as "accepted" in escrow.
Get your money
The escrow department will release the money to you, and you should see the funds in your bank account within five business days. Shopify takes care of the rest:
Shopify makes the buyer the new store owner within three business days.
Shopify removes your billing and payment information.
You'll receive an email confirmation when the transfer is complete.
Is Shopify Exchange for you?
Shopify Exchange is a hassle-free way to buy and sell Shopify stores, with metrics validated by the ecommerce platform itself. Browse stores by industry, revenue, or curated collections, and then purchase the one that fits your business goals and needs.