According to eMarketer, Walmart is the second-largest retail ecommerce marketplace, making up 6.7% of retail ecommerce sales in 2020. It trails only behind Amazon and leverages its brick-and-mortar stores to stay ahead of other ecommerce platforms like eBay.
And if you're a dropshipper, Walmart's marketplace can be particularly advantageous.
Dropshipping is a way to sell products where the seller doesn't have to store or ship any products. Instead, they use a third-party supplier to fulfill orders. It's typically pretty competitive, but thankfully, Walmart is a somewhat exclusive platform, making it ideal for dropshipping.
On Walmart.com, sellers will have access to a large marketplace that is less competitive than platforms like Amazon. At the same time, dropshippers can reach far more shoppers than if they created an online store from scratch.
We'll be covering what Walmart dropshipping is and how you can get started dropshipping through this unique channel.

What is Walmart dropshipping?
Walmart dropshipping is the process of selling products through third-party suppliers on the marketplace or dropshipping Walmart products on other marketplaces.
There are three ways to dropship using Walmart:
Dropshipping Walmart products to other platforms like Amazon or eBay
Using Walmart's Drop Ship Vendor program, where a merchant sends products directly to shoppers
Selling dropshipped products on Walmart Marketplace
We'll be focusing on the last type of dropshipping as a third-party seller.
Third-party selling involves listing your products on Walmart under your business name. The seller owns the whole process while also benefiting from Walmart's large customer base. It isn't easy to get approval for this type of selling on Walmart, but it is worthwhile, as will be explained in this article.
Why use Walmart dropshipping?
Dropshipping is a lucrative business, but it can be difficult to be noticed with so many competitors. Walmart offers this type of seller the best of both worlds—a top ecommerce marketplace with over 380 million visitors in September 2020 alone, but not so crowded that standing out is impossible.
Pros
Walmart is newer to ecommerce, so it doesn't have as much competition as platforms like Amazon. It has a little over 88,000 sellers at the moment, which is minuscule compared to Amazon's 1.6 million.
Besides offering a less crowded marketplace, Walmart is beneficial to dropshippers in a number of other ways.
No upfront costs and fees. Walmart doesn't charge you anything to set up a store or register to sell on their platform. In fact, you're only charged a referral fee when you make a sale. You can read more about referral fees here.
Large assortment of products. Walmart offers over 35 categories that you can sell in. As long as your product is not on the Prohibited Products list, you can sell a variety of items on the platform.
Sellers are better positioned to win the Buy Box on Walmart's marketplace than on Amazon's since there is less competition for the placement.
Cons
Despite its benefits, dropshipping on Walmart is not a perfect experience. Some downsides include:
Long application and registration process. There are several details (like a tax ID and a physical address for your business) you'll need to provide just to get approved that not all sellers will have, as Walmart is very particular about seller quality. You may want to consider starting on other platforms before applying. It can take up to two weeks to get approved and three to four weeks to finish onboarding.
Strict pricing rules. Because Walmart always wants to offer customers the lowest price possible for products, there are certain pricing rules sellers must adhere to.
Lower profit margins. Although they may sell more thanks to the lower prices, sellers might see lower profit margins by selling on Walmart. This is thanks to their pricing rules that dictate that Walmart removes listings if the same product is sold at a noticeably higher rate on another marketplace.
Don't let these downsides steer you away from dropshipping on Walmart. Consider the downsides of platforms like Amazon, where you have several fees while dealing with massive competition. Or Shopify, where you'll have to build your customer base from scratch.
When compared to these platforms, dropshippers are often better off selling on Walmart because they have low overhead costs and a large customer base ready to sell to.
How to dropship with Walmart
While Walmart Marketplace is a great platform to sell on, it is also difficult to get approval as a seller. Follow these steps to get started dropshipping on Walmart.
Step 1: Find suppliers and products for your dropshipping business
Platforms like SaleHoo, Doba, and Wholesale Central are great for finding wholesale suppliers. YouTuber Noah Mincis has a guide to finding suppliers starting at 6:45. Noah recommends finding suppliers at trade shows and on other marketplaces like Amazon or eBay.
When researching suppliers, you'll need to pay attention to certain details, including:
The quality of their technology. Evaluate how up-to-date the supplier's website is and whether they can take orders by email.
Their location. Local suppliers are best when dropshipping on Walmart because they're often able to ship products faster. This is important because Walmart rewards fast shipping with more exposure, which you'll want to take advantage of as a new seller.
How organized and efficient they are. You can see this in their preparedness and speed in responding to queries, as well as how easily they take action on your requests. Pay attention to their knowledge of the products they sell, too.
Put these details and any other criteria you deem necessary in a checklist to streamline the process of interviewing potential suppliers. Check out this article for a more detailed guide to selecting dropshipping suppliers.
When deciding which product to sell, research what products/product niches are popular among consumers and how much you can sell your products for. You'll also need to check your products against Walmart's Prohibited Products policy.
You can try Google Trends or Facebook Audience Insights for product research. Running the search terms for products you're considering through these tools can help you understand consumer sentiments toward them.
To determine product pricing, you can look at how competing sellers are pricing their products. Also, consider whether you can afford to sell your products at discounts to compete with them.
For a more detailed guide to selecting dropshipping products to sell, check here.

Step 2: Apply to sell on Walmart Marketplace
Regardless of how you choose to sell products with Walmart, you'll need approval. Walmart has a rigorous application and onboarding process to select quality sellers who can provide a great experience to their customers.
To become a Walmart Marketplace seller, visit Walmart Marketplace's website and click "Request to Sell."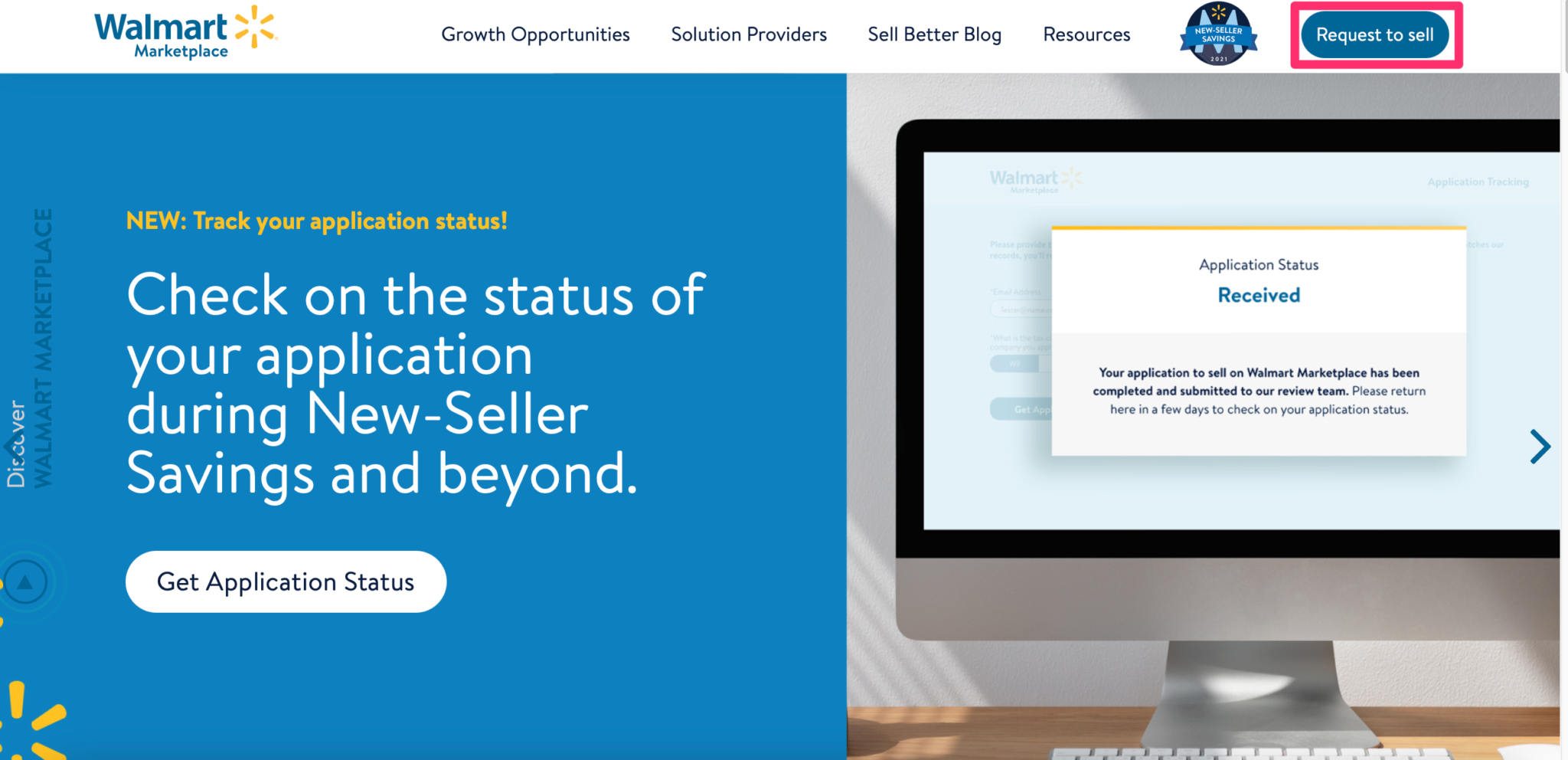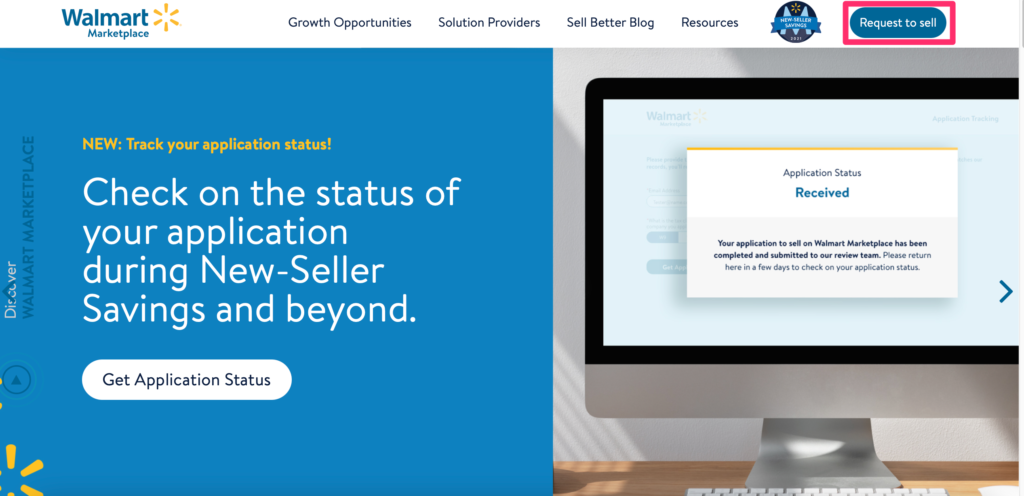 Fill in the required fields. It should take about 10 minutes to complete if you have all the information prepared. You'll need to have this information prepared to apply.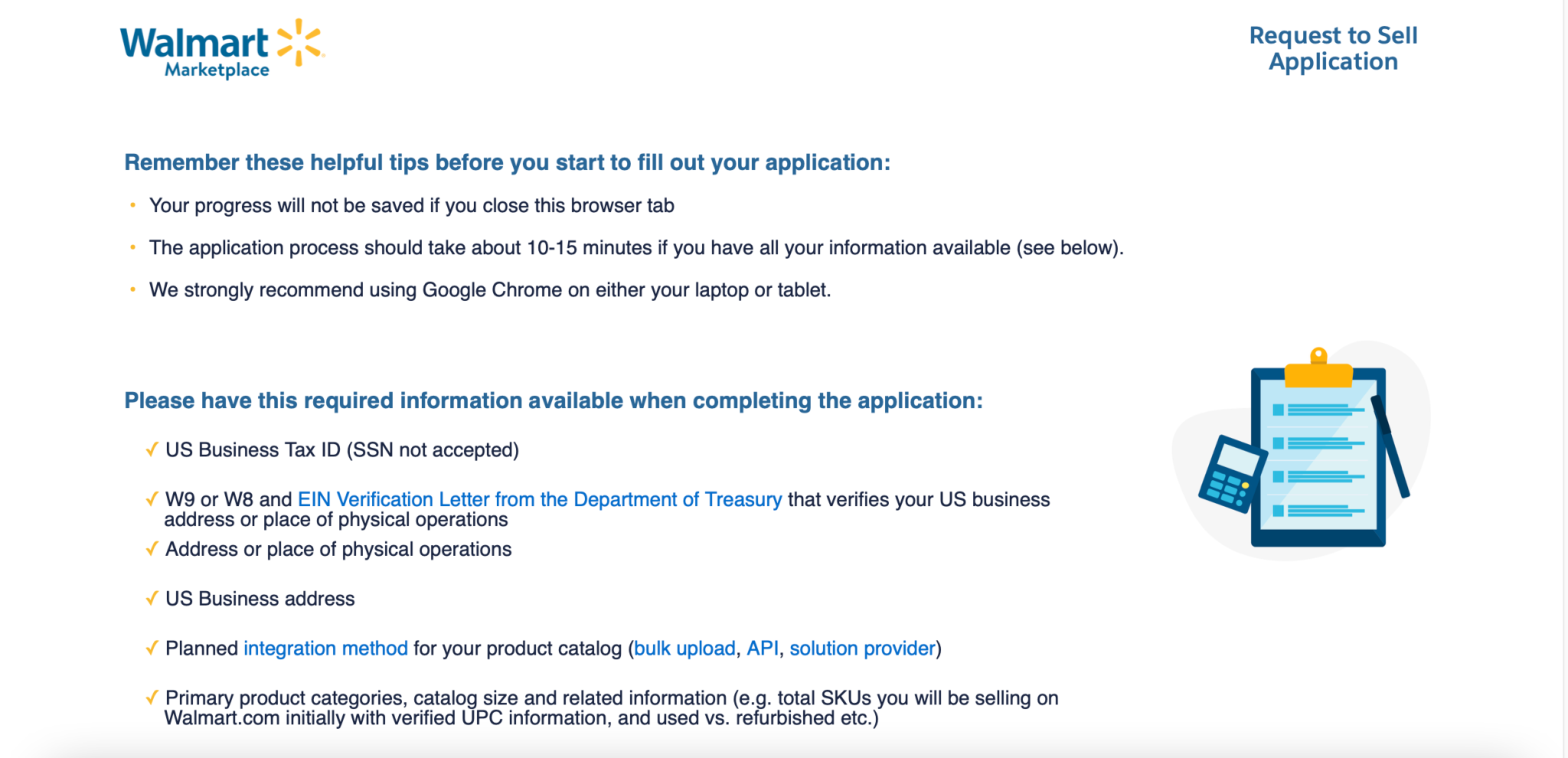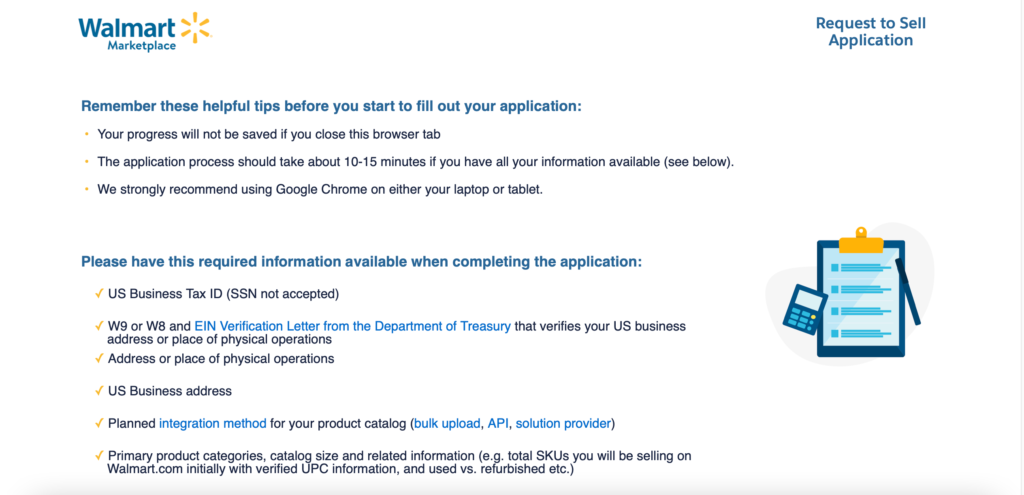 Approval to sell on Walmart Marketplace can take one to two weeks, and onboarding takes three to four weeks.
Step 3: Go through Walmart Marketplace Seller onboarding
Once approved, you'll need to complete the onboarding process to sell on Walmart. You'll receive an email that contains the registration link. The entire onboarding process consists of 10 steps.
The approved seller will receive a registration email, which will direct the seller to complete the registration process. Here, sellers will be able to:
Create an account. When creating your seller account, you'll need to have the following information handy: your business address, bank account details, and business information to complete tax forms
Agree to the Walmart Retailer Agreement
Fill out tax forms
Fill in payment and shipping information. You have the option of two payment platforms to receive payments: Payoneer or Hyperwallet
The seller will then complete Walmart's Partner Profile. This will include information buyers will see and include information like your company name, description, logo, company policies, and more.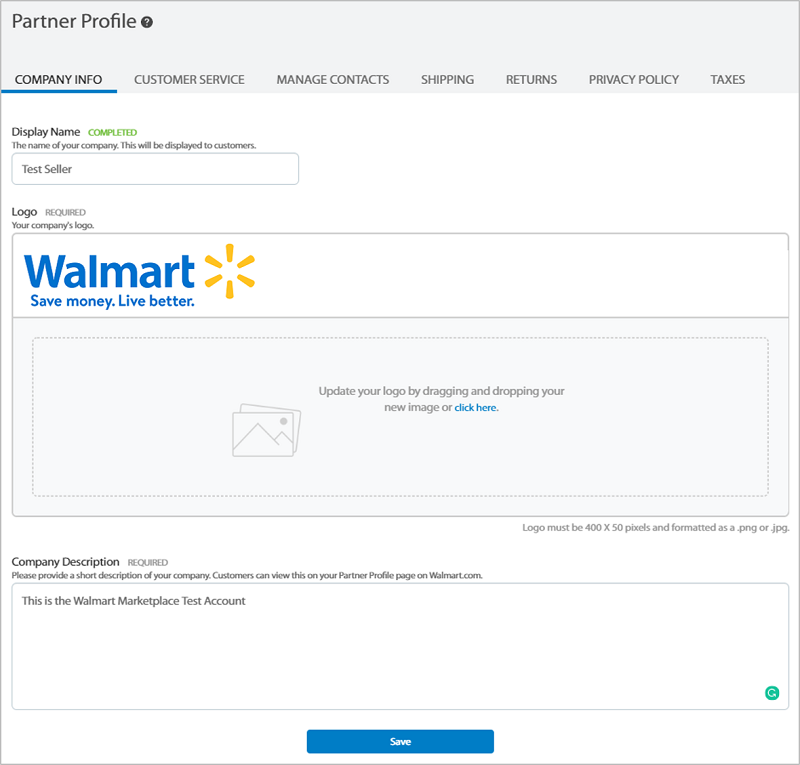 Example of Partner Profile registration
Once your store is set up, you will start preparing to sell by listing your products. Test the order process by publishing two to three items and placing your own orders. You'll need to test the following scenarios in the Seller Center: order acknowledgment, order cancellation, order shipping, and order refund.
Once everything is confirmed to be working, you are ready to go live. Walmart will perform a final review and then release your account to go live.
Once your store is live, your items are published to Walmart Marketplace. Customers will be able to purchase within a few hours of publishing, and your products will be searchable in 24 to 48 hours.
Step 4: Start fulfilling orders
After going live, shipping and fulfillment speed is vital for the success of your store.
All sellers can take advantage of Walmart's TwoDay shipping program. The TwoDay shipping program is a great way to draw in more customers and sell more products. Walmart also rewards fast shipping with Buy Box placements and priority ranking in search.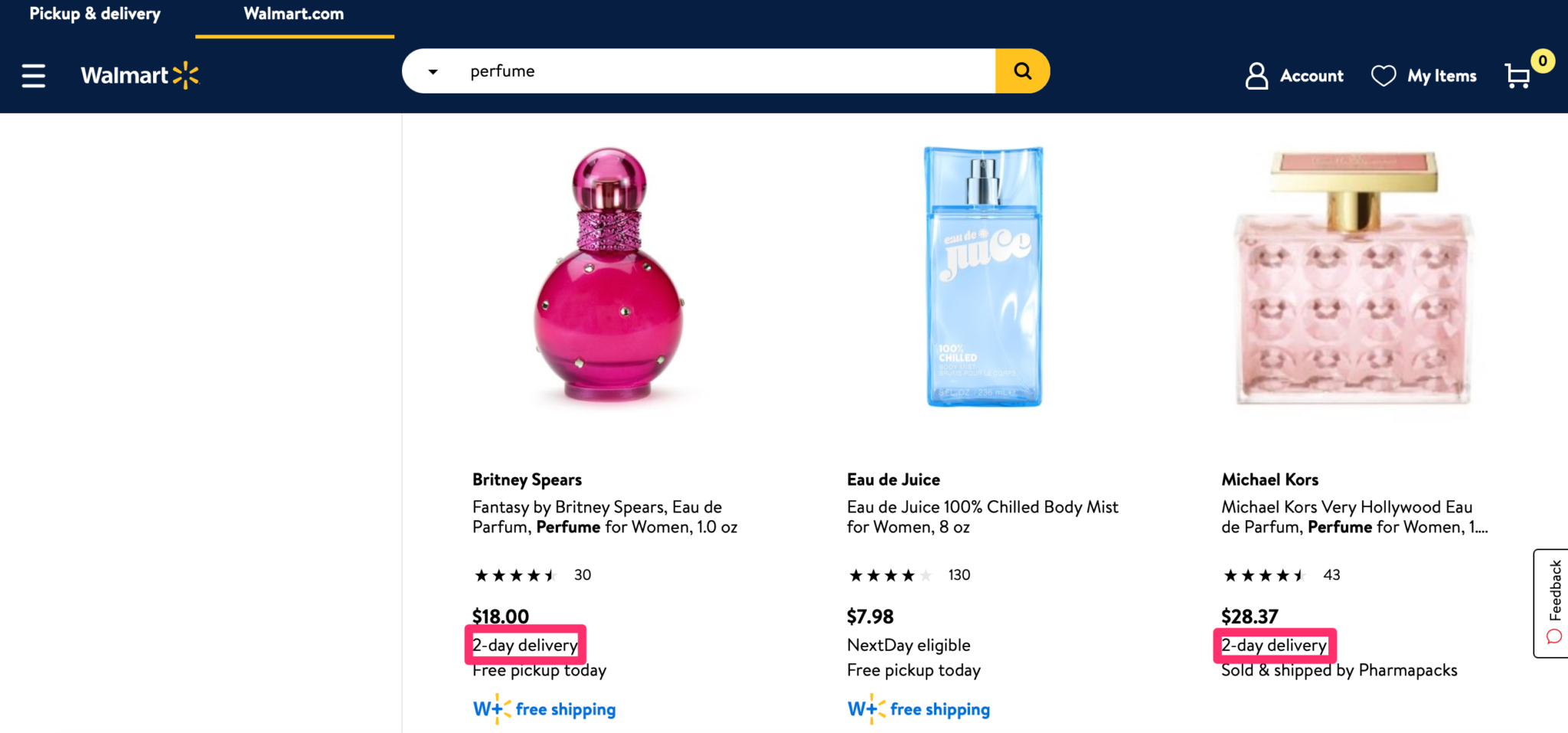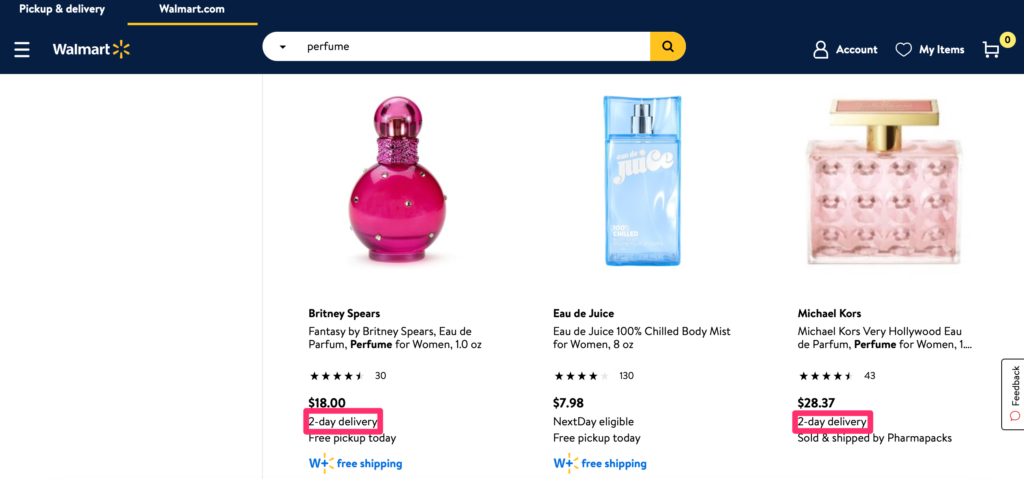 However, keep in mind that although leveraging the TwoDay shipping program will get you high rankings on Walmart's search results, it's not for every seller. Using the TwoDay tag means that you'll be offering free nationwide shipping to your customers—which comes as a cost to your business. If your business cannot afford it, then stick to regular shipping. Don't over-promise only to under-deliver.
You can use Deliverr to fulfill orders quickly with Walmart. This platform integrates directly with Walmart's TwoDay program to guarantee fast shipping and boost item visibility. Deliverr is also Walmart's official partner for Walmart's TwoDay fulfillment.
Deliverr can pick up your items from your supplier and stores them close to your buyers so you can offer fast shipping at an affordable rate. You pay a fixed fulfillment rate.
Keep in mind that you are not required to use any particular fulfillment service, but Walmart makes recommendations and offers shipping guidelines that sellers might find useful.
3 tips for Walmart dropshipping
Selling on Walmart might provide you a large customer base and less competition than other platforms, but success won't happen without effort. Use the following tips to ease your Walmart dropshipping experience.
Keep an eye on your metrics
Without reporting, it's impossible to know whether your dropshipping on Walmart is going well. Gauge your performance to determine what works and what doesn't by tracking metrics. Walmart's reporting helps sellers evaluate their:
Seller ranking. Walmart provides sellers a number of analytics reports that show which sellers are ranking. They also give sellers a Seller Scorecard that can be used to track performance.

Buy Box placement. There will inevitably be other sellers who sell the same or similar products to yours. Thus, the Buy Box is important to strive for because it goes to the seller who has the highest qualification metrics. If your selling history is not satisfactory for Walmart, you will likely lose the sale.
Reviews and ratings. Customers can leave reviews and ratings for sellers. Keep a close eye on your reviews and service quality because they can affect seller performance. As the Walmart website states, "The reviews are not about the products themselves, but about the quality of service the retailer provides and their experience with shipping and delivery."
Want to find out more about tracking seller metrics on Walmart Marketplace? Check out Sell Smarter on Walmart: The Metrics You Need to Be Tracking.
Meet Walmart's customer service expectations
Walmart has certain factors they use to track seller performance on their platform. These measures of quality service include:
90-Day Order Defect Rate less than 2%
On-Time Shipment Rate greater than 99%
Valid Tracking Rate greater than 99%
For a more detailed guide to performance requirements for sellers, check here.
Keeping up with these measures means responding to all customer queries on time and fulfilling orders in a timely manner. It also means making sure that cancellations and returns are minimized and managed properly. To manage your performance as a Walmart seller:
Create clear, detailed return policies. Walmart provides a return policy section in the Partner Profile that offers up to 4,000 characters. Here, you can detail the information you need customers to know about returns. This can help you defend yourself in the event of a dispute.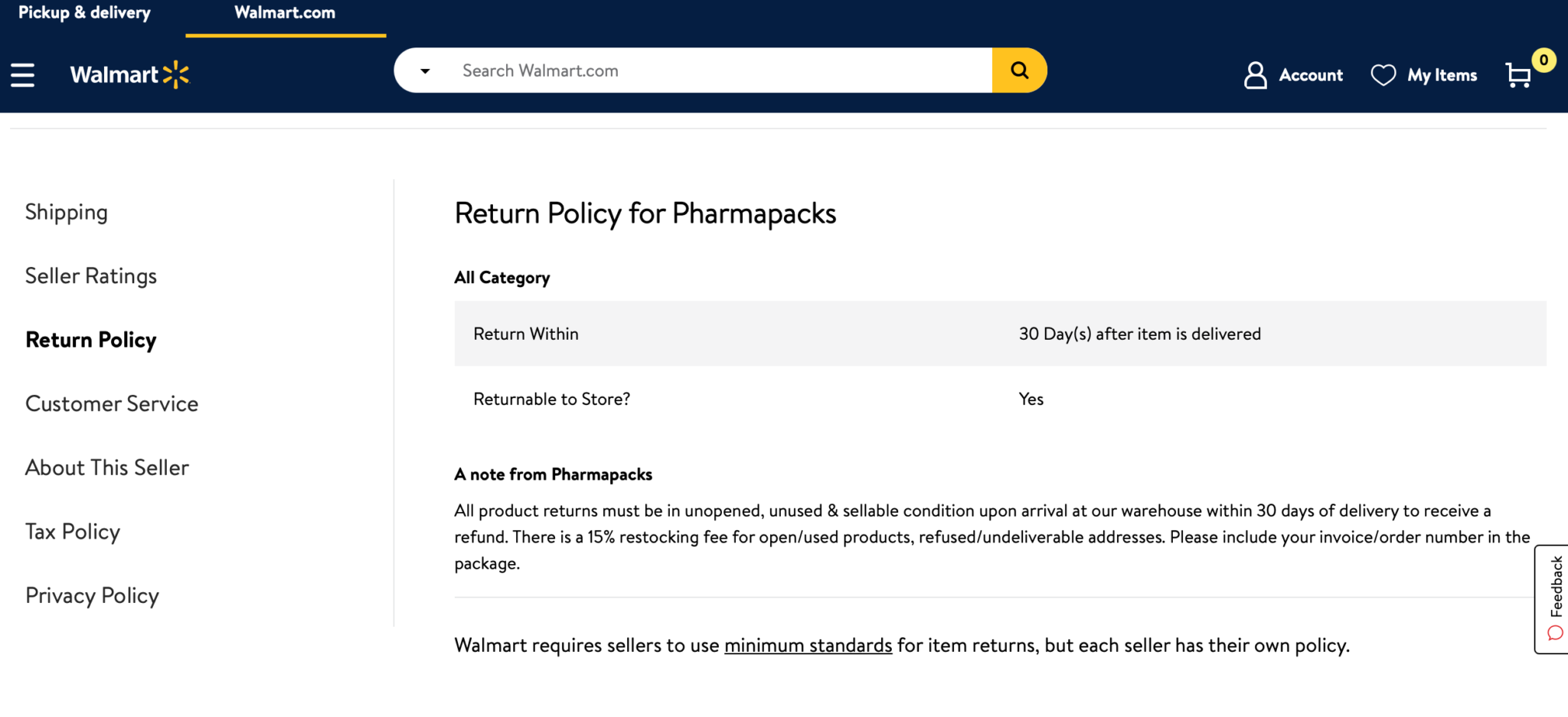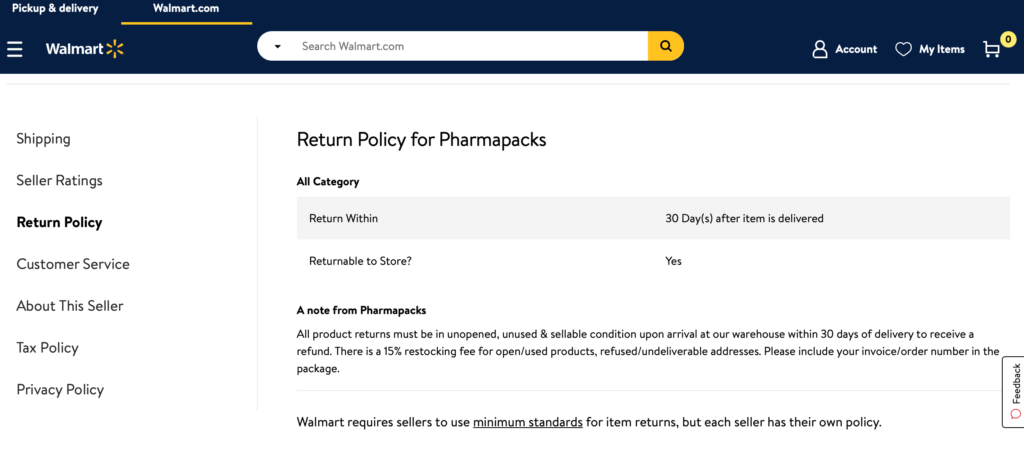 Provide customers with shipping information. Sellers can also add this information as part of their Partner Profile. Collect shipping information from your supplier(s).
Make sure your order fulfillment process matches the delivery times you give customers. If your supplier can't deliver products in two days, don't tell the customer that shipping will only take two days.
Set up an inventory tracking system. Sellbrite offers Walmart-specific listing software that can help sellers track inventory.
Walmart unpublishes sellers for a number of reasons, including flouting rules and unhappy customers. Returns, cancellations, and complaints can impact your seller performance—even if issues are resolved. Minimize problems by communicating constantly with your supplier to keep customer dissatisfaction low or non-existent.
Optimize your product listings
Your product listings can do a lot of work for you—if you position them correctly. Strategically crafting your listings helps more customers find you, which helps you sell more products.
Use concise listing titles. By keeping your listing titles simple, customers can easily locate and understand whether your product is what they are looking for.
Make your product titles stand out by listing features. An example of this is Sony Bluetooth headphones. You could give a straightforward title. However, a title like "Sony Bluetooth Headphones Noise Canceling" will draw in a customer that might have had to sift through different descriptions to find that information.
List product benefits in the description. By listing out the features and benefits of your product, you can more easily convince a buyer to purchase your product.
Use clear and high-quality product images. Also, add multiple images of the product, alone and in use.
Want more details on optimizing your product listings? Check out How to Sell on Walmart Marketplace: 14 Best Practices.
Sell on multiple channels to reach more customers
Walmart offers a number of benefits for dropshippers—but it isn't perfect. The marketplace holds a lot of control over sellers' stores, and an infraction can cause your products to be taken down. To grow your operations, consider selling on other channels in addition to Walmart.
Diversify your selling by listing your products on other ecommerce platforms like Amazon or eBay, or create an online store with WooCommerce or Shopify. However, there can't be too much of a price disparity for your products on these platforms. Otherwise, Walmart will deactivate your account.
Want to sync your inventory and ease selling on multiple channels? Check out Sellbrite, the ultimate multi-channel selling tool.