As a retailer, you're in business to attract lots of customers and sell as much as possible. But only selling on your website limits your audience to people who already know about you actively searching for products. There's a large chunk of people who don't ever find your website.

One way to extend your reach and increase revenue is to list your products on marketplaces. Some of the popular ones include Amazon, eBay, and Shopify—in fact, 65% of sellers use Amazon and eBay to sell their products. This gets their products in front of people who already spend time browsing these platforms.

However, one major drawback of these marketplaces is they're saturated with competition, making it harder for you to stand out.

The good news is there's another, newer marketplace that offers just as many perks and benefits as these large marketplaces but with less competition. In comparison, if you sell on Walmart, you have a huge opportunity to stand out and meet your business goals.
How to become a seller on Walmart Marketplace
Before we get into its benefits, let's first look at how to become a Walmart Marketplace seller.
1. Get approved to sell on Walmart Marketplace
The first step is to get approval to sell products on Walmart.com alongside other well-known brands.

To get approved, you have to explain what your business does, the types of products you sell, other marketplaces you use, basic operation information, and, of course, contact details: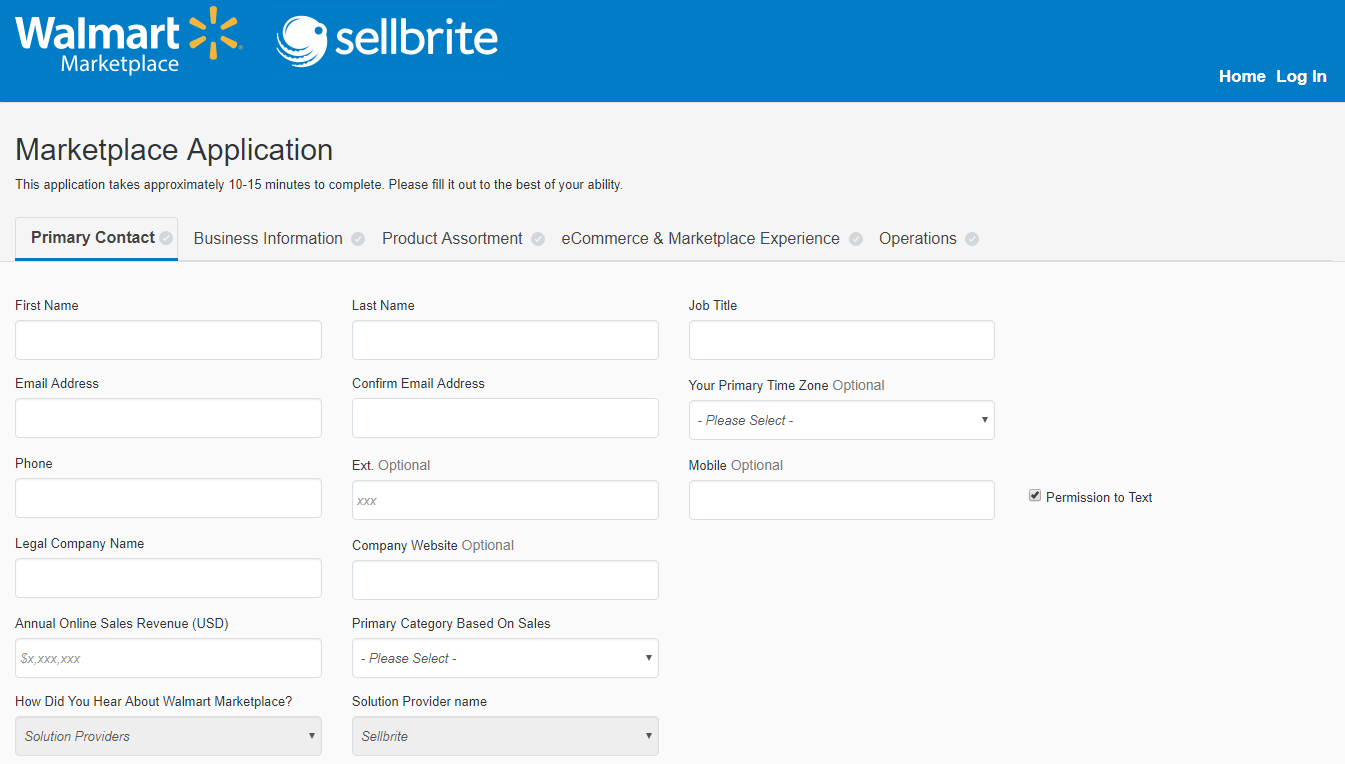 When you fill out the application, be clear on the value and quality your products offer. Think about the types of products Walmart already sells and position your products the same way—competitive pricing for everyday shoppers. The closer your products match what Walmart's customers expect, the better your chances are of getting approved as a seller.
The approval process takes a few weeks, and once you're approved, you have to sign the Walmart Marketplace Program Retailer Agreement.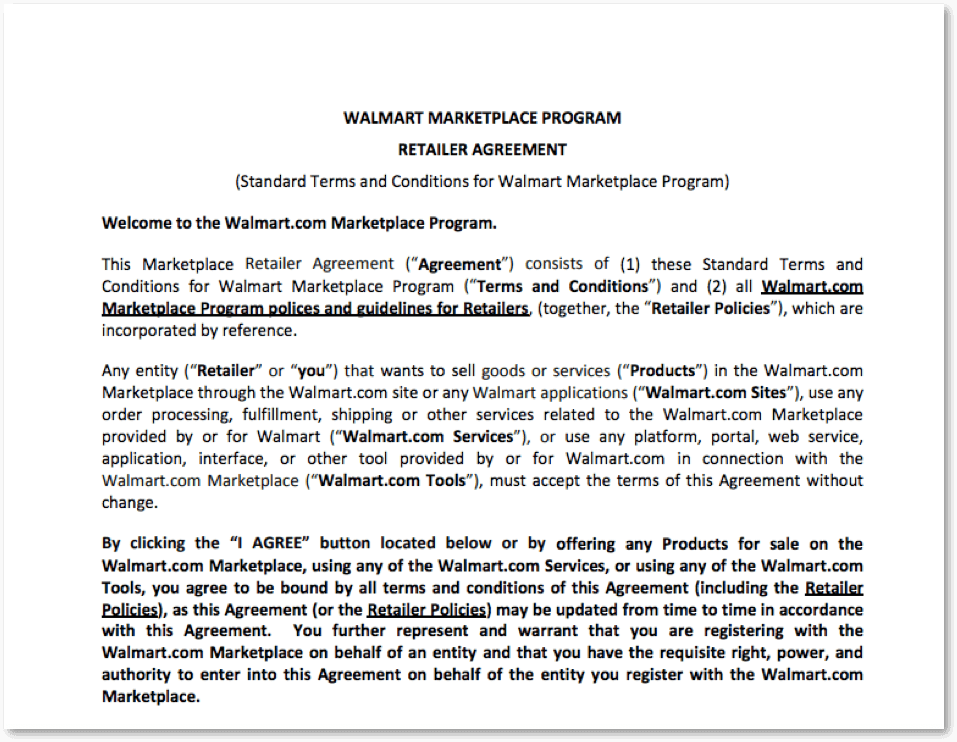 This agreement outlines information like Walmart's role and responsibilities, your responsibilities as a seller, the order and fulfillment process, return management, and pricing details.
2. Set up your Seller Account and Partner Profile
Once you've signed the agreement, you're ready to set up your Seller Account, submit account information for payments, and upload your products. You'll also have to go through their seller onboarding process, where you can upload and test your listings to make sure they work properly.

Once Walmart reviews your listings, you're ready to start selling. If you use sites like WooCommerce or BigCommerce to manage your sales transactions and product lists, they integrate with Walmart through an API connection to make it easy to do bulk uploads and track sales.

Note that sellers can't directly market to shoppers—orders are shipped in plain boxes with Walmart marketing material included. However, since your business name is included with each listing and on your Partner Profile, it's possible that part of customers' research will be to visit your website to learn more about specific products. Plus, you're responsible for managing your own inventory, price, customer support, and fulfillment and shipping, which helps you build brand awareness indirectly.
3. Test the order process
The final step in setting up your listing is to test orders. From the Seller Center—where you manage your listings—you're able to test the checkout process, how cancellations are processed, how refunds work, and more. Testing lets you identify bottlenecks in checkout before customers try to buy. Keep in mind that 27% of customers abandon checkout because of a lengthy or complicated process.

As a seller, you'll receive bulk payments for your sales biweekly from Walmart. Plus, instead of a monthly fee, you're charged a referral fee for each item you sell on Walmart. This fee ranges from 6% – 20%, depending on the product—the fee schedule is outlined in the Seller Agreement.

5 reasons why you should be selling on Walmart Marketplace
Along with high visibility to customers and low competition, Walmart affords sellers several other benefits and we've outlined some of them.
1. Get access to free 2-day shipping
In 2005, Amazon launched its Prime membership. One of the major perks of the program is the two-day free shipping feature. In fact, it's one feature Amazon promotes aggressively. Customers get an invite to join Prime membership on the homepage while they're browsing categories and when they're at checkout and choosing a shipping option.

As the second-largest online marketplace—after Amazon—Walmart's response to Amazon Prime and their Prime badge is the Walmart TwoDay Shipping tag. With the tag, sellers can guarantee shoppers fast shipping, capture shoppers who are ready to buy and get more visibility for their products.

You'll notice that in the left navigation of any category search on Walmart.com, there's a filter for shipping options. 2-Day Shipping is highlighted in bold, green text so that it stands out compared to other shipping options. Product listings with the free shipping tag also have the same bold, green text, making it easy for shoppers scrolling down a page to see which products qualify: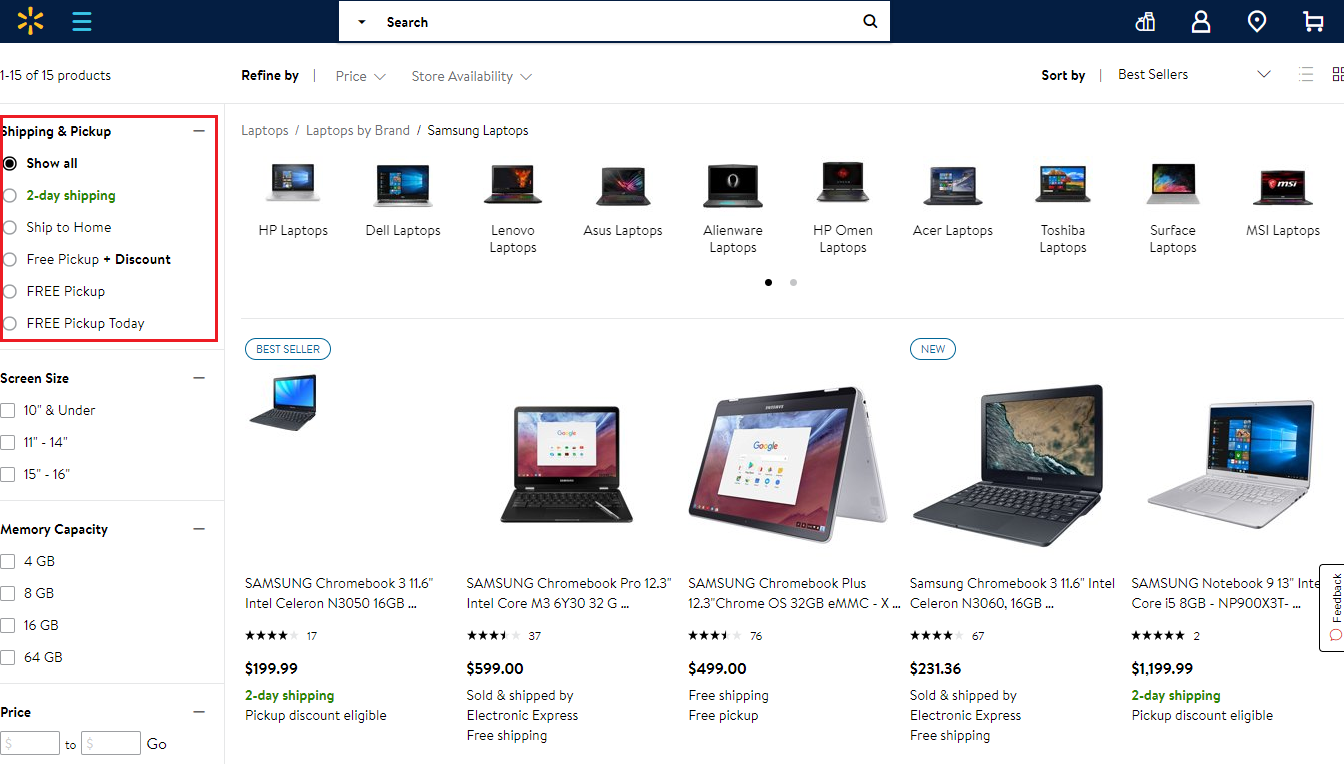 This bold color scheme carries over to the actual product page as well where free 2-Day Shipping appears prominently on the page: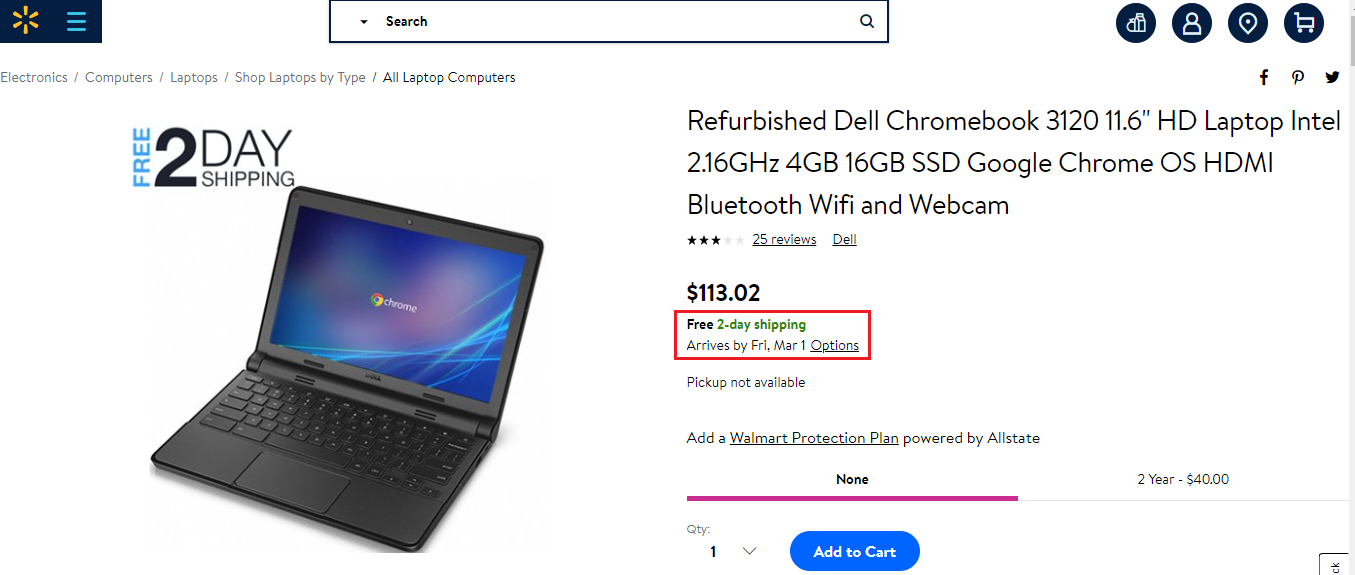 To qualify to offer Free 2-Day Shipping, there are four criteria you need to meet:
On-time shipping >95%
On-time delivery >95%
Valid tracking rates >95%
Low cancel rate <1.5%
In addition to these criteria, you must also have a solid return policy in place and strong customer support. You must have been a Walmart Marketplace Seller for at least 90 days OR fulfilled a minimum of 100 orders. Walmart uses these criteria to make sure that sellers can hold up their end of the bargain when customers request Free 2-Day Shipping.

As a bonus, if you use Deliverr to automate your fulfillment, you automatically qualify for Free 2-Day Shipping. Deliverr takes care of shipping for you, so you can guarantee your customers get their orders on time. We'll dig into this a little more shortly.

You also have a huge opportunity to increase your sales since only a few sellers on the site use 2-Day Shipping. You have a better chance of standing out—especially when shoppers filter for quick shipping—and growing your business faster than a seller that focuses more on selling on just one marketplace, like Amazon.

Some benefits of Free 2-Day Shipping include:
Improved search ranking. We've found that the Walmart TwoDay Shipping tag helps optimize product listings as they tend to appear closer to the top of search results. The higher up your products are in searches, the better your chances of getting sales.
Included in filtered searches. When customers who buy at the last minute or just want fast shipping filter by 2-Day Shipping, your products appear first, which improves your chances of closing more sales.
Gain Buy Box prominence. Compared to other third-party sellers selling the same products, the 2-Day Shipping tag gets your products purchased sooner even if your prices are slightly higher than the competition.
Experience an overall sales lift. Free 2-Day Shipping is an untapped opportunity for a site like Walmart with over 100 million unique visitors per month. With so few sellers using this tag to flag their products, it puts your products in front of your target audience when they filter by shipping options.
Speeds up the buying process. Tags help customers find and sort through what they're looking for quickly, so they can buy sooner rather than later.
Spend some time working on meeting the Free 2-Day Shipping criteria. Your hard work will pay off because the free shipping tag means you qualify to offer the type of shipping customers have come to expect.

2. Use Walmart Fulfillment Services
Walmart Fulfillment Services—also known as WFS—is the company's answer to Fulfillment by Amazon (FBA). The program empowers merchants by making it easier to fill orders. Merchants can send their inventory to Walmart's fulfillment centers for secure storage and shipping.

Some benefits of Walmart fulfillment services include:
Fast delivery, easy returns, and quality customer service. Through WFS, sellers can get 2-day shipping on their products.
Simple pricing and no hidden fees. WFS uses a simple cost structure that includes a fixed monthly storage fee and a fulfillment price based on shipping weight alone.
Easy inventory, order, and shipment tracking. Through easy-to-read dashboards, sellers can get a full view of what they have in stock, which orders have been made, and which orders have been delivered.
Personalized support for your business. Walmart provides customer care, helping sellers manage all customer inquiries, refunds, and returns. Merchants can also get help from WFS call center associates to have all their questions answered.
Increased visibility. Sellers using WFS automatically get Walmart's TwoDay tags. They also gain higher rankings and Buy Box prominence in Walmart Marketplace search.
You'll need to be an existing Walmart Marketplace seller to leverage WFS. Sellers can go here to get started using Walmart Fulfillment Services.
3. Outsource fulfillment to a Walmart-approved partner
Walmart gives sellers the option to use different shipping methods like Deliverr to manage fulfillment. They also provide access to Sponsored Products so sellers can market their products. With Sponsored Products, there's no minimum spend required when you use Deliverr—the minimum is $1,000 per campaign otherwise. This way, sellers can promote their products at a low cost while increasing their revenue.

Plus, Sponsored Products use the cost-per-click model you're already familiar with other types of ads, and the process is completely self-service. So depending on what products you sell, you can decide which listings to focus promotions on. Using Deliverr for fulfillment alongside Performance Ads is especially handy during the holidays when you're selling more and orders have to be filled quickly.

Sponsored Products show up in two ways in the marketplace. For example, individual products have a "Sponsored Product" flag on them: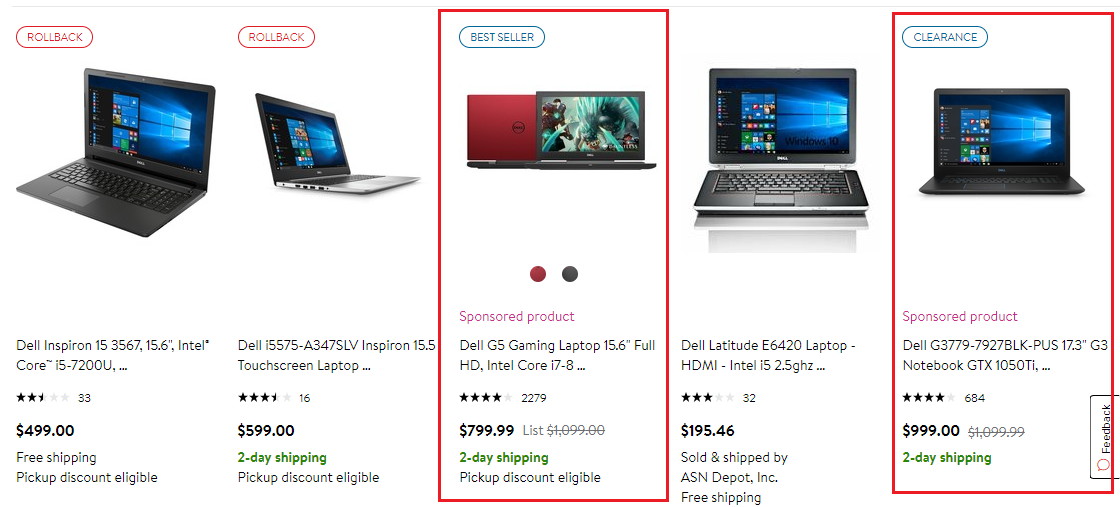 And there's a "Sponsored Products" slider at the bottom of product category pages. This section makes it easy for customers to search through content related to their main search: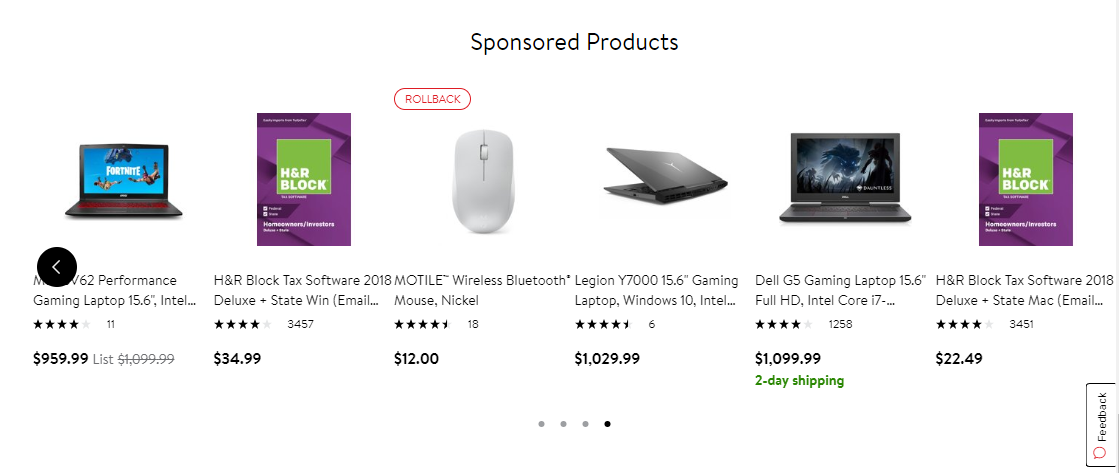 Walmart doesn't typically use Sponsored Products to promote their own products, so as a seller, you're competing against other third-party sellers on the platform. The way the process works is you bid on keywords related to products in your niche so that as shoppers search and explore, more of your related products pop up as Sponsored Products for shoppers to click on.

Some benefits of sponsored products and outsourced fulfillment include:
Increased reach. To cater to the different ways shoppers browse Walmart.com, Sponsored Products appear in multiple places.
Stress-free fulfillment and shipping. There's no need for you to store inventory, and you can be confident that your products are being shipped with quality in mind. With an experienced partner like Deliverr, you can guarantee that fulfillment meets a high standard, and your packages always look professional.
Self-service for easy management. Research the types of products customers buy and how these products relate to each other. Figure out what the applicable keywords are and start to bid on them so that your products are easier to find and rank higher than competitors' products.
Cost-per-click model. Sellers can set an advertising budget and test what kinds of products draw in the most shoppers and sell best. You don't pay if shoppers don't click on the ads.
Even if you sell on other marketplaces, as a Walmart seller, you have the benefit of fulfillment, marketing, and SEO help to get your products noticed and sold quicker.
4. Leverage the brand power of Walmart
When you first start out in ecommerce, it takes time to build brand recognition and develop a loyal customer base. Walmart, however, is an established brand with over 110 million unique monthly visitors. This makes it the ideal platform for you to partner with and to benefit from their massive audience and their considerable advertising investment aimed at driving more traffic to Walmart.com.

Even though Walmart's been around longer than Amazon, it's a close second to the e-commerce giant in terms of annual online sales. In 2016, Walmart.com opened up their platform to allow third-party sellers to sell their own products and get access to a pool of loyal customers. Once you're approved as a seller, it takes a lot less time and energy to build your brand and generate sales when you're backed by Walmart.

When shoppers log onto Walmart.com to buy new gadgets, clothes, and household products, your listings look just like Walmart's listings. The only difference is your listings include your seller information, your return policy, and contact information.
What's also great about when you sell on Walmart is your products qualify for special Walmart programs. For example, even though the following laptop is sold by Electronic Express, it still qualifies for the Walmart Protection Plan: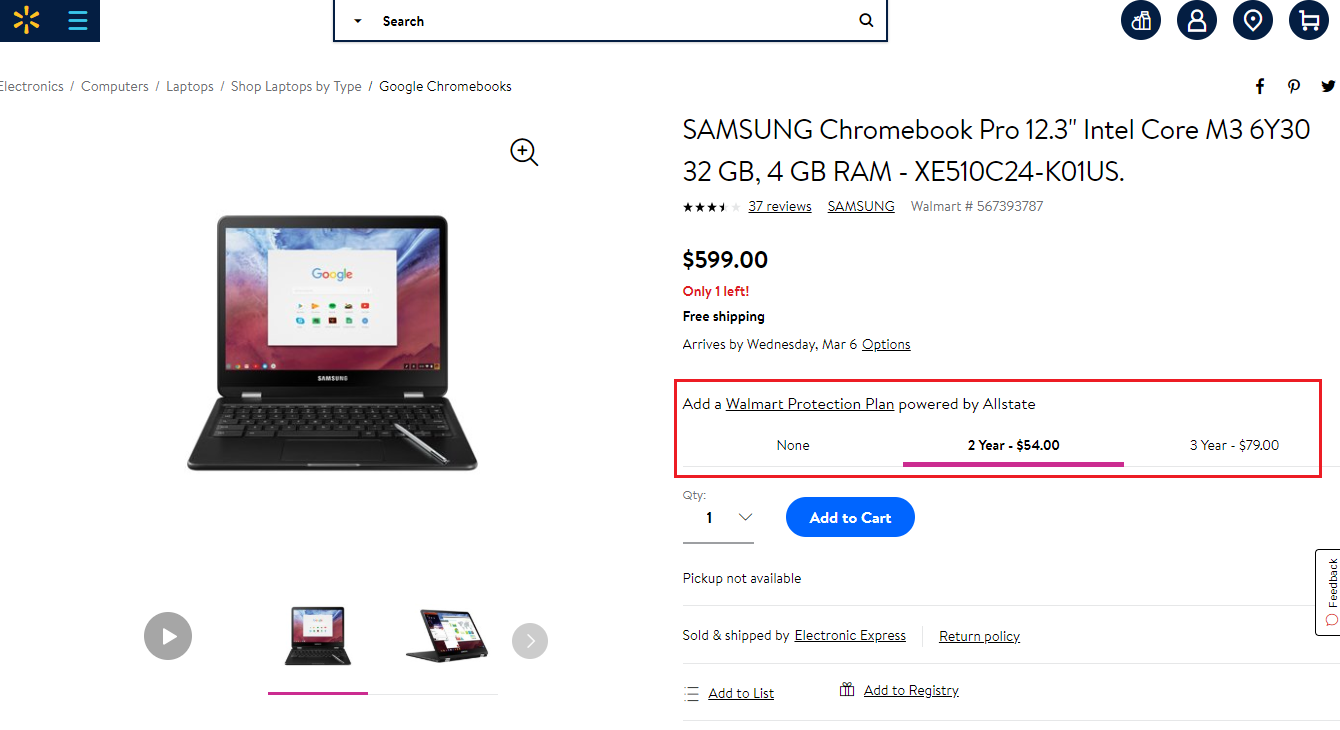 Some other benefits of Walmart's brand power are:
Builds prestige. Having your products on the Walmart Marketplace speaks to the quality and value you offer. You're partnered with a large, well-known retailer that uses a strict approval process where other established, diverse brands can access a wider audience.
Increases your reach. People in your target audience who might never have found your website and products find you on a platform where they spend a lot of their time online.
Automatic credibility. If you're a newer brand but have built a solid reputation so far, you have the benefit of a leading brand to back your quality and build your credibility among shoppers.
Sell on Walmart Marketplace to access the reputation and trust Walmart has built with its audience over the years.
5. Gain access to many full-service and specialty listing tools
Integrations are a powerful way to automate repetitive tasks and reduce the risk of input errors. When you sell on Walmart, you have the flexibility to integrate the tools you already use and find new ones that are more efficient.

When you sell on Walmart, you can use automation to manage pricing and promotions or manage inventory quantities stored in multiple warehouses compared to manually managing inventory at one location.

For example, our platform is one of Walmart's full-service listing tools. Specifically, we help you simplify your listings, minimize the risk of overselling, and maximize fulfillment opportunities. We also help with item setup, price updates, inventory management, order management, and access to the Free 2-Day Shipping program with Deliverr.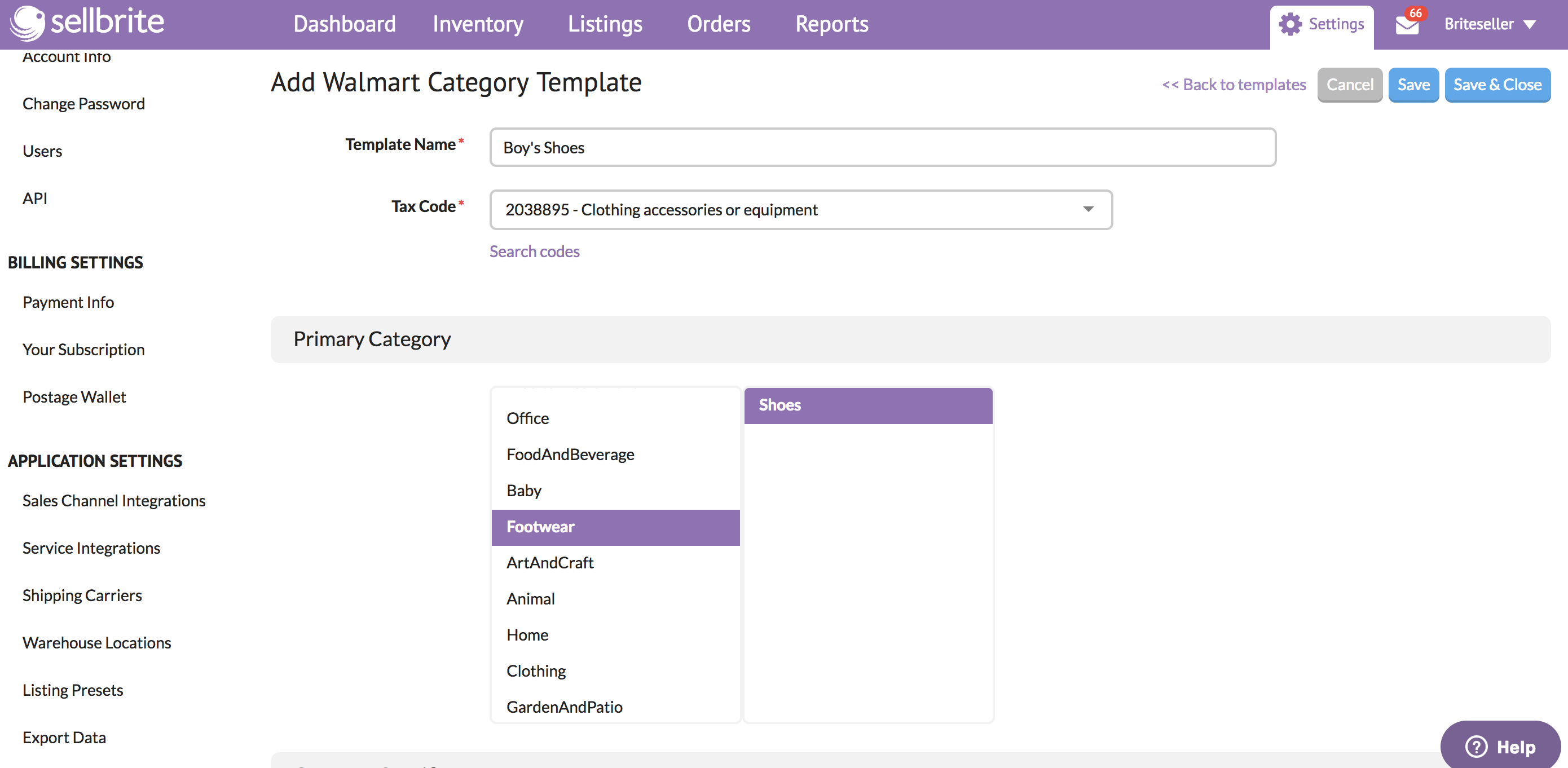 Some benefits of using integrations to improve your Walmart selling include:
Manage Walmart alongside other sales channels. When you sell on Walmart, you can also connect to fulfillment solution providers like Deliverr and Free 2-Day Shipping to streamline sales and delivery.
Tools allow for smooth business management. Walmart Marketplace offers support from a diverse range of platforms to make automation easier. Chances are there's a platform to meet your needs.
Caters to unique needs. With access to over 30 different integrations, you can choose between full-service and specialty integrations depending on your specific business needs.
Experiment with different integrations to find the ones that do the best job of meeting your needs. Once you've set up your process, you can sit back and pour more attention into other areas of your business that need your help.
It's time to sell on Walmart Marketplace to grow your business
There are lots of marketplaces available to use. The key is to choose one that improves your chances of standing out and getting your products noticed. When you sell on Walmart Marketplace, you open the doors to a considerably larger audience that you may not have had access to before.

There's still competition on Walmart Marketplace, but it's considerably less compared to sites like Amazon and Shopify.

The bottom line: use Walmart Marketplace to distinguish your ecommerce business from competitors on other platforms.