The internet may be the great equalizer in many ways, but some ways to sell your products online are just more successful than others.
All online marketplaces have pros and cons—and by selling across multiple channels, you can take advantage of the best aspects of each one. But to actually get the most out of each channel, you have to know what to focus on.
Consider selling on Walmart and Amazon. At very different development stages, Amazon and Walmart offer sellers their own unique advantages. Walmart is a smaller marketplace with less competition, so sellers have a chance to stand out in the marketplace before it grows too big. Amazon, on the other hand, is well-established and massive—so while there may be more competition, the marketplace offers sellers the benefit of consistently high traffic.
Sellers need to understand these key distinctions if they want to get the most out of both marketplaces. We've created a guide to provide sellers this knowledge—the best selling practices on Walmart and Amazon, divided into three categories: listing items, building a reputation, and managing fulfillment.
Understanding which seller practices are the most critical on Walmart and Amazon will allow you to refine your strategies on each marketplace for happy, loyal buyers and higher sales.
Walmart: A Growing Online Marketplace
Before diving into Walmart's selling practices, merchants should know that the marketplace doesn't approve sellers easily. The Walmart selling community is invitation-only for sellers who have a strong track record on other marketplaces. After sellers submit an application, the approval process takes 1-2 weeks, and if accepted, onboarding takes 2-4 weeks.
But getting approved is just the beginning for Walmart sellers. Accepted merchants will need to keep in mind the following practices to successfully sell on Walmart.
Listing items
Walmart sellers can list their product in two ways: they create a new listing for an item that isn't already on the marketplace, or they share an existing listing with other sellers for an item already being sold.
For merchants selling items that are new to Walmart's marketplace, here are a few guidelines for creating listings that lead to sales:
Using SEO keywords in product titles and descriptions. Many buyers will find your Walmart listing by searching through an engine like Google or Yahoo.
If your product listing title and description contain SEO-friendly keywords, potential buyers will be more likely to find your product.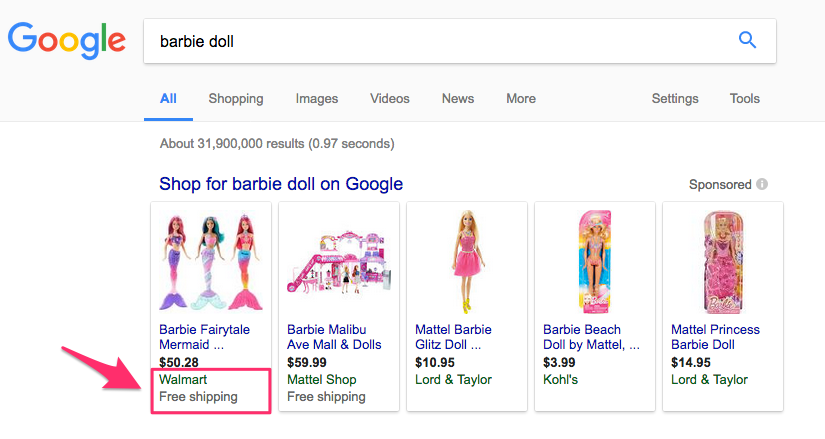 Using clear, high-quality product photos. Visuals are processed by the brain in less than a tenth of a second, so clear, high-quality product images can quickly convince your buyer to make a purchase.
Categorize products accurately. If your product is in a category that doesn't make sense, buyers won't be able to find your item and purchase it. Follow Walmart's categorization guidelines to ensure your product is "shelved" in the right place.
Walmart merchants won't have to create a listing if they are selling an item that's already offered on the marketplace. In this case, both items are presented under the same listing. For shared listings, getting the most sales is all about winning the Buy Box.
The Buy Box is the first price option that's presented to buyers for items shared by multiple sellers. It's premium product exposure since most buyers are going to opt for the initial Buy Box option.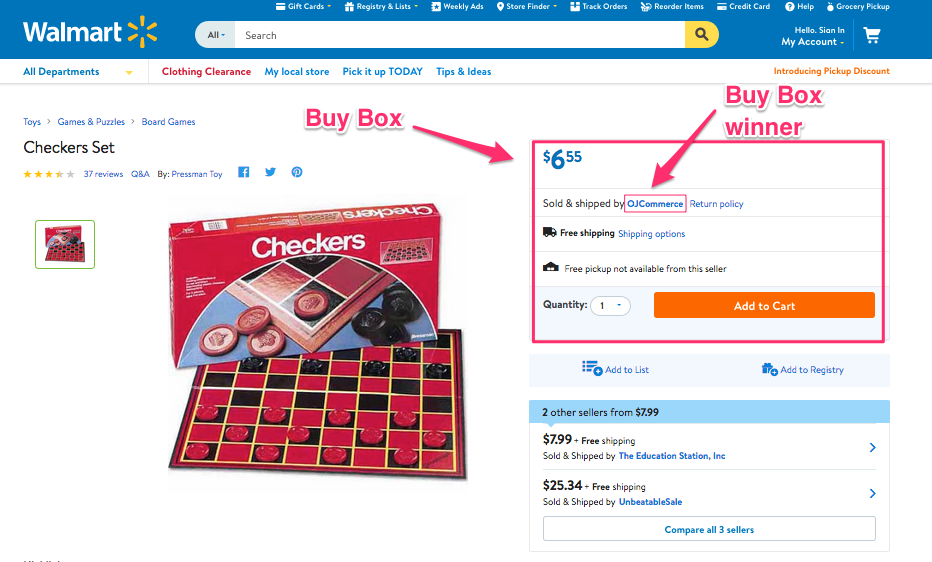 Besides having the item in stock, the qualification for winning the Buy Box on Walmart is competitive pricing, or having the lowest price available on the marketplace.
To win the Buy Box with competitive pricing, sellers should offer free shipping since shipping is considered as a part of the overall price. Sellers should also offer a product price that's lower than other major online retailers. With the marketplace's price matching policy, Walmart promises customers that they'll lower their online prices to match those of major online retailers. While this policy technically only applies to Walmart's goods and not third party sellers, merchants who want to win the Buy Box will need to also match these prices if they share a listing with Walmart.
With these additional costs, sellers who want to win the Walmart Buy Box should adjust their budget to account for offering:
free shipping
the lowest price available online
If a seller typically charges more than the lowest available price, they should calculate how many more sales they will need to make a profit on Walmart.
Building a reputation
Since Walmart has a steep barrier to entry with its approval process, the marketplace has fewer sellers than Amazon. Fewer sellers mean less competition, so merchants can stand out more easily on Walmart.
Still, seller reputation matters on Walmart. Seller ratings and product ratings, for example, heavily influence buyer purchase decisions. These ratings are the first thing a buyer sees when they visit product listings and seller pages, so they heavily influence whether a customer buys from the merchant.

To ensure that customers trust them and will continue to buy from them, Walmart merchants should keep their seller and product ratings as high as possible. If a seller does receive a negative rating or product review, they should resolve the issue with the customer and plan to avoid the problem in the future.
Likewise, sellers have to maintain a positive reputation to ensure that Walmart trusts them and allows them to continue selling. The marketplace has three seller performance standards:
90-Day Order Defect Rate <2% : The order defect rate is the number of orders with a defect divided by the total number of orders.
On-Time Shipment Rate >99% : The on-time shipment rate is the percentage of orders that are shipped by the expected ship date.
Valid Tracking >95%: The percentage of orders with valid tracking information and scanned for delivery on or before the expected ship date.
Walmart suspends the selling privileges of merchants who don't meet these standards. To avoid suspension, sellers should regularly check all of their performance metrics on their Seller Scorecard to make sure they're meeting Walmart's standards.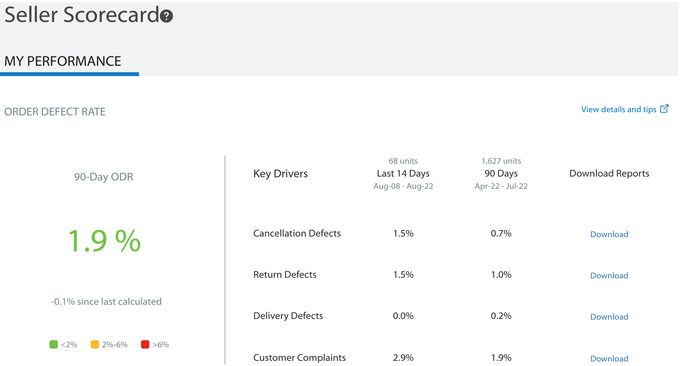 [Source]
The Seller Scorecard is located under the Insights & Analytics section of your Seller Central dashboard.
Managing fulfillment
Unlike Amazon, Walmart does not offer a service for fulfilling seller orders. Instead, merchants are solely responsible for fulfillment, including managing shipping, returns, customer service inquiries, and refunds.
Walmart offers sellers five shipping options: Value (free), Standard, Expedited, Next Day and Freight.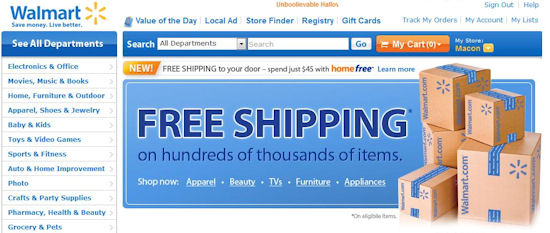 [Source]
Because shipping costs negatively impact your chance of winning the Buy Box, sellers should opt to offer free shipping, if possible.
Without any fulfillment service by Walmart, sellers need to make sure they have a plan for receiving, processing, and delivering their orders on time.
Inventory management is especially important for sellers to monitor since items have to be fully in stock to win the Buy Box. Sellers who are worried about being able to manage their Walmart inventory should consider using a software like Sellbrite to avoid overselling and other inventory issues. To have your Walmart inventory entirely fulfilled, contact Sellbrite and ask about using our integration with Symphony Commerce.

Putting it all together
Here's a quick recap of essential Walmart selling practices:
Listing items:

Sellers who need to create a listing for their item should increase conversions by using SEO keywords, high-quality product images, and correct categorization.
Sellers who are sharing listings with other merchants should aim to win the Buy Box by offering the lowest price and keeping a full inventory.

Building a reputation:

Sellers on Walmart have less competition than Amazon, but still need to maintain their reputation with buyers through product and seller ratings. Sellers should also maintain a good standing with Walmart by meeting their seller performance standards.

Managing fulfillment:

Walmart does not offer a fulfillment service, so sellers should have a plan for receiving, processing, and delivering orders. Sellers who need assistance with managing their inventory and other fulfillment practices should consider using a software, like Sellbrite.
Walmart is not an easy marketplace for sellers to enter, but those who are accepted and follow these practices will enjoy the marketplace's smaller amount of competition.
Amazon: The Giant, Well-Established Marketplace
In comparison to Walmart, becoming a seller on Amazon is relatively easy. Merchants can sign up as Individual Sellers without a monthly fee or Professional Sellers for $39.99 per month without going through any approval process.
Once you're signed up to sell on Amazon, here's what you'll need to know to stay successful:
Listing items
Amazon sellers have to create a separate listing for their item if they are the only merchant providing the product on the marketplace. Just like with Walmart and other online marketplaces, the main tips for creating listings that convert are including:
SEO keywords in product titles and descriptions.
Clear, high-quality product photos.
Correct product categories.
Products that are already available on Amazon will be placed under a shared listing with other sellers. Amazon sellers on shared listings should aim to win the Buy Box for the most sales. It's the first section where a buyer can click to order an item, so most customers end up picking the seller in the Buy Box.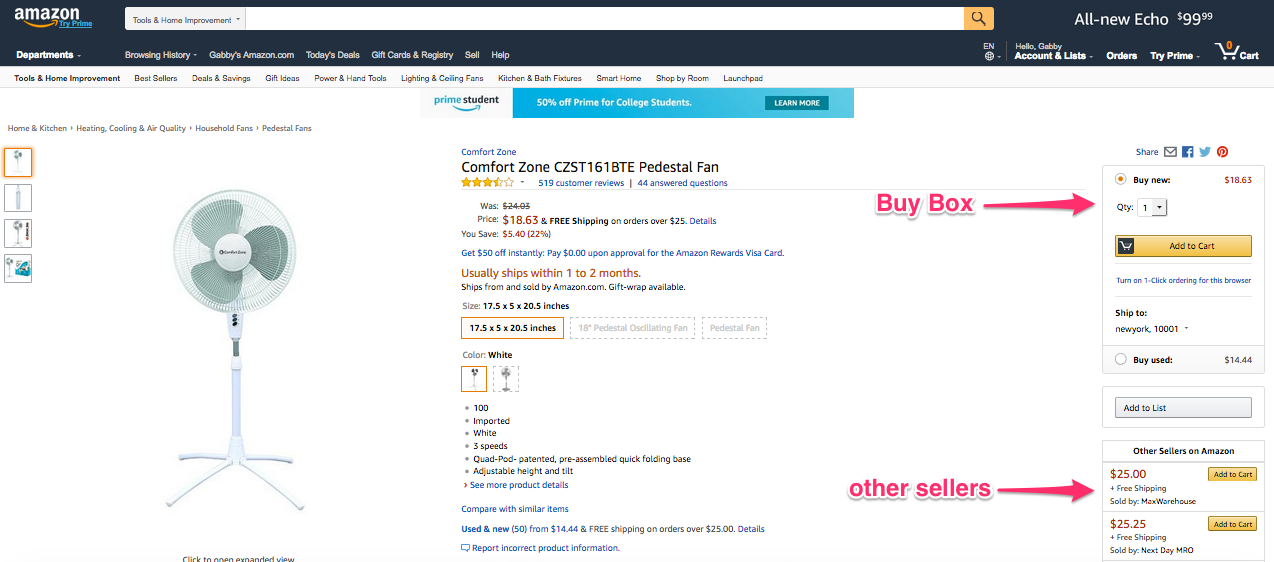 Unlike Walmart, the Amazon Buy Box winner is determined not only by competitive pricing and item availability, but also fulfillment and customer service. Amazon doesn't specify how much they weigh each factor into consideration when picking the Buy Box winner, so sellers should aim to excel in all four areas. Here are a few tips for each category: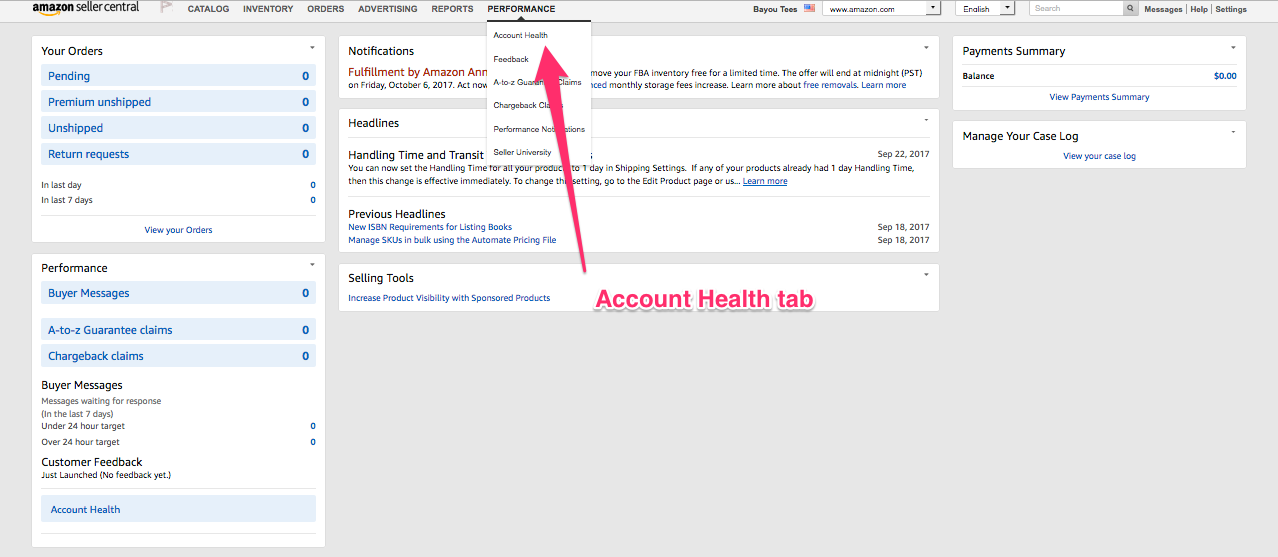 Sellers who constantly improve their strategies in these four areas while also monitoring competitors will be positioned to win the Buy Box.
Building a reputation
Amazon is a much more crowded marketplace for sellers than Walmart. Walmart hosts thousands of sellers, while Amazon hosts over 2 million sellers. With this competition, Amazon sellers have to put in a lot of effort to stand out to buyers.
But just like on Walmart, the easiest way for Amazon sellers to leave a positive impression on buyers is to maintain high seller and product ratings. These ratings are usually the first thing a buyer will see when viewing a product or a seller page, so they heavily impact purchase decisions. We've included a number of other ways Amazon sellers can boost their reputation to earn buyers' trust here.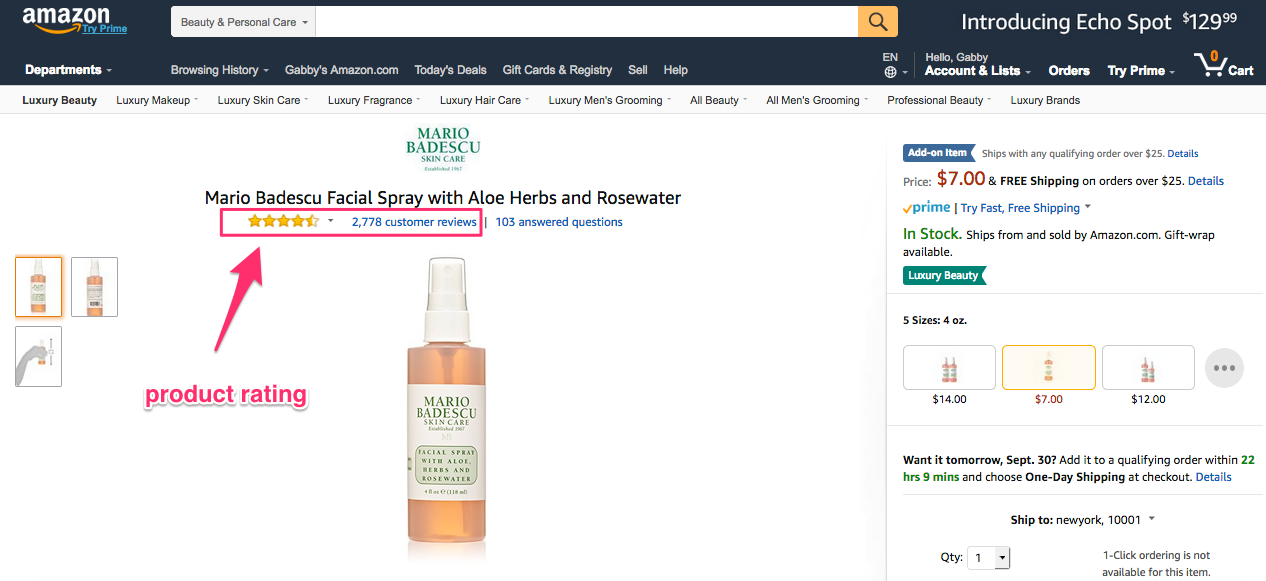 Along with buyers, sellers have to make a positive impression on Amazon by meeting their performance standards. Without earning and keeping the marketplace's trust by meeting these standards, sellers aren't allowed to continue selling on Amazon. The marketplace uses seller performance metrics that are similar to Walmart's, but require different levels for their standards.
Order defect rate < 1%: The order defect rate is the number of orders with defects divided by the total number of orders.
Pre-fulfillment cancellation rate < 2.5%: The pre-fulfillment cancellation rate equals the number of orders that a seller canceled before confirming shipment divided by the total number of orders.
Late shipment rate < 4%: The late shipment rate is the number of orders with no shipment confirmation by the expected ship date divided by the total number of orders.
Sellers who fail to meet these standards may have their selling privileges removed by Amazon. There are ways to restore your selling privileges if you get suspended, but sellers should aim to avoid suspension by checking their performance metrics and making sure they're meeting Amazon's standards.
Managing fulfillment
With the rapid expansion of Prime in recent years, buyers now expect quick and reliable deliveries after shopping on Amazon.
To ensure that customer's shipping expectations are met, sellers are strongly recommended to sign up for Amazon FBA. With this program, the marketplace picks, packs, ships, and provides customer service for sellers' orders. If Amazon fulfills any of your products incorrectly, the marketplace takes responsibility for the mistake without letting the incident harm your seller rating.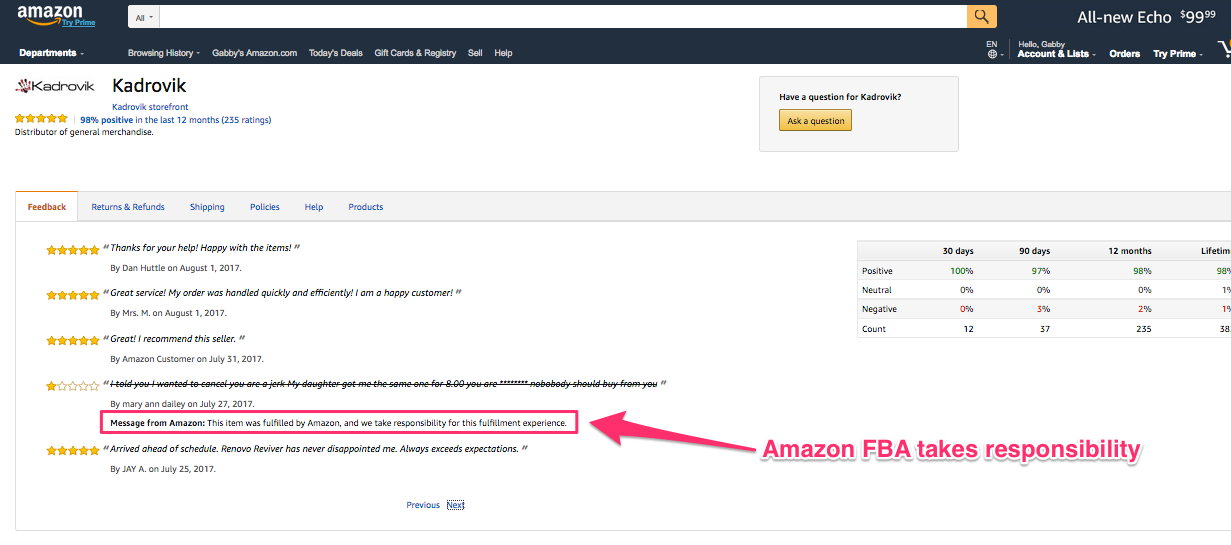 Though Amazon does charge fees for using FBA, the program also helps sellers reduce costs with its benefits, such as offering free shipping. Besides cost-effectiveness, the program gives sellers peace-of-mind in knowing that their products will be packaged correctly and delivered on-time with exceptional customer service.
Putting it all together
Here's a quick recap of essential Amazon selling practices:
Listing items:

When creating a product listing, sellers should include SEO keywords, clear and high-quality product photos, and correct product categories to boost sales.
With items that are matched to an existing listing, sellers should aim to win the Buy Box for premier product visibility and more conversions.

Building a reputation:

Sellers face a lot of competition on Amazon, so it's critical that they uphold a positive reputation by:

maintaining high seller and product ratings
meeting Amazon's seller performance standards for the order defect rate, pre-fulfillment cancellation rate, and the late shipment rate.

Managing fulfillment:

An easy and reliable way to handle fulfillment on Amazon is by signing up for the marketplace's FBA program. With FBA, Amazon picks, packs, ships, and provides customer service for sellers' orders
Amazon may be an easy marketplace to join, but achieving success as a seller means fighting to stay ahead of the massive competition. By following these essential selling practices, Amazon merchants will be positioned to win sales and grow their business on the marketplace.
Which marketplace is right for me?
You've heard the successful seller practices for both Walmart and Amazon, but you're still unsure about which marketplace is best for your seller needs. Here's a flowchart to help you decide: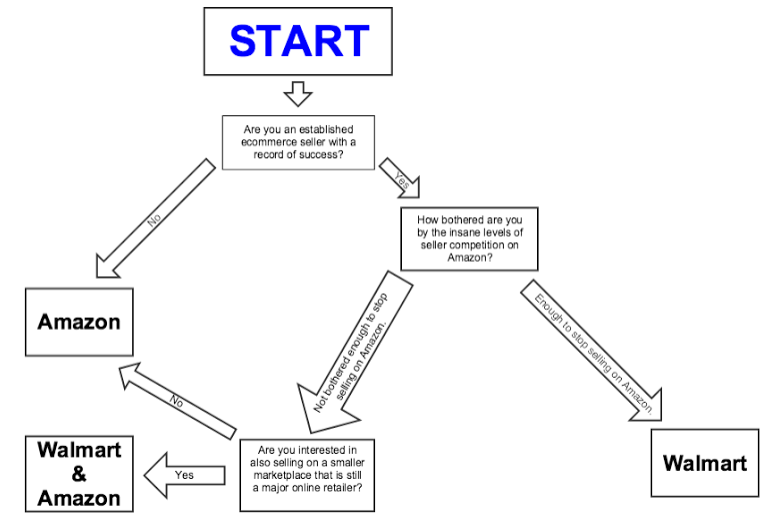 Flowchart made with Gliffy
In offering different benefits, the two marketplaces present their own challenges. Merchants who qualify to sell on both marketplaces should compare the pros and cons to their own needs, and figure out which marketplace works for them.
Walmart Strategy ≠ Amazon Strategy
Marketplaces are too different from one another for the same tactics to work everywhere. Multichannel sellers have to consider what makes each marketplace unique and adjust their strategies accordingly. For example, Walmart sellers may deal with less competition, but they also face more pressure to offer the lowest prices online. Amazon sellers may be hurt by its high levels of competition, but it's easier to join as a seller and slightly less price-driven.
To help sellers navigate the different landscapes of Walmart and Amazon, we created this guide. Its listed practices consider the nuances of each marketplace so that sellers know exactly what to focus on to keep customers happy and win conversions.