Why Fast Delivery is Key to Winning Holiday Spend
The battle to win consumer holiday spend this year is heating up as we edge deeper into the holiday season and shoppers start preparing their lists. But, with the eCommerce industry growing 14.2% last year, that battle has become more competitive than ever.
While online retailers roll up their sleeves, brace their profits, and mark down their price tags, you might be wondering if there's a better way to win holiday spend this season.
Fast delivery is quickly turning into a key differentiator between online sellers, with those offering slow shipping and costly delivery options losing out. But why is fast delivery key to winning holiday spend, and how you can get involved? Let's find out.
Contents
The holiday opportunity
Why fast delivery is key to winning holiday spend
How to achieve fast deliveries this holiday
How to advertise fast deliveries this holiday
How to qualify for fast shipping programs
Summary
The holiday opportunity
The holiday season is synonymous with consumer spending—and a lot of it—resulting in increased sales and profits. This time of year is also perfect for increasing brand awareness, customer lifetime value, and new customers.

Brand awareness
Bright holiday lights go hand-in-hand with the red Coca Cola truck and Hershey holiday bells. It's a huge advertising opportunity, and consumers are on the prowl for gift inspiration, seeking out new sellers and products, making it the perfect time to increase your brand awareness in the process.
Customer lifetime value
Customer lifetime value (CLV) is about getting existing customers to buy from you more frequently and spend more when they do. The holiday season is the ideal time to re-engage your existing customers with products, discounts, and rewards to celebrate the season and increase your CLV figures.
New customers
These last few months of the year are also prime time for shoppers to try out new brands as they buy gifts they wouldn't normally buy for themselves. In other words, it's your time to shine and make customers want to introduce your brand to someone else.
But with opportunity comes challenge. There are an estimated 1.3 million eCommerce companies in the USA and Canada, all battling to win holiday spend, brand awareness, existing shoppers, and new customers. How do you compete?
Why fast delivery is key to winning holiday spend
It used to be that to attract holiday purchases, you needed to lower your prices. But, today, price is no longer key to winning holiday spend. Instead, delivery speed has become the distinguishing feature to help e-retailers stand out online. Why is this?
It motivates buyers
Delivery price and speed are now the top purchase motivators. Low prices have become associated with poor quality and slow shipping. Instead, customers want quality products fast.
It appeals to all buyers
Last-minute shoppers, impatient buyers, and busy people all want their products delivered quickly. By offering fast shipping to all of your customers, you appeal to a wider range of shoppers rather than just the organized early birds.
It sets you apart
While it's common for online marketplaces to offer fast delivery options, it's less common for Shopify, Magento, and other eCommerce platforms to do the same. With quick delivery options, you offer customers an experience that matches the speed of Amazon and Walmart, while surpassing the standard shipping speeds many other sellers offer.
It qualifies you for fast shipping programs
Speaking of Amazon and Walmart, fast shipping can qualify you for their fast shipping programs. These come with conversion-boosting benefits that get your listings seen by shoppers even when they aren't filtering for fast shipping.
It entices the subconscious mind
And, finally, fast delivery prevents shoppers from missing out by ensuring items arrive in plenty of time to start their wrapping early. These factors all appeal to the subconscious' need to avoid risk, avert loss, and receive instant gratification.
How to achieve fast deliveries this holiday
The best part about fast shipping is that 2-day delivery is now more accessible and affordable than ever to online sellers. We'll talk about in-house and outsourced fulfillment options and how to promote them below.
1. In-house
Achieving fast delivery with in-house fulfillment is possible with an array of software and shipping carriers. If you're a relatively small eCommerce business or have an existing in-house fulfillment operation that can handle volume, there are a few adjustments you can set up for fast shipping this Q4.
Warehouses – Depending on the amount of stock you hold and the states you deliver to, using multiple warehouses allows you to hold stock closer to potential customers, reducing the distance products have to travel and increasing delivery speeds. Take a look at your past buyer locations to decide where to invest in warehousing.
Staff – The holidays get busier for online merchants, so you'll need some additional warehouse staff to handle that increase without slowing down delivery times. If you don't require these additional bodies permanently, consider paying temporary staff a Christmas bonus to keep them committed until January.
Operations – An optimized warehouse flow is key to speed. Consider using multi-channel inventory software to download orders in real-time, an efficient warehouse layout that minimizes the time it takes to pick and pack orders, and a reliable fast shipping carrier.
2. Outsourced
If you're a larger eCommerce business, or you don't have the existing fulfillment operations to achieve 2-day delivery, then an outsourced fulfillment partner is the ideal option. With an outsourced fulfillment provider, you ship your products to their network and rely on them to get orders to your customers quickly.
When researching the best-outsourced fulfillment partner for your business, it's crucial to consider:
Warehouse locations – The more warehouse locations your inventory is distributed across, the more sellers you can offer 2-day deliver speeds to. (Tip: Sellbrite integrates with Deliverr, which supports a 95% SLA for 2-day delivery nationwide.)
Multi-channel integration – If you sell on multiple sales channels, you need a provider who can work across all of your sales channels to unify your eCommerce fulfillment.
Fees – Outsourcing your fulfillment shouldn't break the bank and shouldn't come with hidden fees. Look for a provider who is transparent about their billing and has a simplified pricing structure.
Tip: Use this fulfillment calculator to see how much you would spend outsourcing 2-day delivery.
How to promote fast deliveries this holiday
Offering fast delivery is great, but if shoppers don't know about it, you're not going to win their holiday spend. Increase consumer awareness of your fast shipping capabilities through SEO, fast shipping tags, countdown timers, and ads.
SEO
Getting your website and marketplace listings to the top of the search results is crucial for holiday sales. There are plenty of in-depth guides on how to improve your SEO on Shopify, Amazon, and any other sales channels you use, but as a minimum, you should be:
Registering your eCommerce website on Google and Bing
Identifying long-tail keywords to target and use in your product titles and descriptions
Taking high-quality photographs that are properly optimized with the correct alt tag
For marketplace sellers, fast shipping programs like Amazon Prime and Walmart TwoDay delivery boosts your search result placement and prominence.
Fast shipping tags
When a buyer lands on your website or listing, highlight your delivery speed immediately. Fast shipping tags and banners do this by highlighting your listings with a brightly or custom colored fast shipping tag. Sellers can get these by qualifying for marketplace programs, or, if you have your own store on Shopify, you can use Deliverr's 2-day delivery program for Shopify.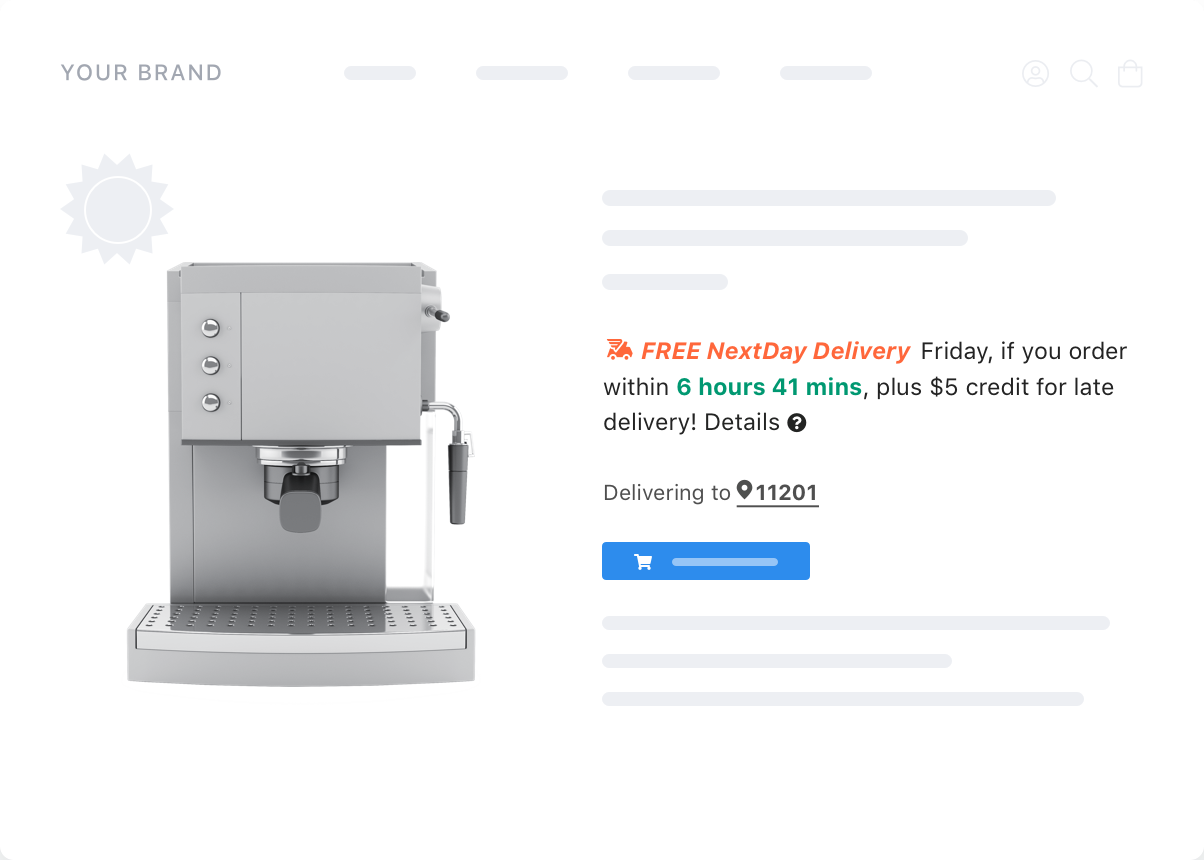 Shipping timer countdowns
Sometimes, promising fast shipping can achieve the opposite of what you want: making customers delay their purchase because they can order it closer to the holidays and still receive it in time.
Shipping countdown timers visually display how long a customer has left to receive their item in two days, which can incite urgency and the need for immediate gratification and encouraging immediate purchase.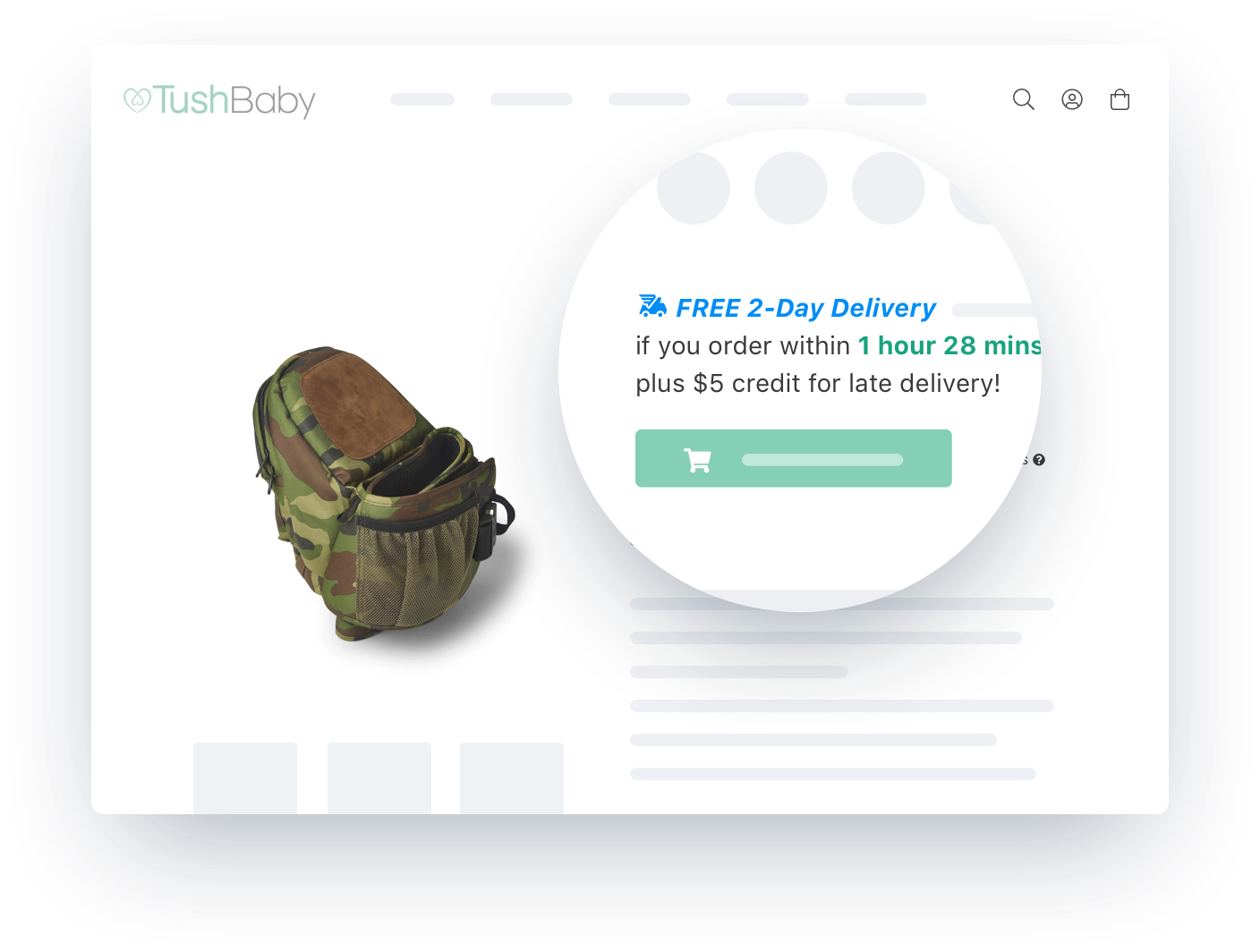 Advertising
If you're not already using cost-per-click (CPC) advertising, it's useful for getting your website and listings in front of new audiences. Consider advertising on your marketplaces, in search engines like Google, and on social media as early as now.

Next day deliveries
Finally, to really make your delivery options stand out from the crowd, consider offering next day deliveries at no extra cost. Apart from Amazon, very few e-retailers provide next day delivery, and if they do, it's usually costly. When you use Deliverr for your Shopify orders, you can offer customers in select areas this outstanding benefit at no additional cost to you.
How to get on fast shipping programs
We've mentioned these throughout this article, so now it's time to give them their own section. The four main fast shipping programs for you to consider are Amazon Prime, Walmart TwoDay delivery, eBay Fast 'N Free, and your own Shopify offering.
Through Amazon Prime, members receive free 2 and 1-day deliveries right up until Christmas. You can qualify for Amazon Prime by shipping through FBA or using SFP.
Fulfillment by Amazon (FBA)
Use Amazon's own fulfillment service to qualify eligible items for Amazon Prime automatically. This is a great option for Amazon-only sellers with fast-moving stock. However, it can be costly for multi-channel sellers and those with large or seasonal items.
Seller Fulfilled Prime (SFP)
To get on Amazon Prime via self-fulfillment, you must demonstrate:
A 99% on-time shipping rate
A 98.5% use of Amazon Buy Shipping Services
A 0.5% or less cancellation rate
Tracking IDs on 94% of orders
A 4.5+ feedback rating over a rolling 30 days
Impeccable delivery and customer service standards.
If you're already on Amazon Prime through FBA and want to switch to Seller Fulfilled Prime, you can use Deliverr to maintain your metrics.
Walmart's fast shipping program is free for all shoppers and is open to sellers by meeting certain service level agreements or by going through Deliverr.
Seller fulfilled
Walmart marketplace sellers of more than 90 days who have fulfilled at least 100 orders in the past month can self-qualify for Walmart 2-day shipping by meeting and sustaining Walmart's fast shipping requirements. These are:
A generous returns policy
On-time shipping rates above 95%
On-time delivery rates above 95%
Valid tracking rates above 95%
Cancellation rates less than 1.5%
Deliverr-fulfilled
Through Deliverr, sellers automatically qualify for Walmart TwoDay delivery. All you need to do is sign up for your free Deliverr account, connect Walmart, send in your inventory, turn on your fast tags, and watch the orders roll in.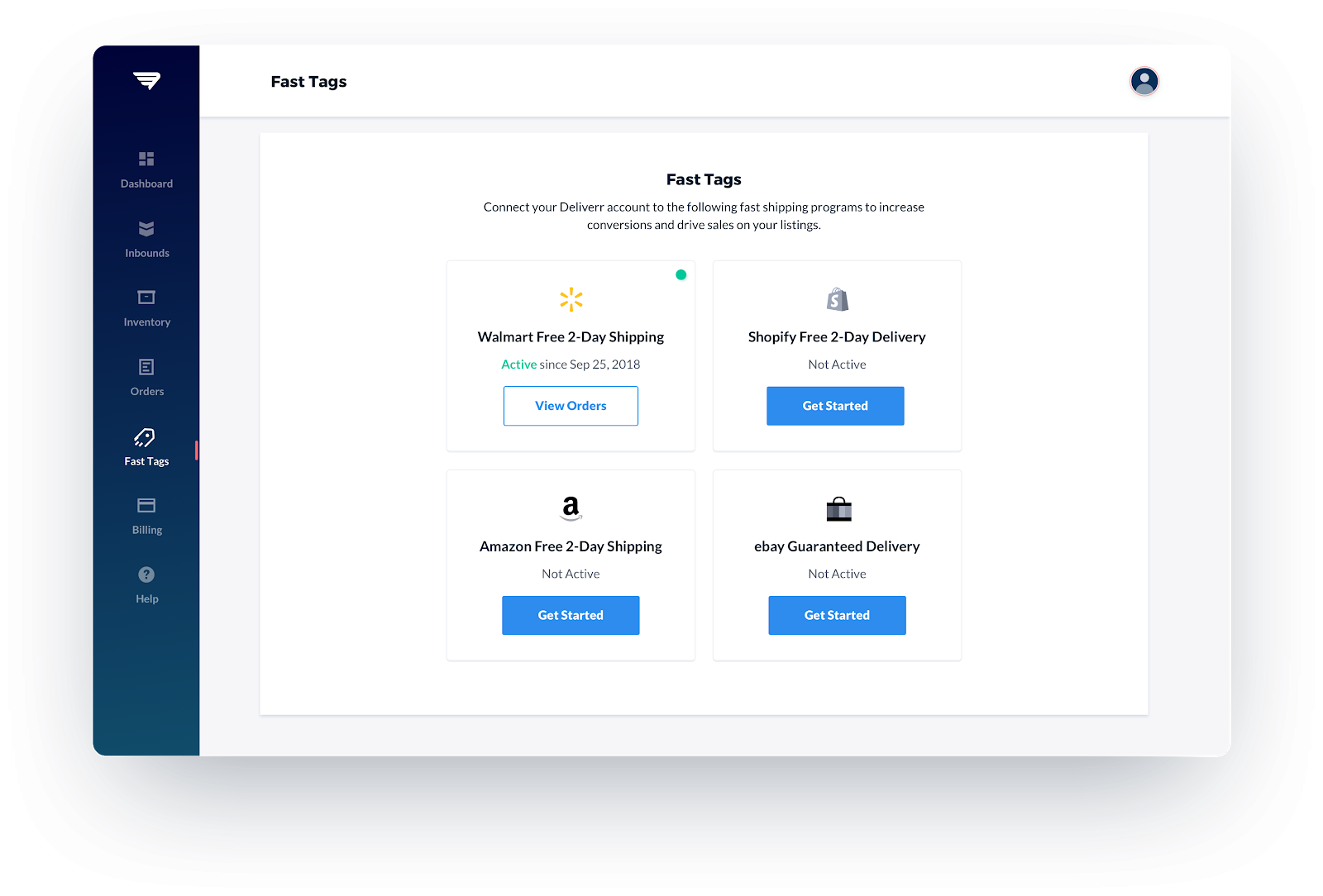 eBay Fast 'N Free
eBay Fast 'N Free offers shoppers free deliveries within four days. eBay Store Subscribers processing more than 100 transactions per year can qualify for Fast 'N Free with:
A minimum 97% on-time handling rate
A minimum 95% on-time tracking upload
Free deliveries in four days or less within the 48 contiguous US states
Shipment with FedEx, USPS, or UPS
Tip: You can also get the Fast N Free tag through Deliverr!
Shopify 2-day delivery
While Shopify doesn't have a Shopify-wide fast shipping program, it's still good practice to offer fast delivery on the platform. Your Shopify store provides an owned medium to reach your customers and comes with no marketplace fees and strict restrictions. Sending buyers to your Shopify store could make or break your holiday profits, so you should invest in a Shopify-compatible fast shipping program for your own store as well.
Summary
Fast shipping is how you can win this holiday season, as shoppers scramble to get their gift deliveries more than ever before. The key to fast shipping success is picking the right fulfillment option for your sales channels, marketing your fast shipping capabilities, qualifying for marketplace fast shipping programs, and ensuring you can deliver products reliably and on time.