The year is quickly coming to an end, and if you're like a lot of business owners, you're asking yourself some version of the following question:
"What can we do better next year?"
If you want to grow your ecommerce business over the next 12 months, you can't do the same things you did over the past year. Many of your strategies and processes can carry over into the new year, but you also have to be ready to evolve, adapt, and test new ideas.
In just a few weeks, the biggest shopping season of the year will be upon us and then, before you know it, it will be over and you'll be left thinking about what you're going to do to fuel growth next year.
The problem is, you can't really afford to wait until January 1 to start planning. By then, it will be too late. Your competitors will already have their new plans finalized, and you'll be left scrambling to catch up.
To grow your ecommerce business next year, you need to start thinking and planning now, while you still have time.
So, where to start? Here are 14 actionable tips that can help you shape next year's growth strategy and build a more profitable ecommerce business in 2017:
1. Go all in on personalization
One of the biggest areas worth investing in next year will be personalization. In 2017, online and mobile shopping will be at an all-time high. As more and more consumers make the switch to performing the majority of their shopping on the web, competition among online retailers will only get more intense. To attract online shoppers to your ecommerce site (and to keep them coming back for more), you have to create a memorable experience for them every time they land on your site.
That's where personalization comes into play.
So what is personalization exactly? Daniel Clutterbuck describes the concept best in his blog post on Foundr Magazine titled, Now It's Personal. Why Personalization Is Key To Ecommerce Success. He describes it this way:
"Imagine if, for every person who entered your store, you could create a completely bespoke shopping experience. An experience tailored to their needs, desires and wants, with every step carefully planned to gently nudge them towards making that all important purchase."
The above statement is exactly the opportunity personalization creates for ecommerce retailers: the ability to create a customized, person-by-person experience and interaction for every interested buyer who lands on your website.
In his article, Clutterbuck mentions nine different types of personalization you can offer on your site:
navigational

predictive recommendations

third-party data

database segmentation

subject line personalization

personalized content

real-time offers

contextual messaging

dynamic remarketing
To learn about more types of ecommerce personalization, to see live examples, and to find out how you can incorporate personalization into your ecommerce website next year, explore these blog posts:
2. Master email marketing
Not surprisingly, email marketing is going to be another area worth investing more time and money into next year. As we've mentioned before on this blog, despite the growing popularity and value of sites like Facebook, Twitter, Instagram Snapchat, and other social media sites, email still remains one of the most effective ways to engage with customers and get them back to your store to buy again.
If the only email communication you're having with customers comes in the form of order confirmation messages and tracking notification emails, you're missing out on a huge opportunity to use email as a primary channel for nurturing relationships with your customers, building loyalty, and driving more sales.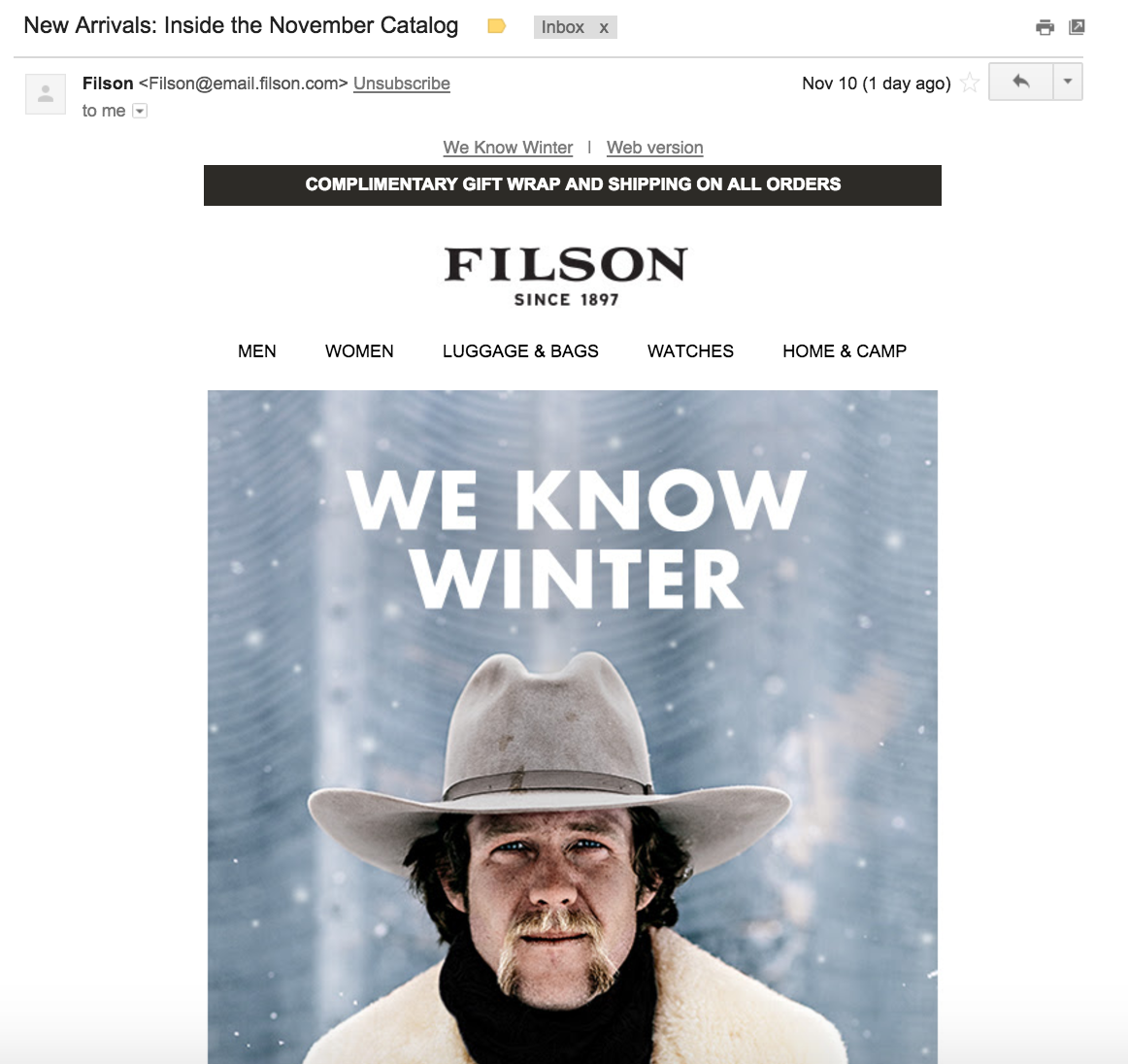 Want to learn how to become a better ecommerce email marketer? Spend some time going through our How To Crush Email Marketing for Ecommerce blog post that was published earlier this year. In it, we outline the six major steps you need to take in order to build an ROI-driven email marketing strategy into your business. They are:
Step 1: Identify Your Goals

Step 2: Choose the Right Tools

Step 3: Make it Easy for People to Join Your List

Step 4: Share Enticing Offers

Step 5: Test, Optimize, and Analyze Everything

Step 6: Show Them That You Care
Dig into each step by going through the blog post now. You can also learn a lot from the following resources:

3. Make more videos and GIFs
This year visual content won the internet. Facebook Live, Instagram Stories, GIF keyboards, and a steady increase in the use of memes and micro-infographics all point to the need for more videos, GIFs, and visual content in general in 2017.
If you're serious about growing your ecommerce business, chances are you've already invested heavily in producing high-quality images for your product pages and social media advertisements—but what about other forms of visuals?
If you haven't thought about creating videos or GIFs that help you educate prospective buyers about your products, it's worth giving it a try. These non-traditional, less common visuals can help you differentiate from competitors, reach new customers, and ultimately drive more sales.
So what kind of videos and GIFs can you make for your products? Here are a few ideas:
Unboxing videos and GIFs

Testimonial videos

GIFs that show your products being used by customers (lifestyle situations)

Behind-the-scene presentations that feature your team and your products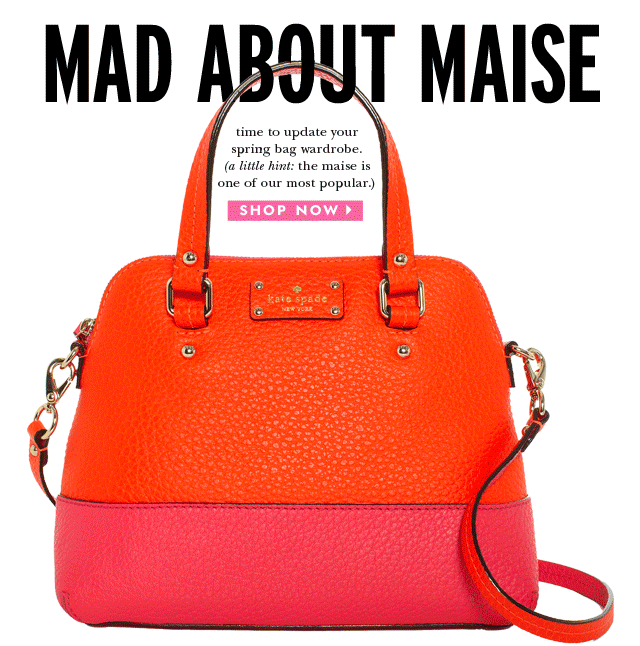 Once you have your videos and GIFs, what should you do with them? Here are some ideas:
Place them on product pages

Include them in emails

Share them on social media

Send them in SMS texts to subscribers

Add them to blog posts
If you're not sure how to create GIFs, check out this resource from Buffer.
4. Hire a full-time graphic designer
If you're serious about growing your ecommerce business in 2017, it's time to ditch the freelancers and hire an in-house designer. As your business continues to grow, you're going to want someone by your side who can help act as your brand manager—someone who can develop your brand style guide, create stunning visuals and graphics of your products, and take some work off your hands. 
To find the right person, look for someone who has:
a college or vocational degree in the area of design or branding
experience working on print and digital designs
enthusiasm about working for a small business or growing startup
passion for consistency and originality
the ability to work with little management or direction from you
Hiring an internal graphic designer will allow you to focus your time and energy in other areas of your business that can fuel business growth.
5. Develop and implement a content strategy
Content will still be king in 2017, so if you don't already have a strategy in place, use the next few months to build one that you can launch in the new year.
The purpose of content marketing is to build brand awareness, provide value to your community, spread the word about your products, drive traffic to your store and product pages, leverage your brand as an influencer in your space, and of course, drive more sales.
We've shared a lot of tips about content marketing before on this blog, so if you're looking for resources to help you get on the right track, start with these:
1. The Advanced Guide to Content Marketing For Ecommerce: this comprehensive guide is perfect for beginners. In it, we outline important content marketing terms you need to know, highlight a handful of best practices, best resources, and best influencers to follow, recommend a number of tools you'll need, and give tips on how to scale your efforts.
2. How To Crush Content Marketing For Ecommerce: this blog post will provide you with 5 simple steps you can take to build a results-driven content marketing machine. In it, we provide readers with actionable information on how to write amazing content, how to promote content, how to leverage influencers, how to approach paid distribution, and how to collect and use email addresses.
6. Build a following on Instagram and Snapchat
Instagram and Snapchat both experienced significant user growth in 2016, and as a result, businesses began experimenting with how they could use the channels to connect with prospective customers. 
As this trend continues into 2017, more businesses will test and discover how to leverage the sites/apps to build a community, sell more products, and grow their businesses. In order to stay ahead of your competitors, you need to put a plan in place now that outlines how you intend to use these social media channels next year.
If you want to focus on one first, I recommend you start with Instagram. Instagram has already proven to be a powerful selling tool for online retailers, and it's only getting better. The company recently introduced a new feature that will allow users to add URL buttons to their Instagram Stories.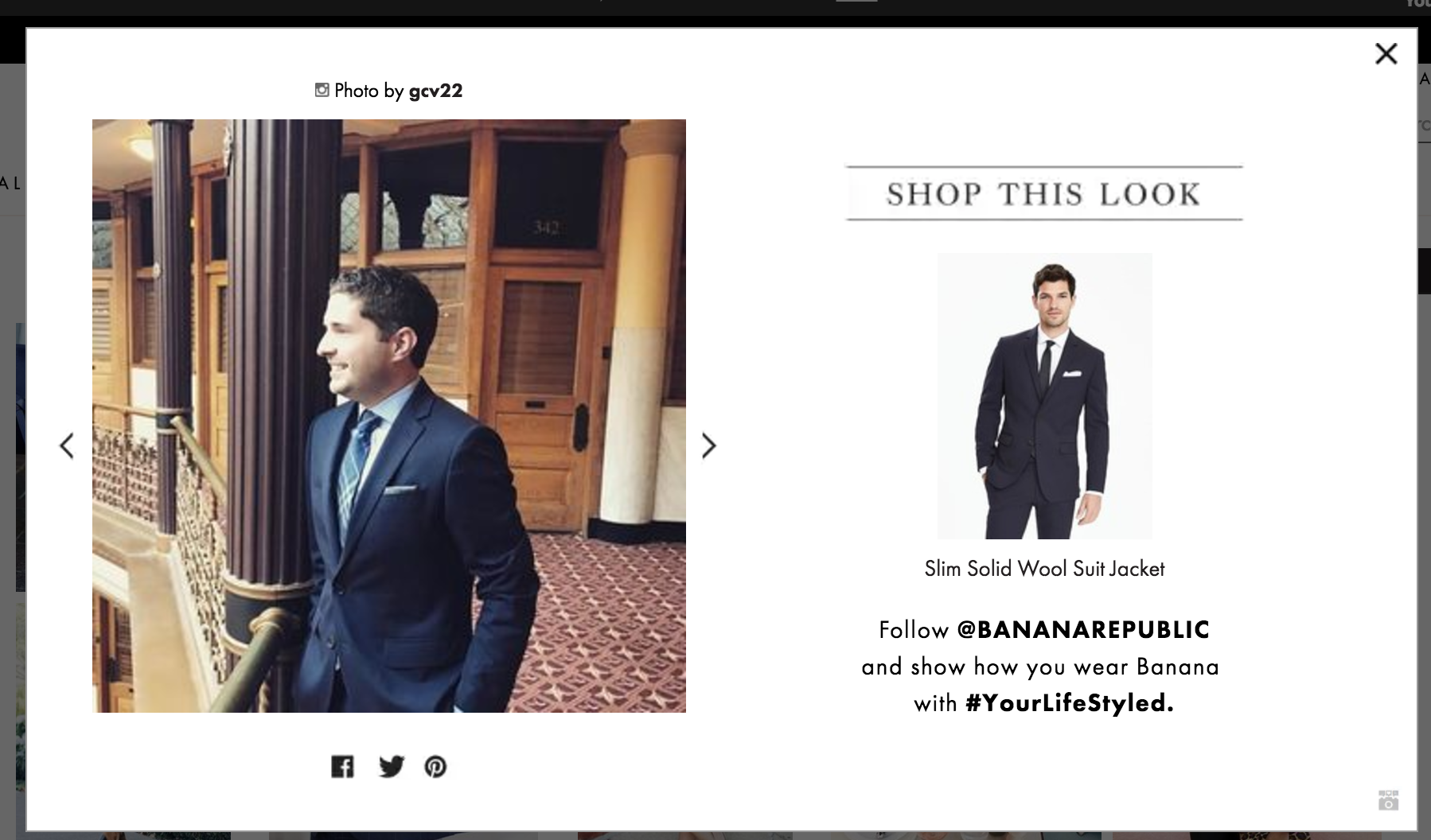 Ecommerce business owners can also connect Instagram to their product pages (see here), and get powerful analytics about the content they share (see here).
Check out this article to learn more about Instagram for ecommerce:
7. Triple the amount of CRO tests you run
In order to drive more sales on your ecommerce website, you can't keep doing the same thing week after week and month after month. You have to always be testing to tactics, new messaging, new graphics, and new experiences for users. 
In 2017, you should consider tripling the amount of conversion rate optimization (CRO) tests you run. Conversion Rate Optimization is the practice of figuring out how to get more of your current site visitors to convert (purchase).
There are an endless amount of CRO tests you can run on your ecommerce site, but here are a few of the most popular (and most effective):
Headline A/B test
Product page copy A/B test
Personalization vs. general homepage test
Button color A/B test
Simplified checkout vs. standard checkout test
The goal of testing is to learn. Once you've learned whether or not a test was successful, you can make permanent and widespread changes to your website and store in order to boost sales.
To learn more about CRO for ecommerce, explore these resources:
Looking for a tool that can help you run tests on your site? Check out Optimizely.
Looking for a way to manage all your tests? Check out Projects by Growth Hackers.
8. Drive more reviews and testimonials
One of the easiest ways to drive more sales in 2017 is to capture and encourage more reviews and testimonials from your happy customers. It's been proven that online consumers are more likely to purchase a product if they've seen an honest recommendation from a friend. 
There are a number of ways you can drive more reviews from your happy customers. Here are a few ideas:
Send a follow-up email a few days after your product has been delivered to your customer asking them to review your product on your store or one of the other channels you use to sell your products. (Hint: automate this with a tool like YotPo)
Ask for honest reviews on your social media pages. Post a photo of your product or a link to a product page and ask anyone who sees it and has purchased before to leave a review in the comments.
Offer some sort of incentive in exchange for a review. Keep in mind that you should not offer incentives to people in exchange for positive reviews. It's important that you encourage your customers to leave honest reviews. Make sure they know they will get the offer no matter what kind of review they leave about your product. Fake or dishonest reviews will not help you sell more products.
Once you have a steady stream of new reviews, use them in your marketing material. Include them in your emails to prospective customers, share them on Facebook, Twitter, and Instagram, highlight them on your homepage and product pages, and place them anywhere else where you think they could potentially make an impact and persuafe someone to buy.
9. Send free products to well-known influencers
Another tactic you could try in 2017 is to send your most popular or newest products to popular bloggers, Instrammers, and YouTube influencers and ask them to review your products. This is a popular tactic used by many ecommerce retailers that can help build brand awareness and drive more potential customers to your ecommerce shop. 
There are a number of ways you can go about reaching out to bloggers and getting reviews of your products. To learn about a few different strategies, take a look at these resources:
10. Outsource busy work
If you're too busy running your business to focus on growth, then it's time to start outsourcing your busy work. You can decide on a combination of full-time employees, part-time employees, or contractors—the key is to hire people who can handle tasks with minimal supervision and guidance. If you hire people who need too much direction or training, you'll end up having even less time to focus on business growth than you did before. 
If you're doing all of the work yourself, consider outsourcing some or all of these tasks:
accounting/bookkeeping
emails
fulfillment and shipping
graphic design
photography
invoicing and customer care
When you're building a new business, it's tempting to want to stay as lean and scrappy as possible in order keep costs low. At some point however, you need to be prepared to hire extra help in order to scale and take your business to the next level.
11. Zero in on abandoned carts
Abandoned carts are a challenge every ecommerce shop owner deals with. To boost profits in 2017, consider investing an extra amount of time and resources into addressing abandoned carts. There are a number of ways you can do this, but here are two tactics to try first:
Tactic #1: Abandoned Cart Emails: If you have the email address of the visitor who was thinking about buying one of your products, send them follow-up emails if they end up abandoning their shopping carts before purchasing. In your email, you can drive them to purchase by offering them a discount or deal (like free shipping), or you can include urgency/scarcity statements that encourage them to buy now and not wait until later. Here are two examples, courtesy of Shopify: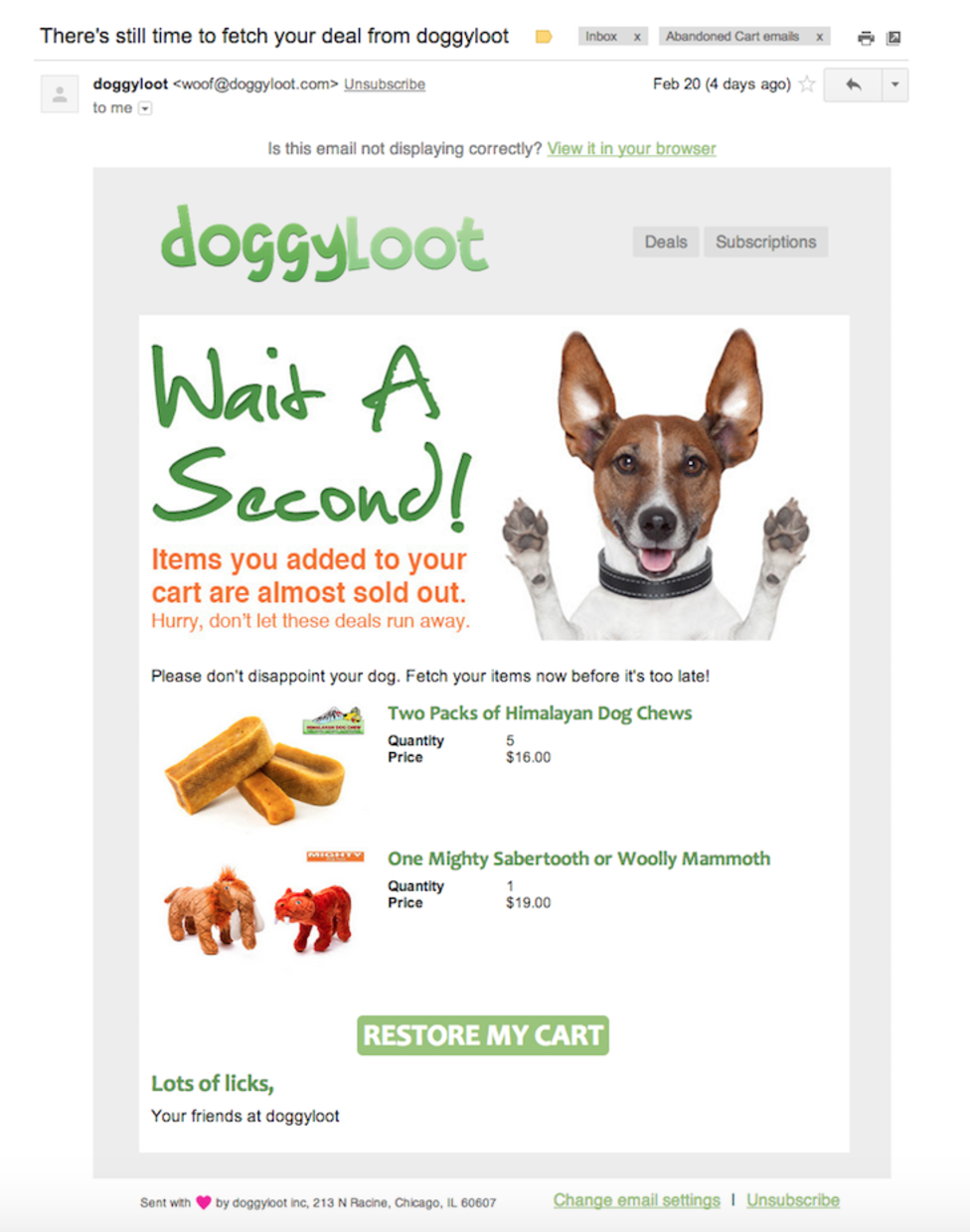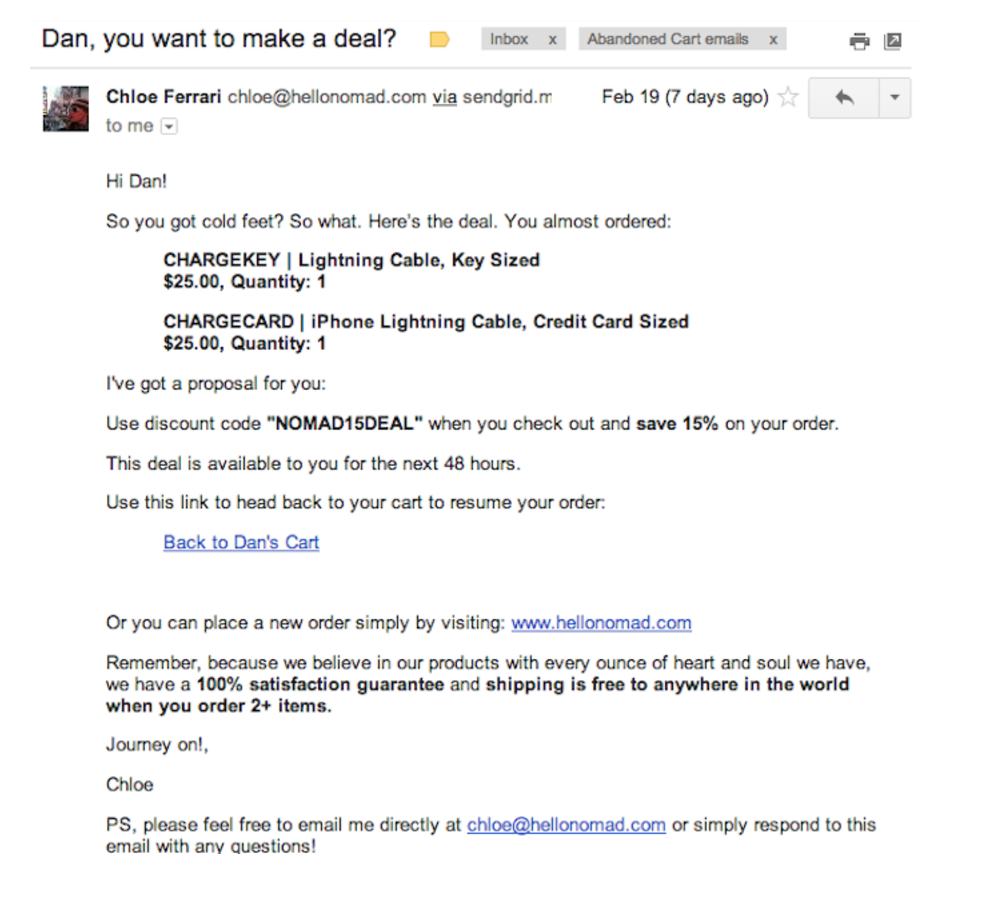 Tactic #2: Remarketing Campaigns: you can also set up retargeting campaigns so that your products will 'follow' your website visitors around the web as they explore other sites or spend time on Facebook. Your ads will continue to appear until your visitors complete their conversion (sale) on your site. To learn more about retargeting, explore this resource from Klientboost.
12. Launch a new product
This tip is short and sweet: if you want to boost profits next year, consider launching a new product. Find out what your customers love about your current products or what they think is missing. Use that information to create and launch a new product that can help you drive more exposure, traffic, and sales over the next 12 months. 
13. Enable your most loyal customers
I hit on this tip a bit earlier, but I think it's worth revisiting again. If you want to boost profits next year, enable your most loyal customers to do some selling for you. This can be done in a number of ways, such as:
driving more reviews and testimonials (as mentioned above)
launching a referral program that rewards customers for sending new business your way
sending free samples and products to loyal customers to share with their friends and family members
running social media contests that encourage your loyal customers you spread the word about your business and products
So how do you turn a one-time customer into a loyal brand and product advocate for your business? Read the tips offered in this guide from Sweet Tooth Rewards.
14. Create a winning customer care team
The final tip for boosting profits for your ecommerce business is to build a winning customer care team. If you want your website visitors to buy from you, you need a team that can help you address objections, answer questions, and develop relationships with potential customers. If you're doing it all yourself right now, think about hiring someone to help you in 2017. Hire someone with strong communication skills and writing abilities. You can also look for someone with a sales background. 
Want to know what other skills ideal candidates should possess? Read this blog post from Help Scout. In it, author Gregory Ciotti outlines the top 15 customer service skills every employee needs.
What else will you be focusing on to boost ecommerce profits next year? Tell me in the comments below!