Content marketing is the cool kid on the block lately. Maybe you've read a few articles about it already and decided that you just don't have the time to get started with this – especially if you want to keep sales up this quarter.
But hopefully, you've already started your blog and are writing some good, high quality content that will bring qualified traffic to your site (and increase your sales).
If you have (which is great!), then you're probably frustrated. Content marketing wasn't the holy grail, magic vitamin that all the articles suggested it would be.
That's because you only have half of the solution – you aren't spending any time doing content promotion, so your content marketing strategy likely leaves you with just a handful of shares from your employees and their parents. You have to get the snowball rolling.
"If you build it, they will NOT come – because no one knows it exists."

Step 1: Write amazing content
This is the hardest step. If you're writing boring content that provides no value – not only will people not want to read it, they won't want to share it – and Google won't recommend it. So stop doing that – you're wasting your time.
Instead, take the time to figure out what your audience cares about, then write something that will knock their socks off. One of the easiest ways to start doing this is to figure out what articles your audience actually cares about and what they really like to share.
The tool that I use to do a lot of this research is BuzzSumo. When I log in, I go to the "Top Content" tab and search for a website that I think has content that my audience finds relevant.
If your audience is made up of ecommerce store owners and professionals, you might want to research what the Sellbrite Ecommerce Blog is doing and what articles their audience is engaging with the most. Here's a screenshot I took of the top articles on the Sellbrite blog: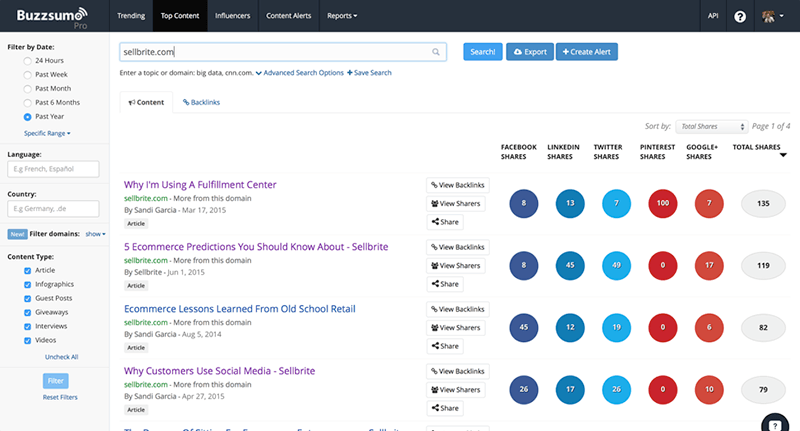 You can see that one of my previous articles, 5 Ecommerce Predictions You Should Know About, is the second most shared article – which means we struck a chord. Sandi Garcia got some crazy shares on Pinterest from her article titled, Why I'm Using a Fulfillment Center – the audience cares a lot about this piece. Sandi's article is still #1 – but look out Sandi – I'm coming for you! 😉
Use this to research what topics you should be writing about – and then, do it better. Read the article and write one that's even better, with more screenshots, more information, better links, and put that amazing content on your site.
Step 2: Promote it to your audience
You just spent a few hours doing research, a couple more writing something authoritative, and then you just let that hard work sit there without telling anyone. Be a 2 year old. I have a 2 year old that's potty training – and every time she goes on the potty chair, she runs to everyone she can and tells them ecstatically that she went potty. Be proud of your work and tell everyone you can about your new article.
It starts with you actually having a social media presence. Not just your company, but you. Share your article under your company's social media accounts as well as your own. One of the easiest ways to manage this is using a tool called Buffer. You can see here that when I create something to share, like my SEO "Food" Pyramid, I can instantly add it to all of my social media accounts at one time – and buffer them to make sure they get shared at times that make sense for that social channel.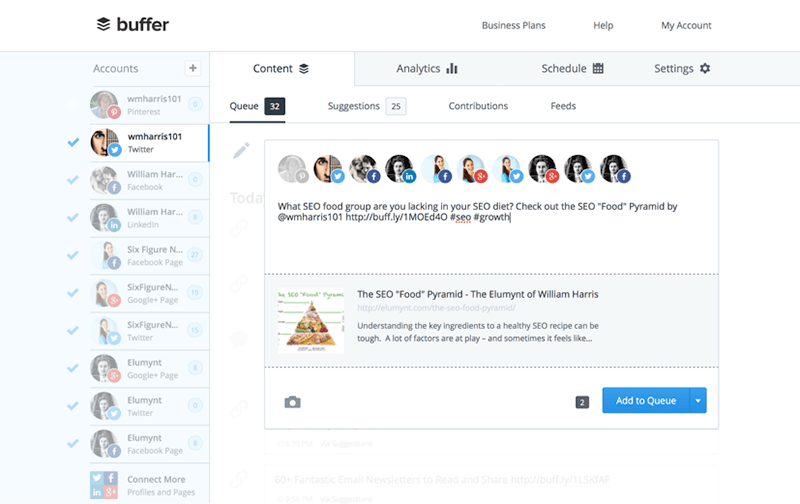 You can connect your personal accounts as well as your business accounts and set up a schedule that determines what time you share things on each of those channels. Now when you add something to the channel – it will share at the next optimized schedule time.
But that's only part of the deal. Who else can you share it with? Do you have friends in the industry that you can ask to share it as well? Did your last post include some tools or some experts that you mentioned? If so, make sure you let them know.
Step 3: Promote it to strategic individuals and companies.
The old school method is to keep a spreadsheet of everyone you mentioned in your article, with their email, twitter handle, etc – and then manually reach out to them to tell them you mentioned them in your blog. This is still an absolutely great way to do it – and make sure that it's genuine. But eventually you're going to need to save a few hours and find a way to automate that. Enter ContentMarketer.io.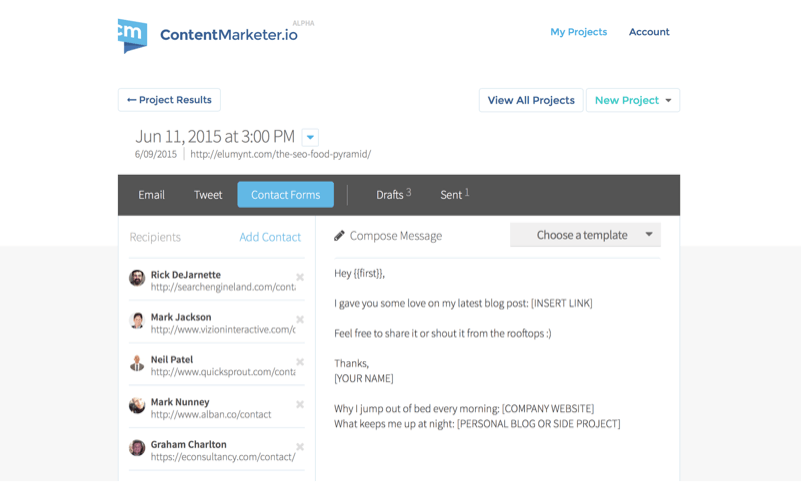 All you have to do is enter the URL of the blog post you just launched and it pulls in the email address, Twitter profile and contact form of anyone that you mentioned in the article. So cool!
I was actually skeptical at first – but when I ran this test, I was blown away with the accuracy of the results, especially the email addresses.
Then, all you have to do is craft a great message to send out to everyone, letting them know you just mentioned them in your blog. The goal here is to sound as genuine as possible. You can select from a whole bunch of precrafted templates for email, contact form, or even tweets – then just edit them to include your link, and anything else you want to use to differentiate yourself.
It even has personalization so it will include their name when you send it. It's still in Alpha right now, but you can send a request to get early access and see if you can get in as soon as possible.
Step 4: Pay to play
After you've done the above steps – you want to really get that snowball moving. It doesn't cost a lot of money – but paying to promote your content can really go a long way.
A lot of this will depend on your audience. Facebook and Twitter are my favorite places to promote content. It's pretty straightforward once you get the hang of your first one. I've also had great success with using Zemanta, StumbleUpon (paid and free), Youtube, and Outbrain. You would have to test them out yourself to see what works best for you.
Facebook ads: Ezra Firestone and Shopify do a great job of helping you get started.
Twitter ads: Chuck Frey and the Content Marketing Institute make Twitter ads look easy.
Zemanta: Neil Patel at Quicksprout outlines the best way to use Zemanta.
StumbleUpon: Ann Smarty and the Internet Marketing Ninjas explain this in detail.
YouTube: Jason Rich and Entrepreneur give you 12 great ideas.
Outbrain: Audrey Bloemer and Drew Meyer from Seer Interactive wrote a great post about it on Moz.
Step 5: Collect the email address
You just spent a lot of time researching, writing, and promoting your post – and then you paid money to get people to come to it – so make sure you don't walk away empty handed.
Collect their email address. This is going to be key for future promotion. Once you have a good handful of email addresses of people that enjoy your content, you will start getting a bunch of shares automatically every time your article goes out – which makes the rest of your promotion that much easier.
On my website, I use HelloBar at the top – which is free. You can change the text to say whatever you want and even merge it with your current ESP (email service provider) so that you have all your contacts in the same place.
Also – don't forget about the email pop-up. Most ESPs have some form of pop-up that they can do, or you can find a good tool for your blog platform. You may think pop-ups can be annoying, but the research on their effectiveness is overwhelmingly positive, and therefore worth it.
Final Thoughts – Don't let your content collect dust!
Continue to promote your content over the next few days, weeks, months, and even years. If the content get's old, you can update it, or repurpose the blog post as a video, or a slide presentation, or an infographic or something else that makes sense for your audience.
How do you know how frequently to promote it? You should follow this guide from CoSchedule. For things like Twitter, you can promote it several times a day, but for Facebook, you may want to wait a month or more before you promote it again. The guide walks you through the optimal frequencies for each social media channel. They even have a great tool you can use to automate this a bit more and make it really easy to share everything at the optimal time.
Time is precious – so make the most of it. Use these tools to automate your content promotion and finally start getting the results you want from your content marketing strategy.
Have other tools that you use to promote your content? Tell me about them in the comments below!