When Elena Castaneda started her business, Bling Jewelry, in 2008, she dreamed of expanding her venture outside of her one-bedroom New York City apartment, but she never expected her products would one day reach consumers across the globe.

However, after her success selling on Amazon domestically, Castaneda began experimenting with Amazon Global Selling. She started by making her products available in the United Kingdom in 2010. By 2017, Bling Jewelry was reaching customers in Canada, Mexico, China, and India. And business was booming.

"We were able to double our sales selling internationally," she says. "We were able to create great brand awareness selling internationally on Amazon, and without that platform, we probably would've never, ever even tried international sales."

While taking your products to the international market has its challenges, it can also bring great success, as in Castaneda's experience.

Because of its global reach, Amazon is a popular choice for ecommerce sellers looking to tap into the world market. But before you take your own business across borders, here's everything you need to know about selling internationally on Amazon.
What Is Amazon Global Selling?
Amazon Global Selling allows Amazon sellers to list and sell their products in any of the retail giant's marketplaces in North America, Europe, Asia-Pacific, and the Middle East.

When a customer purchases a product from Amazon's Global Store, they do so through another country's Amazon website. For example, when a shopper in Canada purchases a ring from Bling Jewelry on Amazon, they do so through Amazon.co.uk.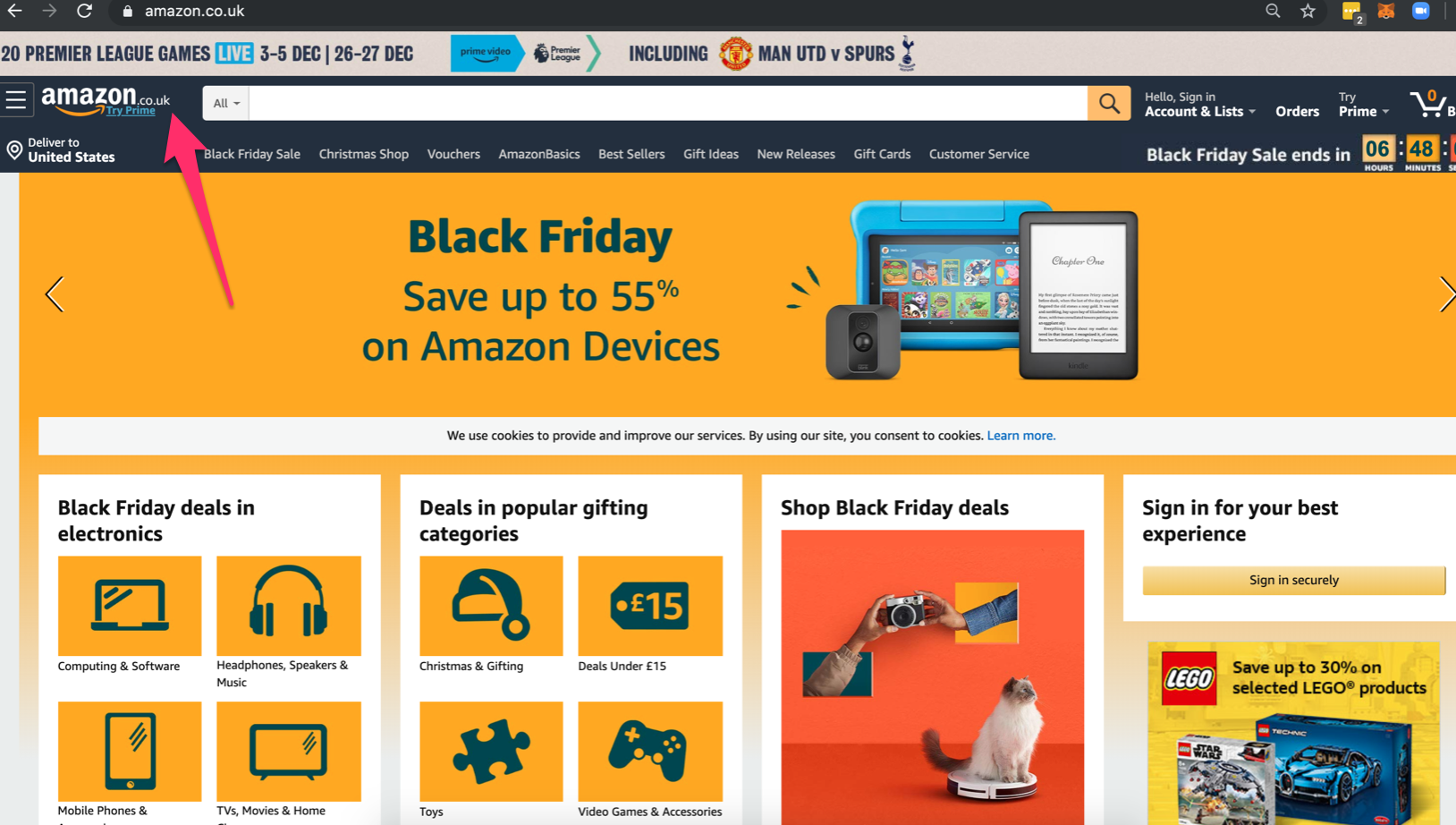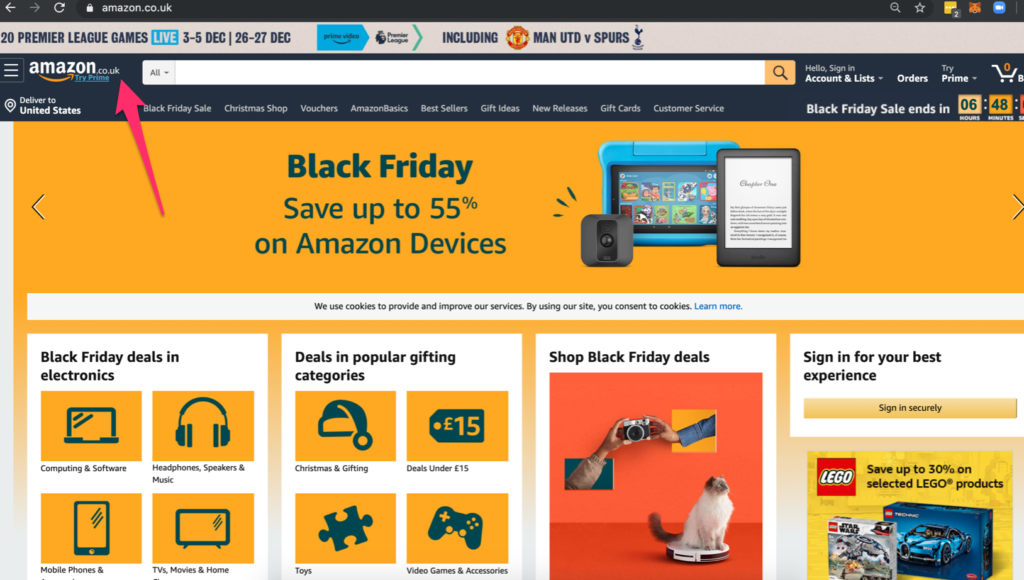 The Amazon Global Store simplifies customers' international shopping experience in several ways. It converts prices into local currency. Its prices include the cost of the item + import duties, taxes, and any other fees. And shoppers can select a variety of shipping options, as well as track and receive notifications about orders.

While Amazon has customers in more than 180 countries, it has 14 marketplaces where Amazon global sellers can list their products.

Europe
Asia-Pacific
Americas
Middle East
The Pros and Cons of Amazon Global Selling
Selling your products on Amazon outside of the United States has numerous advantages and disadvantages sellers have to consider before expanding where they sell.

Of course, one of the major benefits of selling in more countries is the opportunity to increase your sales like Castaneda did. However, she acknowledges that she encountered some difficulties as she expanded her business globally.

"There are many challenges selling internationally," she says. "You're dealing with different currencies; you're dealing with different languages; you're dealing with returns in different countries. You're dealing with shipping and logistics issues. And then you have your customer service issues. So there's a lot that you really have to think about before you jump into these markets."

Pros
With all the benefits of selling internationally on Amazon, it may seem like a no-brainer, but there are challenges for sellers as well.
Cons

The Cost of Selling Internationally on Amazon
There are a variety of fees associated with selling on Amazon, and if you're already an Amazon seller, you're likely already familiar with most of them. These include your selling plan, referral fees, and ad fees, which you can take an in-depth look at here, as well as Fulfillment By Amazon (FBA) fees.

As a U.S. seller, you can choose between two selling plans — Professional or Individual — and the option you select depends on your number of products and expected sales volume, as explained in the chart below.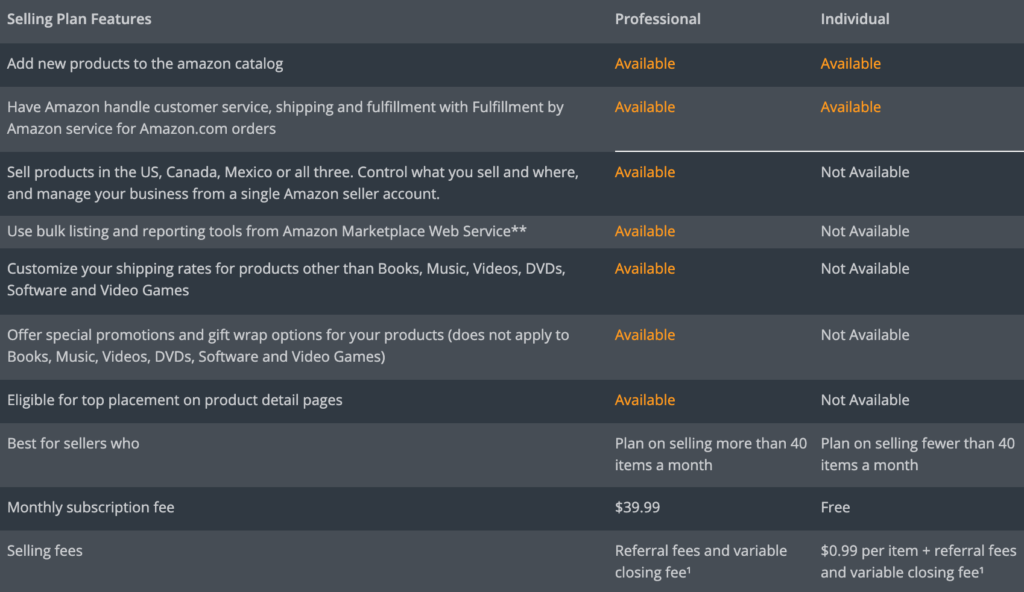 However, Amazon sellers must also pay a monthly fee for every active seller account they have in another country, and these vary by marketplace. For example, if you want to sell in Europe, you'll have a similar option between two seller plans: Sell a little, Amazon's Basic plan, or Sell a lot, Amazon's Professional plan, as outlined below.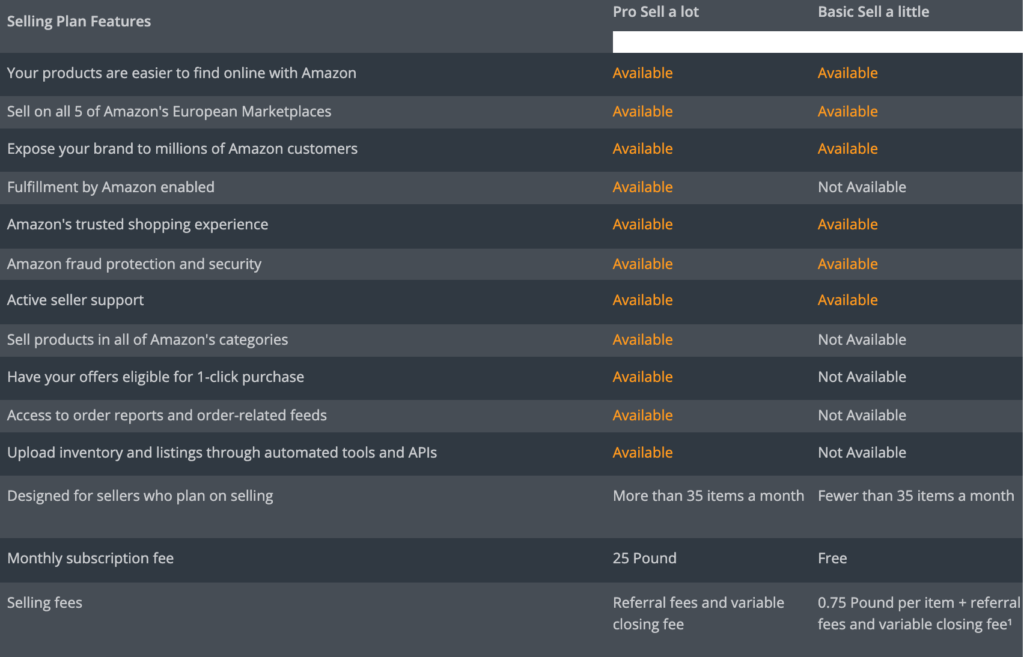 As you can see, there are several similarities between the Individual and Pro seller plans in America and the EU. However, there are also important differences, such as the number of items you expect to sell and the subscription fee itself.

You'll also encounter different referral fees and FBA fees when selling in other Amazon marketplaces.

For a more detailed look at fees by marketplace, click here.
4 Steps to Sell Internationally on Amazon
Ready to expand your products' reach by tapping into other Amazon marketplaces? Here's how to get started.
1. Decide What You'll Sell and Where
The first thing you'll need to do is choose which Amazon marketplaces you'll sell in and which products you'll list. There are several factors to consider, but you can use the following questions to guide your decision.
The big takeaway here? "Do your homework," says Castaneda. "Pick your best-selling products. Research what's selling on Amazon in international countries and see if your product is competitive. Then, go ahead and list, but list slowly, test the logistics."
2. Register to Sell and List Your Products
Before you can begin listing and selling products in other Amazon marketplaces, you must first set up Amazon accounts for the ones in which you want to sell. For example, if you're already selling in America and want to sell in the United Kingdom, you'll need to create a new seller account on Amazon.co.uk.

Each marketplace has specific requirements for registration as well. Whereas in North American marketplaces, you'll need to provide a credit card, phone number, and tax information; if you're registering in a European marketplace, you'll also have to register for a value-added tax (VAT) identification number and provide that information as well.

Next, you'll need to set up your payment information. Because you'll be dealing with various types of currency, Amazon recommends using its currency converter.

Once this step is completed, you'll be able to begin listing products to sell in the new marketplace. Just as when listing a product for sale in the United States, you'll need the following to create an Amazon listing in an international marketplace: product identification (such as a UPC or ISBN), product title, product description, product images (1,000×1,000 pixels is recommended), and keywords to help shoppers find your products.
3. Select Your Fulfillment Method
When it comes to actually packaging and shipping orders to international customers, you have two choices: fulfillment on your own or Fulfillment By Amazon.

If you opt to fulfill orders yourself, you'll prepare each order you receive for shipment and send it via a carrier that ships internationally. It's also up to you to offer an excellent customer experience, which means that you're responsible for ensuring that customers don't experience delays or extra taxes and duties at customs. You also must provide the customer with tracking information and ensure that all shipping expectations are met.
If you use FBA, you'll import your products to the country you're selling in, and they'll be stored in a local Amazon fulfillment center. Using FBA allows you to speed up the shipping time, making your products more competitive in the marketplace.
4. Manage Your International Business
Now that you're selling internationally on Amazon, you'll need to provide customer service and support just as you do domestically. However, this also differs depending on whether you use FBA.

For non-FBA users, you'll have to provide customer support in a timely manner and in the local language, which can be a challenge if you're located in a different time zone and don't have the language skills to communicate effectively. You may have to hire a local logistics provider or translator to assist. Also, when handling returns, Amazon requires that you provide customers with a local return address or offer free shipping for returns.

If you use FBA, Amazon will provide 24-hour customer support for you in the local language and will handle your returns, so you won't have to obtain a local address.
Take the First Step to Going Global
Now that you understand Amazon Global Selling and how you can get your products in front of consumers across the world, it's time to get started.

When you sell internationally on Amazon, you have countless options of what to sell and where to sell, so take things slow just like Castaneda did with Bling Jewelry. Do your market research to determine which market you should enter first and which of your products are likely to perform well.

Once you've established a presence in a new country and are comfortable managing your sales, returns, and customer service, then you'll be ready to branch out into another international market.