Returns are inevitable in e-commerce, and eBay is no different.

Buyers can request eBay returns for a variety of reasons, and even if you're meticulous with your listings and careful when you package items, mistakes happen. Sometimes the wrong item gets shipped. Sometimes items become damaged in transit. Sometimes you may include the wrong description or product photo in a listing. In other words, if you're an eBay seller, the odds are good that you'll have to deal with returns at some point.

But while it's important to understand how to deal with eBay return requests promptly and professionally, it's even more useful to learn how you can help prevent returns from happening in the first place.

Read on for more information about eBay returns and how you can reduce the number you receive.
Why eBay Returns Can Negatively Impact Your Business
Even when you're upfront about your return policy and even if you provide excellent customer service, a return can still have a negative impact on your business. Here's why eBay returns can potentially be harmful:
You could lose a customer. A poor return policy, bad customer service, or any other negative interaction with you or your eBay store could result in a customer refusing to do business with you in the future.
You could receive negative feedback. The feedback you receive from eBay customers is important because it appears in your seller profile and tells potential buyers what it's like to do business with you. If you have a positive rating, it helps you establish trust among buyers. However, a negative rating may discourage customers from buying from you.
It could affect your eBay seller level — and more. eBay has three seller levels: Top Rated, Above Standard, and Below Standard. If you have issues with unresolved eBay returns, your status may be lowered, which won't only negatively affect your reputation, but could also limit your ability to sell. If a return dispute with a customer escalates and eBay has to intervene, it could also result in a defect, which will affect your Service Metrics.
It costs you time. Dealing with returns from an unsatisfied customer doesn't only mean time lost communicating with the buyer and processing the return, but also time you'll have to spend restocking, relisting, reselling and reshipping the item.
It costs you money. Even if your return policy places the burden of return shipping costs on the seller, eBay returns can cost you, and they can add up over time, which is why it's important to take returns into account when determining the profitability of your eBay store.

Why Buyers Return Items
No two buyers are alike, but here are a few common reasons that eBay buyers return items.
Inaccurate item descriptions: This is a quick ticket to a return, as the buyer will be dissatisfied when a product fails to meet expectations. When writing descriptions, be clear and concise and include all relevant information, such as specs, sizes, brand names, colors, etc. If there's any damage to the item, make note of this near the top of the listing so that it's easy to see.
Buyers don't read descriptions carefully: This can be closely related to the previous issue, especially if you're using photos and listing information from the eBay catalog. This catalog allows you to enter a UPC, ISBN, part number or product name and will automatically generate product information for you. For example, by entering the ISBN for "Harry Potter and the Sorcerer's Stone," eBay fills in many of the product details for you and even includes a product image.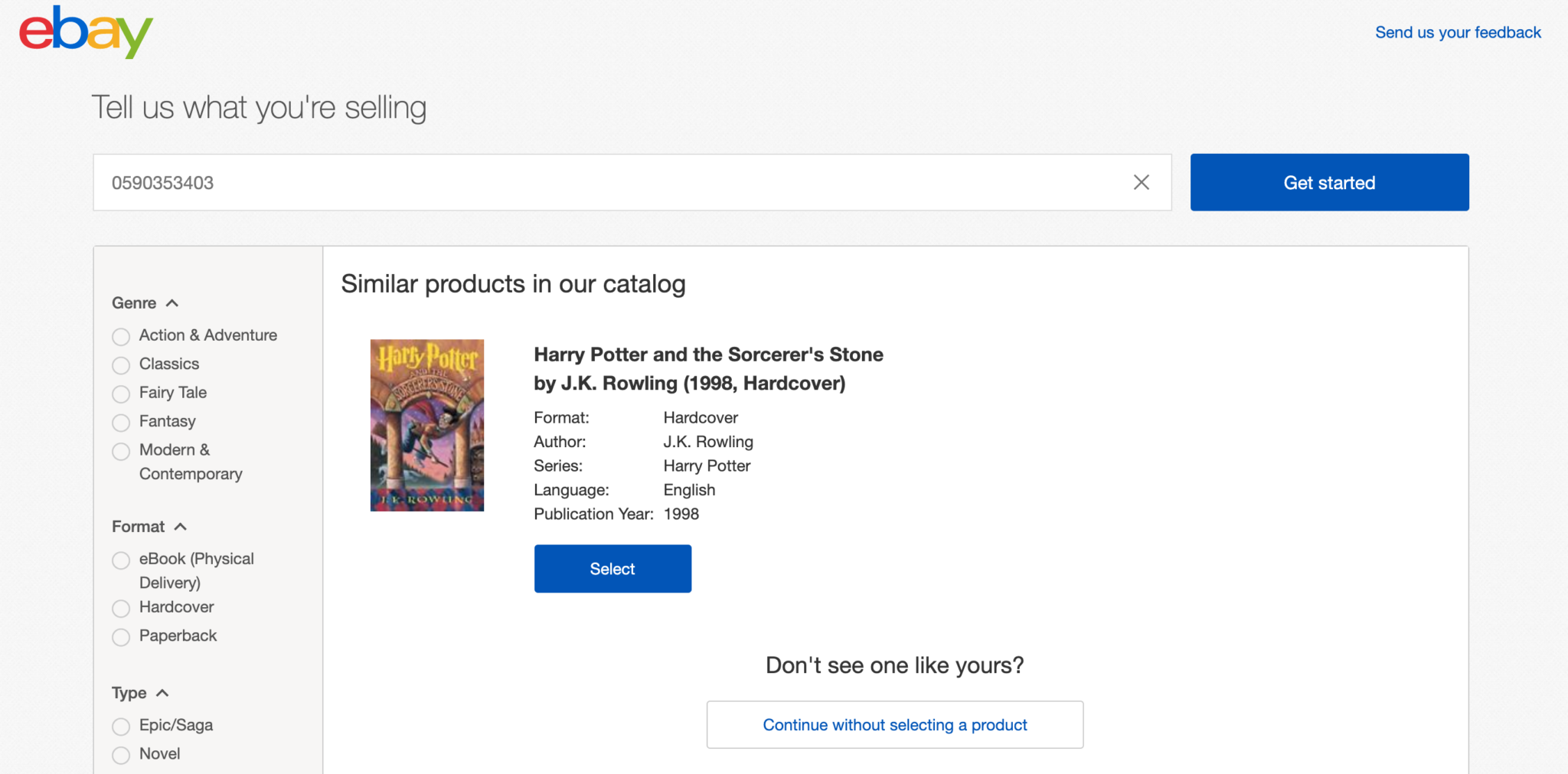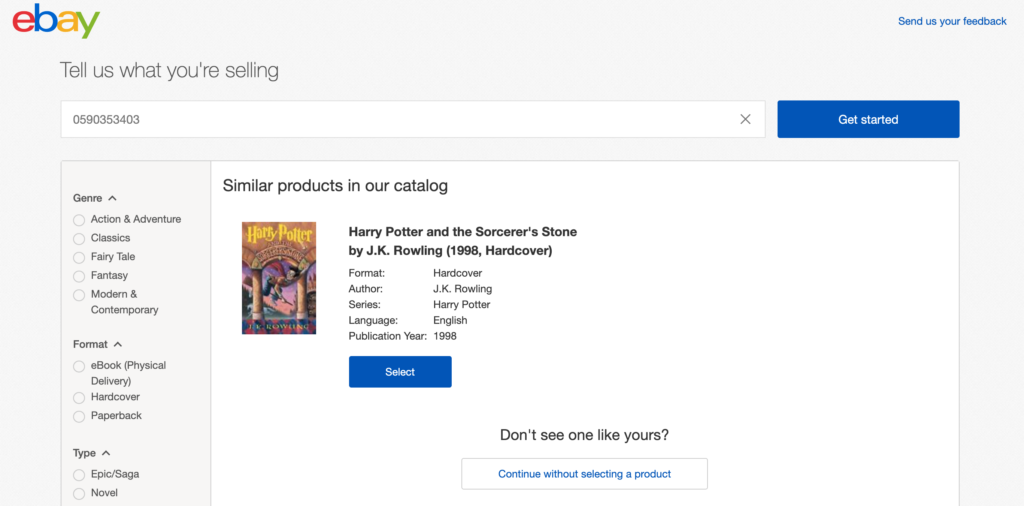 However, catalog entries are intended to provide general information about an item — not the exact item you're selling. While you always have to specify an item's condition in a listing, buyers may simply skim a description and easily overlook important details.
Buyer's remorse: This happens in retail all the time, and it happens on eBay, too. Sometimes people make a purchase they simply regret and want to return the item.
Scams. It's an unfortunate truth of e-commerce: Sometimes buyers aren't legitimate and are simply looking to scam sellers.
7 Tips to Reduce eBay Returns
While you can't prevent eBay returns entirely, there are some best practices you can follow to reduce their likelihood.
1. Ensure Listings Are Accurate.
Few things sour a customer like getting an item that isn't as described in the listing. In fact, 45% of e-commerce returns occur because the delivered item is different from its listing or because it was incorrect altogether.

Here are some tips to help make your eBay listings accurate, complete, and easy to digest:
Use bullets
List the most important information about an item first
Include details about the item, such as brand, size, color, etc.
Include identifying information such as UPCs or ISBNs
Note any damages to the item, such as rips, tears, or chipped paint
2. Use High-Quality Photos.
Including high-quality photos in your eBay listings won't only inspire confidence in buyers because they'll be able to clearly see what they're purchasing, but it'll also make your listing stand out.

You can include up to twelve photos of the item you're selling, and eBay recommends using images that are 1600×1600 pixels. To avoid any confusion among potential buyers — and make your listing look legitimate — it's best to take photos of the specific item you're selling yourself instead of relying on stock photos or eBay catalog images. Here are a few things to keep in mind when taking product photos:
Photograph products in front of a white or neutral background in an area with good lighting.
Take pictures from various angles, so buyers can see every aspect of the product.
Photograph the product next to other items to provide buyers with a sense of scale.
Take close-ups of any flaws. If a product has chipped paint, a tear, or a crack, be upfront about this fact in both your photos and your item description.
You don't have to use a fancy camera to take quality product photos — your smartphone camera is all you need. Learn more about taking high-quality mobile photos in this article from Curalate.
3. Package Items Carefully.
Twenty percent of e-commerce returns occur because an item arrives damaged or broken, and while you're unable to prevent a package from being dropped or mishandled, you can take precautions when packaging and shipping items to help avoid damages.

The cost of boxes, bubble wrap, packing peanuts, and other packaging materials can add up, but you can package products in creative and cost-effective ways by using materials you already have at home — such as newspaper, egg cartons, or plastic bags — to securely wrap an item and keep it from moving around during shipping. You can also reuse packaging supplies from orders you receive.

And while USPS flat-rate envelopes are a popular shipping choice, be careful not to overstuff envelopes just to save a little cash. Envelopes can split and contents can be squished or damaged. Avoid using these for fragile items especially, and opt for a box instead.

Here are a few more tips for packing your items safely:
Select a box that's slightly larger than the item, so you can cushion it packing material.
Seal your package on all sides with packaging tape. Don't use gift wrap tape or masking tape, and don't attempt to seal a package using only string or twine.
Reinforce seams, edges, and any other openings with packaging tape.
If you're reusing a box, cover up or cross out any previous addresses or UPC codes.
Remember that how you package an item also reflects on your business, so choose materials carefully and pack items neatly and safely.
4. Ship items quickly.
With the popularity of Amazon Prime's two-day shipping, online shoppers are accustomed to receiving orders promptly. While you don't have to match Amazon's shipping policy, getting sold items packaged and on the way to buyers quickly is a great way to not only keep your customers happy, but also to avoid returns. Customers may make a purchase for a time-sensitive event, and if they don't receive the item on time, they may simply return it. So get your orders processed and shipped quickly and be sure to provide customers with tracking information as soon as possible.
5. Avoid Selling Knock-Off Products.
The Internet is full of scams and impostor products, and selling knock-off products on eBay will quickly lead to returns — and negative feedback from buyers. If you're reselling products, make sure you're using a trusted supplier who's providing you with authentic items.

If you're intentionally selling a knock-off item, be sure to note this in your product description. For example, in the eBay listing below, the seller makes it clear that the item is a Gucci knock-off purse.


6. Take Stock of Regularly Returned Items.
You may notice that certain items are returned more often than others. If this is the case, talk to customers and try to determine the reason for the return. The product may be of poor quality or you could've received a shipment of faulty goods from your supplier that you need to return yourself.
7. Offer a Confidence-Boosting Return Policy.
eBay gives sellers a discount on sales fees if they offer a return window of 30 days or more. Offering such a lengthy return window will inspire confidence in buyers and entice them to buy, and it'll help you secure eBay's coveted top-seller spot.

Read on to learn more about creating an eBay return policy that's fair to both you and your customers.

eBay Return Policy Considerations
The steps outlined above can help you reduce the number of legitimate eBay returns you get. However, to even sell on eBay, you must indicate whether you accept returns or not.

Also, keep in mind that even if you opt not to accept returns, if a buyer submits a return request because an item is damaged, because it doesn't match the listing description, or because they received the incorrect item, you'll still have to accept their return request.

Here are a few other things to consider when establishing your eBay return policy:
Free Returns
Offering free returns doesn't only make your listings more appealing to buyers, but eBay will also provide you with a 10% discount on sales fees if you have at least a 30-day return window.

As mentioned before, offering returns inspires confidence in potential buyers, increases the likelihood they'll buy from you, and helps you reach top-seller status. And offering free returns makes your listing that much more enticing.

In the listing below, the seller has achieved a Top Rated Plus status and offers free returns, two indicators that this is a trusted seller.


eBay's top-seller status doesn't only help you appear to be a more trusted seller, but it also means that eBay will prioritize your listings and help them get noticed by potential customers.
Return costs and time periods
If you accept returns, you must also outline under which conditions you'll accept returns, such as the time period that they will be accepted and whether the buyer or seller will cover return shipping charges.

Offering free returns will give buyers more confidence in your listing; however, it can also hurt your bottom line.
Insurance
Some fraudulent buyers will purchase an item on eBay and later claim it was broken, swapping out your item with a broken one and mailing it back to you. Avoid falling prey to this by requiring that buyers purchase insurance on an item, especially if it's a high-dollar one like a phone or laptop.
Automate the Returns Process With eBay Returns Rules
You can handle return requests and issue refunds to customers more efficiently by setting up rules to automatically accept returns or send refunds. This will save you time by streamlining the return/refund process, and it also enables you to provide excellent customer service.

And customer service is important — 80% of consumers say they prioritize the customer experience just as highly as the products they purchase, according to Salesforce. To learn more about providing top-notch service for your buyers, check out this article from Bread.

While you probably won't want to automate every return or refund request, eBay returns rules allow you to identify the criteria that must be met in order for automated returns and refunds.
eBay Returns Rules Policies
When setting up your eBay returns rules, you can select one of the following return policies:
No returns
30-day buyer-paid returns
30-day free returns
60-day buyer-paid returns
60-day free returns
However, these policies can differ in some specific product categories. You can offer buyers only a 14-day return policy for products in these categories:
Collectibles & Art
Digital Cameras
Camera Drones
Camera Lenses
Medical & Mobility
How to Set Up Returns Rules
To begin setting up returns rules for your eBay store, click "My eBay" in the top right-hand corner of your eBay homepage, as illustrated below.



This will take you to your "My eBay: Summary" page where you'll select "Account."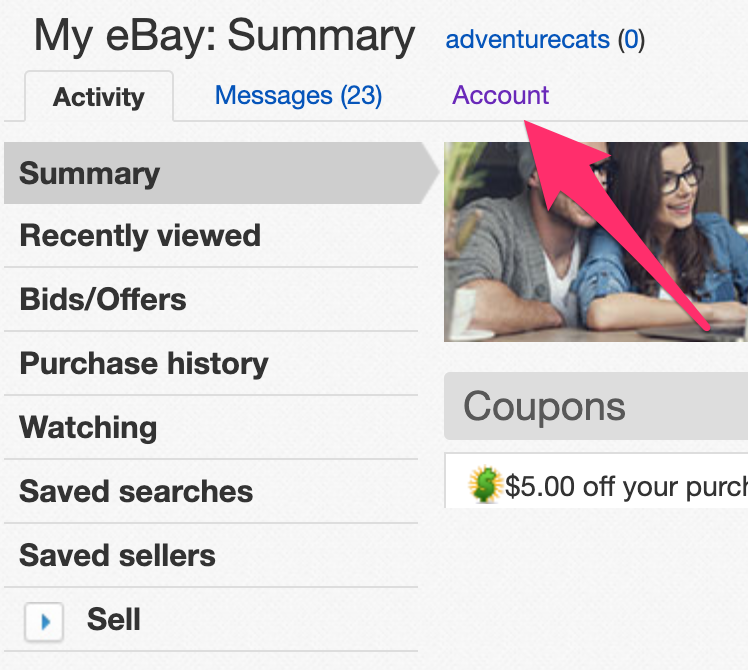 On this next page, select "Site Preferences."


Scroll down this page until you see Return preferences and click "Edit."


First, you'll be prompted to select the criteria required to automatically send a refund when a buyer requests one.
You can opt to let buyers keep the item and automatically refund them if the total refund amount is less than a specified amount. In the example below, the total refund amount is for only $5 or less.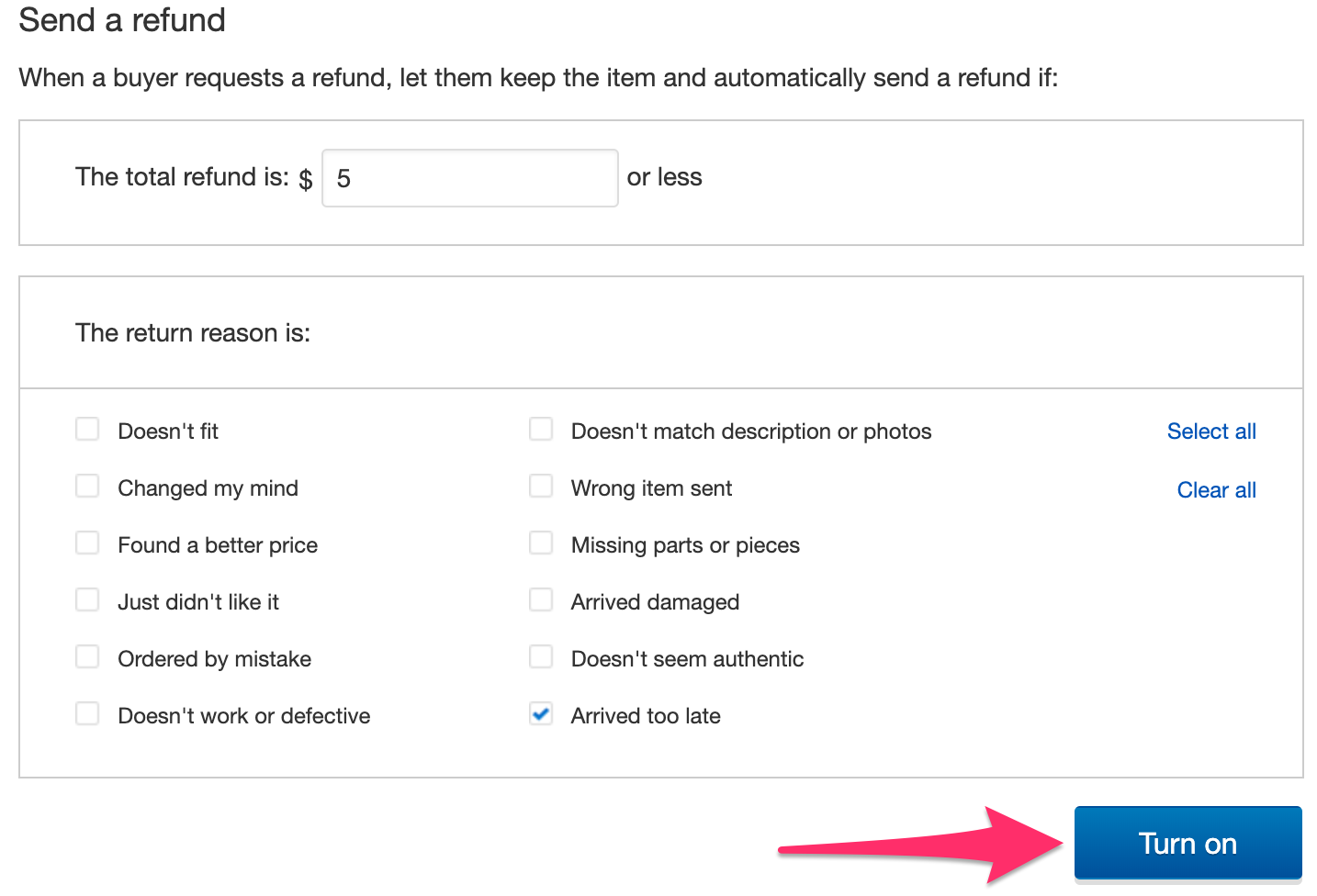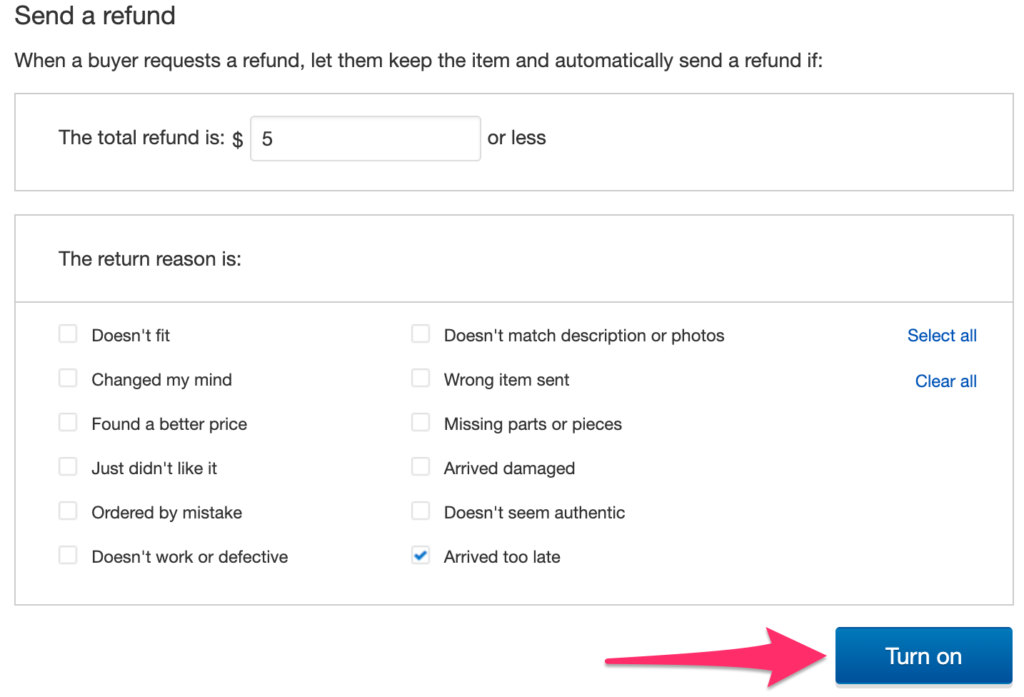 You can also select the return reasons when this rule will apply. For example, above a refund of $5 or less will be automatically issued if the item arrived too late.

Next, you can repeat this process to specify under what circumstances you'll automatically approve a return. Again, you can indicate the amount, as well as the reasons when the rule will apply.

In the example below, a buyer's return request will be automatically approved if the total refund amount is $20 or less and the item either arrived too late or arrived damaged.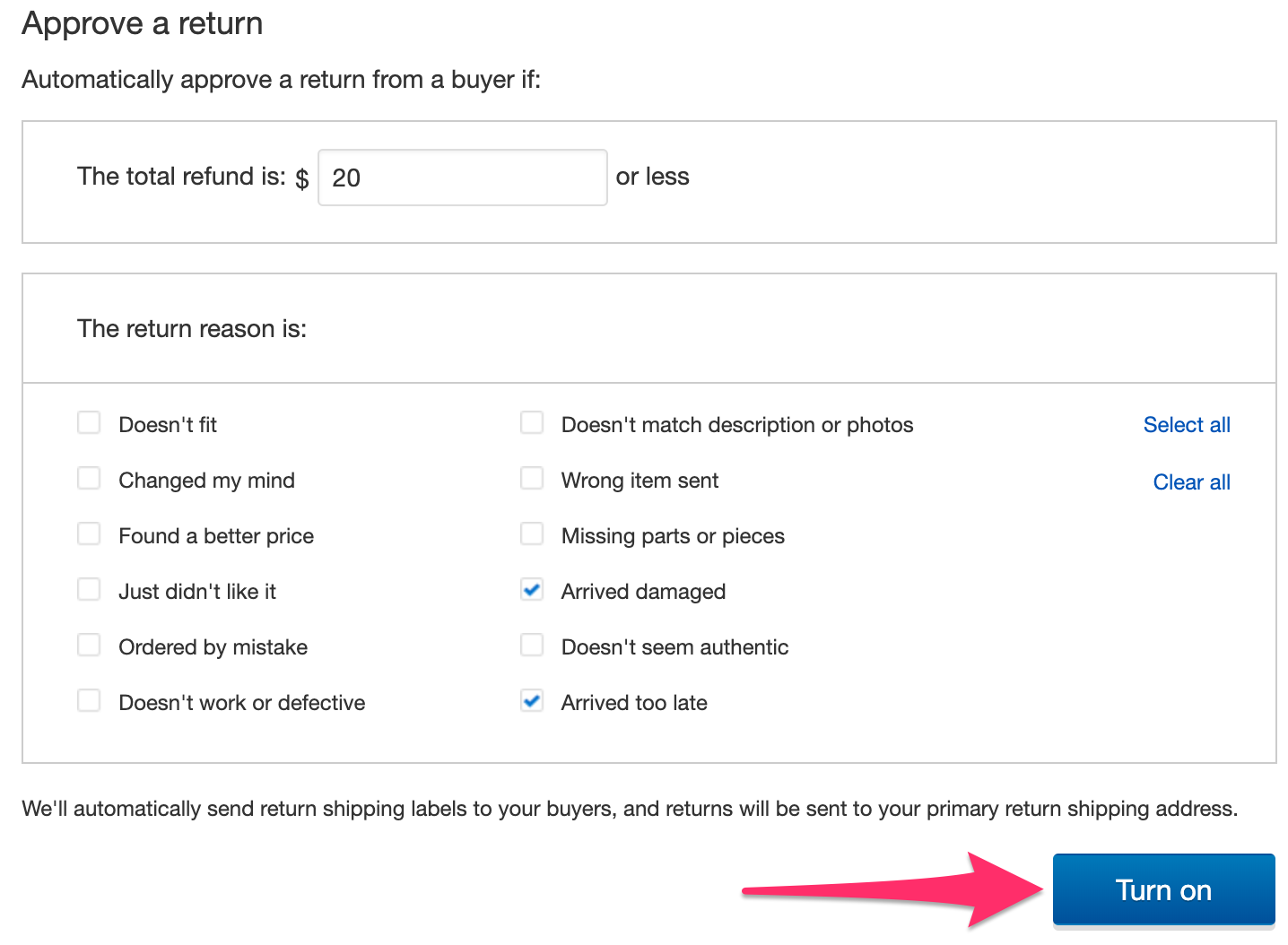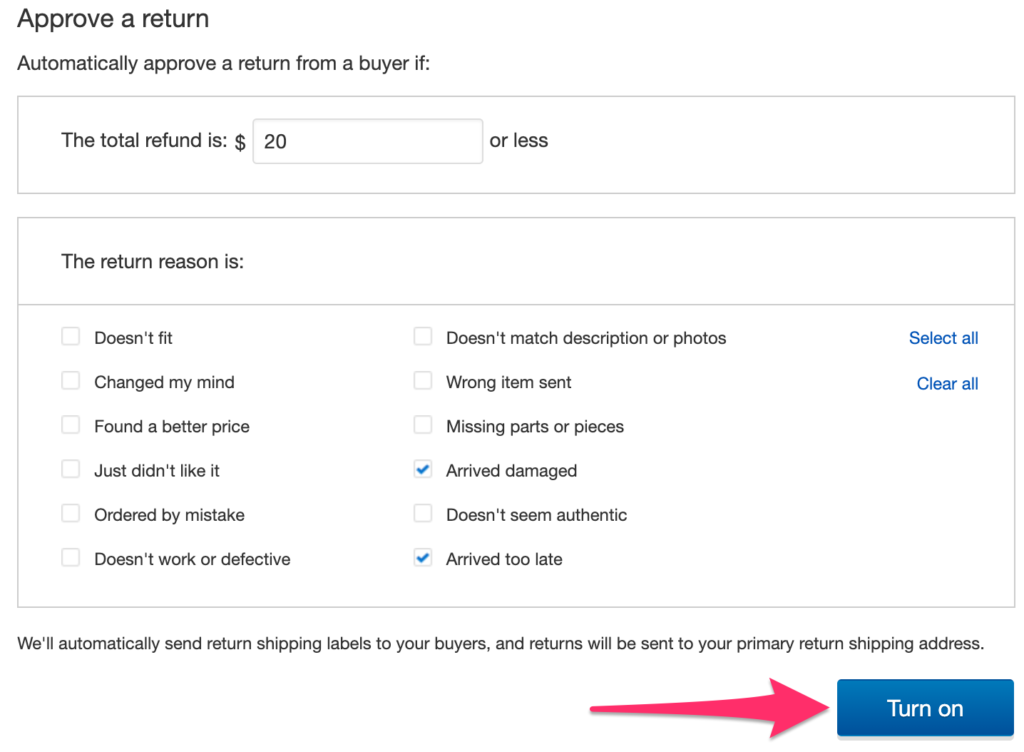 Keep in mind that when you set up returns rules, they'll automatically apply to all future return/refund requests. However, these rules won't apply to any returns or refunds that are already in progress.
Turning Your eBay Returns Around
Your eBay profile is your entire brand when you're a seller, and it can truly make or break your eBay-selling success. So to protect your brand and your business — and provide buyers with top-notch service — take extra care with your listings, respond to customer messages promptly, and have an eBay return policy in place.

While these things take time, it'll pay off in the long run, enabling your positive feedback to grow and resulting in more sales overall.