Eighty-two percent of Etsy sellers say they want to scale their businesses. A reliable way to do so? Selling Etsy patterns.

Etsy patterns are digital templates for creating crafts. You can sell many categories of patterns on Etsy, and each comes with its unique audience. You don't have to worry about shipping, inventory management, delivery mix-ups, and product malfunctions with patterns. Patterns are also a good gateway into selling on Etsy, thanks to increased interest in crafting due to the COVID-19 pandemic.

While this business model should be smooth sailing once you've set up your patterns, getting started does take a bit of preliminary work. Follow these steps to build a solid foundation for your pattern-selling business.
Do your market research
To start selling Etsy patterns, learn about the different pattern types on the marketplace. While Etsy doesn't have a specific pattern categorization system, they aren't difficult to find. A search for the keyword "patterns" on the Etsy platform will reveal different listings within these categories:
Crochet
Sewing
Embroidery
Knitting
Patterns are classified as digital downloads on Etsy. Along with learning about this categorization, perform market research to understand who will be buying your products and why they would. Take a look at what other pattern sellers are doing.

To conduct competitive analysis, consider using a platform like CraftCount. The platform allows you to search for Etsy sellers according to category and it has one specifically for pattern sellers.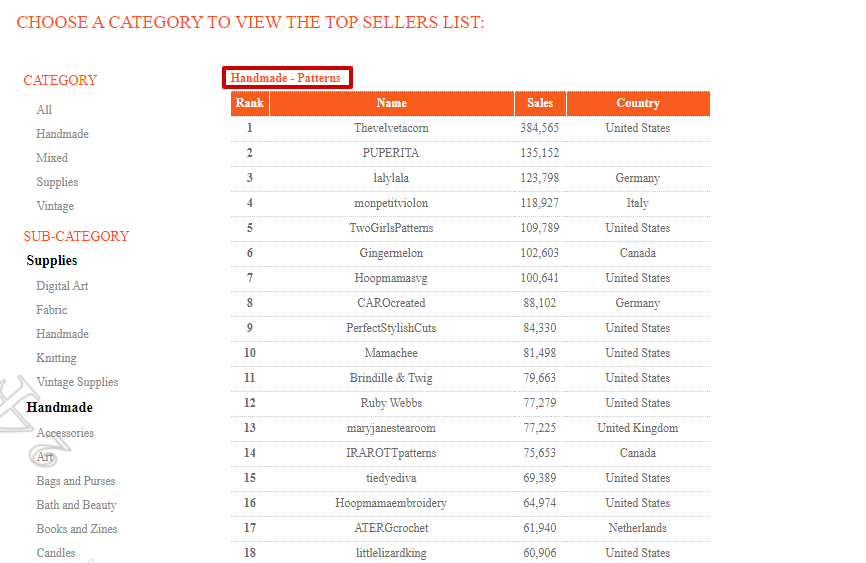 Another option is to ask friends and family for their opinion. Like this couple who sells doll dress patterns, use the people around you to find out what sorts of patterns would interest them. The couple did this with their daughters, performing extensive market research on the market opportunities through them.

Build design skills, and create your first Etsy pattern
While you don't need expert design skills to create a pattern, you do need a working knowledge of design tools and concepts.

Use illustration tools like Adobe Illustrator to start creating patterns for Etsy. If you're not familiar with Illustrator, consider watching simple YouTube tutorials.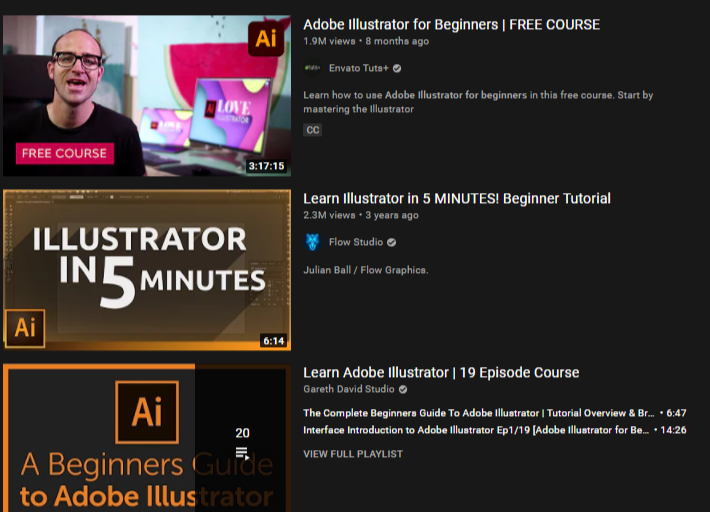 Skillshare also offers great, affordable tutorials on creating patterns. Blog posts are also a good learning resource, like this one for knitting patterns.

To discover online courses, type in a combination of keywords related to the type of pattern you want to learn. You'll find several valuable courses, like this one for sewing.

Learning how to take stunning product photos is another critical skill. Customers want to see the finished product that your pattern delivers. To learn more, check out part 1 and part 2 of our guide to taking perfect product photos.
Set a fair yet value-driven price
Pricing is an integral part of being a successful Etsy pattern seller. With all of the time you put into creating quality products, you'll want to make sure that you see a return on your investment.

When figuring out how to price your Etsy patterns, keep in mind that both Etsy and the payments provider you receive your money through will be taking a cut. Set a price for your patterns that accounts for this deduction.

Also, consider that pricing can also affect customer perception of the quality of your product. Set your prices too low and you risk customers perceiving you as a low-quality version of what they can get elsewhere. Alternatively, set your prices too high and you also risk losing customers to your competition. You need to balance what will attract customers and what makes sense for you as a seller.

For more advice on pricing, check out our guide on competitive ecommerce pricing.
Set up your Etsy shop, and list your products
You'll need to set up a shop on Etsy if you haven't done so already. We've covered the process in previous posts, like this detailed guide: Selling On Etsy: How to Get Started in Just 10 Days. Etsy also has a guide to listing digital downloads on the platform here.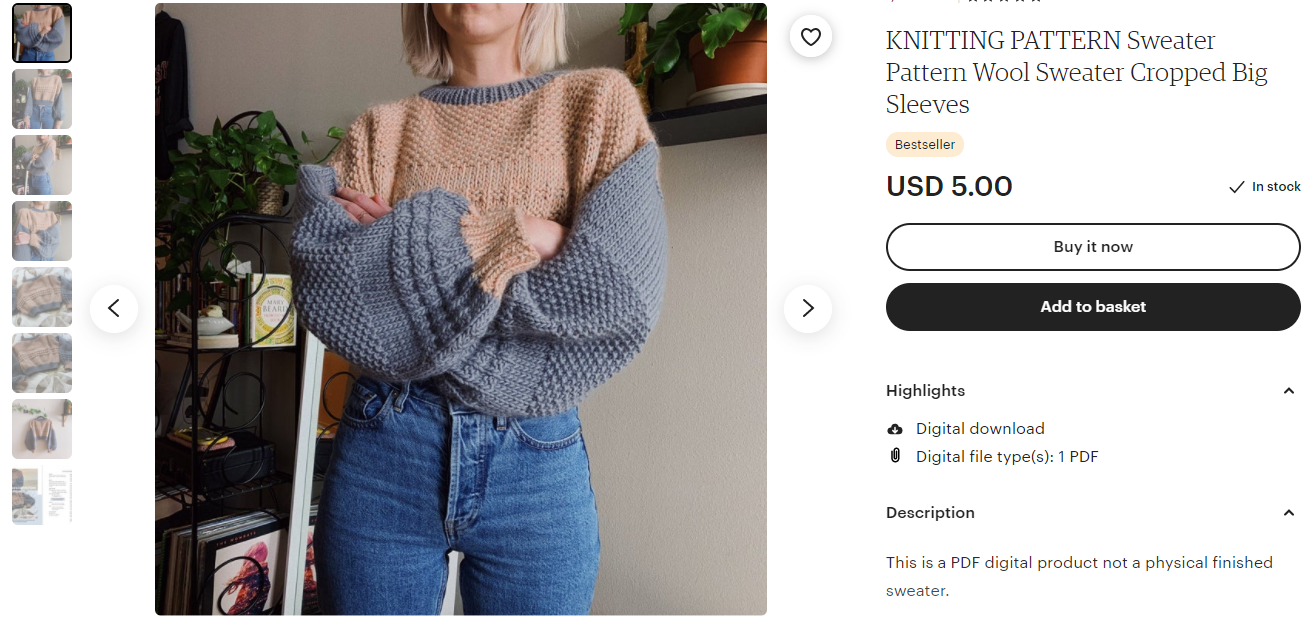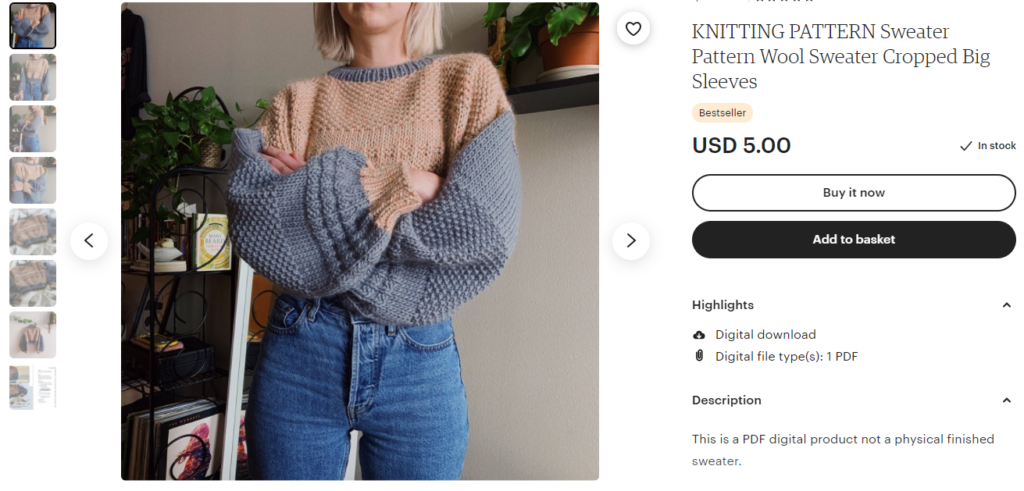 Source

Once you've set up your shop, you're ready to list your products. Be sure to make your listing SEO-friendly. Use keywords that buyers are likely to use when searching for your product in the title and description. So if you're selling a knitting pattern, you'll likely use the keyword "knitting pattern" throughout your listing. Let the product name reflect that.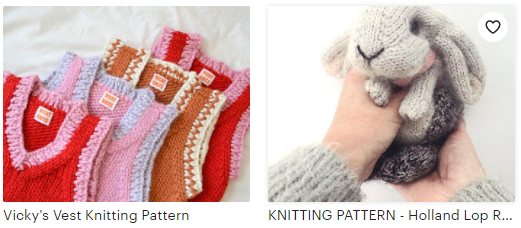 Source

Even better, go more granular. Indicate in the title whether a pattern is for a type of clothing item (cardigan, vest, etc.) a toy, or something else. These details can help you capture bottom-of-the-funnel buyers looking for very specific patterns.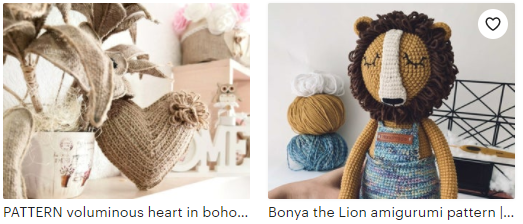 Source

Remember to clarify in your description that your product isn't a finished product but a digital download. This type of clarification helps you avoid any misunderstandings and defend yourself if a buyer ever says that they've been duped. Better yet, add this information to the image of the finished product that you'll upload to Etsy as your hero image so that buyers can see it instantly.

Market your Etsy pattern
To generate significant revenue, it's not enough to just list your Etsy pattern in hopes that buyers will find it. You'll also need to invest time in marketing your creations.

Platforms like Pinterest and Instagram are an easy, low-cost way to boost SEO and drive visitors to your store. You can also start a blog or an email list to promote your Etsy store and patterns.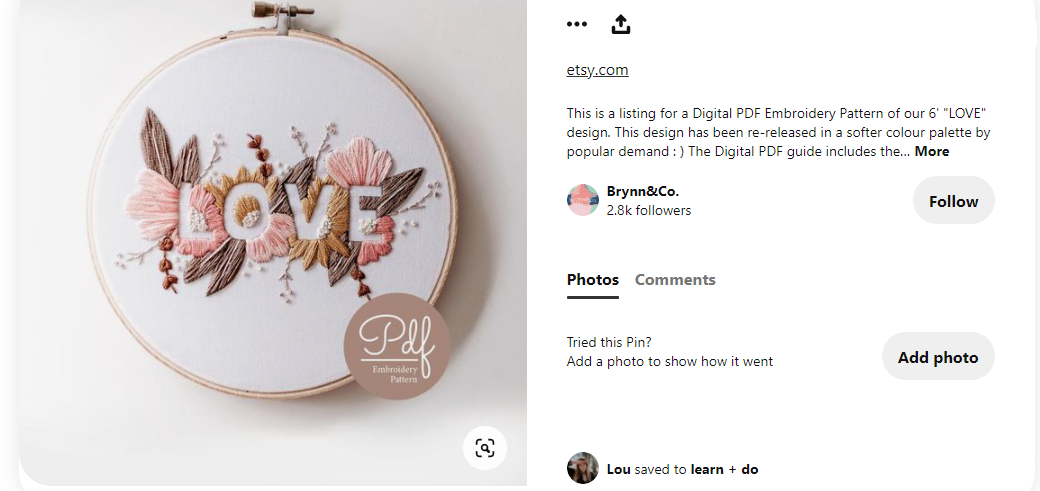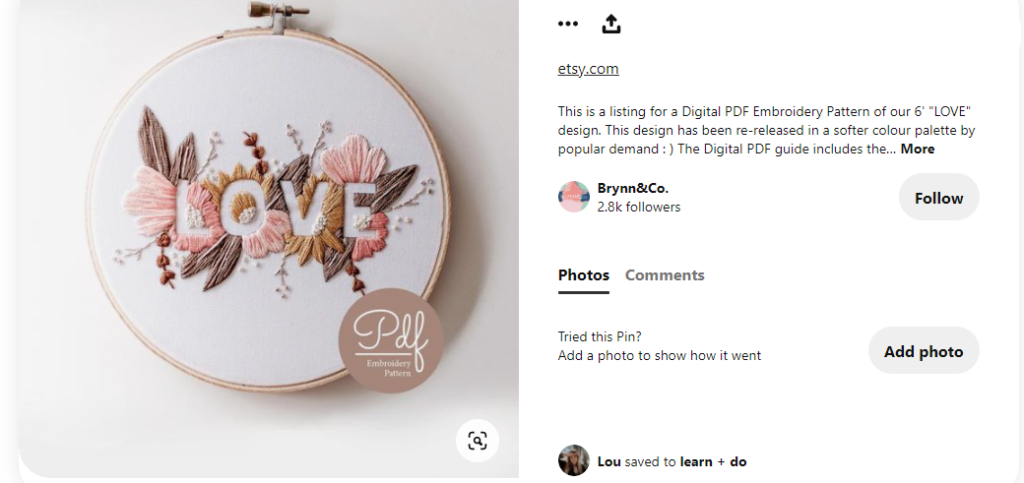 Source

To promote your patterns, also consider keeping customers in the loop of the creation process using video. Start a YouTube channel or TikTok account that shows how you create your patterns or take finished product photos. You can do this yourself; it doesn't have to take up too much time or effort. Etsy seller Lydia Tesselt, owner of lalylala does this well with their listings.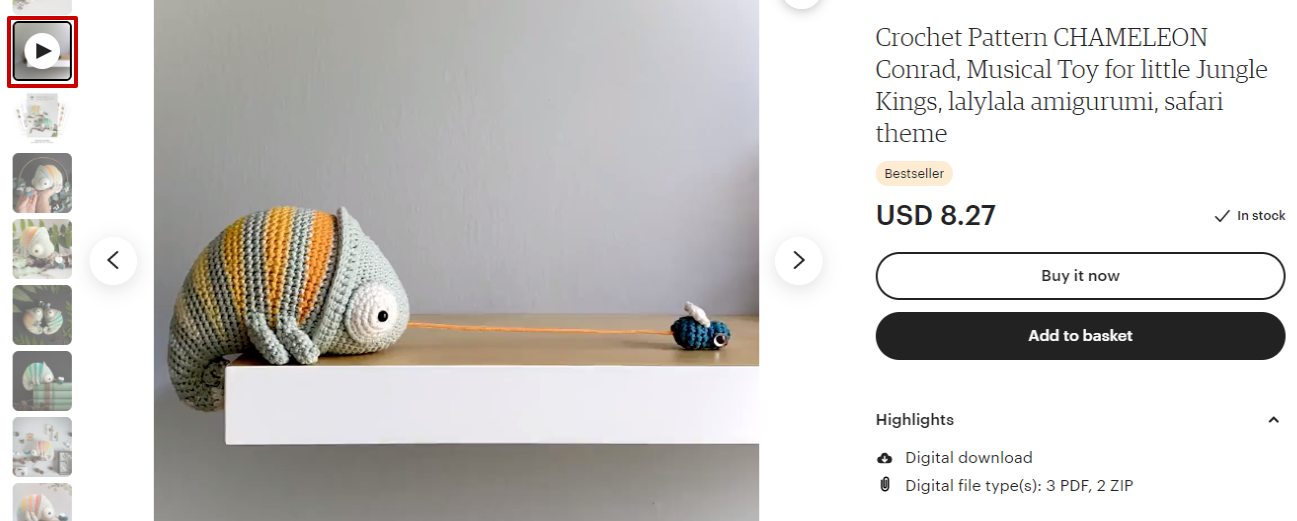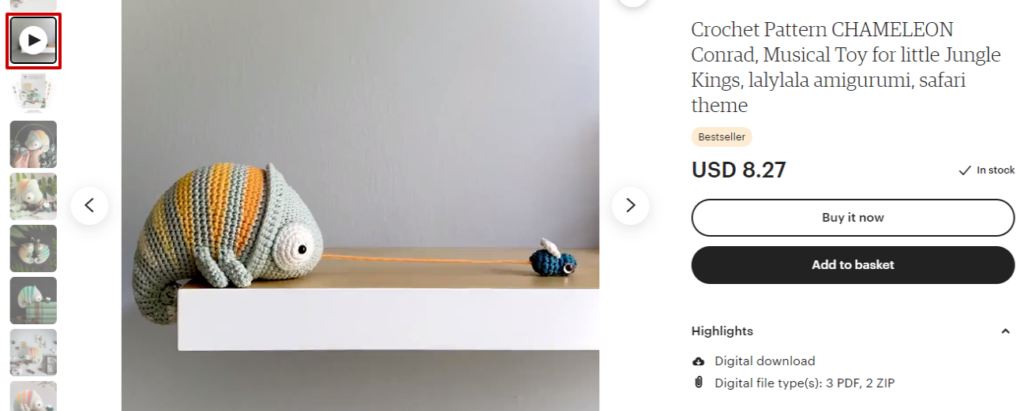 Stay in touch on social. Certain sellers use blogs and Facebook groups to keep in contact with their sellers. You can also leverage positive reviews to attract potential customers to your store. For more tips on marketing on Etsy, we have a great guide for new sellers.
Provide standout customer service
Despite your best efforts to create and sell your Etsy patterns, some customers may still provide negative feedback. Resolve issues and minimize problems by creating a positive customer experience.

Be on hand to answer customer questions quickly. You should aim to turnaround on questions quickly, preferably within 24 hours. This way, you can reassure buyers that you're focused on them.

Although you can have templated messages for commonly asked questions, you should also add a personal touch to messages wherever possible. You can do this by adding a simple "thank you" in your messages to buyers, along with an invitation to provide feedback on the product and contact you if they have questions.

We have a great guide to customer service for ecommerce sellers.
Use patterns as an easy entry point to selling on Etsy
Etsy may seem a bit intimidating if you can't or don't have much experience creating handmade products. If you're new to crafting, selling Etsy patterns is a good starting point. It's generally less of a time and financial commitment than selling handmade products. With this flexibility, you can slowly build an audience receptive to any future products you decide to sell.

Looking for more ways to improve your Etsy store? Check out our 10 Etsy Tips for Differentiating from Similar Sellers and Products.