Listing your products is easy, but driving traffic is a completely different ballgame.
If you want to win at any sport or game, you have to know the rules. The same is true for social media.
To be successful using Instagram For ecommerce, you need to know what the Instagram audience wants to see – and it's different than Twitter, Facebook, or Google+.
Don't have an Instagram account yet for your business? Go ahead and do that now – you will want to have that ready so you can follow along with the rest of this article.
Optimize your profile
There are really only 3 things that matter here – your profile image, bio, and link.
Logo: Pick something that is a recognizable version of your logo. This allows you to quickly capture the trust and likes of people that are already your fans elsewhere.
Bio: Short and sweet – make sure that people who don't know who you are already, can have and idea of what you sell in as few words as possible – without sounding like a used car salesman.
Link: There are lots of things you can do here. You can use Like2Buy which will allow your audience to purchase things they see in your feed, or you can change your link for a giveaway that you have going on, or even just a great link that is relevant to traffic coming from Instagram.
Here are two great examples – one from Warby Parker and one from Crate and Barrel. Both of them nail it by using their logo, short descriptive bio, and a great use of a link.

Post great photos
This shouldn't be much of a secret – but great photos are the key to success, whether you're using Instagram for ecommerce purposes, or just for personal use.
Gimmicks are a lot less important here, which is a breath of fresh air for everyone. Instagram loves great images that tell a story. No matter what you're selling, you can find ways to showcase your products in ways that look way better than crappy stock photos on a "sorta white" background.
Hammock Town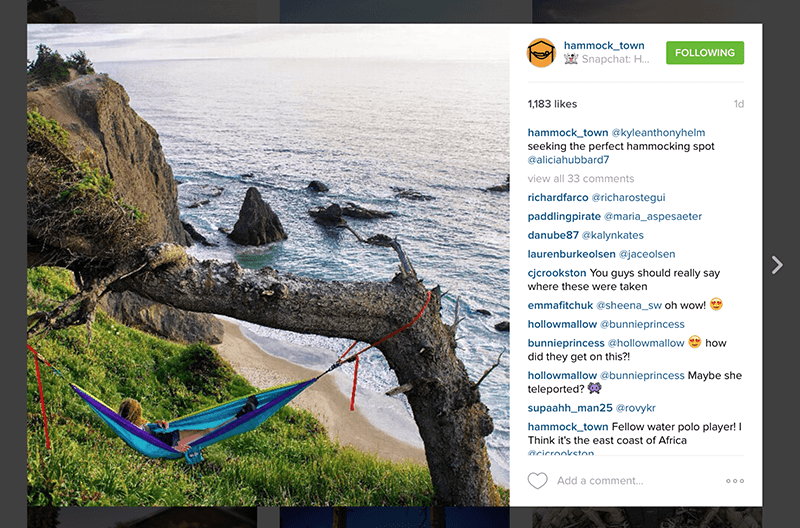 What Hammock Town did right: They didn't use a stock image from their website. They used an image of the hammock actually out in its recommended setting.
The picture is stunning with great colors and tells a story. They likely got this image from a fan and posted it with their permission. Follow them on Instagram – @hammock_town
Dollar Hobbyz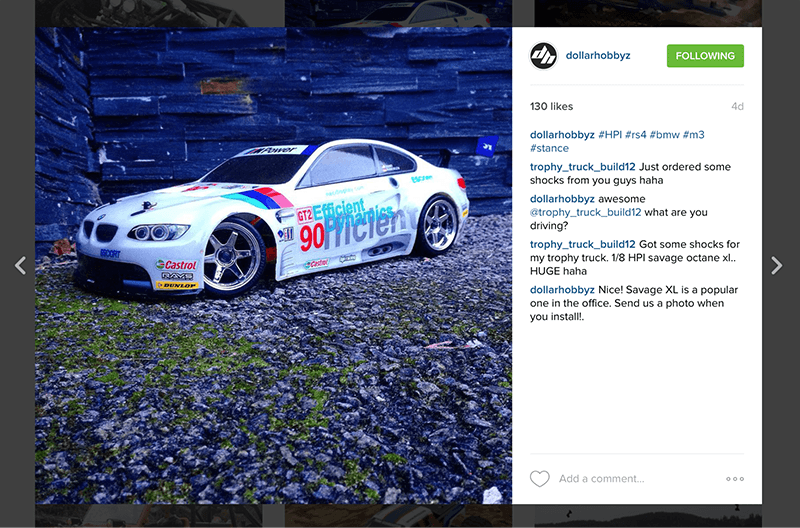 What Dollar Hobbyz did right: Another example of not using a stock image. They used a customer photo that shows a great RC car in a great pose. These are the types of images that get fans to like, comment, and buy. Follow them on Instagram – @dollarhobbyz
Mission Bicycle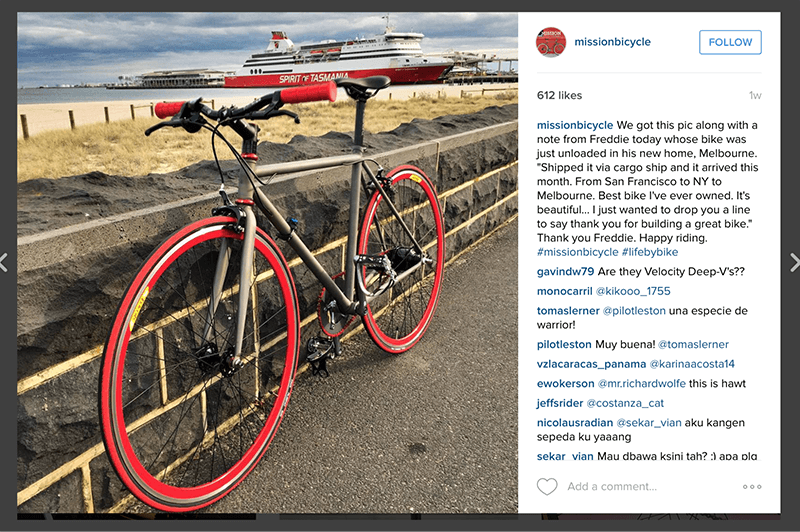 What Mission Bicycle did right: Not to sound repetitive, but this is a great example of a bicycle in a more natural setting, shot with a great angle, using great colors – and it was a customer's photo. Follow them on Instagram – @missionbicycle
Get some followers
OK, now that you have a few good images in your feed and a game plan for how to continue adding the right types of pics, you can start looking to add some followers. The key here is to make sure you find the right followers.
Whatever you do, don't buy followers – or likes, or comments, or anything else on any social media channel… ever. It will ruin things for you in the future. Just don't do it!
You could email your email list or even cross promote on other social networks. For most smaller brands, that's fine. Don't make a habit of it though – one and done, then move on to finding people on the actual platform.
Use the search bar
Use the search bar and see who's already talking about you. Chances are, you already have people talking about your brand on Instagram.
Join the conversation
If they aren't already talking about your brand, they are very likely talking about the brands you sell. Join those conversations by commenting on those brands images. Your fans will see you and want to engage with you if they already know who you are and shop at your store.
Follow people
It's ok to reach out and follow people that you think are your ideal customers. Most people on Instagram are a lot easier to please than Redditors. One of the ways that we were able to go from 100 Instagram followers to over 3,000 followers in one month was from using an app like Crowdfire. We used that to find people that liked brands that we sell, and then follow those followers.
Conclusion
Get started. You can't be good at Instagram if you don't start.
Create your account, update your profile and upload one photo. Then go from there. Follow the brands I mentioned above to see how they interact with their audience, and see if you can replicate that for your particular audience. If you have questions, let me know – I'm always happy to take a look and help.
Have other tips on using Instagram for ecommerce? Leave them in the comments!