You're an experienced ecommerce merchant who has branding and messaging figured out. You've just joined Walmart as a seller, and all seems to be going well until you realize one critical issue—the marketplace doesn't offer individual seller pages. How are you going to stand out to buyers?
When you're battling with similar sellers for the eyes of customers, SEO is a great way to get ahead of the crowd. However, Walmart SEO involves more than just strategic keyword placements—following good seller practices and building a solid reputation as a seller are vital parts of improving SEO on Walmart.
1. Understand the Walmart search algorithm
Walmart's algorithm uses an "optimization triangle" to determine the quality of your listing and decide exactly where it ranks in the search results.
The optimization triangle consists of three main elements:
Content & Discoverability checks the descriptiveness of your product listings.
Ratings & Reviews checks how your customers rate your products and performance.
Offer checks the competitiveness of your offer.
The Walmart algorithm uses this combination to return the best results for its customers—accounting for relevance, customer experience, and competitive services. The algorithm makes sense when you consider that one of Walmart's core business values is "Service to the customer."
With this algorithm, Walmart SEO requires a lot more than just keyword stuffing. Sellers who want to be successful in this marketplace need to keep the "optimization triangle" in mind to improve their products' search rankings.

2. Use a descriptive product name
Product titles are perhaps the most crucial part of a Walmart product listing because they act as identifiers for the search algorithm. If your product isn't labeled appropriately, the search engine won't identify it when a customer searches for that product. The listing's chances of appearing in relevant searches are then bound to decrease.
To effectively name products in Walmart, stick to the platform's best practices, such as:
The product name should be 50-75 characters long and unique to Walmart. Don't copy the same product name on Amazon or your own website. Sellers can be penalized for this replication if discovered.
Include defining features, model numbers, and brands. At the same time, don't go overboard with the features—only include what's relevant.
Use Walmart's Product Name Formula below to stand out in Walmart product search results.
Brand + Clothing Size Group (if applicable) + Defining Quality + Item Name + Style (if applicable) + Pack Count (if applicable)
For more product title guidelines, check out Walmart's Listing Quality Guide.
3. Use keywords in the product description
A Walmart product listing is the section that states "About This Item." It's tied to the Content & Discoverability portion of the Walmart SEO optimization triangle. Depending on the product type, this section includes information like Features, Care Instructions, Warranty, and Shipping & Returns.
Your product description should include 3-10 key features and a detailed paragraph at a minimum of 150 words. In this section, you have the opportunity to use keywords and include relevant product information, so the listing is more likely to appear on relevant search pages.
Customers will gravitate toward descriptions with key phrases that signal they've found the right product. They will also appreciate a description with a clear return policy, an element that Walmart values highly in product listings.
Consider the product description for "Bounty Select-A-Size Paper Towels." The listing is likely targeting the keyword "paper towels," so the description includes that keyword along with other helpful information. A search for "paper towels" brings up this product as the first result, so Bounty's keyword optimization efforts seem to be working.
Keyword research is an important part of crafting good product descriptions. Check out this article on keyword research to get started.
4. Categorize products properly
Categories contain structured information that improves product organization on Walmart. The more defined a product, the easier it is to search for. The image below highlights how Walmart listings can belong to so many sub-categories.
Using the right category ensures your items are assigned to the correct product page on Walmart and perform better in search results—contributing to the Content & Discoverability element of the optimization triangle.
Walmart has a specific process for product categorization that you can learn more about here. The marketplace also offers resources on content guidelines for different product categories. If you already have a Walmart seller account, you can learn more about the different content guidelines for different categories here.

5. Provide tons of details for product attributes
Attributes are additional characteristics of a product that are used to organize and filter products. They help make listings more visible when customers conduct searches. Attributes contribute to the Content & Discoverability element of the optimization triangle.
Specify all relevant attributes when creating your product listing to ensure your products show when customers browse them using filters at the top of the search page. Choosing the right category for your product provides you with the right set of attributes for the item. Attribute examples include tech specs, color, and size.
Examples of product attributes
When you set up your products, the list of attributes you're able to include will vary based on their category or product type— a TV and a piece of clothing will have different attributes. Some attributes may be required for certain products. Either way, filling them out will give your product a better chance of appearing in relevant search results.
Not sure which attributes to include? Check out listings similar to your products on Walmart to see the most relevant attributes that are used in the left-hand navigation to get a sense of what to use in your listings.
6. Use high-quality images
Walmart prioritizes listings with accurate and high-quality images as part of the Content & Discoverability portion of the optimization triangle, and for good reason. In this study, researchers found that higher-quality images helped establish trust among online shoppers.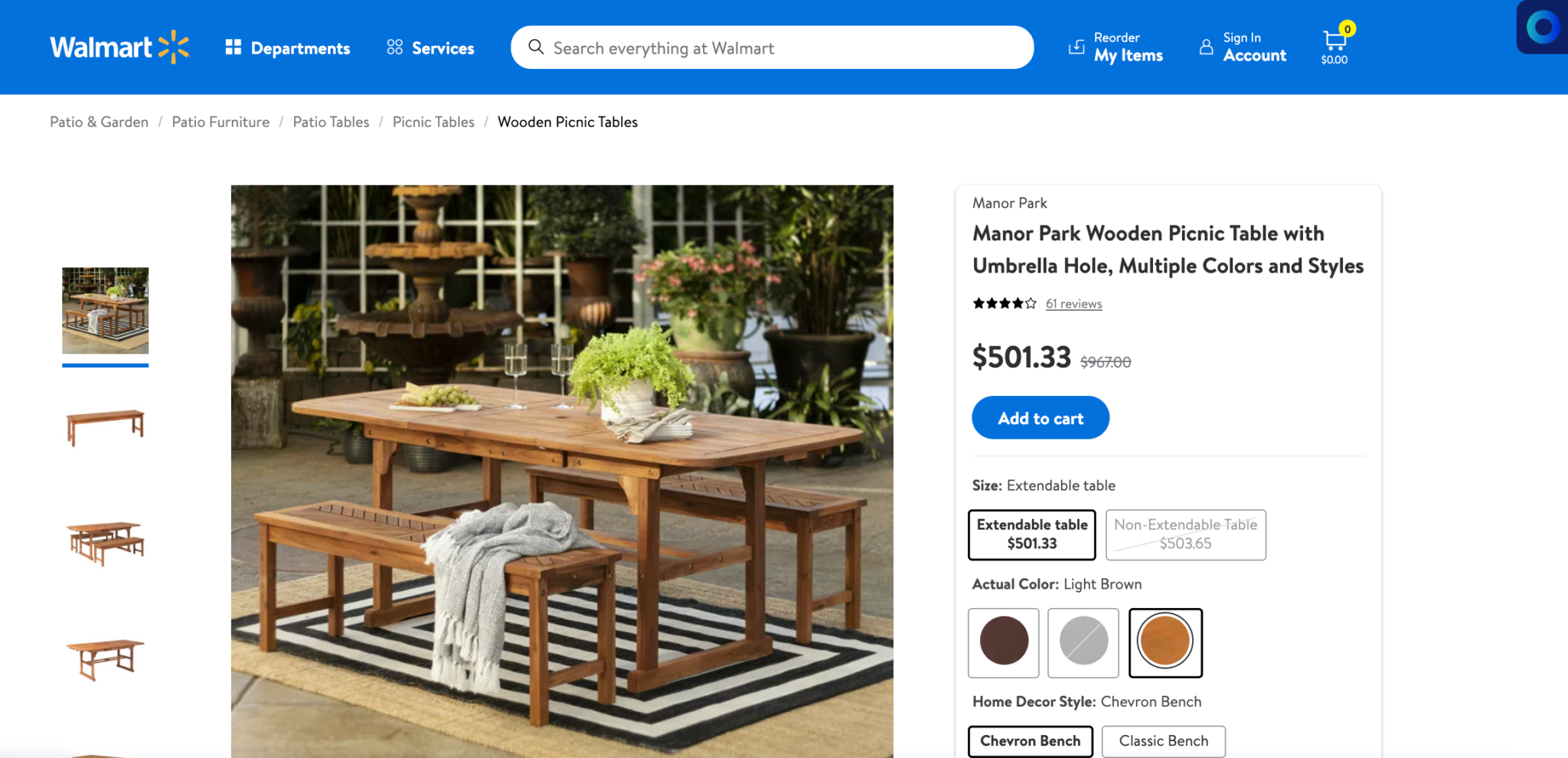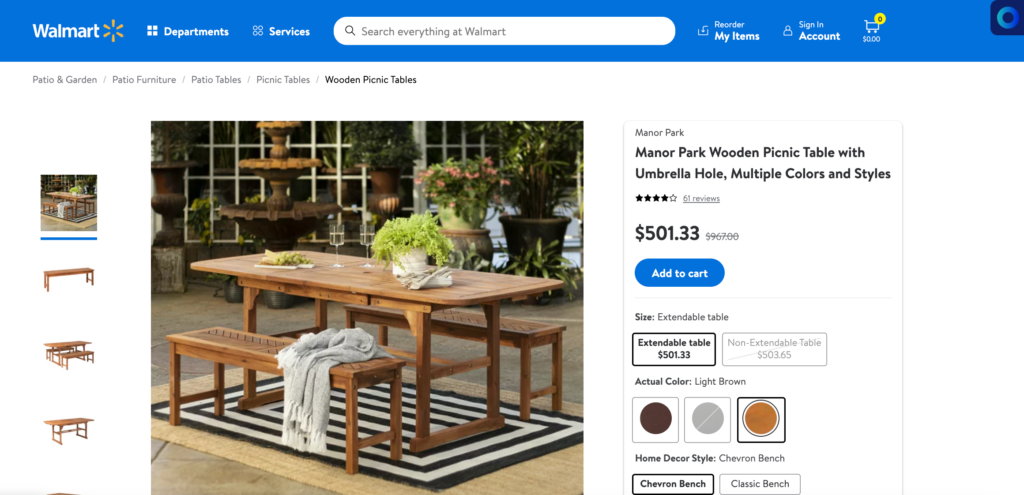 Example of a high-quality product image
Both the Walmart algorithm and buyers will be more likely to gravitate toward your listing if it follows the marketplace's image best practices, such as:
Include four professional, high-resolution product images.
Image size should be at least 1000×1000 pixels so that it looks good even when zoomed in.
The image background color should be white.
Take advantage of Walmart's Rich Media feature, which lets you add media like product videos and size charts. Product videos are fairly easy to shoot these days, and you can get away with a low budget and using a smartphone for your products.
Walmart dropshippers may have trouble controlling the quality of product images. This is because the supplier provides the images and might not invest in quality and detailed images. In this case, you can have your chosen products delivered to you so you can photograph them, or you can hire a professional product photographer.
7. Enable 2-day delivery
Walmart's search engine prioritizes products that have 2-day delivery since fast shipping ties into the Offer portion of the optimization triangle. Fast shipping options also help increase your products' visibility since there's a filter for shipping options at the top of category pages that shoppers can use.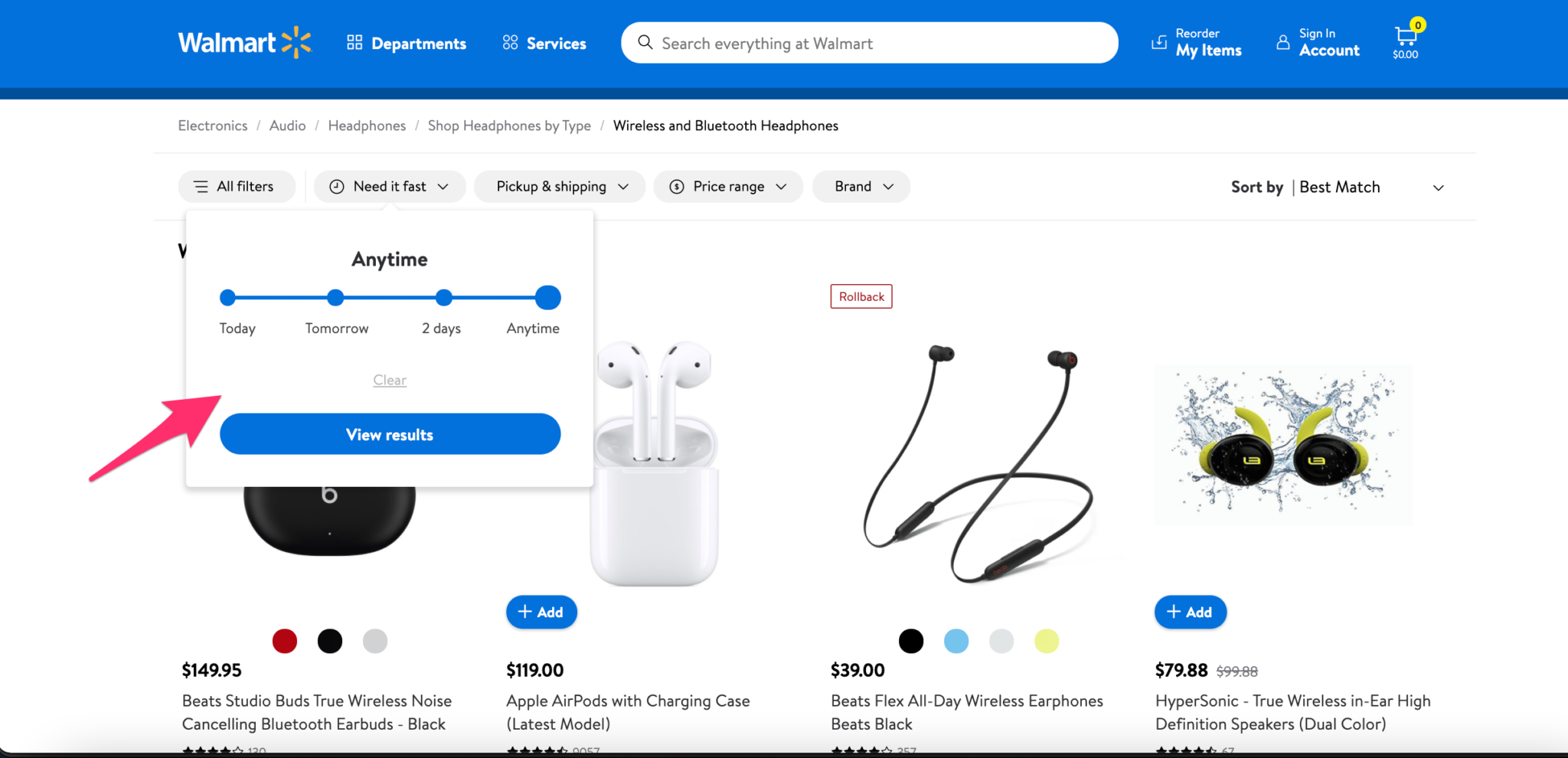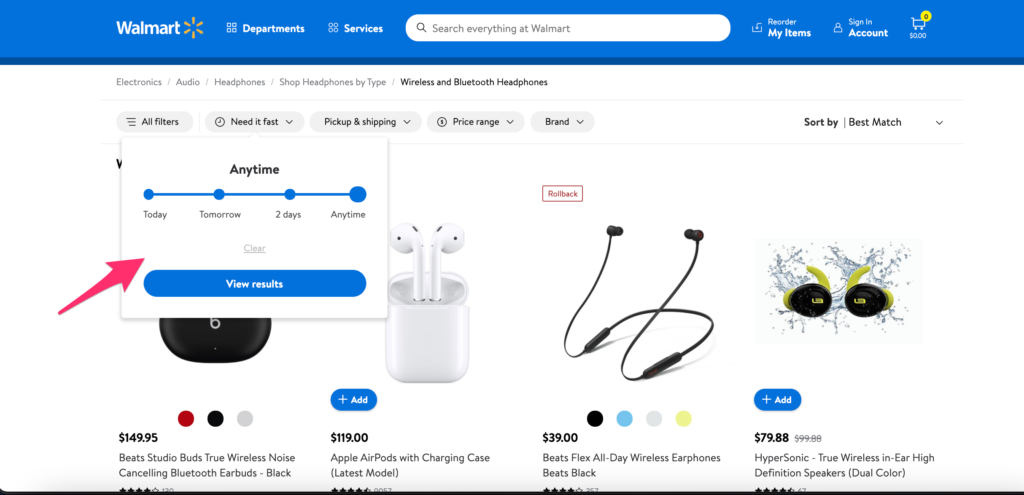 To be eligible for 2-Day Shipping, there are four main criteria sellers need to meet:
Shipping on time
Delivering on time
Providing valid tracking
Canceling few orders
In addition to these criteria, sellers must:
Prove that their return policy and customer support are satisfactory through customer reviews and feedback
Have been a Walmart Marketplace Seller for at least 90 days or fulfilled at least 100 orders
Meeting these criteria shows that sellers can actually provide 2-Day shipping to customers.
Services like Walmart Fulfillment Services and Deliverr can help improve your shipping speed and provide 2-day delivery. Outsourcing fulfillment also gives you access to features like Sponsored Products, which also helps product listings rank higher.
Find out more about shipping options on Walmart.
8. Manage your inventory efficiently
Having your popular items in stock means they'll always show up when customers search, thus boosting your Walmart SEO. This management is vital for both the Ratings & Reviews and Offer sections of the optimization triangle, so make sure your inventory is always up to date—especially for products that sell out quickly.
Check your Inventory Feed Status to ensure your inventory is uploaded and updated regularly. Walmart also highlights certain inventory management best practices for sellers to follow:
Assign every product a stock keeping unit (SKU) number to help you keep track of your items and orders.
Use the first-in-first-out (FIFO) method by selling your oldest stock first. This method is best if you offer non-perishables.
Audit inventory frequently to locate inventory issues and correct them before they become a widespread problem.
Use an inventory management solution to automate the process. You can find one on Walmart's Solution Providers list.
Many sellers sell across different channels and need a way to track their inventory across multiple platforms. Consider using a multichannel fulfillment tool like Sellbrite to sync up your inventory and automatically update inventory across all of the channels you use, so you never run out of stock.
9. Set competitive product pricing
According to Baymard Institute, 49% of online shoppers cited pricing as the reason they abandoned their carts. Competitive pricing helps sellers improve their Offer, an important part of the Walmart SEO optimization triangle.
Although your pricing should be competitive, don't undercut your product's value for a chance at the top spots in the search results. Focus on developing a pricing strategy that works for your business, your customers, and Walmart.
Sellers can also set up Reduced Price and Clearance tags to drive customers' attention to promotional pricing and access the Pricing Opportunities dashboard in the Seller Center to see what can be improved upon.
Check out 5 Key Learnings From Analyzing Top Ecommerce Pricing Strategies for more advice on developing a winning pricing strategy.
10. Encourage positive ratings and reviews
To improve their Ratings & Reviews section of the optimization triangle, sellers need to focus on their customers' post-purchase experiences—not just the events that lead up to the sale. The marketplace considers ratings and reviews when determining product search rankings.
Beyond the search algorithm, research shows that online reviews influence the purchase decisions of 93% of consumers. Walmart's site design empowers customers to look up these ratings with product filtering options.
Encourage positive customer feedback by taking steps to prevent the following incidents: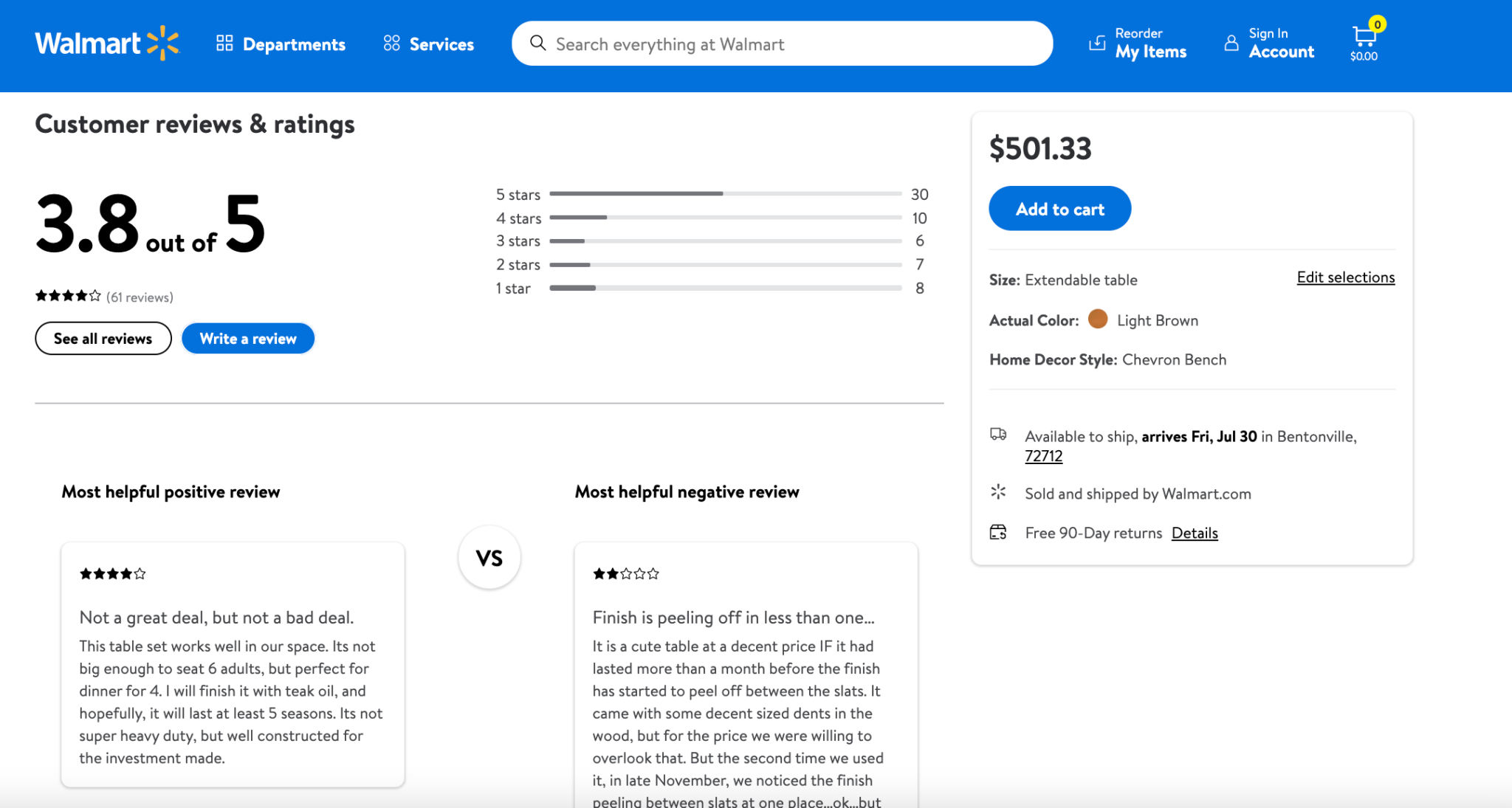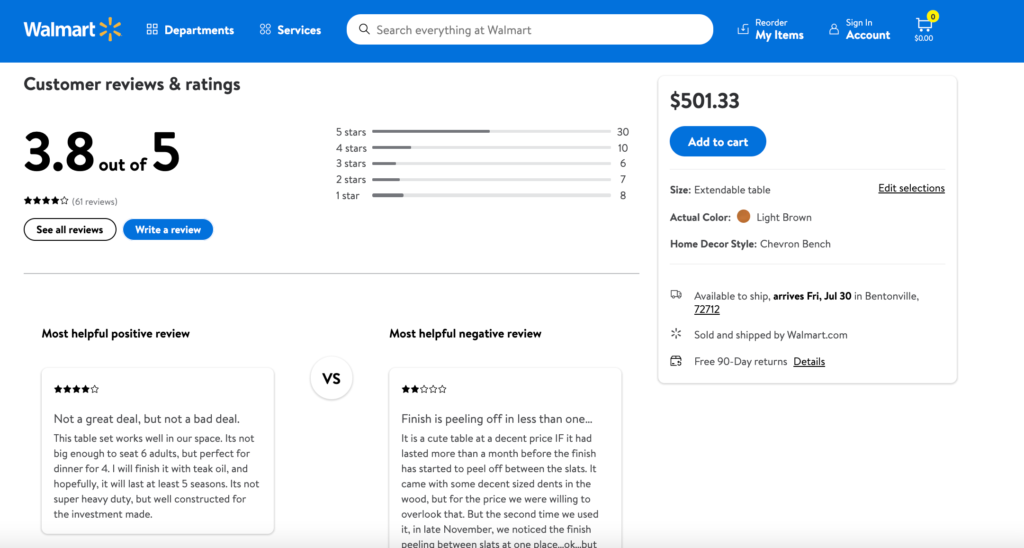 Example of customer reviews and ratings on a Walmart product listing
Customers provide reviews on both the product and the service provided by a seller. Encourage positive customer feedback by providing quality service in order to provide social proof and climb up the rankings.
Take advantage of available resources to improve your Walmart SEO
You don't have to handle every aspect of your Walmart SEO alone. The marketplace offers many resources to help sellers create the best listings possible. Some resources to try include:
Listing Quality. To access the Listing Quality tool, log in to your Seller Center dashboard and click on Growth Opportunities to start optimizing your listings.
Walmart Spark Reviewer. Participation in this program can help you garner ratings and reviews faster.
Pro Seller Badge. This badge is a mark of excellence that sellers should aim to have on their listings. It can help drive conversions and improve consumer trust.
These resources, among others offered by Walmart, can help you drive sales and grow your business. You can access more resources by clicking on the Growth Opportunities tab here.
Want more advice for selling on Walmart? Check out How to Sell on Walmart Marketplace: 14 Best Practices.