For Tomi Hill of StorymakersTradingCo, selling geeky cards, pins, and stickers online was a way to supplement her family's income while raising small children—without spending every weekend at a craft show.

Milliron and Hill are far from the only people to make a successful leap from crafting hobby to business. However, it's no easy feat. Many eager creators struggle to monetize their crafts.

The first step in building a profitable handmade business is, of course, figuring out what you should make. To make that part easier for you, we've rounded up the nine best crafts to make and sell.

We researched over 30 different craft categories across Amazon and Etsy to come up with this list. For a craft to be included in our roundup, it needed to score high on two criteria: demand and profit potential.
Demand for a craft must be high enough to make the effort worth your while. We judged demand based on product trends among top Etsy sellers (based on data from CraftCount), bestsellers on Amazon Handmade, and bestselling and trending products on Etsy.
To estimate the profit potential of these crafts, we looked at the average selling prices for items on marketplaces like Etsy and Amazon Handmade as well as the average product costs (such as the materials, tools, and labor involved).
While this list only includes nine crafts, you can still apply its principles to other handmade products that aren't featured in this guide.
1. Face Masks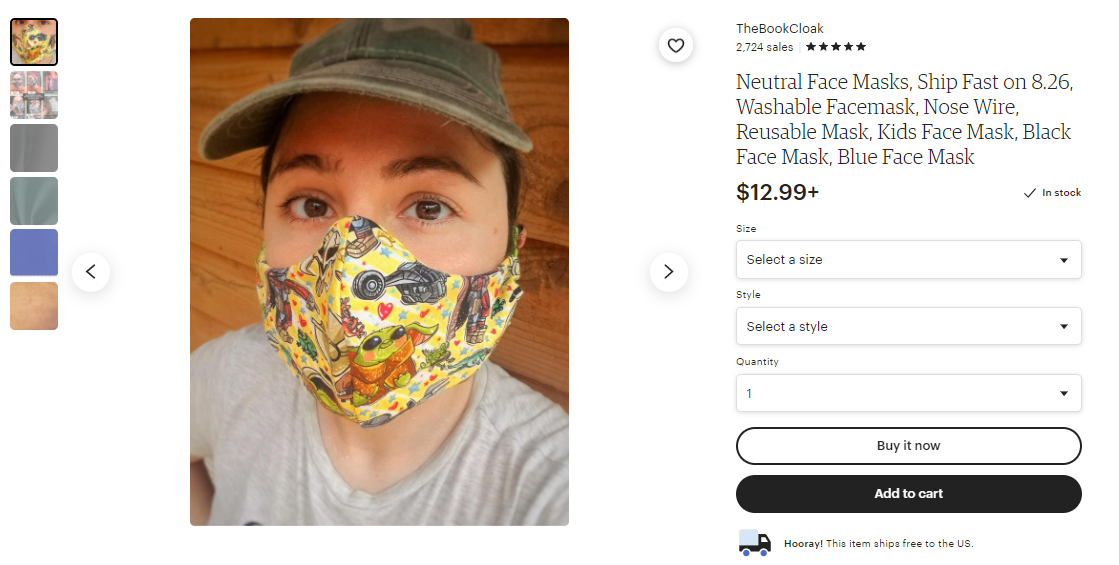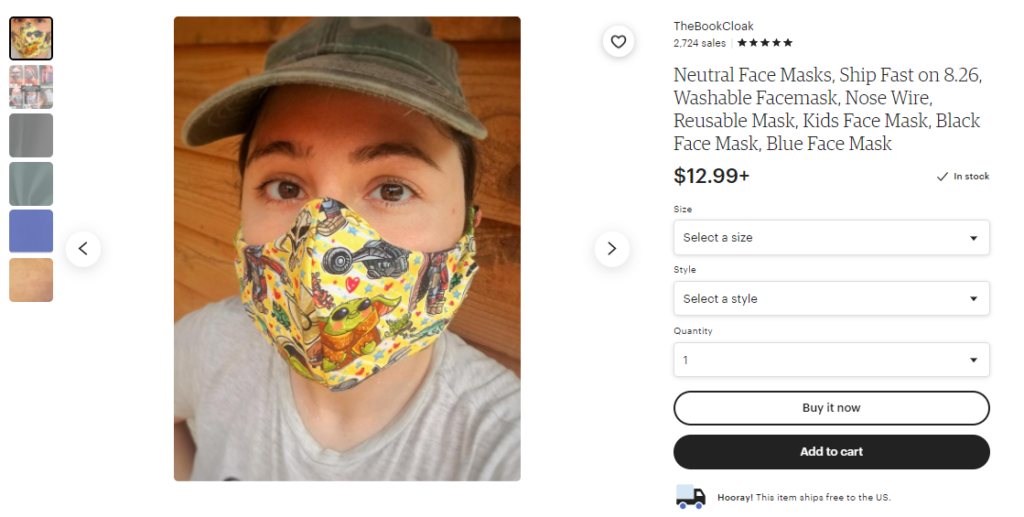 [Image source]

Face masks are an unfortunate necessity, thanks to COVID-19. But for creators with a little sewing savvy, it's a great craft to make and sell right now. These products continue to top bestseller lists on both Etsy and Amazon, so it doesn't appear to be a trend that's fading.

While this craft requires some basic sewing knowledge, it's not complicated to make. And with a sewing machine, it only takes around 15 minutes to make a single mask.

Average face mask prices range from$5 to $10, which leaves room for profit. This is especially true if you're able to get bulk discounts on materials like elastic and fabric. It's also easy to get low shipping rates since multipacks of masks weigh under one ounce, and they pack flat.

There is a lot of competition in this category, however. In order to be a top seller, you'll have to get creative with your fabric design (as in the example above). Add something new, like an embroidered pattern, to give shoppers a reason to choose you. Sites like Spoonflower let you design your own fabric, which is another great way to stand out.


2. Stickers and Vinyl Decals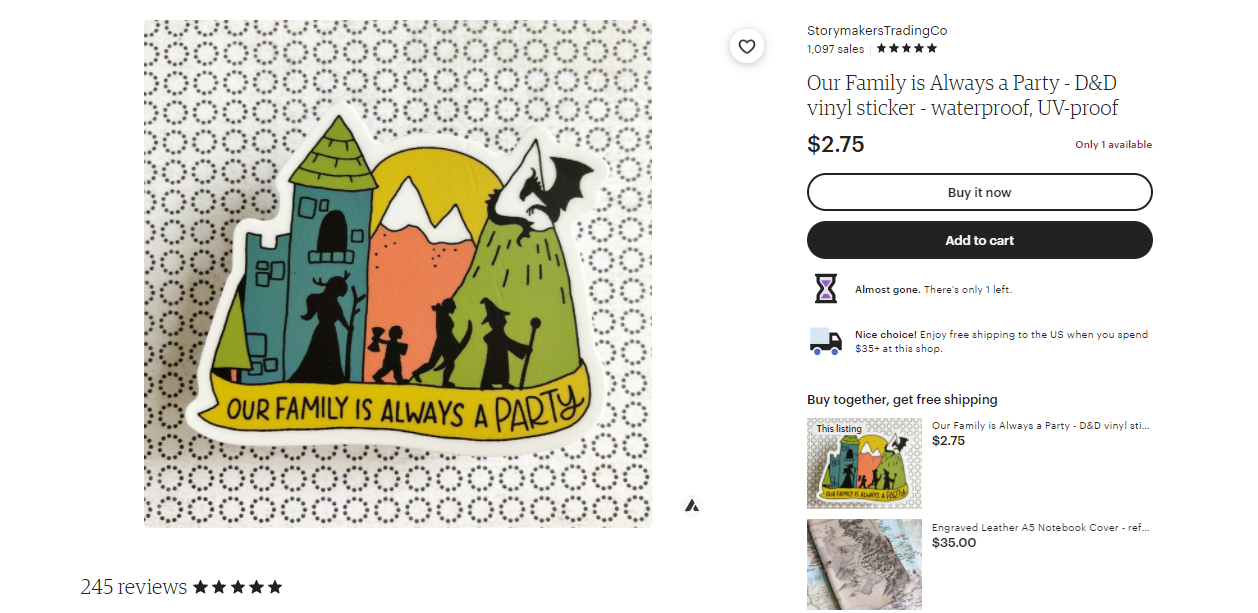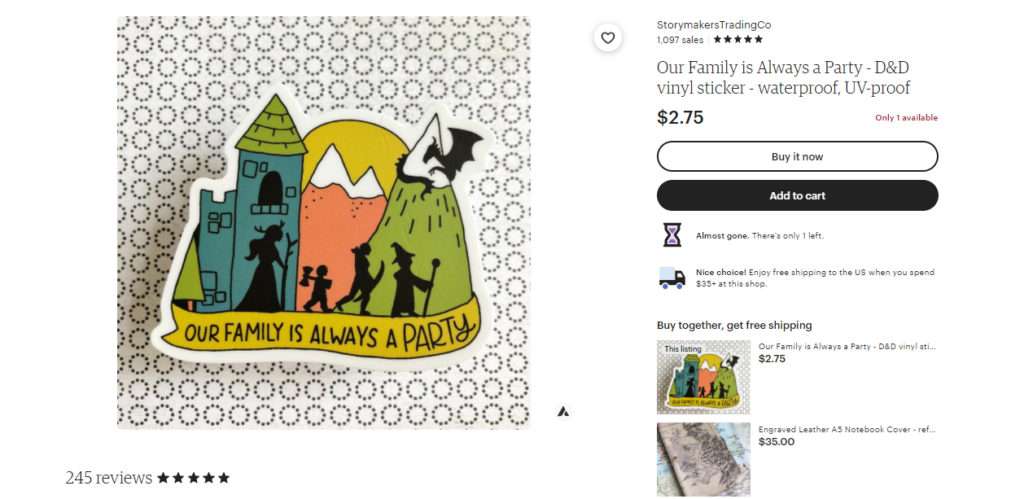 [Image source]

Stickers are a perennial favorite on Etsy and Amazon both. Many of the top stores sell wall decals and planner stickers, and these products frequently rank on Etsy's trending lists. This craft covers everything from die-cut vinyl stickers for laptops to bumper stickers—which leaves a lot of room for finding your niche.

This craft usually has high profit margins. For example, these die-cut stickers on Amazon Handmade sell for $3, but they cost only a few cents to produce with a supplier like Sticker Mule.

Shipping costs are similarly low. Die-cuts, sheets of stickers, and bumper stickers are light and thin, which means cheap shipping and minimal storage overhead. (Shipping and storage costs go up with larger wall decals, but their higher prices should cover the difference.)

Labor costs depend on the complexity of your designs and how you go about production. Handcrafting every decal or sticker is possible, but it's time-consuming. If you work with a sticker manufacturer, the labor costs are much lower.

Hill warns that, even with a manufacturer, you should expect to put in a decent amount of work to design and prepare your artwork. But outsourcing production has allowed her to scale StorymakersTradingCo much faster than when she made every item by hand.
3. Enamel Pins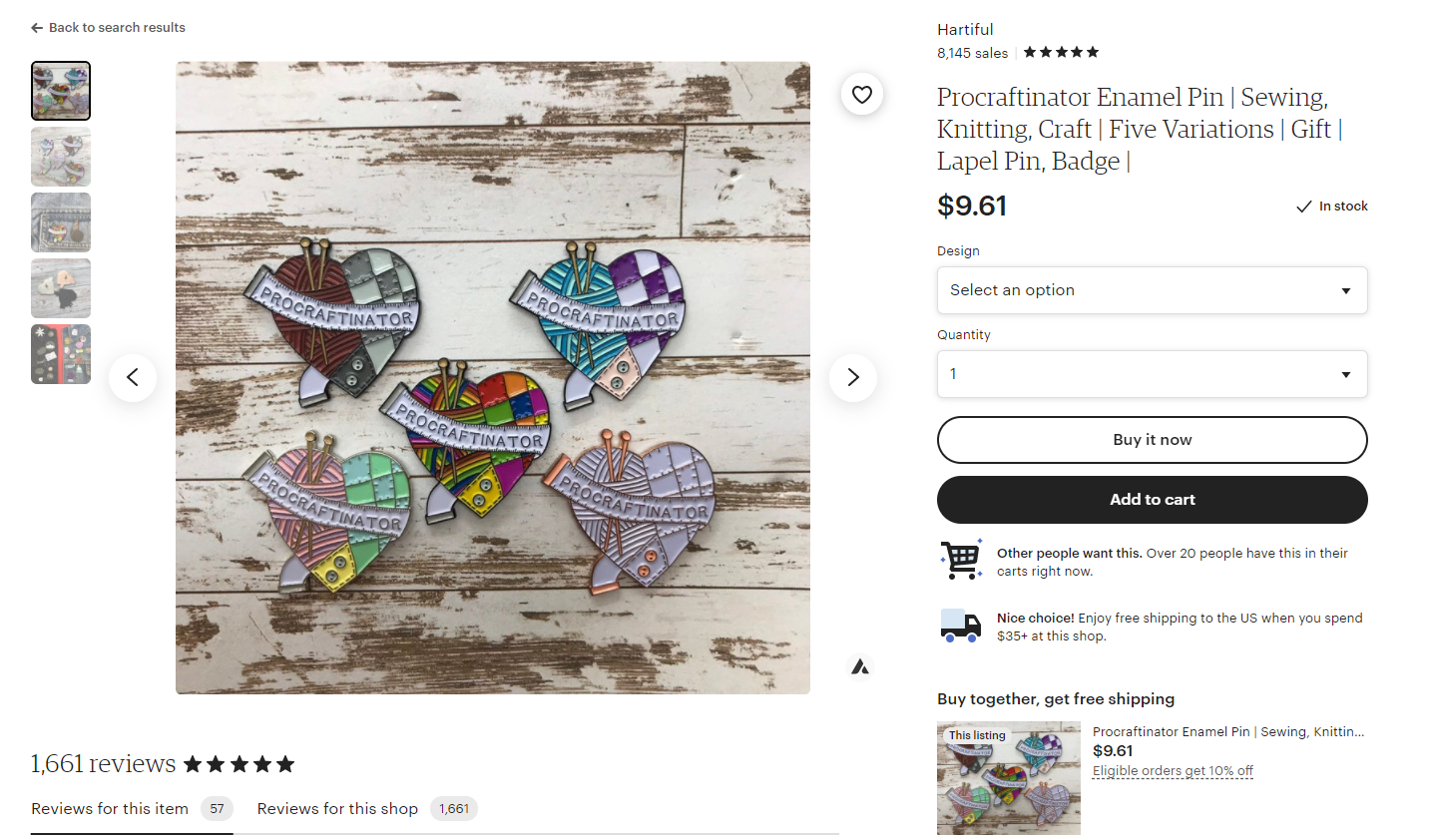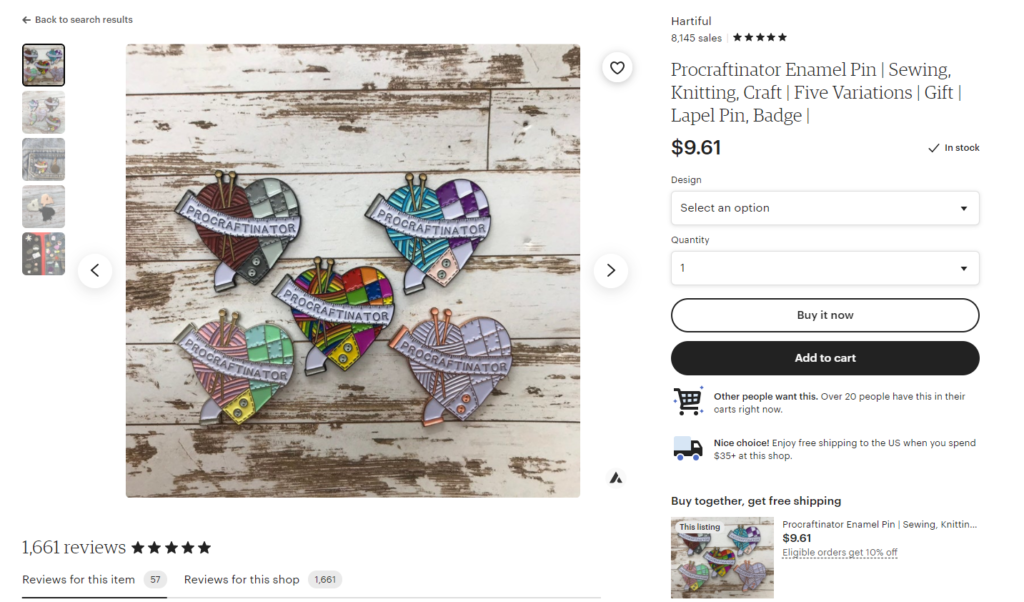 [Image source]

Enamel pins might not show up in the top Etsy lists as often as other crafts, but there's no doubt they have a decent following. Judging by sales and review numbers on Etsy, enamel pins based on book or video game franchises are especially popular. Pin artists often promote their products on Instagram, where their content drives high engagement.

You can easily sell enamel pins in the $8 to $20 range. Quantity, finish, dimensions, and order size all affect the cost-per-item. With that said, you'll likely pay less than $2 per pin if you work with a manufacturer like WizardPins—leading to excellent margins.

As with stickers, the cost of labor is very low for enamel pins. All you need to do is create a design and work with a supplier to produce it. The overhead related to storage and shipping is usually minimal, given the small size of the product.

While it might feel strange at first to charge $15 for such a small, inexpensive item, it's important to recognize the value of your designs, talent, and time. "When we charge too little, not only do we not make enough to keep our businesses going, but we also teach the customers to undervalue our work," said Hill.

If this sounds like the craft for you, you should start by reading Shopify's guide on selling enamel pins.
4. Cards and Invitations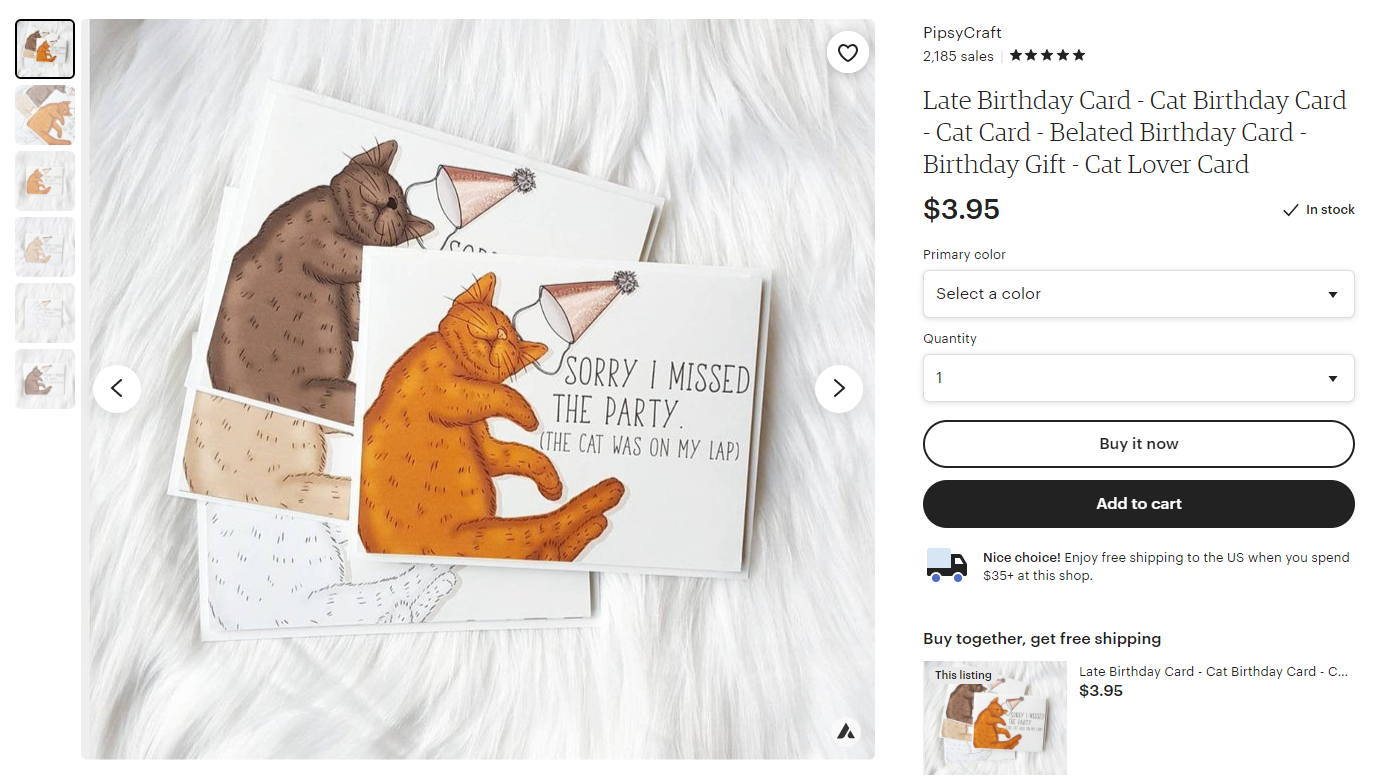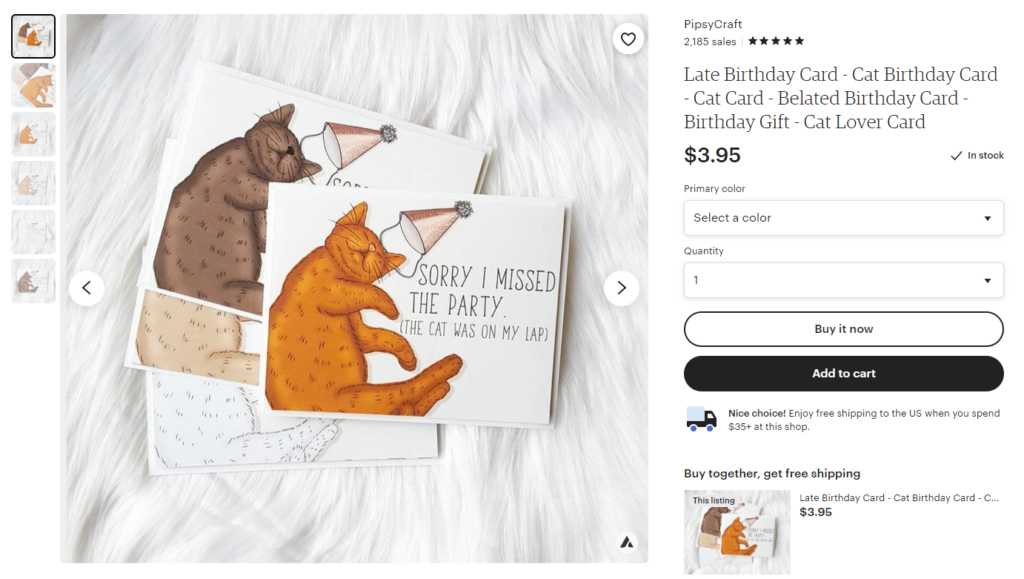 [Image source]

According to data from the Greeting Card Association, Americans spend $7 to $8 billion a year on greeting cards. Couples spend an average of $560 on wedding invitations and stationery alone! In all subcategories, demand continues to rise for handmade, unique cards.

The stationery market's varied demand leaves a lot of room for creativity. Personalized printed cards, handcrafted cards with features like quilling or dried flowers, and custom calligraphy are just a few examples of the types of crafts that perform well in this category.

Material costs vary widely based on the supplies and tools you need. However, shipping is consistently inexpensive, and the expected price point for cards and invitations is high enough to provide good profit margins. There's a wide range of prices in this category, but a single greeting card usually averages $5 to $10, and unique wedding invitations average $2 to $10 per card.

Labor costs depend on the complexity of the card. Expect to spend the most time on the design process. Finding the right materials and perfecting the design itself can take up to a couple days, according to Milliron (PipsyCraft).

Once you have your design, printed cards can take up to five minutes, and stamped designs up to 15 minutes. (Cards with elements like quilling or watercolor will take longer.)

Milliron's secret to a profitable greeting card business is creating a consistent process. Limit the number of designs and variations, prepare card bases ahead of time, and invest in tools that help you simplify the creative process.

5. Craft Patterns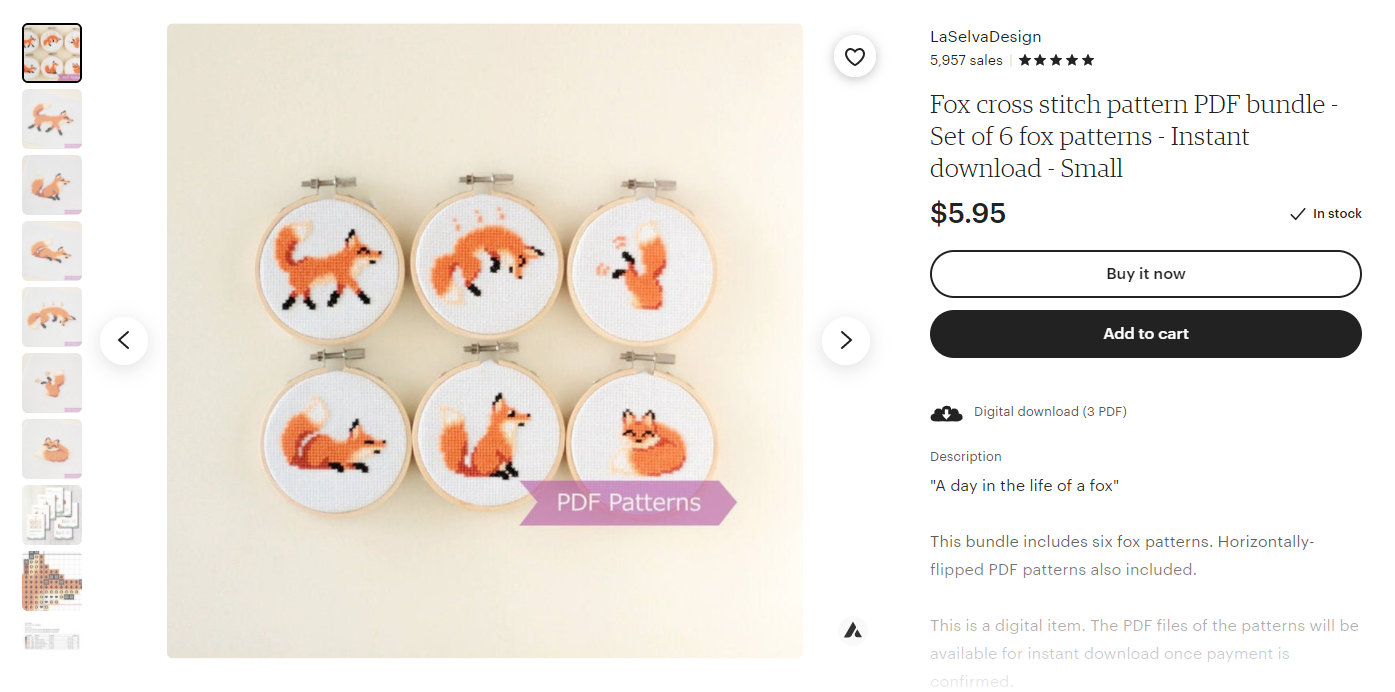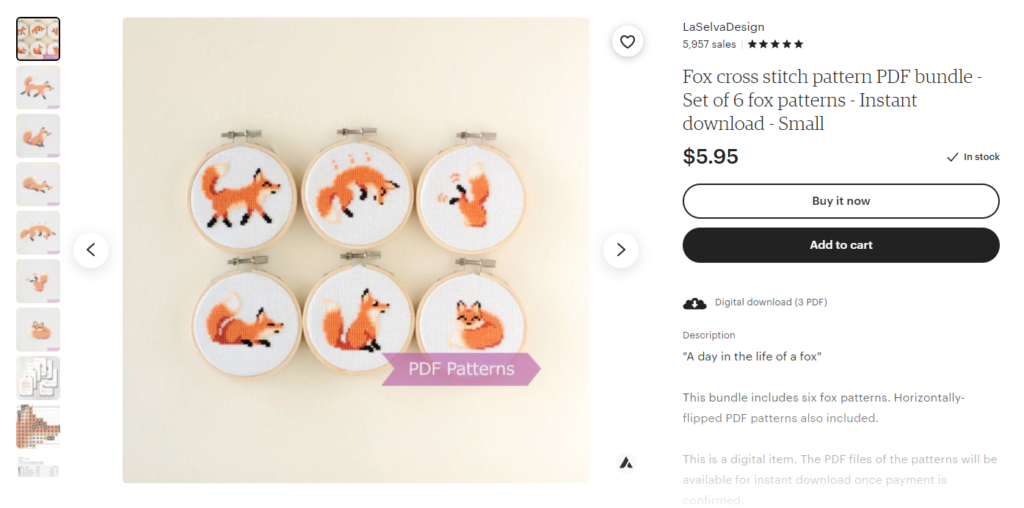 [Image source]

Make no mistake—selling craft patterns is a valuable business opportunity. Just look at the numbers (at time of writing) pulled in by sellers of PDF patterns on Etsy:
And these are far from the only pattern sellers making these kinds of sales numbers.

The profit margins for this craft are excellent. The usual price range for craft patterns is $2 to $10, with more complicated patterns occasionally selling for more. Every dollar you make is profit after you cover the overhead costs of graphic design software and site upkeep or marketplace fees.

Etsy and eBay both allow PDF products, and you can easily sell PDF downloads through other online store platforms (Shopify, WordPress, GoDaddy and digital sales platforms like Payhip.
6. Paper Cutouts and Confetti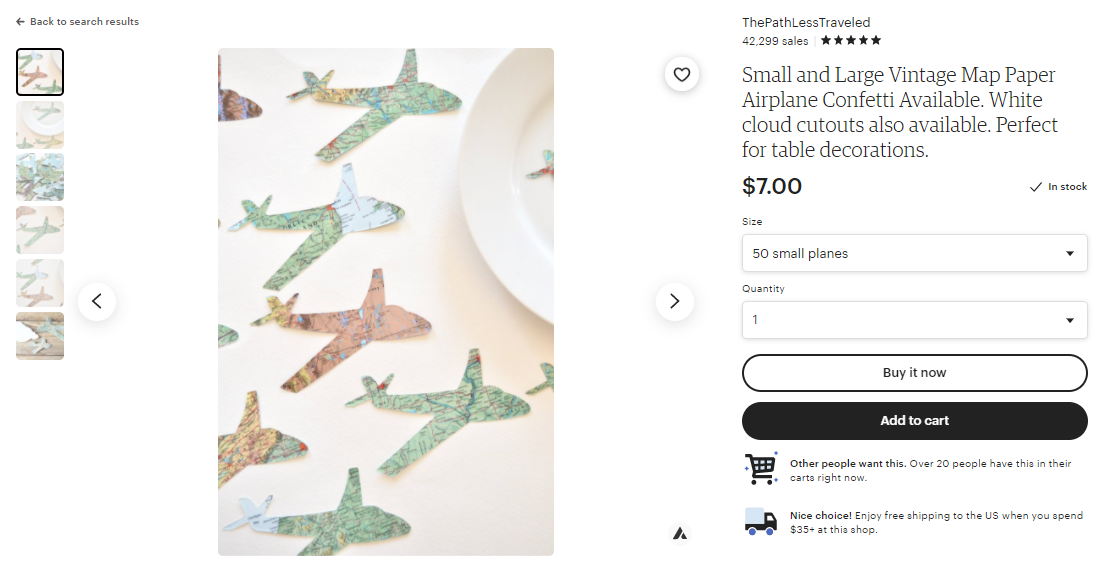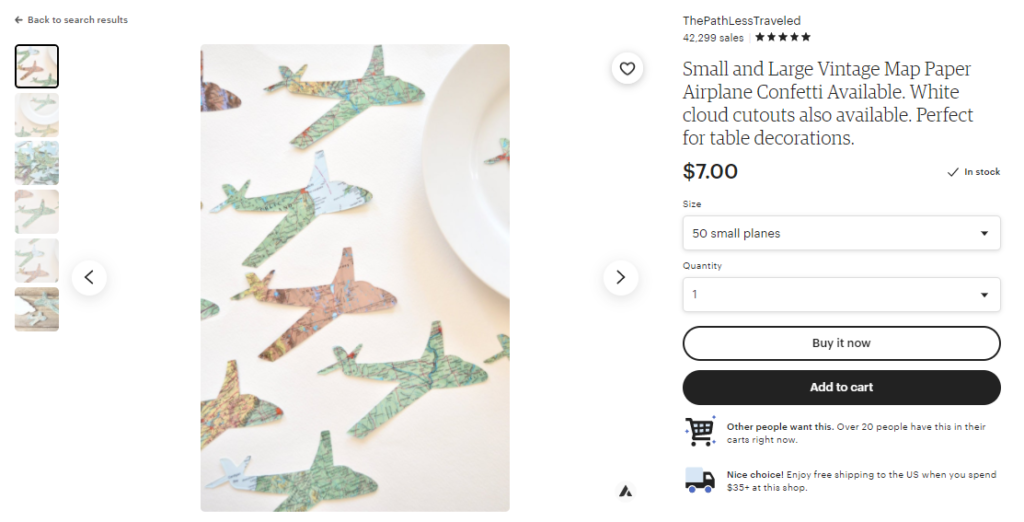 [Image source]

The demand for paper cutouts and confetti is lower than for the other crafts mentioned but still provides a decent market opportunity. However, the profit potential is what really makes this a great craft to create and sell.

The materials for this craft are very low-cost. Cardstock and cutting devices—paper punch tools, stencils, X-Acto knives—are all you need to get started. Due to this craft's light weight and small size, shipping costs are also reasonable. Since this craft usually sells for between $5 and $10, depending on your niche, the profit margins are nice and high.

7. Terrariums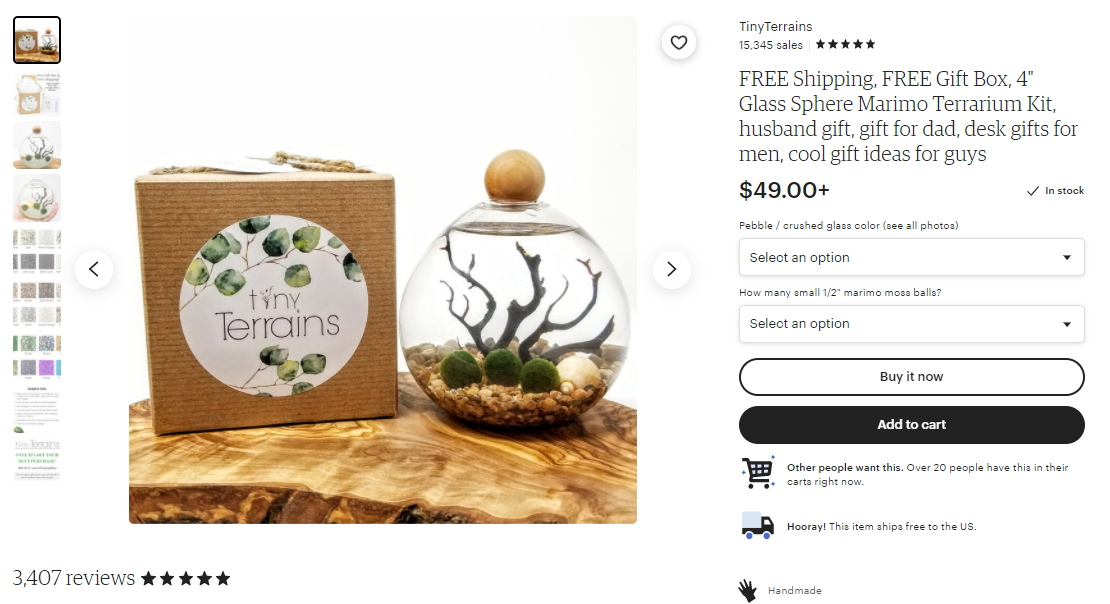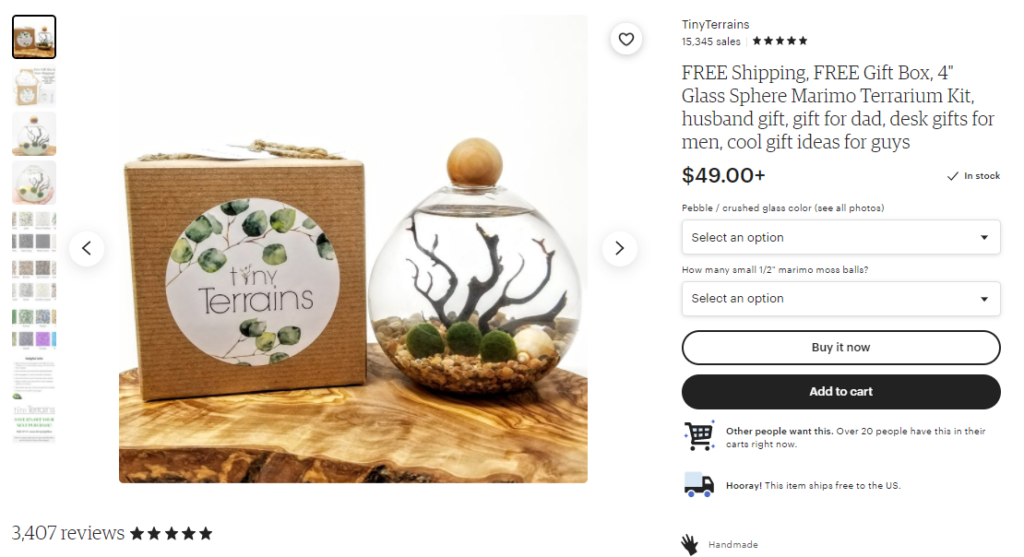 [Image source]

If you're looking for a fun, trendy product, consider selling terrariums. These unique home decor items go on and off marketplace bestseller pages, but both Google Trends and Alura (an Etsy product research tool) report growing demand for this craft.

Terrariums sell for anywhere between $15 and $115. The differentiating factors in terms of price are skill and how well the creator tailors their designs for a niche market. So instead of relying on expensive materials, focus instead on building unique terrarium designs.

"The people who make their craft business successful and fulfilling are the ones who find their own voice and style instead of just following trends," said Hill, and this is especially true of the terrarium market.

This dinosaur terrarium, for example, likely cost under $2 to make, but it sells for $20 because it fits the novelty gift market. You can also learn a lot from some of the standout terrarium sellers on Etsy:
If you want to increase your markup price, consider using unique terrarium shapes—such as a teapot or honey jar—that stand out to shoppers. You'll also want to find a good wholesale source for your plants to keep costs down.

Expect to pay higher fulfillment costs. You'll need to package this product carefully and ship it quickly to preserve the plants. Even with this expense, the high selling price for a well-designed terrarium makes it worth the endeavor.
8. Jewelry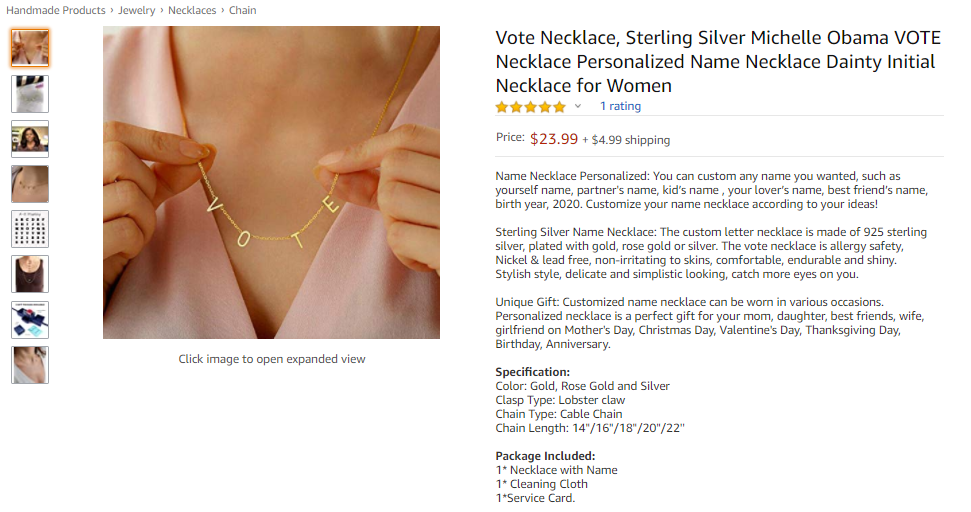 [Image source]

Jewelry consistently tops all the handmade bestseller lists on both Etsy and Amazon Handmade. But keep in mind, this market is quite competitive.

Like terrariums, the key is to create unique designs. Personalized jewelry is a big trend on both Etsy and Amazon Handmade, so that can be a good place to start. Get creative with the materials you use—whether that's beads, chains, or charms—to stand out from other sellers.

There is an incredibly wide range of prices in the jewelry category. New sellers who want to start with simple, easy-to-make designs can expect to sell in the $15 to $50 price range.

Labor costs can add up quickly with jewelry, so make sure you focus on designs you can learn to make efficiently and consistently. It's also important you don't undersell yourself. Find out what similar creators are charging and charge a fair price that reflects your product's worth. Be sure to use high-quality branding and packaging to influence shoppers' perception of your product's value.
9. Candles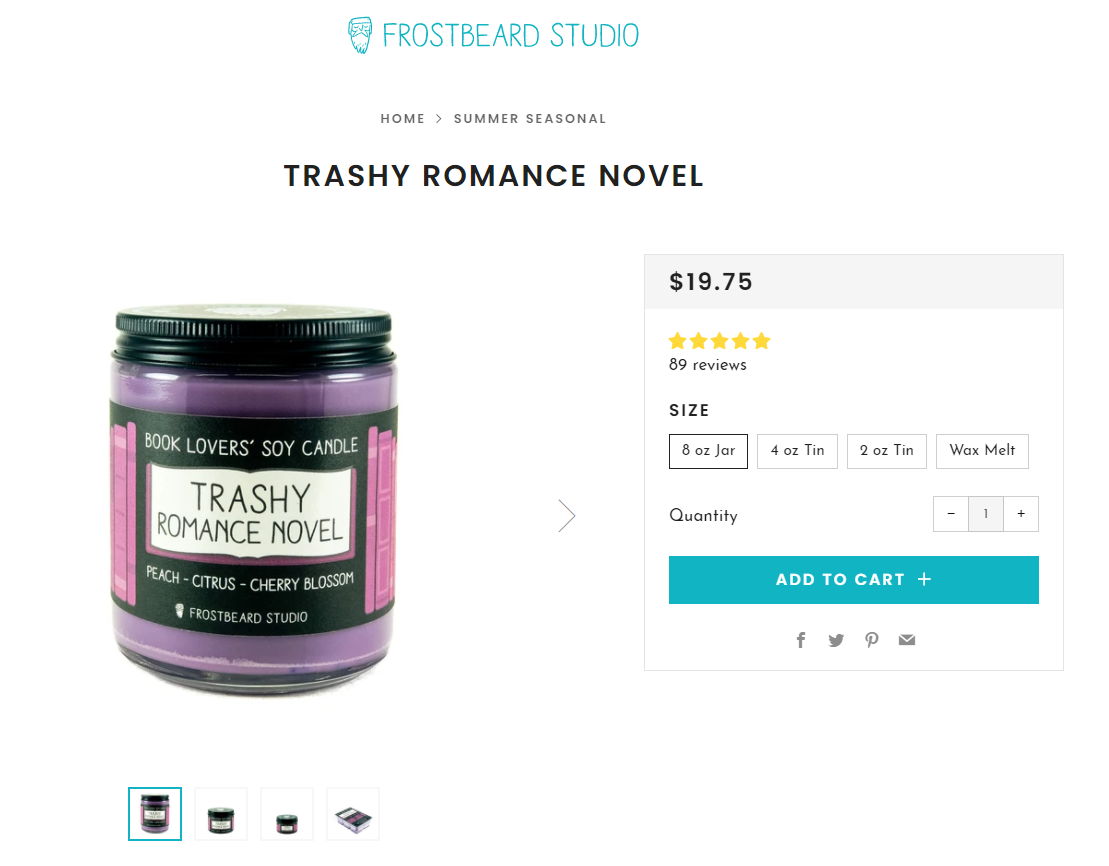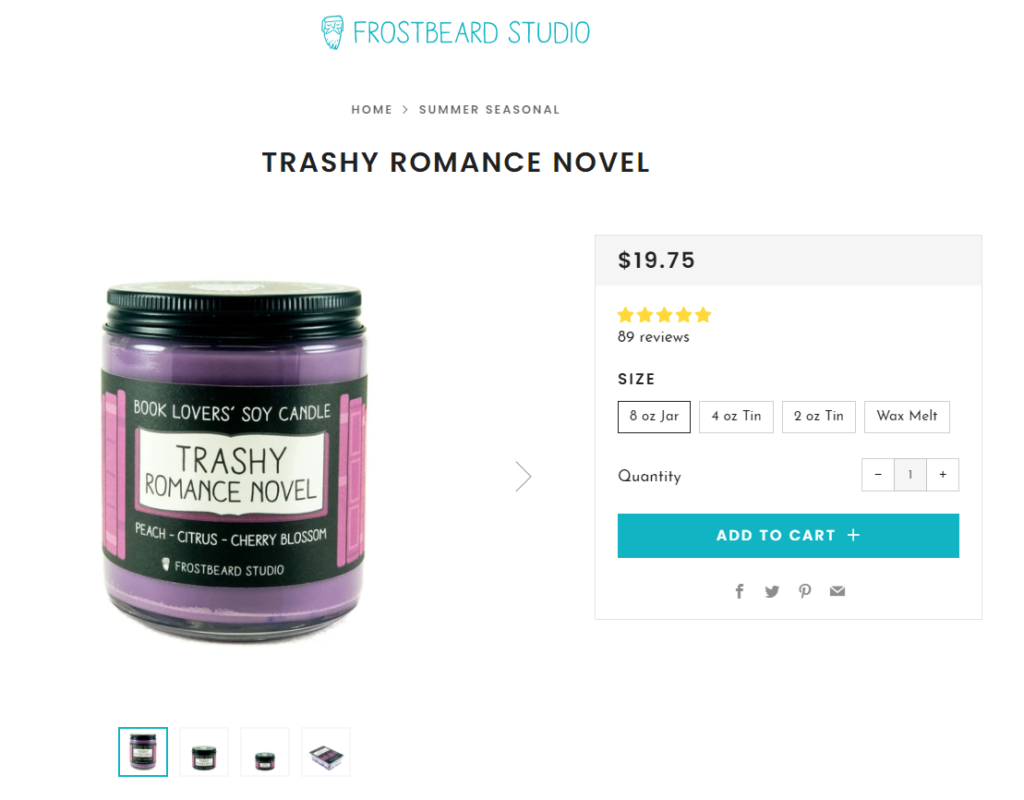 [Image source]

Candles are another consistent marketplace bestseller as well as a popular product for many successful ecommerce stores. It's a crowded category, but there's plenty of demand for new, one-of-a-kind scents. Shoppers also look for candles with eye-catching labels and designs.

Labor is more intensive with this craft, so develop an efficient process for creating candles to keep your business profitable. Luckily though, the high price of this craft somewhat offsets the labor investment.

Shoppers expect to pay in the $10 to $25 range for a handmade candle. This is also not a category where you need to worry much about price competition. Shoppers don't want the cheapest price; they want a candle that looks and smells good. Use branding, not pricing, to compete in this market.

Take the time to research your audience, design your signature scents, and create an aesthetic that attracts your target buyer. Encourage buyers to leave positive reviews, and maybe try influencer marketing to build social proof. Both of these tactics increase shoppers' confidence, which is especially important when you're selling scented items.
Make a profit doing something you enjoy
It doesn't matter what your creative talents are or what your skill level is. You can build a profitable business around the crafts you enjoy.

Milliron had some parting advice for fellow crafters starting their business journey: "Make what you want to make. Follow the rules, read the terms, and be your own artist with the tools you have."

The key is to understand your market and approach your craft like a business. It will take some trial and error, but with enough effort and time, you can make your craft profitable.

Want to take the next step in developing your handmade business? These articles will help: