There are a lot of different acronyms involved in listing an item for sale on eBay, many of which you may not know. From MPNs and UPCs to ISBNs and EANs, keeping track of them can seem complicated, but their purpose is to simplify the eBay buying and selling process.

These product identifiers are a series of numerical or alphanumerical digits that signify specific items, creating a universal system that allows products to be identified. These various codes make it easy for shoppers to find items both on eBay and through search engines like Google, and they can boost your listings' visibility.

So what is MPN on eBay? And what about all those other acronyms? And how can they help your eBay sales? Let's take a look at what each of these identifiers means and how they can help you improve your eBay listings and make sales.
What is GTIN?
"GTIN" stands for global trade item number, an identifier assigned to any product by GS1, a not-for-profit organization that develops international standards for business communication.

These unique numbers help identify which products in one database correspond with products in another database across international borders and organizational boundaries, and they're issued to manufacturers and retailers for a fee. They were created to establish a single standard for product identification, and they incorporate other product identifiers, including UPC, EAN, MPN, and ISBN, which are all types of GTINs.

What is MPN?
"MPN" stands for manufacturer part number and is a series of numbers and/or letters that a manufacturer assigns to individual products.

MPNs help buyers find specific parts, and they identify which companies made those parts. They're more common in industries that make interchangeable parts, like the automobile, machinery, hardware, and computer industries.

For example, let's say an eBay shopper is looking for a specific hard drive.


They can search for the item's MPN, such as "WL4000GSA6472E," as illustrated above.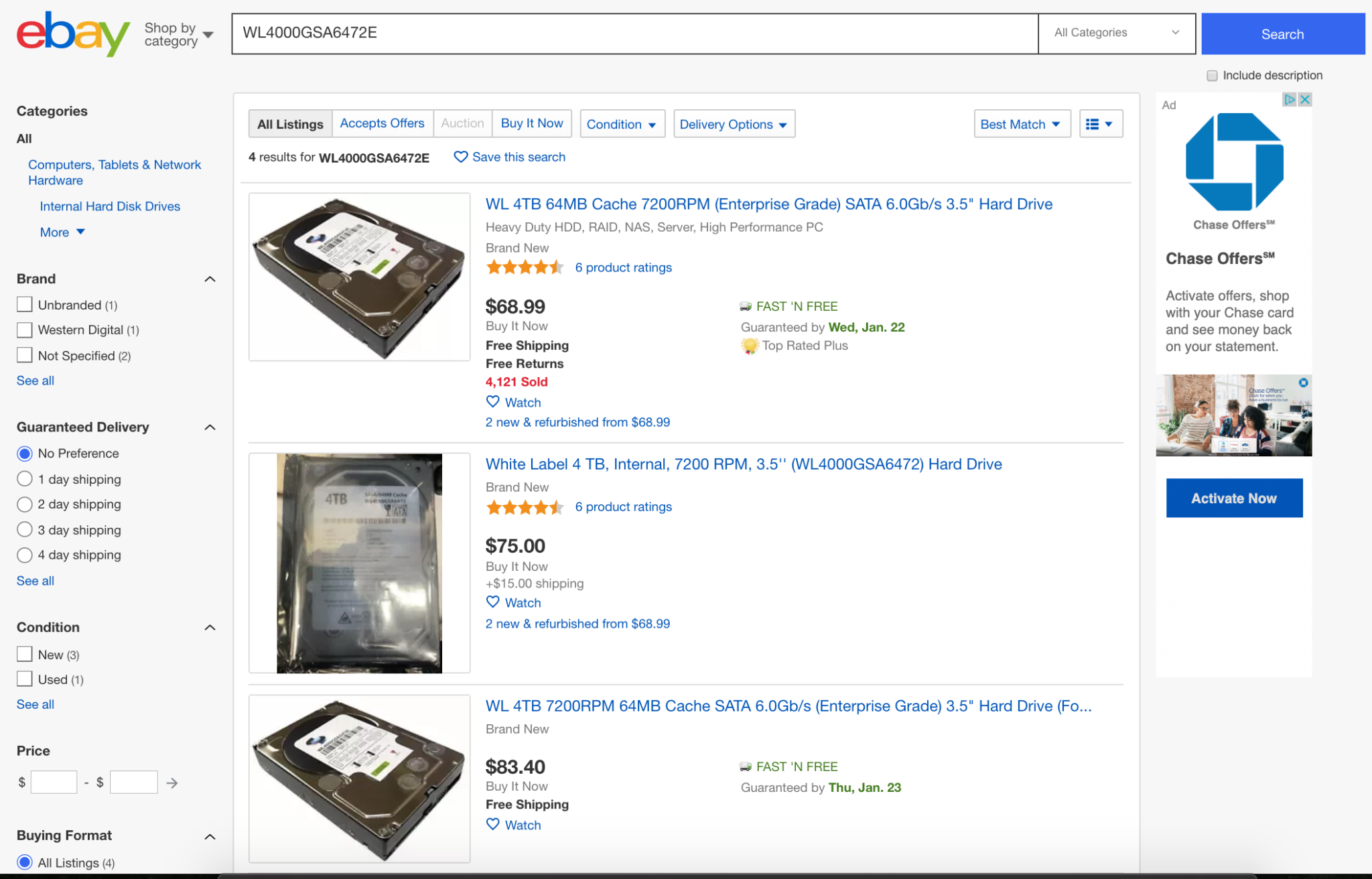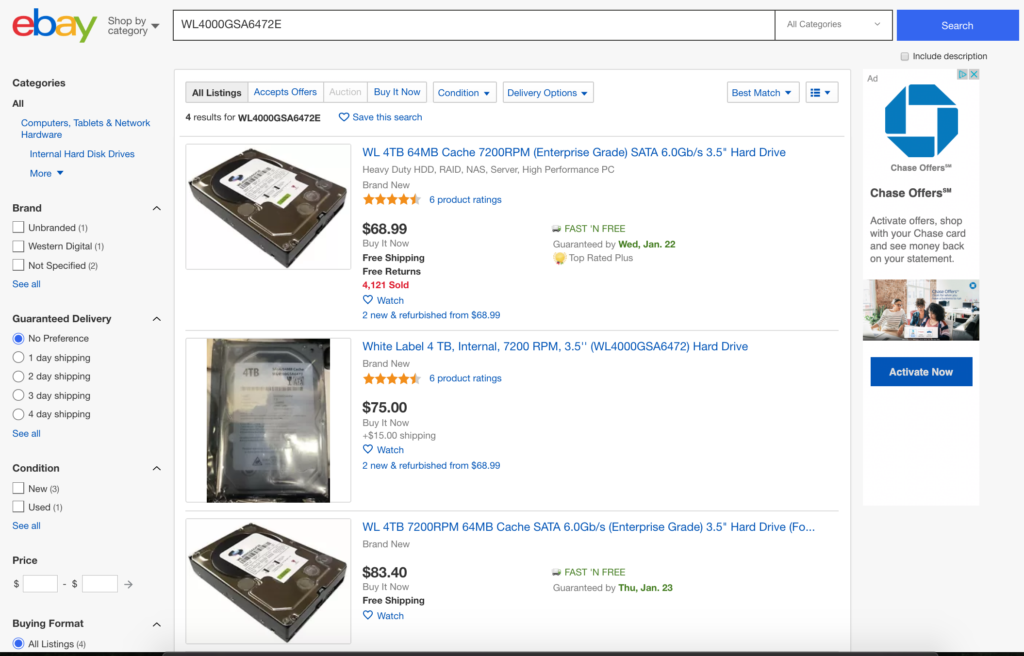 The shopper will then get a variety of search results, such as in the example above, that display only items with that exact MPN.
What is UPC?
"UPC" stands for universal product code, and it consists of a 12-digit numeric code and a corresponding machine-readable barcode that can be assigned to any product.

These are common in the United States and Canada and are primarily used for tracking inventory and scanning items at the point of sale. A unique UPC can identify a product by brand, name, item, color, and other factors.
What is EAN?
"EAN" stands for European article number, and it's essentially the European version of a UPC. These 13-digit codes are also known as international article numbers.

If your eBay listings are available to international buyers, including an EAN as a product identifier is essential.
What is ISBN?
"ISBN" stands for international standard book number, a 13-digit product identifier exclusively for books.

They're used primarily by publishers, booksellers, and libraries, but are commonly employed by Internet retailers to identify titles. Each variation of a book title — including the edition, the language, and the book format, such as print, audio, or e-book — has a unique ISBN.
What About SKUs?
"SKU" stands for stock-keeping unit, and it is a type of product identifier. However, SKUs are created by individual businesses for internal use and aren't actually standard codes.

eBay does have a "custom label (SKU)" field for sellers to enter SKUs, which allows you to include these internal identifiers to help you track inventory, ship orders, and ensure your listings are correct, but they won't be visible to buyers.
How Should eBay Sellers Use Product Identifiers?
When listing an item for sale on eBay, you'll always be prompted to enter product identifiers, such as the UPC or ISBN, for example, as illustrated below.

The purpose of these identifiers is to allow for product-based shopping and to make it easy for consumers to find the specific product they're interested in.

While eBay doesn't require product identifiers for product category — such as certain collectibles — they are essential for most eBay product categories. You can view the full list of qualifying and required categories here.

What are the Benefits of Product Identifiers on eBay?
As mentioned previously, using product identifiers in eBay listings simplifies the product-based shopping process for eBay users by allowing them to quickly and easily identify items. But there are several other benefits to including these codes in your listings:
They make creating listings easier by matching items with products already in eBay's catalog. For example, if you're selling a box set of Harry Potter paperback books and enter the ISBN "9781408856772," eBay can easily identify the product from previous listings and fill in a lot of essential information for you, as illustrated in the screenshot below.


They make pricing more accurate.
They improve placement and visibility in search results on both eBay and in search engines.
They enable eBay to alert you when your listings are below the item's trending price.
They make your listings eligible for inclusion in eBay promotions.
Check out this article for tips for increasing your sales from successful eBay sellers.
Include 'Item Specifics'
Not every item you list for sale on eBay will necessarily have a specific product identifier, such as an MPN, a UPC, or an EAN. For example, event tickets and certain collectibles will typically lack this information, but you can still list these items for sale on eBay.

But you can still include what eBay calls "item specifics" in your listings, like the brand name and the physical details of what you're selling, such as size, make, model, and color. This information makes it easy for buyers to find your listings through search and determine whether your item is the one they're looking for.