So you want to build an ecommerce empire. Naturally, eBay seems like the best place to begin. With 182 million users, it's one of the biggest online marketplaces. And it did recently win EcommerceBytes' Sellers Choice Award for Profitably for the seventh straight year. It's no secret that eBay is an incredible platform and we can't recommend it enough, but for new sellers, sometimes bigger isn't always the best. Choosing alternatives to eBay might be a better option for a few reasons.

For one, along with eBay's large buyer pool comes more competition, and eBay has approximately 25 million sellers around the globe. If you're new, you'll have little to no buyer feedback, which means it will be difficult to attract new buyers, especially for high-priced items. Because it's a premium platform, eBay charges premium fees when you list and sell merchandise, which will cut into slim profit margins on lower-priced items. And finally, it'll be difficult to stand out on a site that sells everything from art to vacuum cleaners.
Again, this doesn't have to be an either or situation, there are lots of great reasons to be on eBay as well as other platforms, but for some sellers, these six alternatives to eBay might be a better option to start selling your stuff online.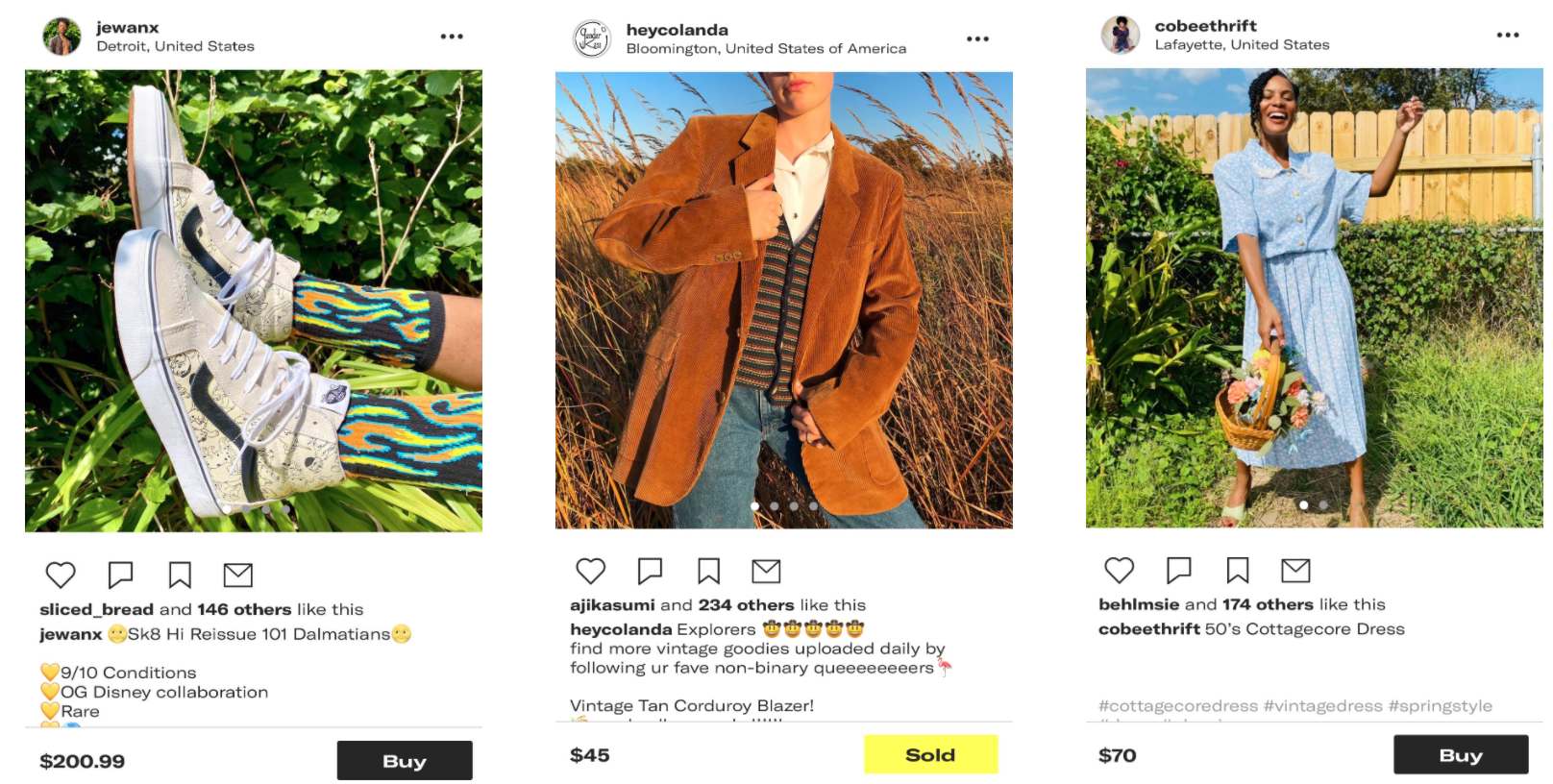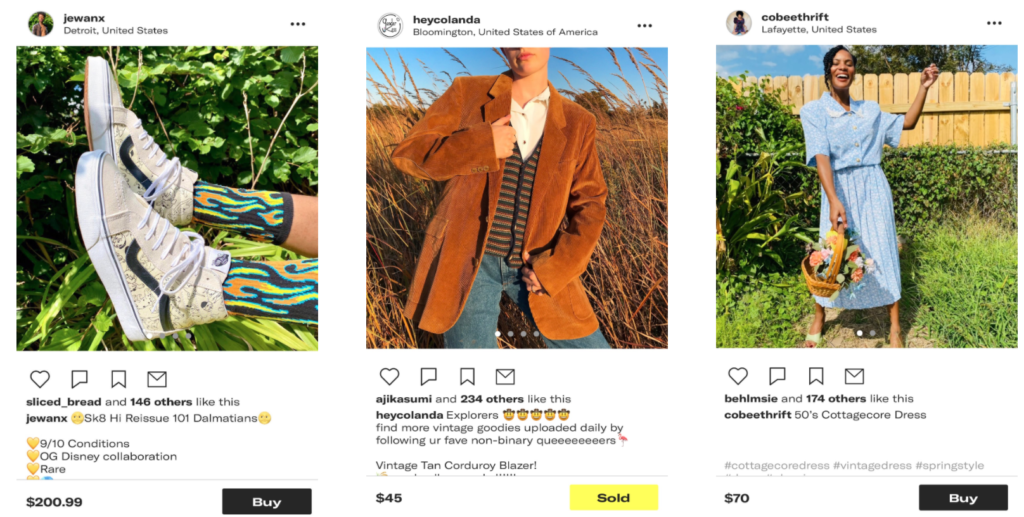 Depop is a marketplace app where users can buy or sell unique and vintage clothing. While the majority of eBay's users are between the ages of 35-64, 90% of Depop's users are age 26 and younger. This makes the site one of the best alternatives to eBay if you're targeting younger buyers.

The London-based startup has huge traction in the UK, where a third of all 16 to 24-year-olds have registered an account. In the U.S., the app has 5 million users, but current projections show it should reach 15 million within the next three years.

Given the app's young audience, it isn't surprising the user interface looks more like Instagram than eBay and functions more like social media than an online marketplace. Sellers build followers, and buyers scroll their feeds to view and purchase merchandise.

Depop's CEO Maria Raga said the app's top sellers "are known to clear $100,000 annually."

Pros
Instagram-like UX provides a better shopping experience.
There are no listing fees.
There are fewer competing sellers.
You can build a following like you do on social apps.
Cons
You're limited to selling within certain categories.
Creating pictures and videos for products will take time.
The majority of users are based in the UK, but the U.S. market is growing.
Depop doesn't help with taxes.

How to Set Up a Depop Shop
If you choose to sell on Depop, it's pretty easy to set up your shop and list merchandise.
Download the app.
Create a username.
Add a photo to show the style of clothing you'll be selling or a logo for your shop.
Write a description of what users can expect to find in your shop.
Provide an example.
Link to your social media to give a face to your store.
Connect your PayPal account, so you can get paid whenever your items sell.
When you want to sell an item, just upload photos or a video and add a description, relevant hashtags, and the price to purchase and ship.
Tips for Selling on Depop
Here are some tips to becoming a successful seller on Depop:
Take quality photographs. In fact, Depop's Seller Handbook says photographs are the "key to success on Depop."
Write accurate, detailed descriptions to go along with your photos, and use relevant hashtags.
Be prompt shipping merchandise after an order has been made.
Reviews are important. Leave a review for the buyer, and encourage the buyer to give you a review.
2. Poshmark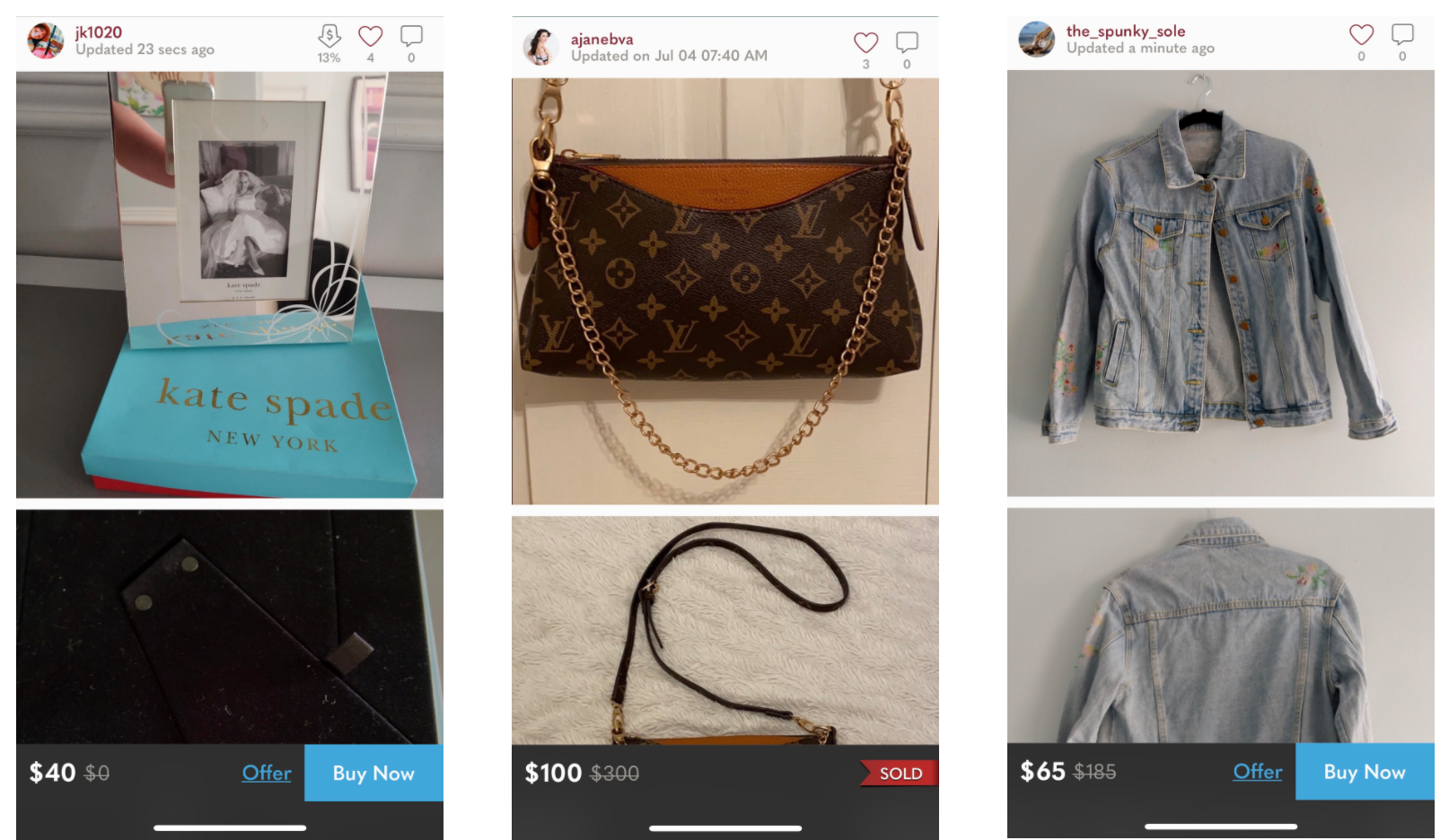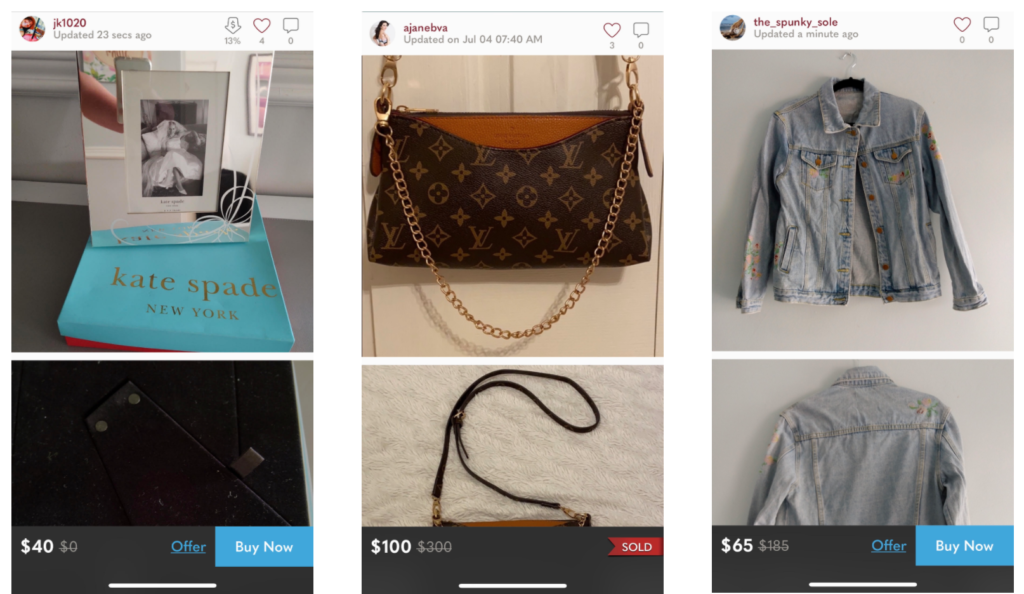 Poshmark is a marketplace app where users can buy or sell name-brand clothes, shoes, and accessories, so it's one of the best alternatives to eBay if you're selling high-end items. Some of the brands that sell well on the app include Nike, Kate Spade, All Saints, and Mark Jacobs. Since 2016, Poshmark has been trying to grow its men's business, and it recently added home decor as a new category.

The platform currently has 50 million users, and 5 million of those users are sellers. Unlike eBay, which has a more equal mix of users, with 57% male and 47% female, Poshmark's users are 82% female and 18% male.

Similar to Depop, Poshmark is focused on social selling. Scrolling through the app is similar to looking at an Instagram feed, and users are encouraged to build a community. Unlike Depop, though, the pictures are often product shots instead of lifestyle photos.

For most users, Poshmark is a way to clean out your closet and make some extra cash, but others have turned it into a full-time job. Its top seller is Suzanne Canon, who has made more than $1 million since she began selling in 2012.

Pros
The app has a large, active audience.
The company provides sellers with prepaid shipping labels.
It offers a tiered fee structure based on the sales price.
Sales tax is calculated and remitted on the seller's behalf, so you don't have to worry about it.
Cons
For sales above $15, the fee is 20%, and there is no maximum, which is more than eBay.
You have to be very active in the app to grow your audience and attract more buyers.
How to Start Selling on Poshmark
To get started selling on Poshmark:
Download the app.
Create your profile.
Take photos of the item you intend to sell.
Write a description.
Check the appropriate category, size, color, etc.
Name your price.
Press the "List Item" button.
Accept or counter offers.
After you've accepted an offer, print the shipping label and drop the item in the mail.
Tips for Selling on Poshmark
If you want to do well on Poshmark, follow these tips from its most successful sellers.
Take good photographs. The app allows up to eight photos with an item, and you should use all of them.
Make your closet memorable by defining your brand identity with a cohesive color scheme, consistent photography look, and catchy name.
Research what is selling well.
Compare prices on other sites.
Be social. Get to know your buyers.
List frequently and share others' listings.
3. Etsy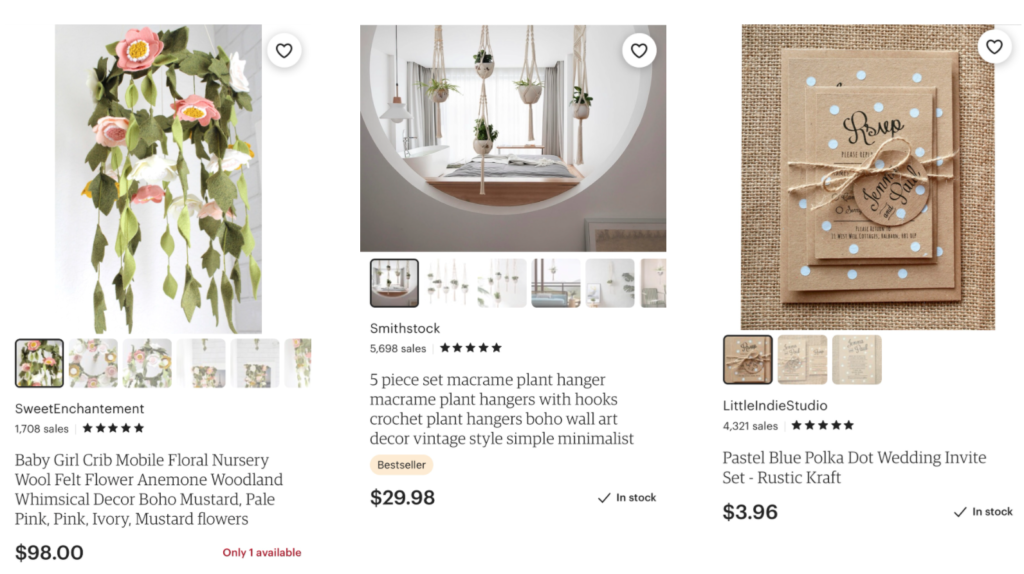 Etsy is an ecommerce website where users can buy and sell craft supplies and handmade or vintage merchandise that falls into a range of categories, including jewelry, clothing, home decor, furniture, and art. The site has almost 46 million buyers and 2.5 million sellers, making it one of the better alternatives to eBay.

Similar to Poshmark, the demographics for Etsy are primarily women. Specifically, 81% of Etsy users are female, and only 19% are male. Etsy skews younger than eBay, with the majority of buyers falling between 25-40 years old.

For some sellers, Etsy has become a full-time job, and around 65% of sellers say they're able to enhance their income through their store sales.

Pros
Etsy's analytics will show you stats about your shop.
The company provides sellers with discounted postage.
Etsy is less focused on seller performance than eBay.
Cons
Sellers pay listing fees, transaction fees, and payment processing fees if you use Etsy payments.
There is concern the market for handmade items on Etsy is saturated.
How to Start Selling on Etsy
To get started selling on Etsy:
First, you need to create a personal account and add a picture and bio.
After that, click "Sell on Etsy."
Then click "Open your Etsy shop."
Choose your language, country, and currency and save your selections.
Pick your shop's name.
Add a banner and logo for your shop.
Create an About section that includes photos and videos and tells the story of your brand.
Outline all of your policies regarding shipping, returns, and exchanges.
Then you're ready to make listings by adding photos, descriptions, and prices, setting up shipping, and publishing.
Check out our post on how to get started on Etsy in just 10 days.

Tips for Selling on Etsy
To be successful on Etsy, we recommend:
You take good, quality photographs to make your products stand out.
Optimize your titles for search because, at its core, Etsy is a search engine. Do this by being descriptive with the product's features, size, materials, etc.
Use all the terms that apply to the item. For example, if it's a keychain, you could also call it a key fob or a keyholder.
Do competitor research for the niche you're selling on. Look at their pricing, photos, descriptions, and comments to see what they're doing well and where they could improve. Then apply those learnings to your store.
Expand your inventory so that more people will find your store and buyers will want to return to see what new items you've added.
4. Facebook Marketplace
Within the Facebook app, users can go to Marketplace to buy and sell almost anything from a chair to a car, locally. Because of the popularity of Facebook, Marketplace is used by 800 million people per month, so if you're looking for alternatives to eBay, it's a great choice with a huge reach.

Facebook Marketplace is a good place to sell mainstream products like TVs, bulky items like sofas, as well as children's products, thanks to the popularity of parenting groups on the site. But for rare items or adult clothes, you might want to pick a different platform.

Since Marketplace lives within the Facebook app, its demographics are the same as Facebook's, which is about 54% female and 46% male.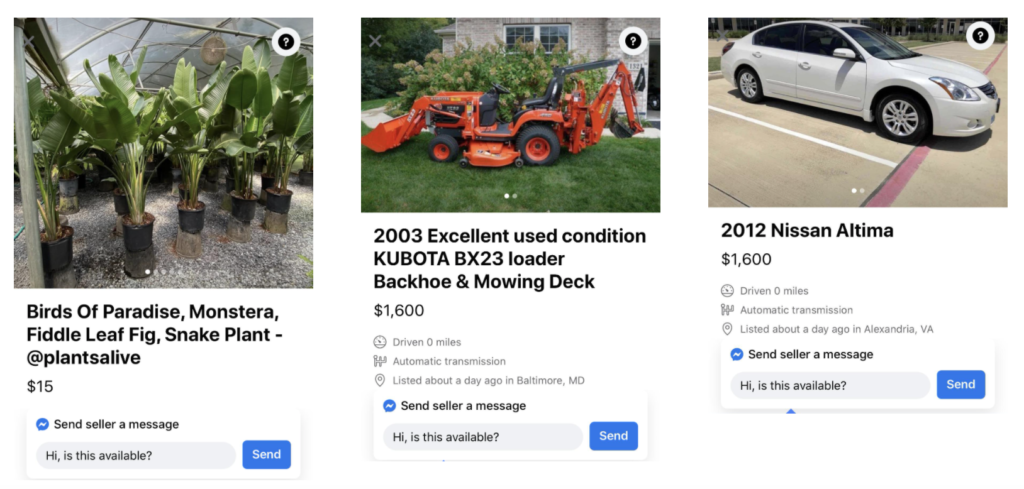 Pros
There are no listing fees.
Marketplace contains Facebook's built-in audience.
There is no limit on the items you can sell.
Selling fees are low at only 5% or or you could pay a flat rate of $0.40 for shipments of $8.00 or less.
You don't have to deal with shipping items because merchandise can be picked up by the buyer.
Cons
Sales take place through Messenger, so there could be a lot more customer service and interaction required than if you were selling on another site or app.
There are many complaints that sellers are having to compete with brick-and-mortar stores, like furniture retailers, flooding the listings.
How to Start Selling on Facebook Marketplace
If you already have a Facebook account, it's very easy to start selling:
Within the app, click the Marketplace icon at the bottom of the screen.
Click "Sell" at the top of the screen.
Choose the new category for your listing.
Add a photograph.
Add an item title, description of item, and price.
Confirm your location.
Tips for Selling on Facebook Marketplace
To successfully sell your products on Facebook Marketplace:
Make sure you take a good photograph to make your product stand out.
Be very detailed in the description of the product, like whether it's used or new and if there are any potential issues. More detail will help buyers trust you.
Choose the appropriate category. Don't spam users by adding items in categories they don't belong in just to get more exposure.
Be clear about what price you will accept.
5. OfferUp

OfferUp is an online platform that was primarily for buying and selling merchandise to a local audience. Recently, it decided to expand its reach by allowing sellers to ship items nationwide. This move was intended to make it more competitive with eBay, though it currently has about 42 million unique users.

The app has become popular because it has systems to make transactions more trusted than those on Craigslist or Facebook Marketplace. Users on OfferUp have the option to verify their identities with driver's license uploads or confirming their phone number, Facebook, or email address.

It's similar to Facebook Marketplace in that you can sell anything and purchases happen through messages.

Pros
It includes a "Hold Offer" feature that starts a transaction and completes it once a buyer and seller meet, which helps prevent flaky buyers and sellers.
There are no fees unless you ship an item.
Cons
Its audience is focused in larger metro areas like Seattle, Los Angeles, Las Vegas, and Phoenix at the moment.
How to Start Selling on OfferUP
To get started on OfferUp:
Download the app and create an account.
Tap "Post."
Add a photo.
Enter a title.
Select the item's category.
Determine the item's condition.
Write a description.
Enter your price.
Set the item's location.
Tips for Selling on OfferUp
Based on tips from a successful OfferUp seller, if you want to do a good job selling your stuff on the app:
Take good pictures.
Whenever anyone responds with an offer, provide all relevant information.
You can't provide too much information in your descriptions — the more information, the greater the chance you'll end up in searches.
Use odd pricing to stand out. Instead of $50, try $53.
6. Ruby Lane


Ruby Lane is the largest curated marketplace for buying and selling vintage antiques, art, jewelry, fashion, furniture, and dolls. The site gets more than a million visits each month.

Ruby Lane attracts very specific buyers who are willing to pay a premium price for antiques and collectibles, which makes this a good alternative to eBay if you have high-end vintage merchandise.

Pros
It has a curated audience who's looking for vintage and antique items.
Ruby Lane doesn't have listing fees, and its selling fee is low at 6.7% and capped at $250 per item sold.
Cons
There's a minimum monthly cost for maintaining an online store of $54 for the first 50 items, whether or not you make a sale.
How to Start Selling on Ruby Lane
Creating a store on Ruby Lane is a bit more complex than other alternatives to eBay. To get started:
Create an account and add payment info.
Create a name for your store.
Pick what items you plan to sell and make sure they align with Ruby Lane's selling policies.
Add clear photos that include relevant markings.
Add descriptions.
Set your price.
Fill out a pre-opening checklist.
Make an initial payment for store maintenance.
Once your checklist is approved, you can open your store and start selling.
Tips for Selling on Ruby Lane
To be successful selling on Ruby Lane, you should:
Take quality photographs that show the front and back of the pieces.
Add thorough descriptions that share the history of the antiques you're selling.
Set the right price point for your products by doing your research.
Leave yourself room for negotiation in your pricing.
These Alternatives to eBay Might Make You More Money
As I mentioned above, you don't have to pick between eBay and one of these other platforms, but if you're looking to start building your ecommerce empire and eBay doesn't feel right to you, these six alternatives to eBay might be a better place to begin. With less competition, better fee structures, different demographics, and the potential for social selling, new sellers might build their customer base quicker and make more money than they would on eBay.