In 2010, Jin Lin launched his jewelry business, Bista Co., on eBay. It took off, and Lin began looking into ways to expand his reach by selling on other popular ecommerce marketplaces, such as Amazon. But launching on multiple sales channels and managing inventory while still maintaining his core business on eBay presented a variety of challenges.
Lin found the solution to his multichannel selling problem by using Sellbrite's listing tools, which allow him to sell his jewelry across various platforms and easily manage inventory. Today, Bista Co. generates more than $5 million in sales annually.
Success stories like this aren't uncommon for sellers who grow their business with the help of multichannel listing tools. In fact, according to Sellbrite research, merchants who sell on three or more channels sell 156% more, and Sellbrite merchants experience over 300% growth after just one year.
See how listing tools can help you grow your ecommerce business.
1. Increase Product Visibility
Sellers often launch their ecommerce businesses on their own websites or sell their products exclusively on marketplaces like Amazon and Etsy. But multichannel listing software makes it simple for sellers to expand their reach and list their items on multiple marketplaces.
This not only increases their products' visibility and helps them grow their brand but can also lead to more sales, as in Lin's case.
Multichannel listing tools like Sellbrite allow sellers to bulk list inventory from one central catalog to various ecommerce marketplaces. This makes product listing fast and easy, and it means a seller can quickly expand from selling on only one marketplace to selling on numerous others, including Amazon, eBay, Jet, and Walmart.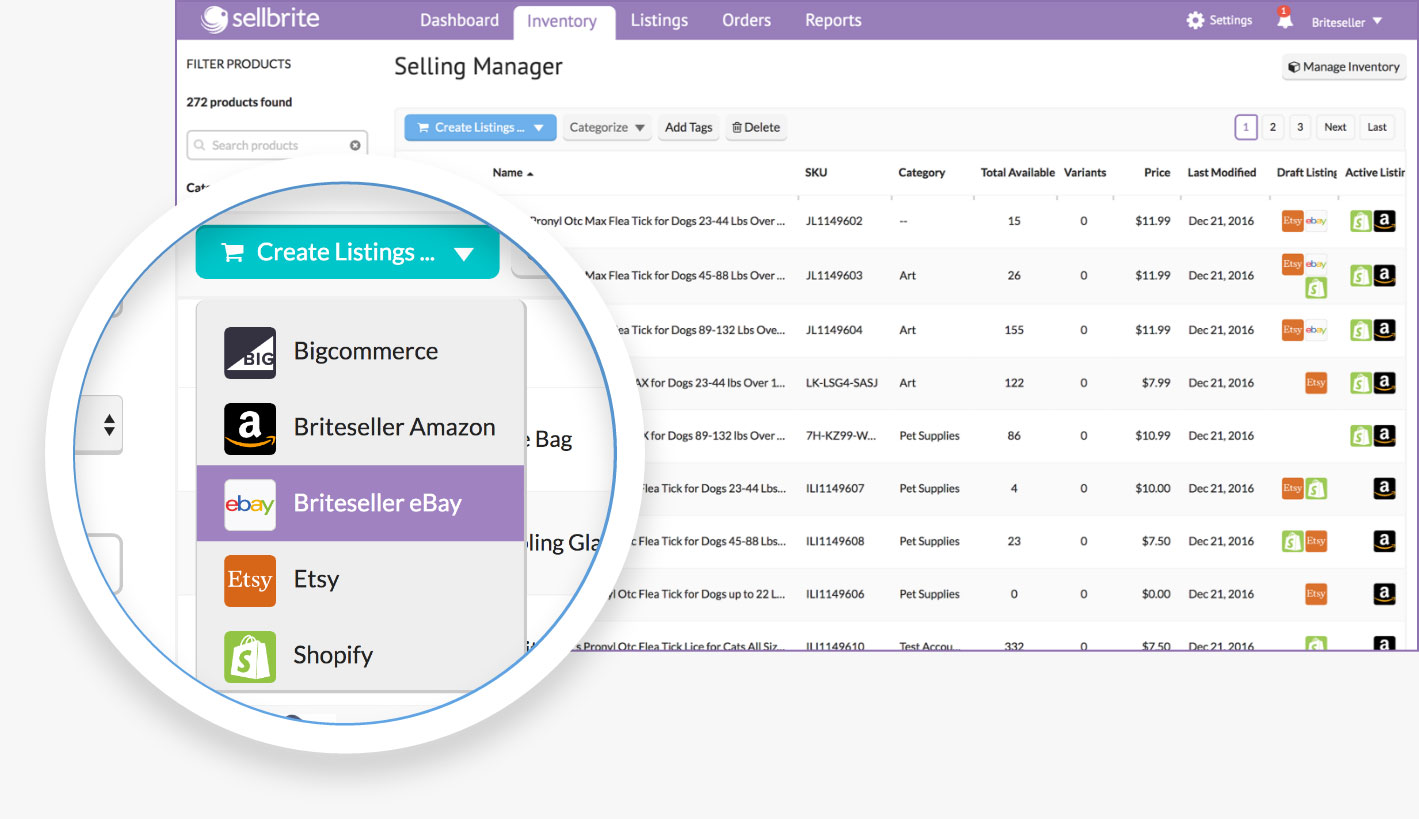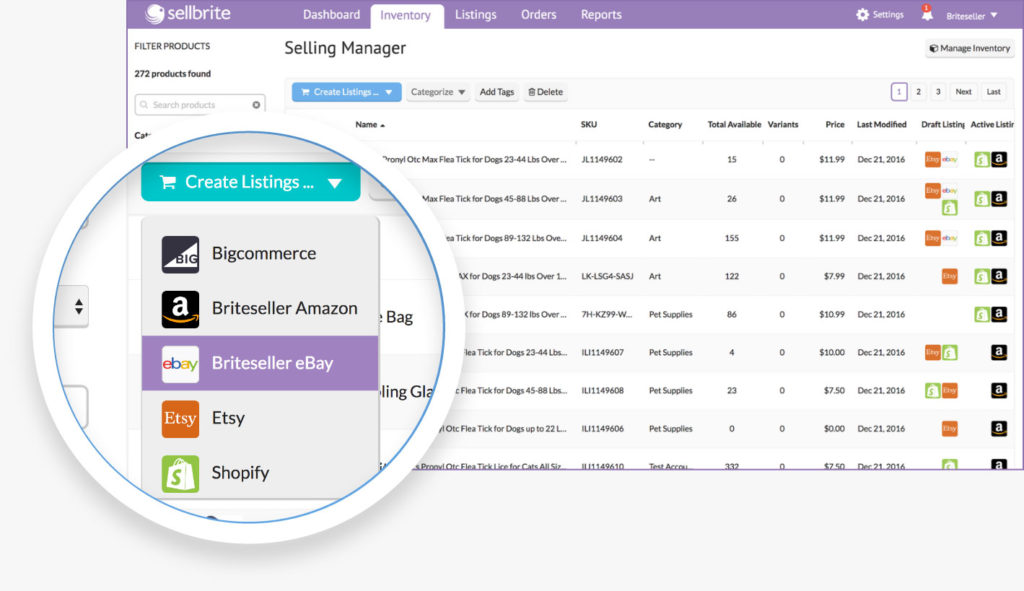 This is significant because consumers don't want to be limited to how they can buy your product. In fact, 73% of customers buy the same brands from multiple marketplaces, so providing shoppers with options can pay off.
Plus, research shows that online shoppers have a preference for products they continually encounter. Known as the mere-exposure effect, this phenomenon demonstrates that individuals who are repeatedly, benignly exposed to a particular item will develop a positive association with it and are more likely to purchase it.
2. Save Time
One of the major hurdles to expanding an ecommerce business is the time commitment involved. Listing products on various sales channels and managing them is time-consuming, but sellers can simplify this process by bulk listing through a single product catalog.
A central catalog lets sellers publish new product listings in bulk to a variety of sales channels, such as Amazon, eBay, Etsy, Walmart, Jet, with just a few clicks. It also allows sellers to efficiently update numerous fields — including product title, description, price, and images — at once. Any updates will automatically sync across all sales channels, as illustrated below.
This saves time, guarantees continuity, and reduces the likelihood of errors across platforms.
Sellers can even customize product listings for specific sales channels. Templates can be applied to new or existing listings, and any changes made to a template will automatically update all published listings on that one platform — or across various marketplaces simultaneously, if need be — saving hours of work.
And all of those hours of work saved can be reinvested in your business, allowing sellers to focus on other important aspects of their ecommerce business, such as marketing or the creation of new products.
3. Prevent Overselling
Managing inventory across multiple sales channels can be difficult. And overselling doesn't only frustrate consumers, but it can also damage a seller's reputation on sites like Amazon and eBay. These ecommerce platforms, in particular, heavily weigh seller feedback, which can affect a seller's likelihood of winning the Amazon Buy Box and can even negatively impact your listings' ranking in eBay search results.
However, multichannel software like Sellbrite includes inventory-management tools that make it easy to track stock across every warehouse and every sales channel, as demonstrated below. This helps sellers avoid both overselling and underselling.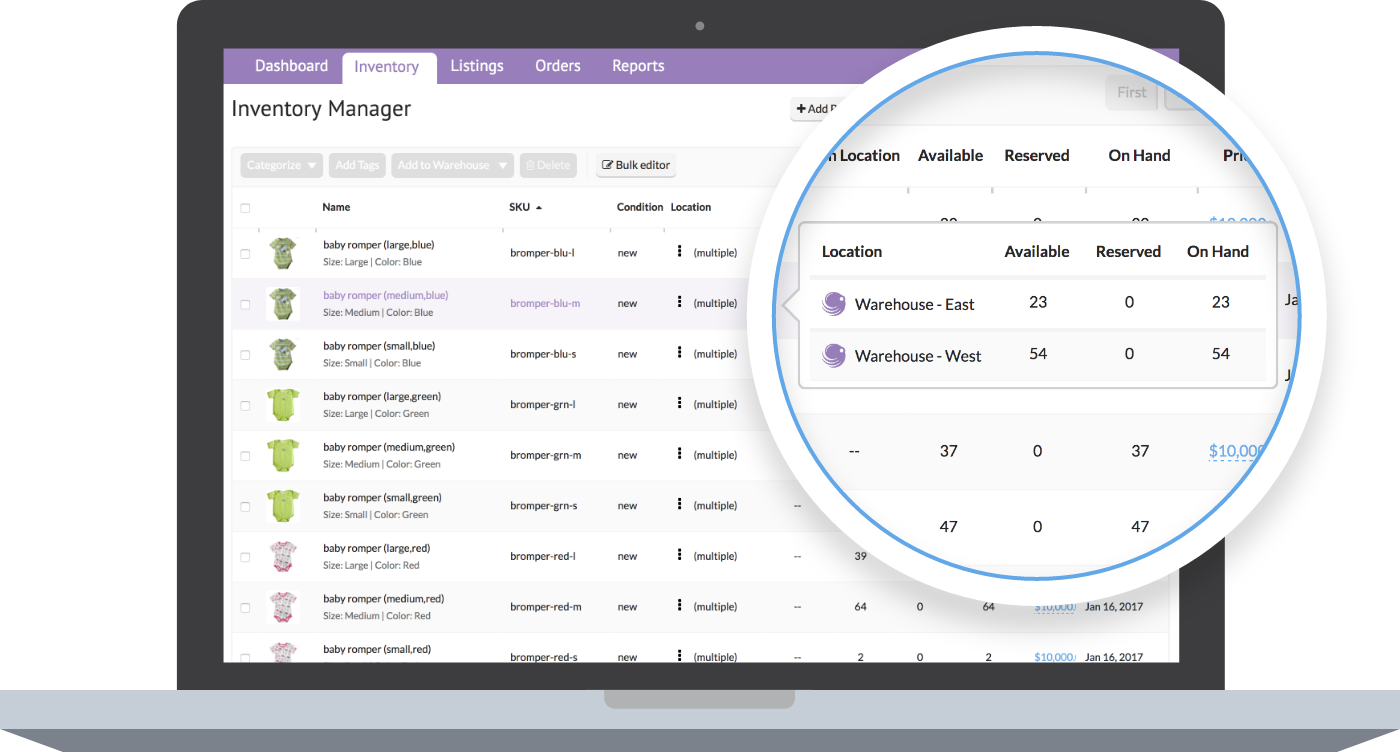 As sales are made, ecommerce listing tools automatically update available stock and sync inventory so that inventory levels are properly displayed across all sales channels.
This allows sellers to know what inventory is available and where it's located in real time. Some multichannel listing software will even integrate with point-of-sale systems.
Listing tools can also give ecommerce sellers a competitive edge in inventory management. For example, Sellbrite lets sellers create customized inventory rules for each channel, allowing them to simulate stock scarcity, display heavy stock, and maintain reserve inventory so you're always prepared.
4. Ship Orders Faster
With the popularity of Amazon Prime's two-day delivery, today's consumers expect to receive their orders quickly, and ecommerce listing tools can help sellers meet this important demand.
Such software enables sellers to print shipping labels at low prices without setting up additional postage accounts, but they can also integrate accounts like FedEx and UPS to take advantage of negotiated rates.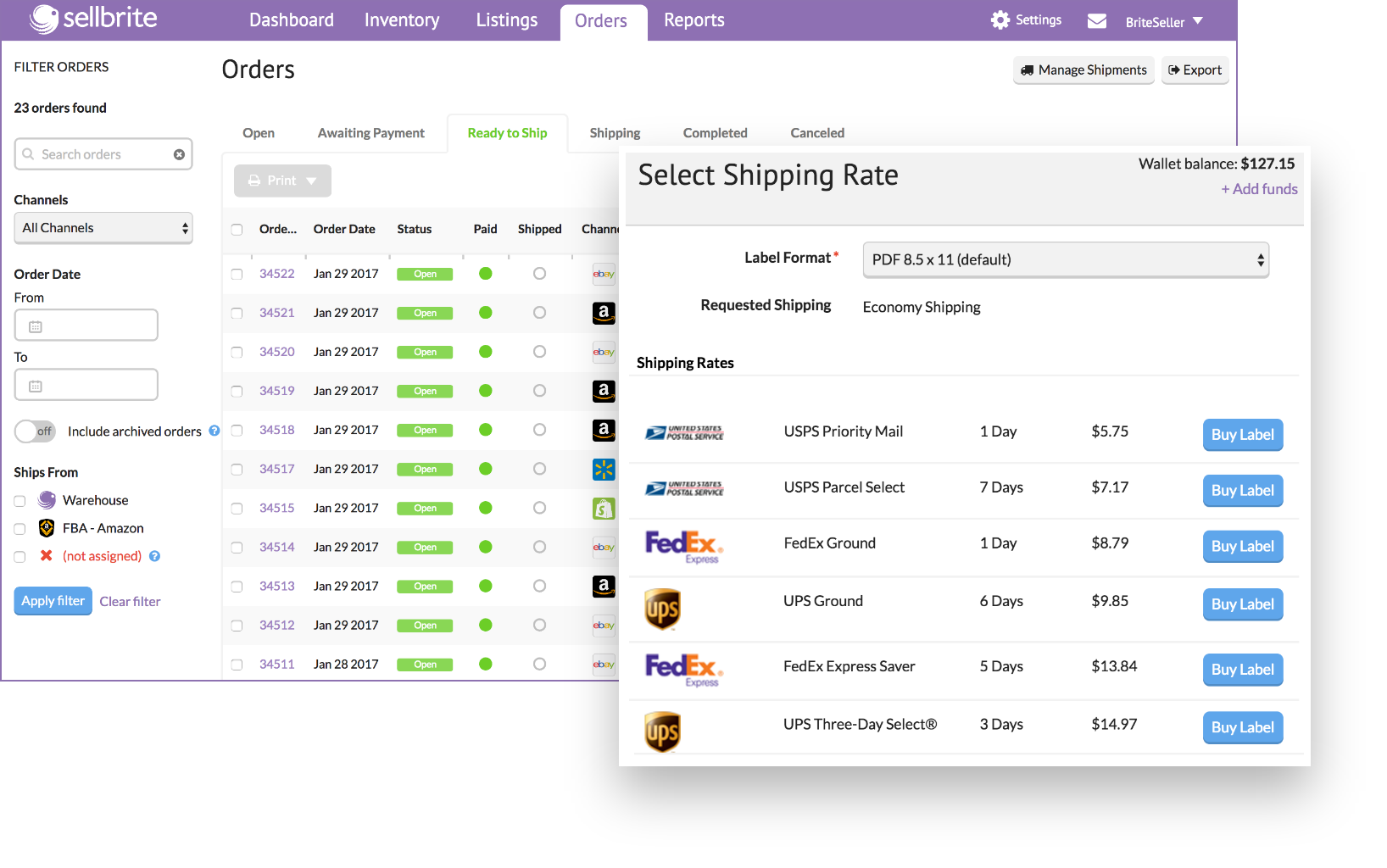 When orders are shipped, the proper sales channels will automatically be informed, and tracking numbers will simultaneously be sent to buyers.
With Sellbrite, no matter where a seller ships from, the software will instantly route orders to the correct fulfillment center and reserve stock for each order. And Amazon sellers who use FBA for fulfillment — even for non-Amazon orders — can take advantage of Sellbrite to pre-map shipping methods for each sales channel based on Amazon's shipping offerings.
5. Run Sales Smoothly
Online sales events can be a great way to attract new customers and increase revenue, but when sales are pouring in, it can increase the likelihood for errors and mistakes to be made, such as overselling, delaying shipping, losing orders due to system crashes, and providing subpar customer service.
This is another situation where multichannel listing tools can help by ensuring that inventory is updated in real time, automating order processing, and acting as a buffer between the ecommerce platform and back-end system. This last point is especially important for ecommerce sellers that move a high volume of product, because the software prevents systems from crashing or locking up from an overload of processing requests.
Learn more about how using software like Sellbrite can help run sales smoothly in this article from Privy.
6. Manage Multiple Warehouses from One Place
Not only does ecommerce listing software enable sellers to manage inventory and sales channel from one place, but it also allows them to manage the warehouses where they store inventory.
Using a tool like Sellbrite, sellers can track their stock — including FBA stock — route orders for fulfillment, and even prioritize warehouses by channel. For example, if a seller wants Walmart orders to be fulfilled from a specific warehouse first, it can be set up with just a few clicks.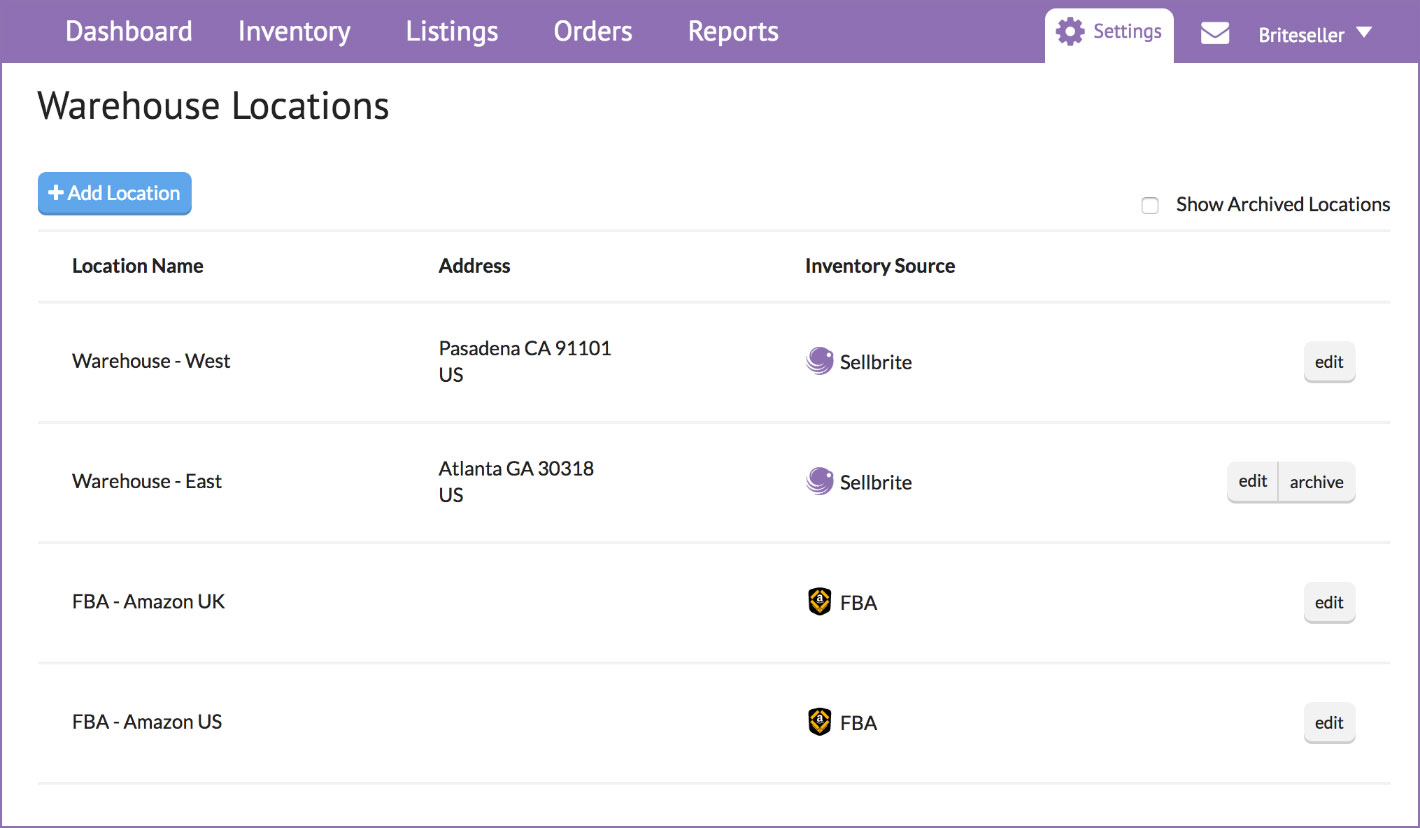 7. Respond to Customers Faster
One of the challenges of selling products across multiple sales channels is providing top-notch customer service. When consumers reach out with questions about products and orders, their messages may come through eBay, Etsy, or various other platforms.
But with the right listing software, ecommerce sellers can get all their messages directed to one place so they can respond promptly. Integrated buyer-messaging support makes staying on top of communication simple and allows for better organization.
Plus, fast responses to customer complaints and queries can improve sellers' feedback scores on certain sales channels, such as Amazon and eBay, which can improve the likelihood of winning the Amazon Buy Box and can help eBay listings rank higher in search results.
8. Get Access to Cutting-Edge Technology
Ecommerce listing software provides sellers with technology and tools to simplify, grow, and improve their businesses in a variety of ways. And if a seller needs a service that their software doesn't offer, there's likely an integration that can do just what they need. In other words, there's an app for that.
Sellbrite's APIs allow developers and ERP systems to integrate directly with its software, so any number of features can be added, making the platform easily customizable. Plus, connecting Sellbrite to third-party solutions enables you to automate various tasks.
For example, if a seller's ecommerce business relies on dropshipping to fulfill orders, Sellbrite users can use the Inventory Source dropship integration to sync their suppliers' inventory with their own. Or a seller could implement product research tool Algopix to analyze demand, profit margins, shipping costs, and future inventory to help the seller make more informed business decisions.
Write Your Own Success Story
Jin Lin grew both his business and his profits when he started using listings tools to sell across various channels. His success story isn't an unusual one. Countless ecommerce sellers have had similar experiences.
Silvio Morales, an apparel and collectibles seller, credits Sellbrite's software with helping him save 25 hours per week and add $200,000 in sales, while Raffi Grosz, who sells customized gifts, doubled his SKU count and added $500,000 in sales using the same listing tools.
Check out other seller success stories, and learn more about how listing tools can help your ecommerce business